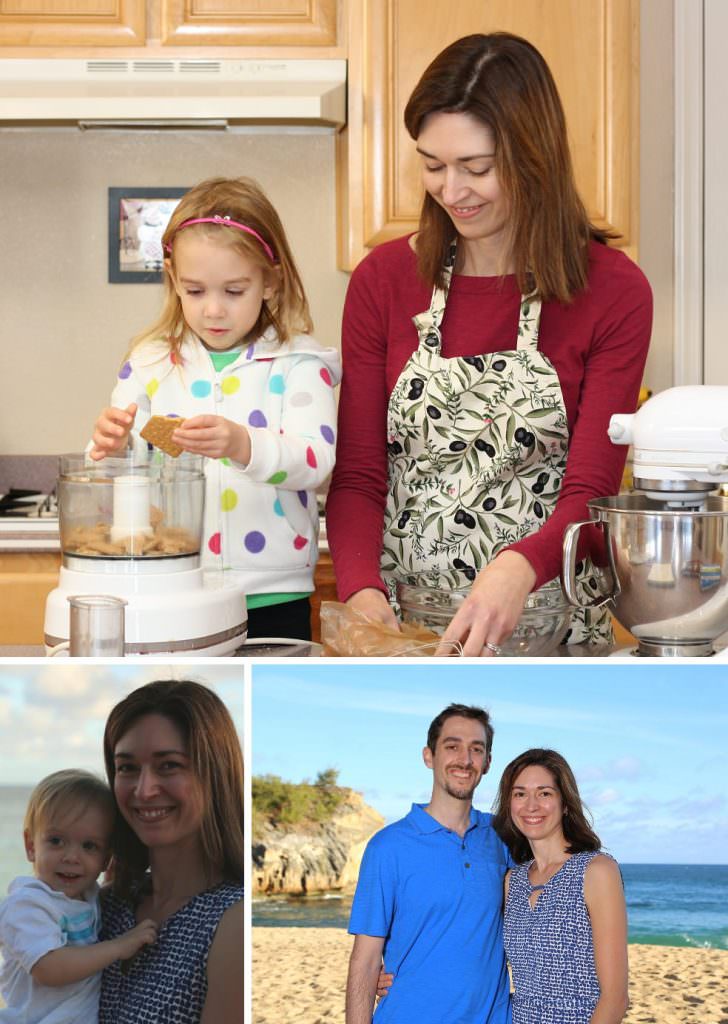 Hi, and welcome to my kitchen!  I'm Kristine, the cook, baker, photographer, and author of Kristine's Kitchen. I started this blog in 2010, as a fun hobby to pursue in my free time and a way to share recipes with family and friends. At that point, I didn't consider that I would still be blogging 4 plus years later, and what an important part of my life it would be. Blogging is my creative outlet and my way to share my passion for cooking and baking with you!
By day (and sometimes night) I'm a part-time teacher and full-time mom. My husband Brad and I live in California with our three beautiful children. Our daughter Julia is an inquisitive five-going-on-six year old, and my eager kitchen assistant.  William is our sweet toddler boy who loves to give hugs and laugh at his big sister's silly antics.  Hannah is our beautiful baby girl. I love coffee, chocolate chip cookies, and spending time outdoors, either running, walking, or playing with my kids.
About the Recipes
Most of the recipes that you will find here on Kristine's Kitchen are original recipes that I have developed myself. Others I find on blogs, in cookbooks, and in magazines. I try to make healthy, homemade meals for my family as often as possible. I also have a major sweet tooth and love to bake, so I aim for balance. Sometimes I am able to lighten up my baking recipes, and sometimes I believe you need to go all out and enjoy a little bit of the real thing!
About my Photography
When I started this blog, I knew nothing about photography. Over the past few years, I have developed my photography skills through reading about photography and studying photos that I liked. It is still very much a learning process, but I am so proud of the way my photographs have progressed. I take all of my photos with my Canon DSLR camera (this is a newer version, as my model is no longer available), most often using this lens. I prefer using natural light whenever possible, but I have a Speedlight Flash that I use when natural light is not available.
I am so glad you found my little corner of the internet. I hope you grab a cup of coffee or tea, settle in, and stay a while!
Like what you see? Be sure to follow along to never miss a recipe!
PINTEREST | FACEBOOK | INSTAGRAM | GOOGLE+ | TWITTER | EMAIL | RSS