Chicken Parmesan Meatballs with Easy Tomato Sauce
Ready in 30 minutes, these Chicken Parmesan Meatballs with Easy Tomato Sauce are a healthy meal the whole family will love!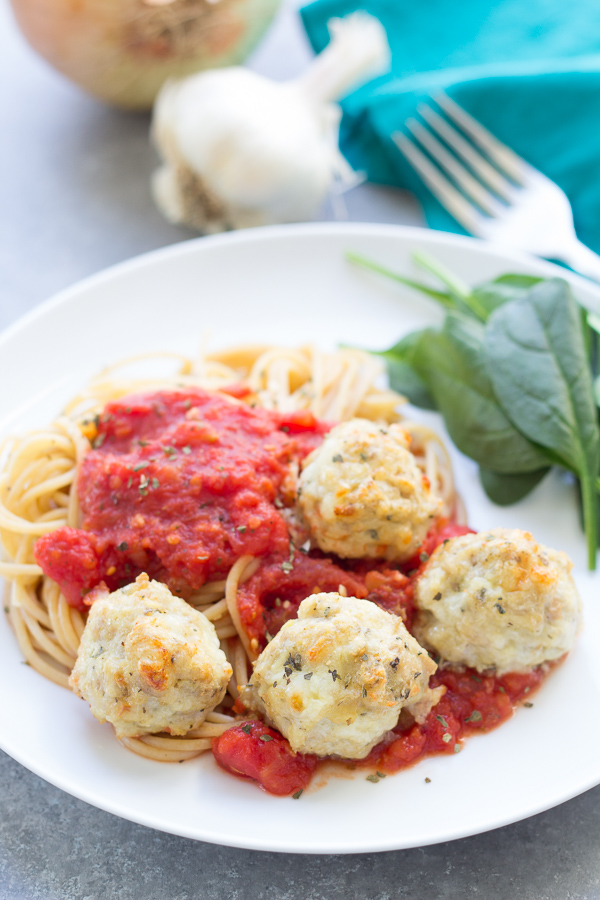 I have something to confess to you. It actually took me 35 minutes to make this meal. Buuuut, before you run away in search of another 30 minute meal, let me tell you that I was also taking care of my three kids while I made this. So let's just say that my cooking was not uninterrupted as I prepared these meatballs. Cooking without also making sure three kids ages 6 and under get along? This dinner is totally doable in 30.
It's the first Thursday of the month, which means I'm back again with another easy recipe to help you get dinner on the table fast. This 30 Minute Thursday series is my favorite because I need quick and easy when it comes to dinner recipes as much as you do. I'm loving the challenge of coming up with a new 30 minute meal every month, and I also look forward to seeing what my blogging friends come up with! (You can find links to their recipes at the bottom of this post.)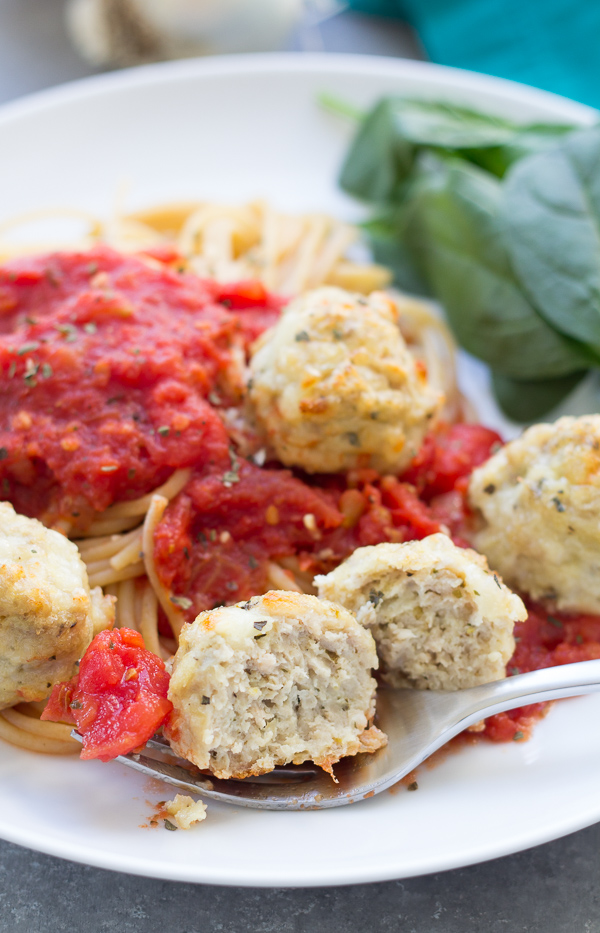 Let's talk about these Chicken Parmesan Meatballs with Easy Tomato Sauce for a minute. Aside from macaroni and cheese and salmon, these meatballs are my kids' favorite meal. The kind of meal where they ask for seconds and sometimes even thirds. And it's not just one or two of the kids that like these, it's all three of them. Yep, even Hannah (who's 10 months now!) loves these meatballs and leaves a clean high chair tray when it's chicken parm meatball night.
There are both Parmesan and mozzarella cheeses inside the meatballs. Just enough to bring out the flavors of chicken parmesan while still keeping things on the lighter side.
These meatballs are made with ground chicken, so they're better for you. The amount of seasoning is just right for appealing to both kids' and adults' tastes. I use my small cookie scoop to help shape the meatballs. It makes it so easy, and there's less mess on my hands. I also line the baking sheet with parchment paper for easier clean up.
While the meatballs bake and the pasta cooks, you'll have time to make my super easy tomato sauce. It takes just minutes and adds another homemade touch to this from scratch meal.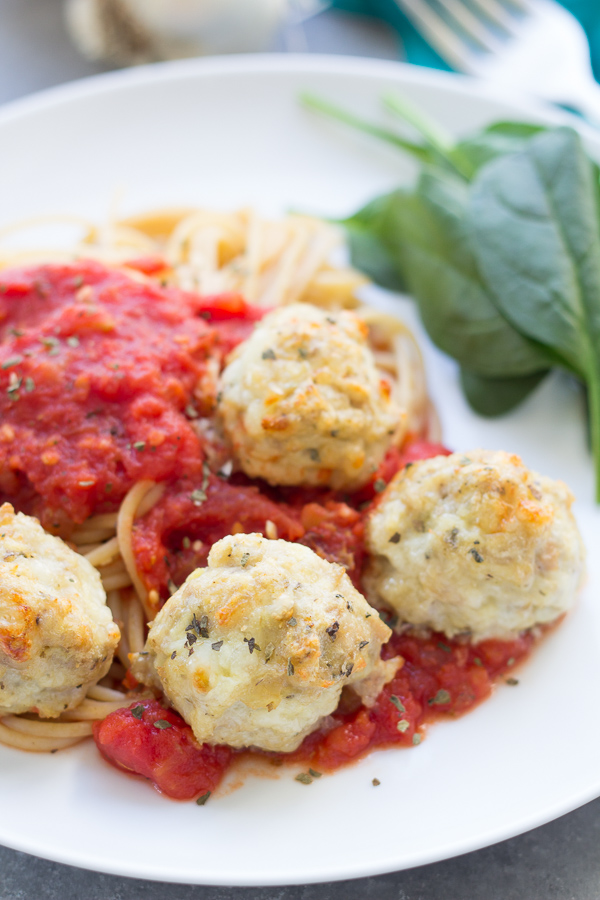 If fast and easy meals work for your life right now, too, then you might want to take a peek at some of my other 30 minute meals:
Spinach Pesto Pasta with Fresh Green Beans and Chicken
Roasted Sweet Potato and Arugula Pasta with Chickpeas
And don't forget to follow my Easy Weeknight Meals Pinterest Board for more quick and easy dinner inspiration!
Chicken Parmesan Meatballs with Easy Tomato Sauce
Ready in 30 minutes, these Chicken Parmesan Meatballs with Easy Tomato Sauce are a healthy meal the whole family will love!
Ingredients
8 ounces whole wheat pasta, any shape
For the meatballs:
1 pound ground chicken
1 large egg
½ cup panko crumbs
½ cup grated Parmesan cheese
½ cup grated mozzarella cheese
1 large clove garlic, minced
½ teaspoon dried oregano
½ teaspoon dried basil
¼ teaspoon salt
⅛ teaspoon pepper
For the tomato sauce:
1 tablespoon olive oil
½ cup finely chopped onion
3 cloves garlic, minced
28 ounce can crushed tomatoes
14.5 ounce can petite diced tomatoes
1 teaspoon dried oregano
1 teaspoon dried Italian seasoning
½ teaspoon dried basil
salt and pepper, to taste
Directions
Preheat oven to 450 degrees F.
Bring a large pot of salted water to a boil. Once boiling, add the pasta and cook until al dente. Drain.
Meanwhile, place all meatball ingredients in a large bowl. Use a fork or your hands to mix until well combined. Form into 1-inch round balls and place on a parchment-lined rimmed baking sheet. (I use a small cookie scoop to make it quick and easy to form the meatballs.)
Bake for 14-15 minutes, or until cooked through. The internal temperature should read at least 165 on an instant read thermometer.
While the meatballs are cooking, make the tomato sauce. Heat the olive oil in a large skillet or dutch oven. Add the onion and cook for 3 minutes, until softened. Add the garlic and cook for 30 seconds, stirring. Add the crushed and diced tomatoes, oregano, Italian seasoning, and basil. Season with salt and pepper to taste. Cook sauce at a low simmer while the meatballs cook, stirring occasionally.
Serve the meatballs and sauce over the pasta.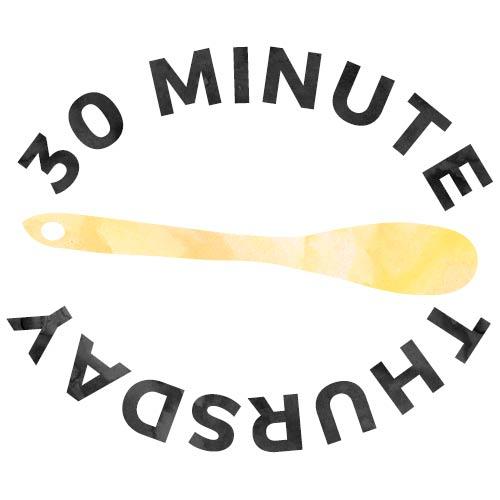 One Pot Lemon Thyme Chicken and Rice from Bake.Eat.Repeat.

Easy Baked Gnocchi with Tomatoes and Mozzarella from Floating Kitchen

Shrimp Scampi Zoodles from Flying on Jess Fuel

Creamy Lemon Spinach One-Pot Pasta from My Sequined Life

One Pan Chicken Fettuccine Alfredo from Pumpkin 'N Spice

One-Pot Parmesan Risotto with Sausage and Kale from Whole and Heavenly Oven
This site contains affiliate links. If you make a purchase through these links, I may receive a small commission, at no extra cost to you. Thank you for supporting Kristine's Kitchen!