Peanut Butter Chocolate Chip Cookie Energy Bites
These no bake Peanut Butter Chocolate Chip Cookie Energy Bites are one of our favorite snacks!
You know those afternoon sweets cravings? And that after dinner need for a little something to snack on? I've definitely been there. And all I want to do is reach for a cookie. But we don't want to eat cookies every day! (Well, we might want to… but we won't.) Because we have healthy eating goals! So instead, let's make a batch of these Peanut Butter Chocolate Chip Cookie Energy Bites!
You can easily convince yourself that you're enjoying a decadent bite of cookie dough when you eat one of these energy bites.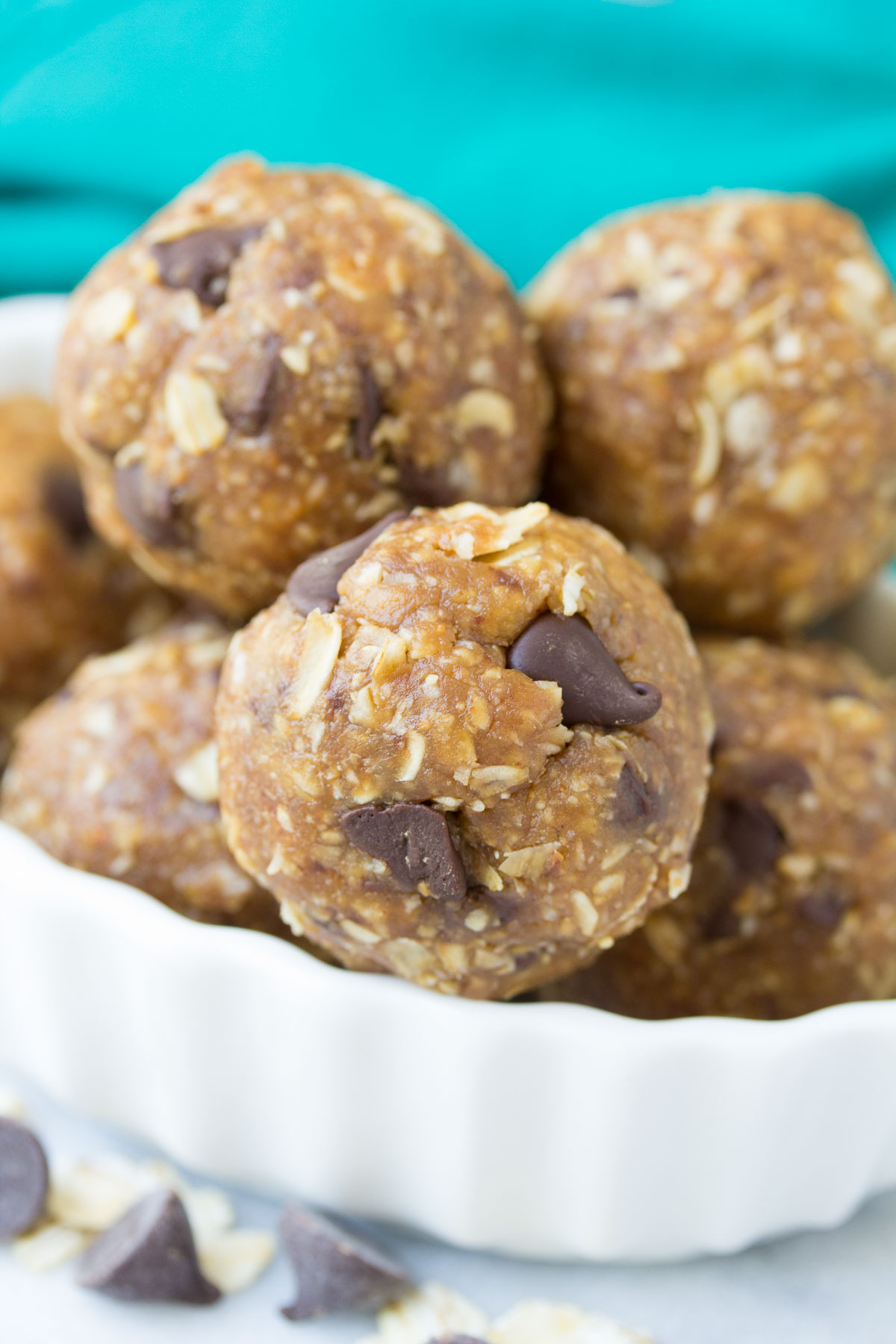 In fact, these remind me so much of peanut butter chocolate chip cookies, that I had to put the word cookie right there in the name. See it there? Peanut Butter Chocolate Chip COOKIE Energy Bites.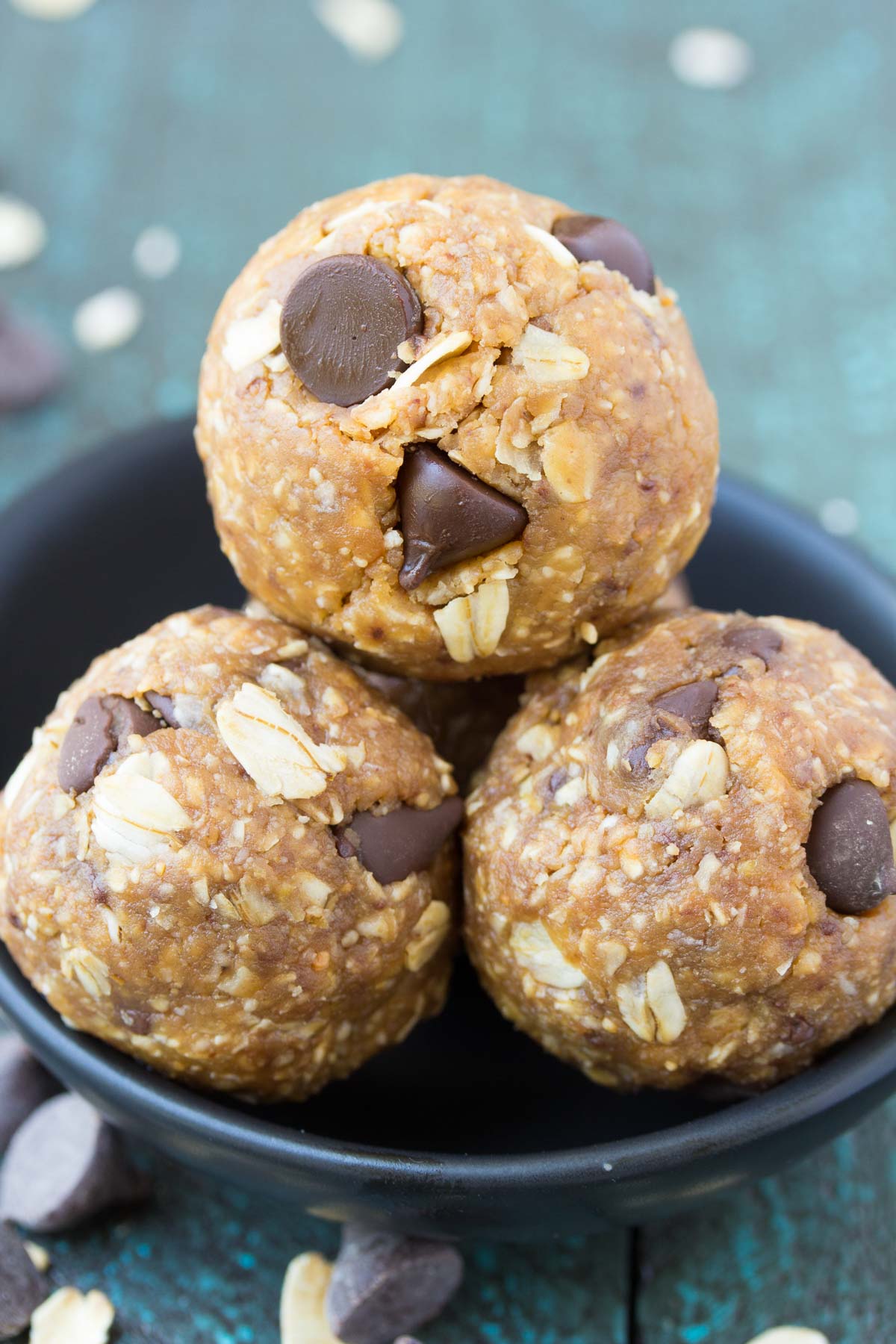 So we're convincing ourselves that we're eating cookie dough bites when we snack on these. Minus the refined sugars and white flour. With whole grain oats and pure maple syrup instead. And LOADS of rich peanut butter flavor. This healthy eating business is good.
These aren't the first energy bites that I've named after a cookie. See also these Apple Cinnamon Cookie Energy Bites. My Salted Cashew Energy Bites with Cranberries aren't named after cookies, but they're just as addicting!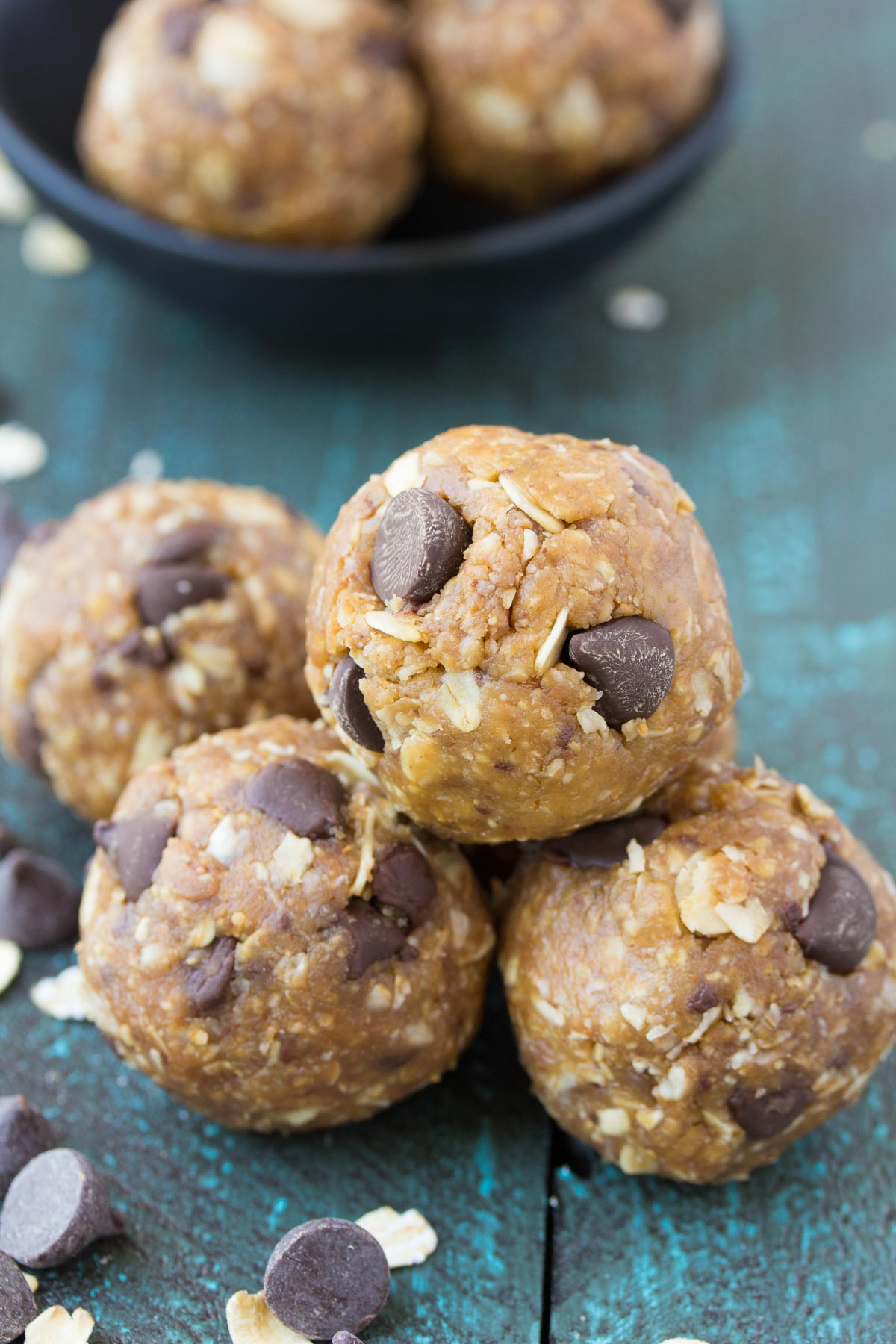 Store your energy bites in the refrigerator, where they'll last for about a week. They're perfect for adding to your lunchbox, eating for a morning or afternoon snack, and they also make a satisfying healthier dessert!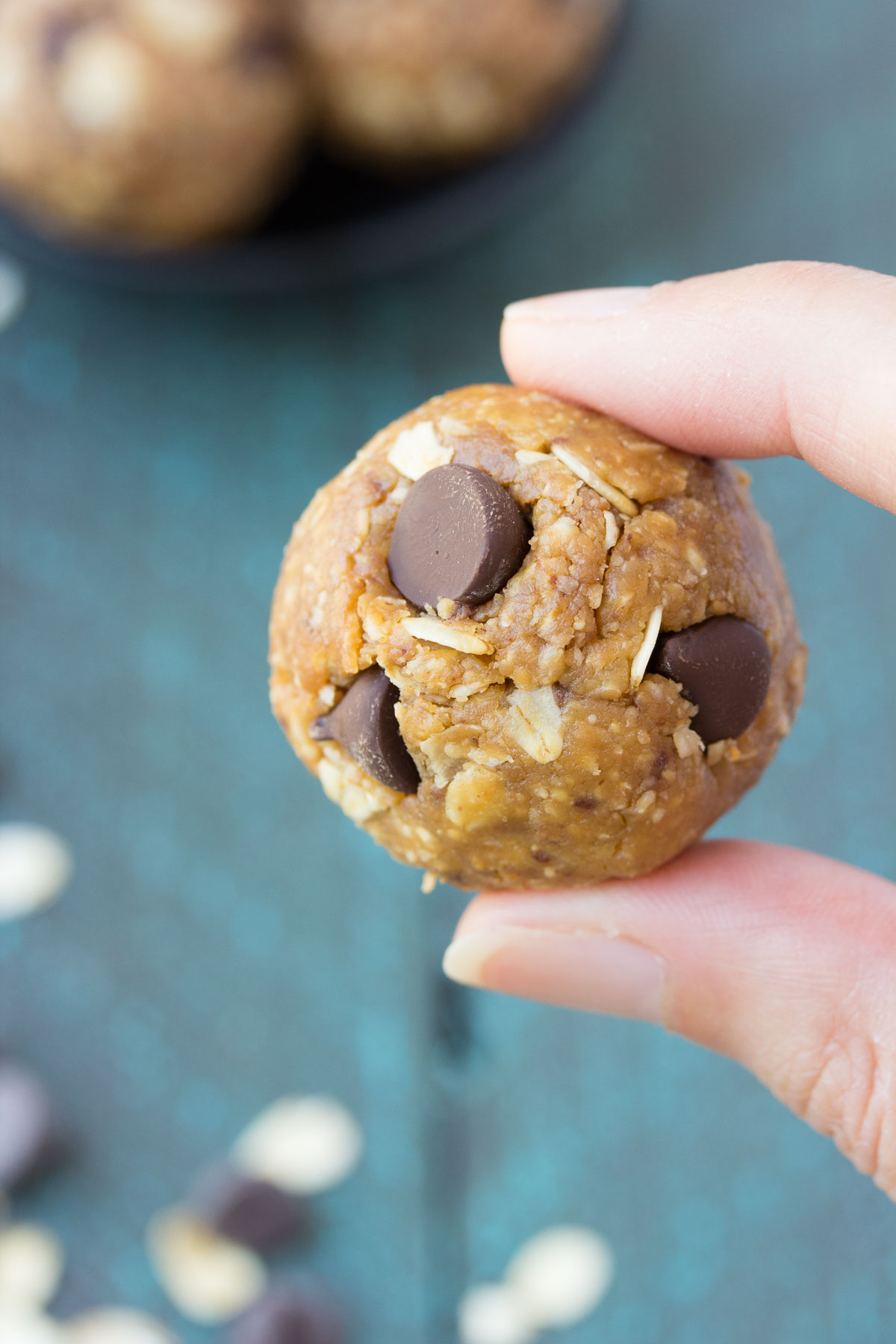 Like what you see? Be sure to follow along to never miss a recipe!
PINTEREST | FACEBOOK | INSTAGRAM | GOOGLE+ | TWITTER | EMAIL | RSS
Peanut Butter Chocolate Chip Cookie Energy Bites
Recipe type:
Snack, Healthy Dessert
Ingredients
1 cup old-fashioned oats
½ cup creamy peanut butter (I used natural)
¼ cup pure maple syrup
1 teaspoon vanilla extract
¼ teaspoon kosher salt
¼ cup dark chocolate chips
Directions
Place oats, peanut butter, maple syrup, vanilla, and salt in a food processor and pulse until combined, about 10 pulses. Scrape down the sides of the bowl. Add chocolate chips and pulse a few times to coarsely chop.
Taking small spoonfuls of the mixture at a time, use your hands to form it into 1-inch balls. I find that using both the palm of my hand and fingertips to squeeze the mixture together works best to shape the balls.
Store in the refrigerator.
Nutrition information was calculated using an online calculator and is meant to be an estimate only. The exact numbers will vary based on quantities, ingredients and brands used.
Nutrition Information
Serving size:
1 ball
Calories:
104kcal
Fat:
6g
Saturated fat:
1.5g
Carbohydrates:
10.5g
Sugar:
5g
Sodium:
20mg
Fiber:
2g
Protein:
3g
You can easily customize these Peanut Butter Chocolate Chip Cookie Energy Bites:
Replace the peanut butter with almond butter (or sunbutter for a nut-free version).
Replace the chocolate chips with coconut flakes, oats, white chocolate chips, or peanut butter chips.
Add in 1/4 cup flaxseed for more fiber and protein.
This site contains affiliate links. If you make a purchase through these links, I may receive a small commission, at no extra cost to you. Thank you for supporting Kristine's Kitchen!