Penne with Roasted Tomatoes and Mozzarella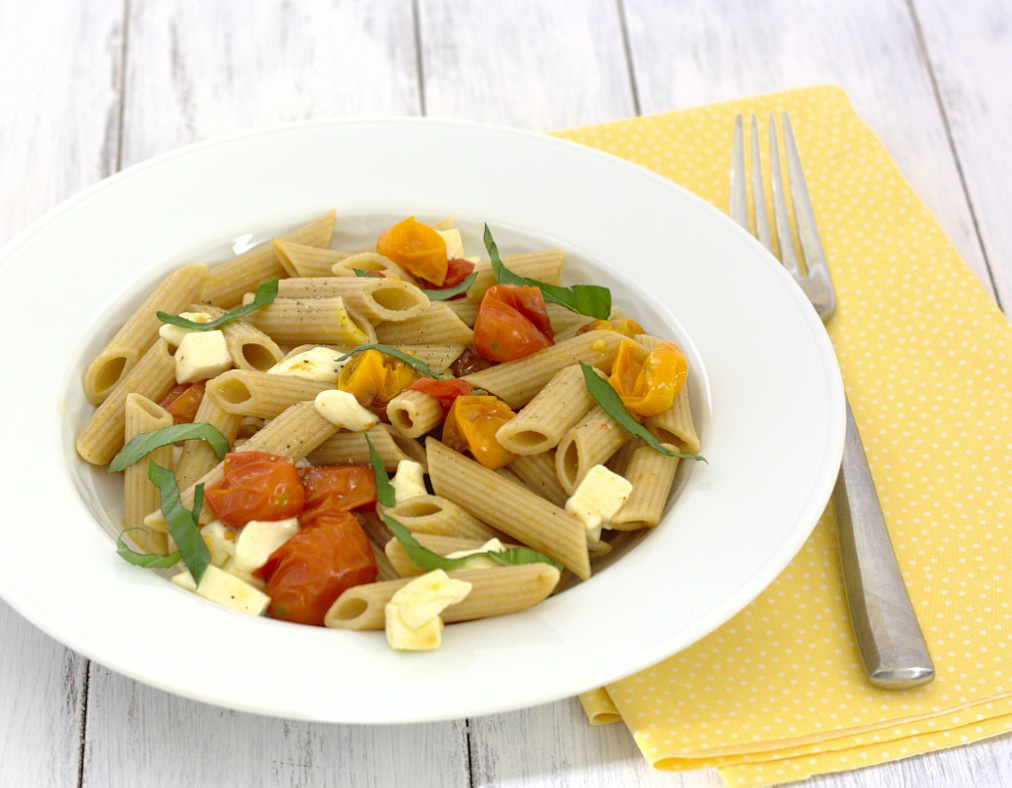 Today at lunch Julia declared, "I.do.not.like.tomatoes!" (dramatic pause in between each word), and then a few minutes later proceeded to eat about 20 or so orange cherry tomatoes, asking for seconds and then thirds. This is also the girl who will eat tomato after tomato straight off the vine in her grandmother's garden. Three years old is certainly an age when kids are asserting their independence, so she just needed to eat those tomatoes on her own terms, not Mommy's. 🙂
I'm with Julia on her love of fresh cherry tomatoes, whether they be eaten straight off the vine or roasted as in this pasta. This dish is reminiscent of caprese salad, as it combines tomatoes, fresh mozzarella, and basil into a delicious pasta. I used whole wheat pasta because that's pretty much all I buy these days, but feel free to use whatever you enjoy.
One year ago:  Whole Wheat Blueberry Pancakes and Grilled Potatoes in Foil Packets
Penne with Roasted Tomatoes and Mozzarella
Makes 4 servings
Ingredients:
1 1/2 pints cherry or grape tomatoes
2 cloves garlic, minced
2 tbsp. olive oil
Salt & pepper
8 oz. whole wheat penne
6 oz. fresh mozzarella, cut into small cubes
1/4 cup chopped fresh basil
Directions:
Preheat oven to 400 degrees F.
Toss tomatoes with garlic, olive oil, salt, and pepper. Place in an oven safe pan and roast for 20-25 minutes, until tomatoes begin to burst.
Cook pasta in boiling, salted water according to package directions. Reserve 1/2 cup cooking water, and then drain the pasta and return it to the pot.
Add a few splashes of pasta water to the pasta in the pot, then the mozzarella, tomatoes and garlic. Lightly toss, top with chopped fresh basil, and serve.
Source: Very slightly adapted from Confections of a Foodie Bride.
This site contains affiliate links. If you make a purchase through these links, I may receive a small commission, at no extra cost to you. Thank you for supporting Kristine's Kitchen!