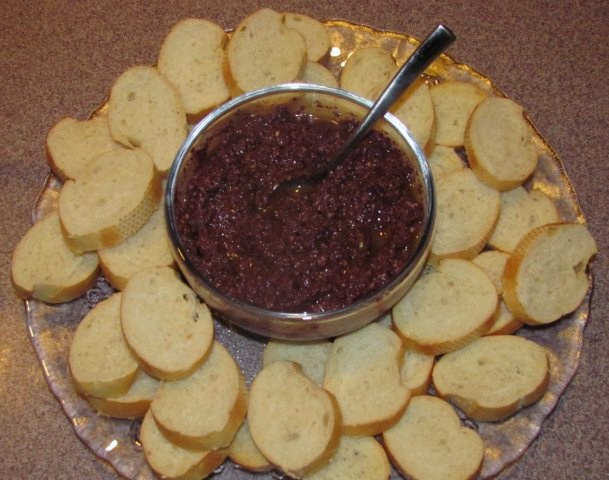 This appetizer is so simple to make, and it has gotten rave reviews from guests every time I've served it. Kalamata olives are combined with garlic, pine nuts, and olive oil, to produce a spread that is unbelievably addicting. The tapenade is delicious on toasted baguette slices, pita chips (which are so addicting on their own), or breadsticks.
Olive Tapenade
Makes about 2 1/2 cups
Ingredients:
2 cups pitted kalamata olives*
3 cloves garlic, peeled
2 tablespoons pine nuts
1/2 cup extra virgin olive oil
Salt and pepper, to taste
Directions:
Place kalamata olives, garlic, and pine nuts in bowl of a food processor. Pulse until chopped small. With the processor running, add the olive oil in a steady stream. Season with salt and pepper to taste and process until tapenade is well combined. Serve immediately.
Alternatively, the tapenade can be refrigerated for a few hours before serving. Let it come to room temperature and stir to recombine any olive oil that has separated from the olives.
*Note: I buy pre-pitted olives, but like to cut them in half lengthwise to make sure there are no small bits of pit left in the olives.
Recipe from my sister, Karen, original source unknown.