Baked Maple Cinnamon Sugar Donuts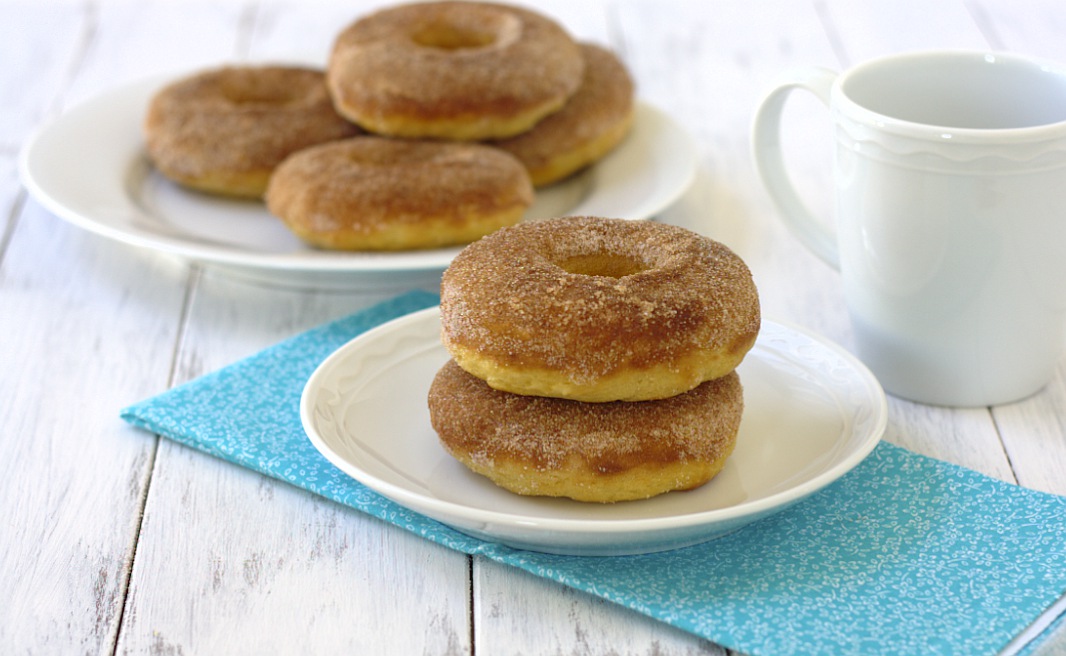 A donut pan is one of those kitchen gadgets that always looked like it would be fun to own, but was probably not something that I would buy for myself. So I was super excited when I won a donut pan that Tracey was giving away on her blog! It arrived in the mail on Friday and I made my first batch of donuts on Sunday morning. They were really easy to make, and while they aren't health food, they're not too bad, either, since they're baked and not fried. Thanks again, Tracey for the fun giveaway!
I made these maple donuts with cinnamon sugar and they turned out really good. I had actually bookmarked the recipe in the middle of the night while feeding William. Lately, I've been catching up on some blog reading during nighttime feedings. 🙂 One night at 2:30 a.m., I saw this recipe and immediately craved one of these donuts. The maple flavor turned out to be really subtle, but I liked how I could taste the vanilla Greek yogurt that's used in the batter. Since the donuts are baked, they are more like cake donuts, but with a much lighter texture than the cake donuts you buy at the store. I dipped my donuts twice in the cinnamon sugar and they ended up with just the right amount of sweet coating.
Making my own baked donuts at home was a fun way to begin my Sunday morning. I'm looking forward to trying out other recipes soon!
One year ago:  Peach and Raspberry Crumble
Baked Maple Cinnamon Sugar Donuts
Makes 6 donuts
Ingredients:
1 1/2 tsp. cinnamon
1/3 cup sugar
1 cup cake flour
3/4 tsp. baking powder
3/4 tsp. baking soda
Pinch of salt
1 large egg
1 (6 oz.) container nonfat vanilla Greek yogurt
1 tbsp. canola oil
2 tsp. lemon juice
2 1/2 tbsp. pure maple syrup
1 tbsp. unsalted butter, melted
Directions:
Preheat oven to 400 degrees F. Spray a donut pan with nonstick cooking spray.
In a wide, shallow bowl stir the cinnamon and sugar together. Set aside.
In a medium bowl, whisk together the flour, baking powder, baking soda, and salt. In another bowl, whisk together the egg, yogurt, canola oil, lemon juice, and maple syrup. Make a well in the center of the dry ingredients and add the wet ingredients. Using a rubber spatula, gently fold the dry ingredients into the wet until just incorporated. Do not overmix. (The batter will be thick.)
Transfer the batter to a pastry bag (or resealable plastic bag and then snip off one corner). Pipe the batter evenly into the 6 wells of the pan, filling each about 2/3 to 3/4 full. Bake donuts for 8 to 10 minutes, until they're golden brown and spring back when lightly pressed. Transfer the pan to a wire rack and allow the donuts to cool for just a minute or two before flipping them out onto the rack.
When the donuts have cooled enough to handle (just another minute or two after you flip them out), working with one donut at a time, brush the top with melted butter and then dip in the cinnamon sugar mixture. The sooner you eat these donuts, the better they are, but they are still tasty for a day or two after baking.
Source: Tracey's Culinary Adventures
This site contains affiliate links. If you make a purchase through these links, I may receive a small commission, at no extra cost to you. Thank you for supporting Kristine's Kitchen!