Blueberry Cream Cheese Danish
Buttery puff pastry is topped with a cream cheese and Greek yogurt filling, plus fresh blueberries. These Blueberry Cream Cheese Danish are simple to make and just perfect for Mother's Day – or any morning!
Growing up, I loved being part of a large family. I'm the oldest of five kids, and I don't know how my parents raised all of us without going crazy. There were definitely (many) moments of craziness, though, as is bound to happen with five kids in the house. Those moments sort of blur together in my memory, but one thing I always knew is how much my parents loved me.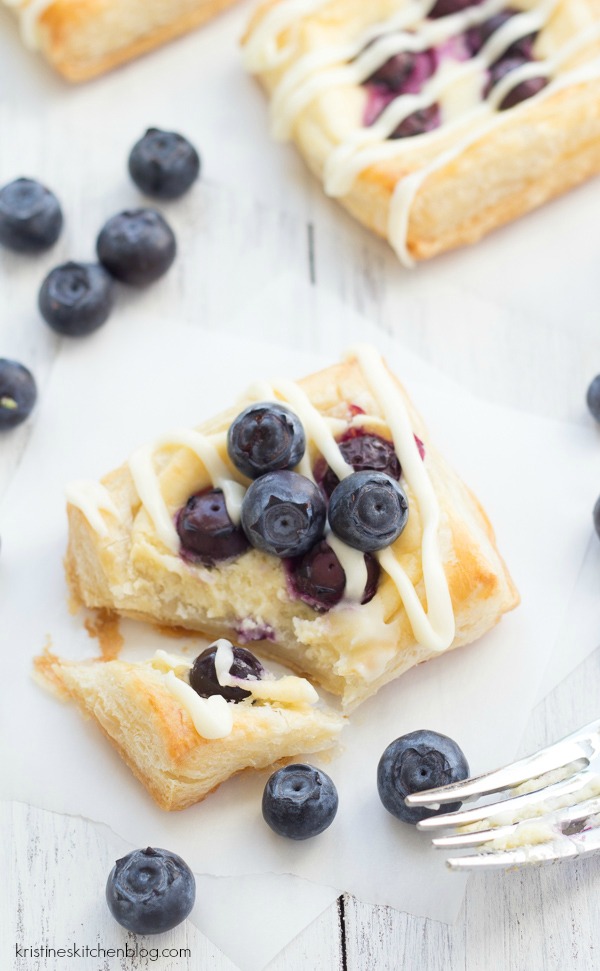 When I think back on moments with my mom, I remember her holding my hand. During regular everyday moments and during tough times, something about my hand in hers always made (makes) me feel stronger, like I can handle whatever is coming at me.
Mother's Day is coming up, and it reminds me how lucky I am to have my mom in my life. She is one of the strongest people I know, and I love that I live within minutes of her. I love that I'm able to talk to her whenever I want, and that I see her multiple times each week. I love that she's a part of my kids' lives, and that Julia now asks to call her grandma for reasons big and little.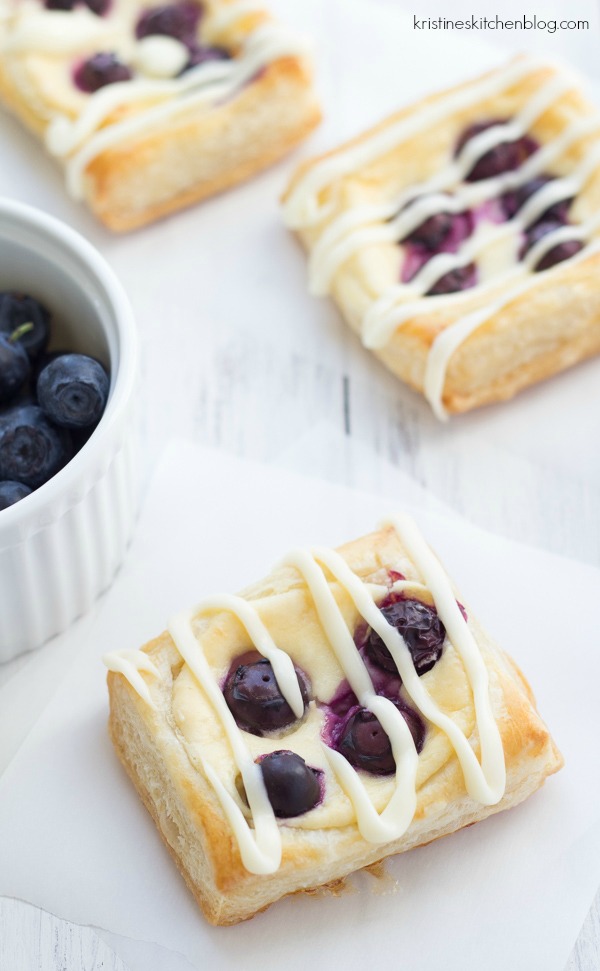 When I made these Blueberry Cream Cheese Danish, I immediately thought to share some with my mom. I'm pretty sure she appreciated getting a delivery of these. 🙂
These little pastries are the perfect thing to make for the Mom in your life. They are really simple to prepare, making them the ideal treat to make for Mom on Mother's Day morning.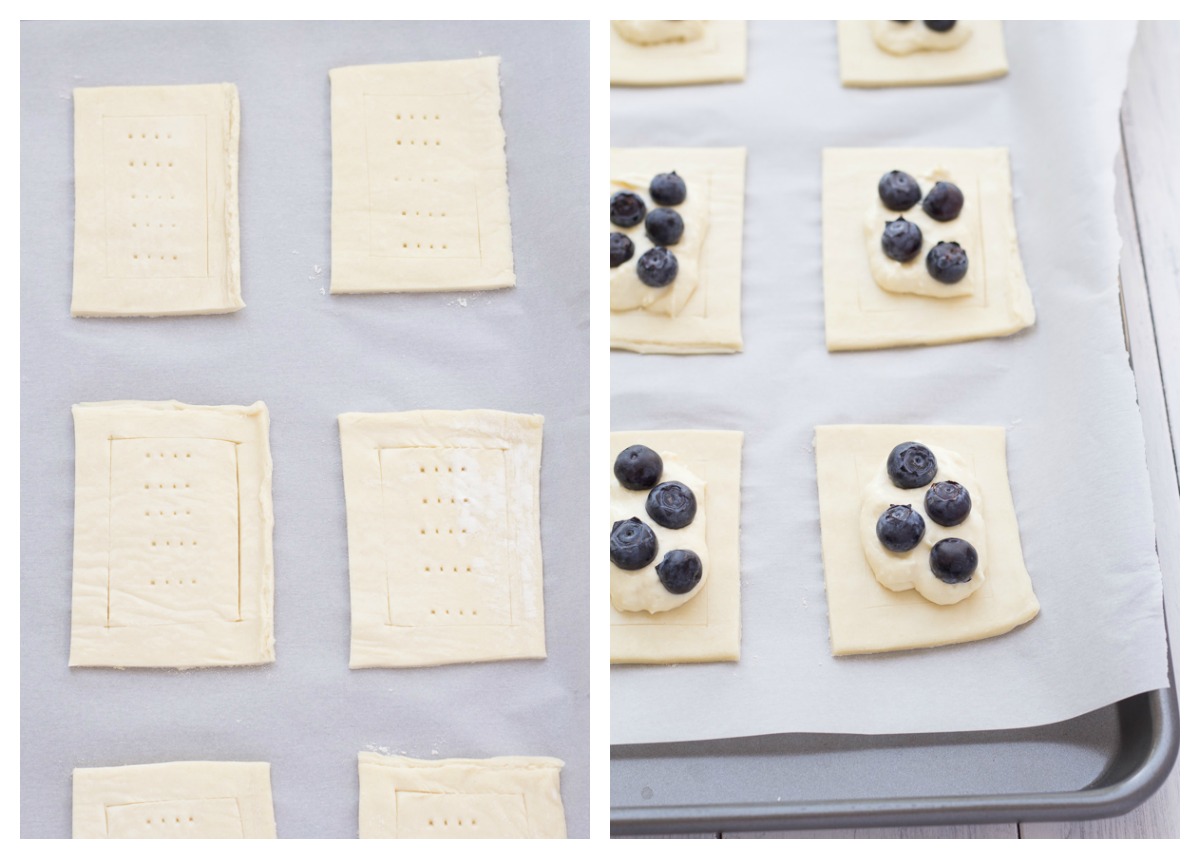 Store-bought puff pastry works it's magic here, saving you lots of time and effort in the kitchen. For the filling in these Blueberry Cream Cheese Danish I combined cream cheese and Greek yogurt. I love the way the yogurt lightens up the cream cheese mixture. I also added a little lemon zest because lemon and blueberries go so well together. I'm excited to try these cream cheese danish with other berries as well – strawberries, raspberries, or blackberries would all be delicious here.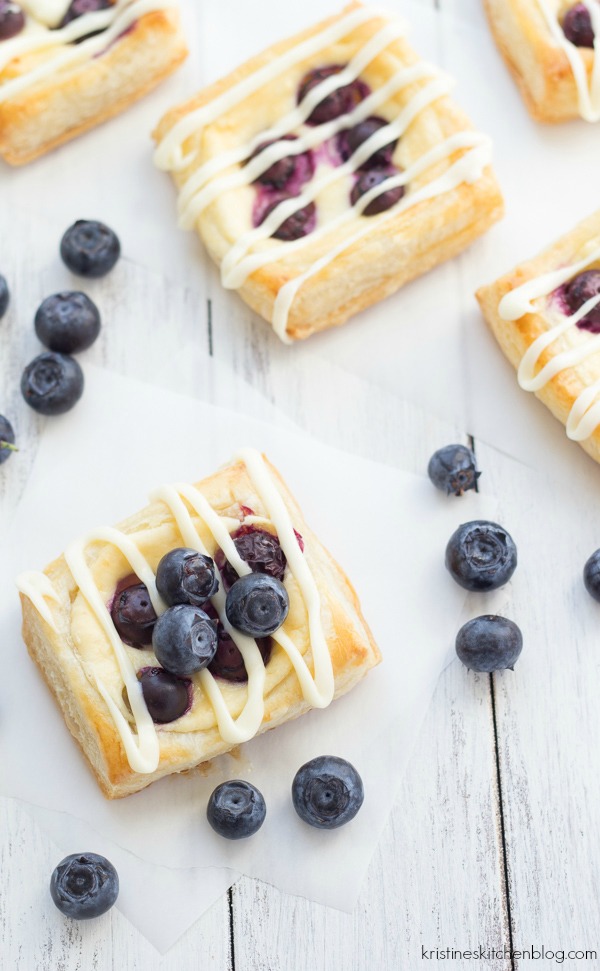 Happy early Mother's Day to all of the Moms reading this! I hope someone bakes you something sweet to celebrate you!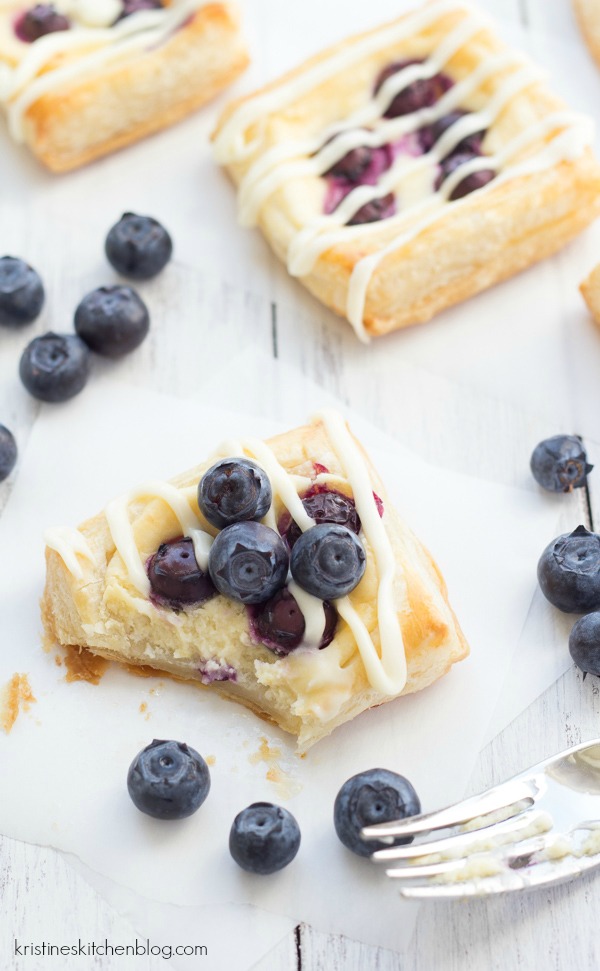 Like what you see? Be sure to follow along to never miss a recipe!
PINTEREST | FACEBOOK | INSTAGRAM | GOOGLE+ | TWITTER | EMAIL | RSS
Blueberry Cream Cheese Danish
Buttery puff pastry is topped with a cream cheese and Greek yogurt filling, plus fresh blueberries. These Blueberry Cream Cheese Danish are simple to make and just perfect for Mother's Day – or any morning!
Serves:
12-16 small pastries
Ingredients
Pastry and Filling:
1 sheet frozen puff pastry
4 oz. cream cheese, softened
¼ cup Greek yogurt
1 egg yolk (reserve the white for the egg wash)
3 tablespoons granulated sugar
1 tsp. vanilla extract
zest of 1 small lemon
4 oz. fresh blueberries
Egg Wash:
1 egg white
1 tablespoon water
Glaze:
½ cup powdered sugar
2-3 tablespoons heavy whipping cream (or milk)
pinch of salt
Directions
Preheat oven to 400 degrees F. Line two baking sheets with parchment paper or silicone baking mats.
Lay one sheet frozen puff pastry on a lightly floured work surface to thaw for 10 minutes.
Meanwhile, prepare the cream cheese filling: Using an electric mixer, beat together the cream cheese, yogurt, egg yolk, granulated sugar, vanilla, and lemon zest until smooth.
Cut puff pastry into 12 to 16 equal rectangles. Place the puff pastry pieces on the prepared baking sheet.
Use a sharp knife to score a smaller rectangle into each piece, about ½-inch from the edge. Do not cut all the way through the pastry. Use a fork to poke several holes inside the inner rectangle. Do not poke any holes in the ½-inch border. These two steps will allow the outside edges of the pastries to puff up while baking, while preventing the middle from puffing so it can hold the filling.
Spoon about 1 tablespoon of the cream cheese filling in the center of each pastry piece and spread it out over the middle of the dough, leaving the ½-inch border free of filling. Top cream cheese mixture with a few blueberries.
Make the egg wash by beating together the egg white and tablespoon of water with a fork. Brush the outer ½-inch border of each pastry with the egg wash.
Bake pastries for 12-14 minutes, until pastry is lightly golden. Let cool for 10 minutes before glazing.
Once the pastries are cool, make the glaze: Whisk together the powdered sugar, heavy cream, and pinch of salt. Drizzle the glaze over the tops of the pastries. (You can either do this with a spoon or by placing the glaze in a small zip-top plastic baggie and cutting off a very tiny piece of the corner to pipe the glaze.) Serve, topping with additional blueberries if desired. Refrigerate any leftovers.

This site contains affiliate links. If you make a purchase through these links, I may receive a small commission, at no extra cost to you. Thank you for supporting Kristine's Kitchen!