Chocolate Banana Bread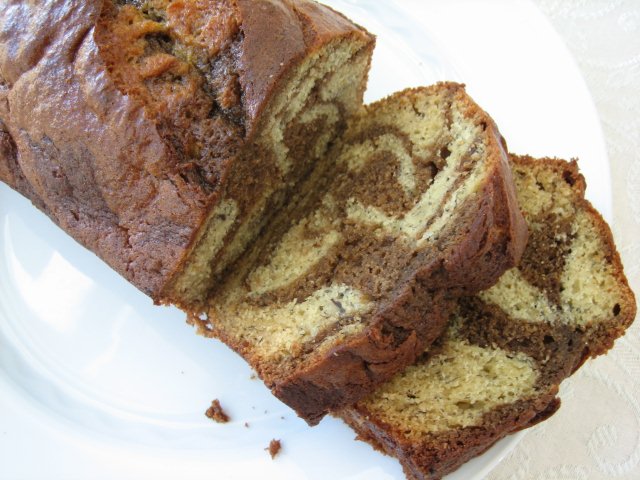 If you're like me, you often find yourself with a few over-ripe bananas on your kitchen counter. Sometimes I peel and freeze them to put in smoothies (I make a super yummy peanut butter banana smoothie), but they are also delicious when made into banana bread. I have enjoyed making banana bread for as long as I can remember, and chocolate banana bread, well, that's even better!
I follow the recipe for my favorite plain banana bread and then mix some melted chocolate chips into part of the batter. The plain and chocolate batters are then alternately poured into the bread pan. Running a knife through the batter before baking creates a beautiful swirled look in the bread.
This bread is great for breakfast, a snack, or even an after-dinner treat. Sometimes I even top mine with a little peanut butter- bananas, chocolate, peanut butter…yum!
Chocolate Banana Bread
Makes 1 loaf

Ingredients:

1 ¾ cups all-purpose flour

2/3 cup sugar

2 teaspoons baking powder

½ teaspoon baking soda

¼ teaspoon salt

1 cup mashed ripe banana (2 to 3 medium bananas)

1/3 cup butter

2 Tablespoons milk

2 eggs

½ cup chocolate chips
Directions:
Preheat oven to 350 degrees F.

In a large mixer bowl combine

1 cup

of the flour, the sugar, baking powder, baking soda, and salt. Add mashed banana, butter, and milk. Beat with an electric mixer on low speed till blended, then on high speed for 2 minutes. Add eggs and remaining flour; beat till blended.

In a microwave safe bowl, microwave chocolate chips on High about 1 minute or until almost melted. Stir until smooth and cool slightly. Add 1 cup of the batter and mix until well combined. Spoon the chocolate batter alternately with the plain batter into a greased 8x4x2-inch loaf pan. Run a knife through the batter a few times in each direction to create a swirled look. Bake for 50-55 minutes or till a toothpick inserted near the center comes out clean. Cool for 10 minutes on a wire rack. Remove from the pan; cool thoroughly on a wire rack.
Recipe adapted from Better Homes and Gardens New Cookbook
This site contains affiliate links. If you make a purchase through these links, I may receive a small commission, at no extra cost to you. Thank you for supporting Kristine's Kitchen!