Meal Prep Taco Salad Lunch Bowls
Meal Prep Taco Salad Lunch Bowls that you can make ahead! These easy taco salads are filled with taco beef, lettuce, cheese, black beans, corn and salsa!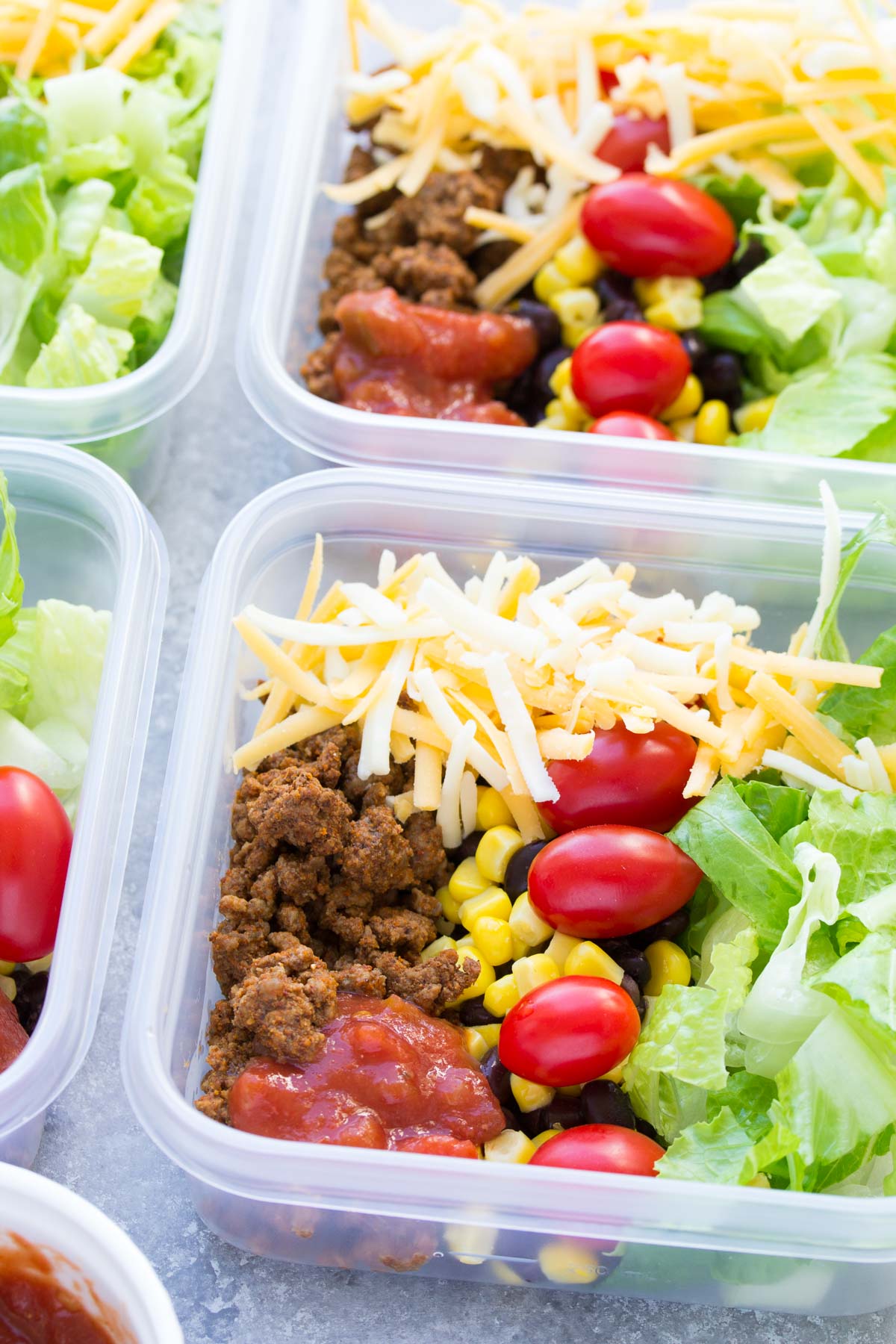 You know those days when you can't wait until lunchtime because you've planned ahead and you have a delicious lunch ready and waiting for you? That's me every week when I make these Taco Salad Lunch Bowls!
Like most moms, you are probably struggling to find the TIME to put a homemade dinner on the table for your family on busy weeknights. If you already had a plan, a grocery list, easy recipes and prep-ahead tips, you could have a REAL dinner on your table in a flash! I have been meal planning and prepping for years and now I am sharing my plan with YOU. You will save time, save money cooking at home, and eat real food.
Learn more about my Time-Saving Healthy Family Meal Plan.
These taco salads are the perfect blend of healthy and yummy. They're full of vegetables and protein, yet still light. So instead of wanting a nap after lunch, you'll be energized going into your afternoon. 😉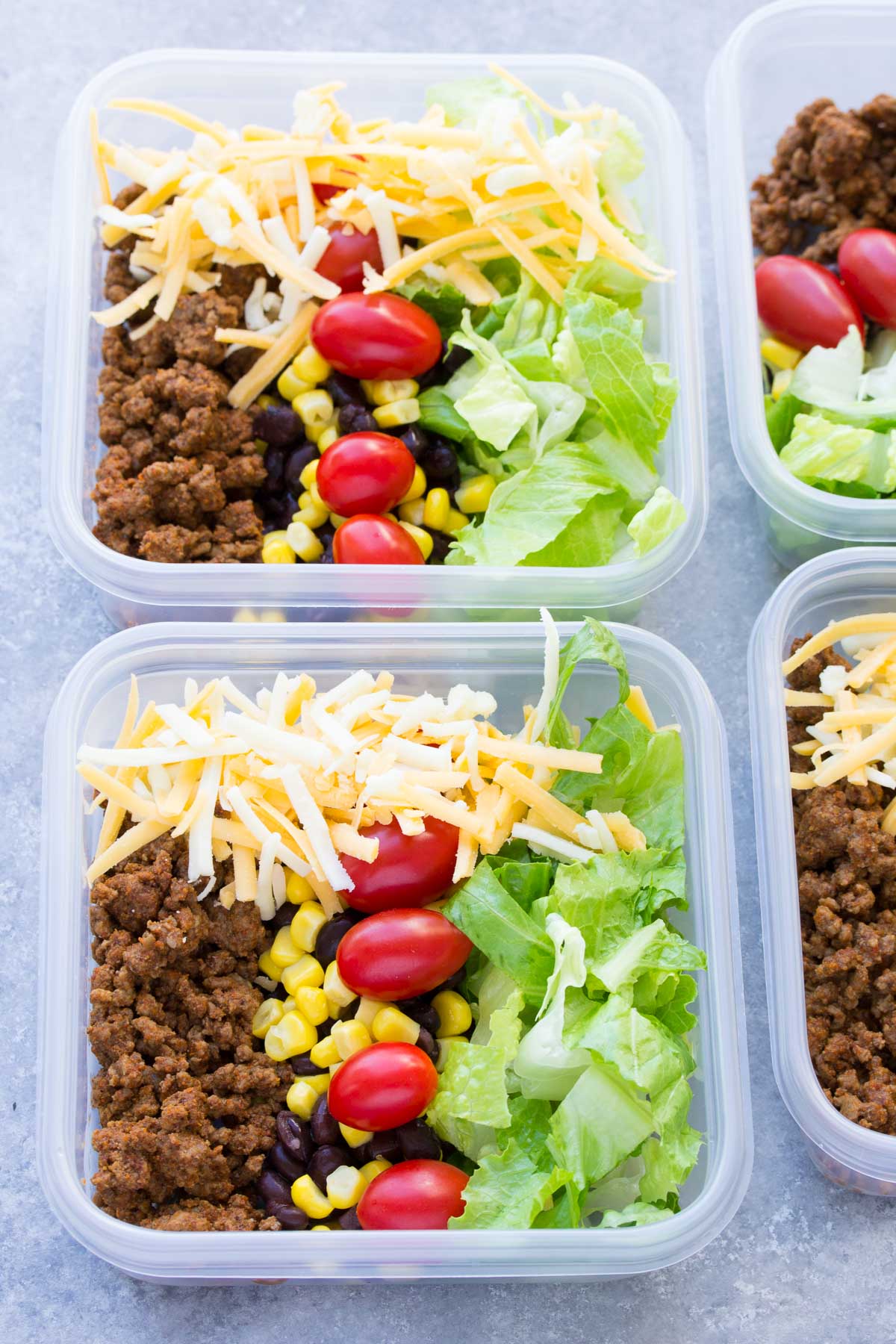 Making these Taco Salad Lunch Bowls is really easy and will take you less than half an hour. I like to make these as part of my Sunday food prep. To start, you'll cook the taco meat. This time I used ground beef, but often I'll use ground turkey. I always use my easy homemade taco seasoning to season my taco meat. Make a batch and keep it in a zip-top baggie with your other spices so you'll have it ready whenever you need it!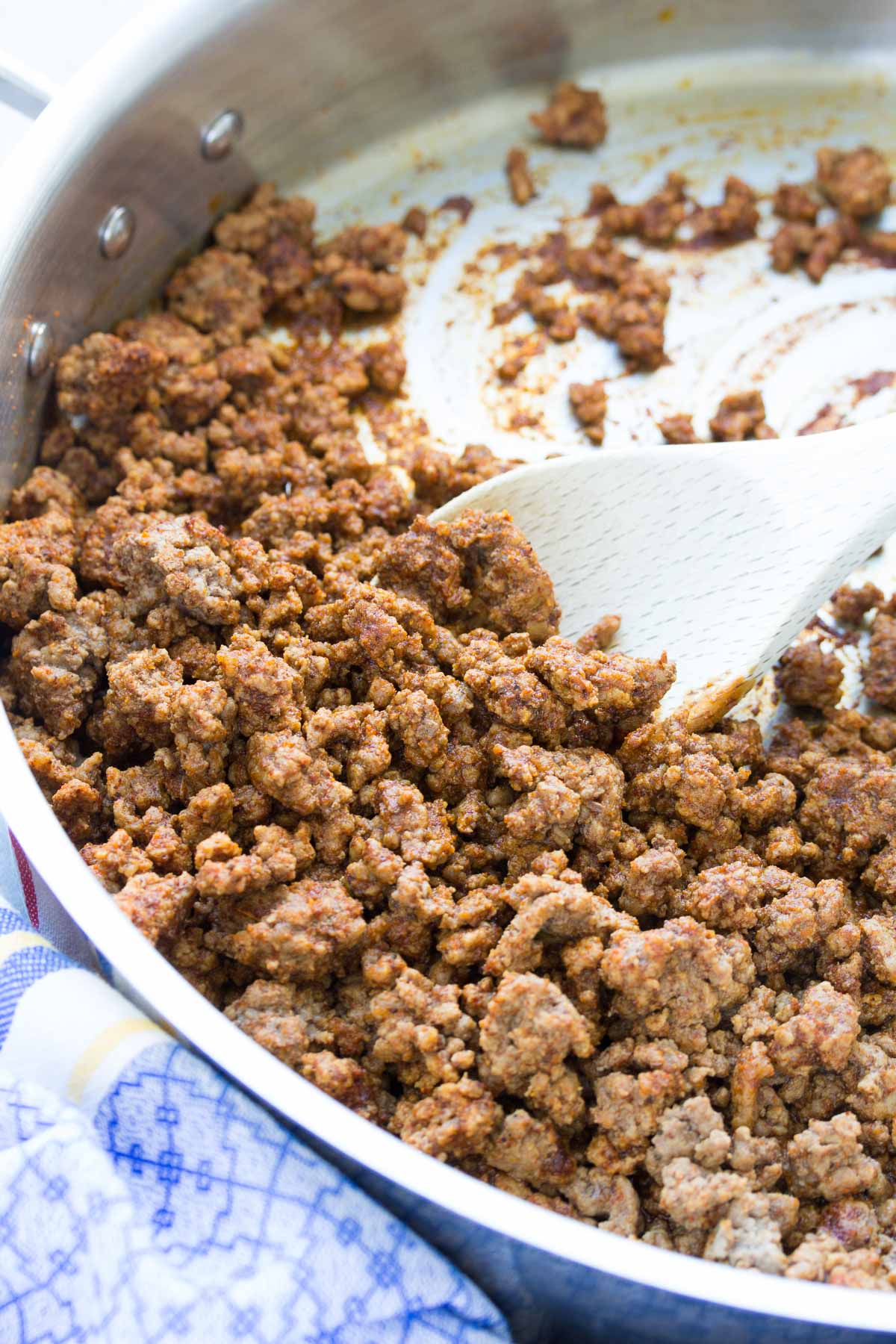 Once the meat is cooked through you'll want to let it cool before adding it to your salads. While it cools, you can prep the rest of the ingredients and assemble the salads, adding the cooled taco meat last.
To keep the salad components separate until you're ready to eat them, you'll want to add them to your container in rows, as you see pictured. I tilted my containers a little to the right, and layered from right to left, starting with the lettuce. I recommend these airtight anti-spill glass storage containers for meal prep lunches.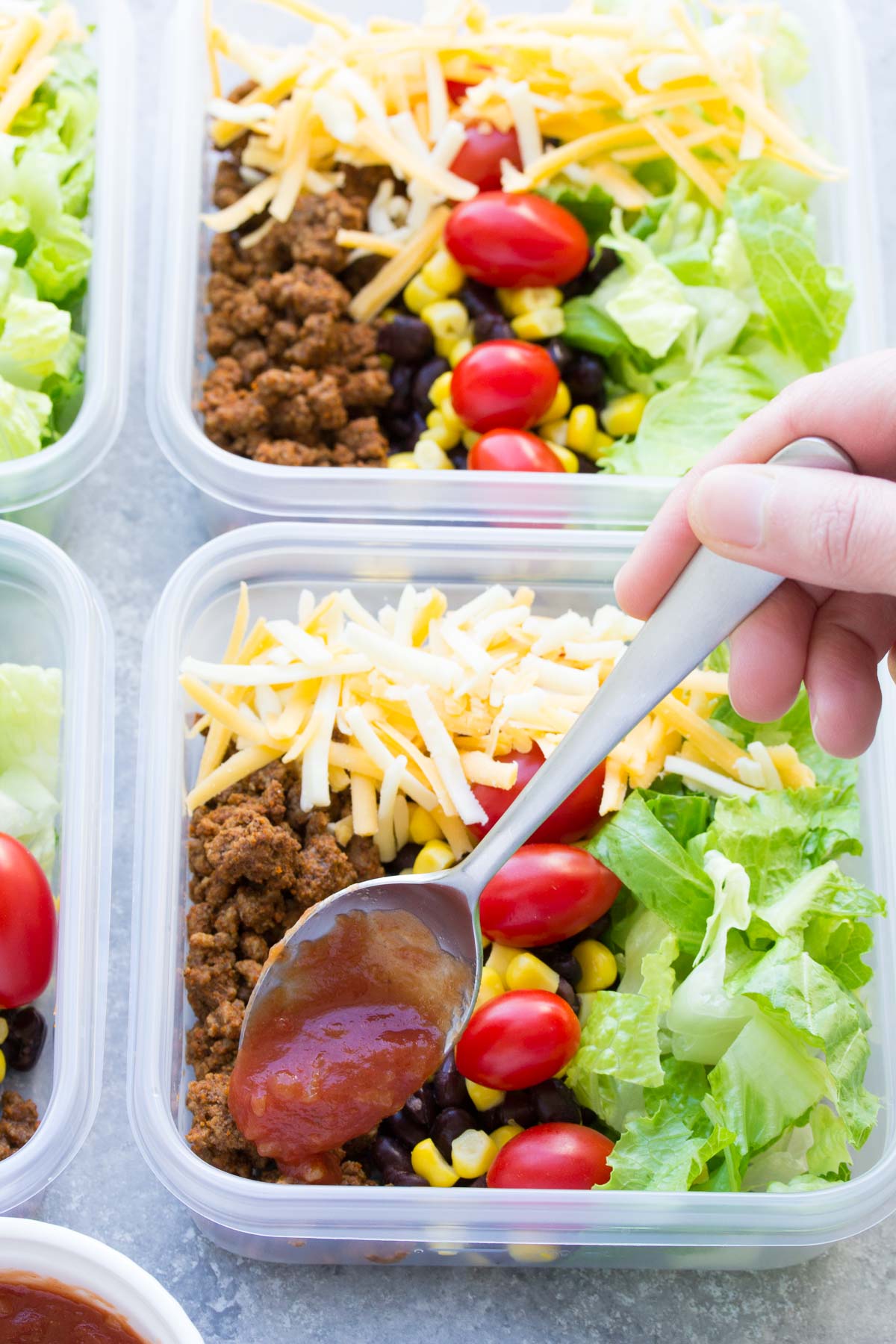 The last thing I added to my salads was a spoonful of salsa, which will become your salad dressing. When you're ready to eat your salad, give it a shake or a stir to mix everything together and enjoy!
Need more easy lunch ideas? Try these:
Like what you see? Be sure to follow along to never miss a recipe!
PINTEREST | FACEBOOK | INSTAGRAM | GOOGLE+ | TWITTER | EMAIL | RSS
Meal Prep Taco Salad Lunch Bowls
Meal Prep Taco Salad Lunch Bowls that you can make ahead! These easy taco salads are filled with taco beef, lettuce, cheese, black beans, corn and salsa!
Ingredients
1 pound lean ground beef or ground turkey
salt & pepper
2 tablespoons homemade taco seasoning
½ cup water
6 cups chopped romaine lettuce
15 ounce can black beans, rinsed and drained
15 ounce can corn, drained
1 cup cherry tomatoes
1 cup grated cheddar and/or jack cheese
1 cup salsa
Directions
Heat a large skillet over medium heat. Add ground beef and sprinkle with salt and pepper. Cook, breaking up the meat, until beef is browned, about 5 minutes. Add the taco seasoning and water and reduce heat to a low simmer. Cook, stirring occasionally, until liquid is mostly gone and meat is cooked through, about 5 minutes. Set aside to cool.
Assemble the salads: Divide lettuce between 4 storage containers, pushing it to the right side of the container. Holding the container so that it tilts to the right, place the beans and corn next to the lettuce. Once the meat is completely cooled, carefully spoon it into the left side of each container.
Add tomatoes on top of the beans and corn, and sprinkle the cheese across the top of the lunch bowls.
Add ¼ cup salsa on top of the taco meat. Seal each container with a lid and store in the refrigerator for up to 3 days.
When ready to eat, shake or stir to combine and enjoy!
Save
This site contains affiliate links. If you make a purchase through these links, I may receive a small commission. Thank you for supporting Kristine's Kitchen!