Mexican Lasagna
---
FREE GROUND BEEF FOR LIFE when you order your first ButcherBox today. Claim Now.
---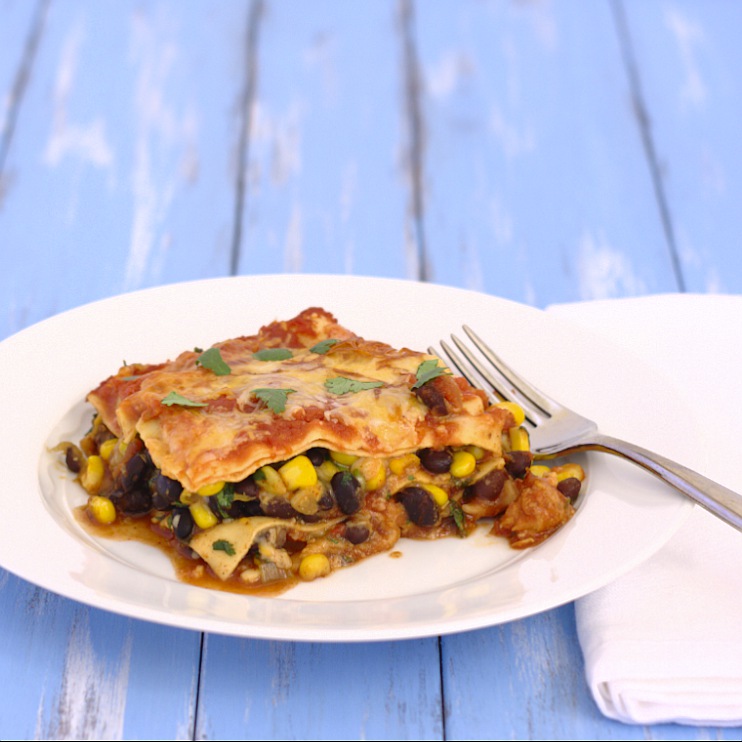 You just have to try this lasagna. I know at first the concept of Mexican lasagna might sound a bit strange, but trust me this meal really works. Seasoned black beans, corn, green onions, cheese, and tomatoes are layered between sheets of lasagna noodles. Using no boil noodles means that no cooking is required in prepping the lasagna, other than baking the assembled dish. Add to that very minimal chopping, and you have a meal that is so easy to put together.
We like to have meatless meals at least a few times each week and this lasagna is a perfect option. I recommend serving the lasagna with a big green salad, for a healthy and satisfying dinner.
One year ago:  Chicken stuffed with sun-dried tomatoes, olives, and mozzarella
Mexican Lasagna
Makes 5 servings
Ingredients:
9 ounces no boil lasagna noodles
15 ounce can black beans, rinsed and drained
1 1/2 cups frozen corn
4-5 green onions, sliced thin
1/2 cup chopped fresh cilantro
1 tsp. dried oregano
1 tsp. garlic powder
1 tsp. cumin
1 1/2 tsp. chili powder
1/2 tsp. Kosher salt
28 ounce can crushed tomatoes
8 ounces shredded Mexican blend cheese
Directions:
Preheat oven to 400 degrees F.
Place the black beans, corn, green onions, cilantro (reserve a little for garnish), oregano, garlic powder, cumin, chili powder, and salt in a large bowl. Stir gently to combine.
Spread a thin layer of tomatoes on the bottom of a 9 x 9 square baking dish. Place one layer of noodles on top of the tomatoes. (Don't worry if a little bit of space remains between the noodles and the edge of the pan, this will make it easier to serve the lasagna.)
On top of the noodles, spread half of the bean and corn mixture, then a layer of tomatoes, and then 1/3 of the cheese.
Repeat the layers with the remaining noodles, filling, tomatoes, and cheese. On the top layer of noodles, spread the rest of the tomatoes and sprinkle with cheese.
Cover with aluminum foil that you've sprayed with a little cooking spray to prevent the cheese from sticking. Bake for about 45 minutes, then uncover and bake 5-10 minutes more until the cheese is browned. Let stand for 10 minutes before slicing and serving. Sprinkle with the reserved cilantro and serve.
Source: Adapted from A Couple Cooks.
This site contains affiliate links. If you make a purchase through these links, I may receive a small commission, at no extra cost to you. Thank you for supporting Kristine's Kitchen!