Slow Cooker Spinach Ricotta Lasagna
---
FREE BACON FOR LIFE when you order your first ButcherBox today. Claim Now.
---
A hearty, vegetarian lasagna made easy in your crock pot! This Slow Cooker Spinach Ricotta Lasagna is a healthier take on your favorite comfort food!
Don't you love it when you can do a little bit of dinner prep early in the day, and then come dinner time there's nothing to do except set the table? That's why slow cooker recipes are some of my favorites. With this lasagna, you can spend about 20 minutes putting it together in the early afternoon, and then it will be ready at dinner time. The lasagna only takes 4 hours to cook (that includes 30 minutes of rest time), so this isn't one of those recipes that you can leave cooking all day while you're at work. But it is perfect for days when you're at home.
Are you looking for EASY, healthy recipes that your family will love? Sign up to receive our simple real food recipes by email: SIGN UP
With the cold weather that we've been having lately, I'm craving warm comfort foods. My family sometimes makes lasagna for Christmas dinner, and when you're feeding a crowd it's good to have options and multiple entrees. I think a baked pasta plus this Slow Cooker Spinach Ricotta Lasagna would make the perfect holiday meal.
This is the second slow cooker lasagna recipe that I'm sharing here, and the first has been a huge hit. It's not hard to see why. You guys love your slow cookers as much as I do!
Update: I now have a third slow cooker lasagna recipe on the website, and it's one that you won't want to miss! Here's my Veggie-Packed Slow Cooker Lasagna recipe.
One of the things I love most about making lasagna in the slow cooker is that I can enjoy it year-round. Even in summer I'll get a craving for cheesy, saucy lasagna and cooking it in the crock pot works out perfectly because I don't have the oven heating up my house.
If you want to make this lasagna totally from scratch, you can follow the recipe as written to make your own easy tomato sauce using canned tomatoes. If you want to take a shortcut, you can use your favorite jarred marinara. I've made it both ways, depending on what I have in my pantry. I've left a note in the recipe about substituting two jars of marinara if you prefer.
See how easy this lasagna is to make! And subscribe to my channel on YouTube!
I like to serve this Slow Cooker Spinach Ricotta Lasagna with a green salad and some toasty garlic bread. And if you love vegetarian pasta recipes, then you've just got to try these other favorite recipes: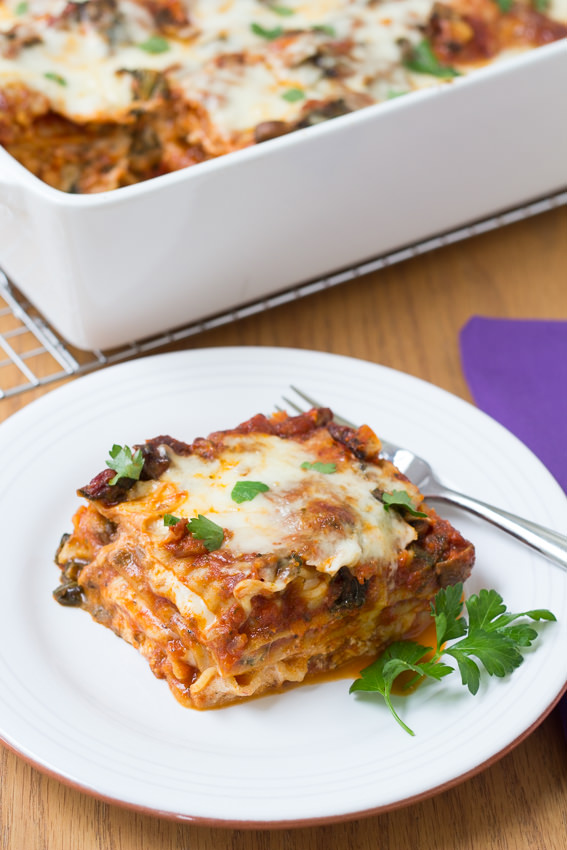 Butternut Squash Stuffed Shells with Brown Butter Alfredo Sauce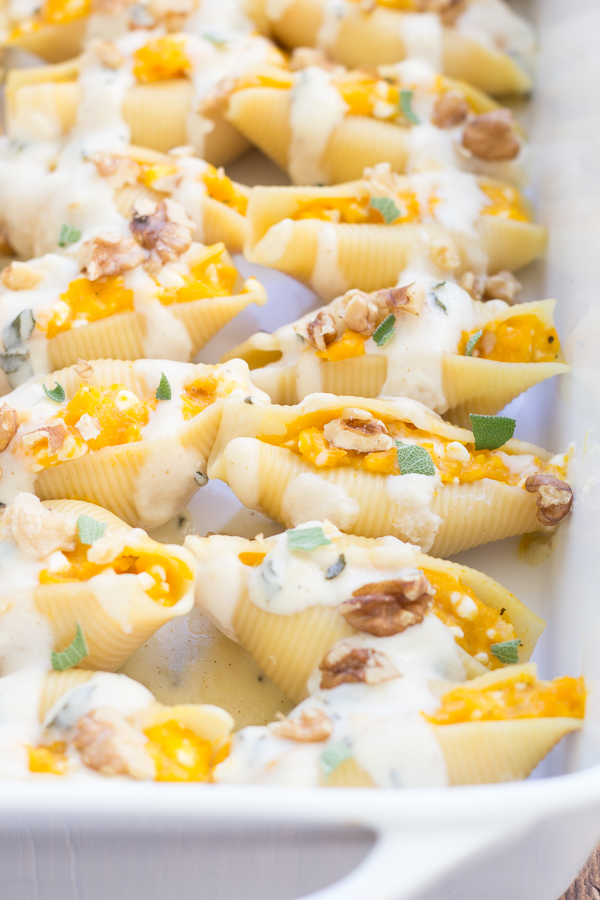 I use and love this slow cooker.
Slow Cooker Spinach Ricotta Lasagna
A hearty, vegetarian lasagna made easy in your crock pot! This Slow Cooker Spinach Ricotta Lasagna is a healthier take on your favorite comfort food!
Recipe type:
slow cooker, main dish
Ingredients
1 tablespoon olive oil
1 small onion, chopped
6 cloves garlic, minced
8 ounces crimini mushrooms, chopped
28 ounce can crushed tomatoes*
14.5 ounce can petite diced tomatoes
8 ounces tomato sauce
2 teaspoons dried oregano
2 teaspoons dried basil
2 teaspoons Italian seasoning
½ teaspoon salt
⅛ teaspoon black pepper
10 whole wheat lasagna noodles (uncooked, not no-boil)
1⅓ cups part-skim ricotta cheese
5 ounces fresh baby spinach
2 ¾ cups grated part-skim mozzarella cheese
Directions
Heat olive oil in a medium skillet over medium heat. Add onion, garlic, and mushrooms and cook until slightly softened, about 3 minutes. Stir in crushed tomatoes, diced tomatoes, tomato sauce, oregano, basil, Italian seasoning, salt, and pepper. Remove from heat.
Spread a thin layer of the sauce/mushroom mixture over the bottom of the slow cooker. Place a layer of noodles over the sauce, breaking them into smaller pieces as needed. Spoon ⅓ cup ricotta cheese over the noodles, scooping little dollops of it to spread it out over the noodles. Pour 1 cup of the sauce evenly over the noodles and ricotta. Top with ⅓ of the spinach and ¾ cup mozzarella.
Repeat layers two more times: noodles, ⅓ cup ricotta, 1 cup sauce, spinach, ¾ cup mozzarella.
Then make one more layer on top with noodles, the remaining sauce, ⅓ cup ricotta, and ½ cup mozzarella.
Cook lasagna in your slow cooker on low heat for about 3 ½ hours, until noodles are tender. Let stand, covered, for 30 minutes before serving.
*Note: If you prefer to use jarred marinara sauce, you can replace the crushed tomatoes, diced tomatoes, tomato sauce, oregano, basil, Italian seasoning, and salt with 2 (26 ounces each) jars of your favorite marinara sauce. Season with pepper and continue with the recipe as written.
This site contains affiliate links. If you make a purchase through these links, I may receive a small commission, at no extra cost to you. Thank you for supporting Kristine's Kitchen!