Pear, Feta and Walnut Pizza
---
Which Instant Pot should you buy? See my guide.
---
This Pear, Feta and Walnut Pizza is not your ordinary pizza.  The combination of sweet pears, tangy feta and toasty walnuts is out of this world delicious!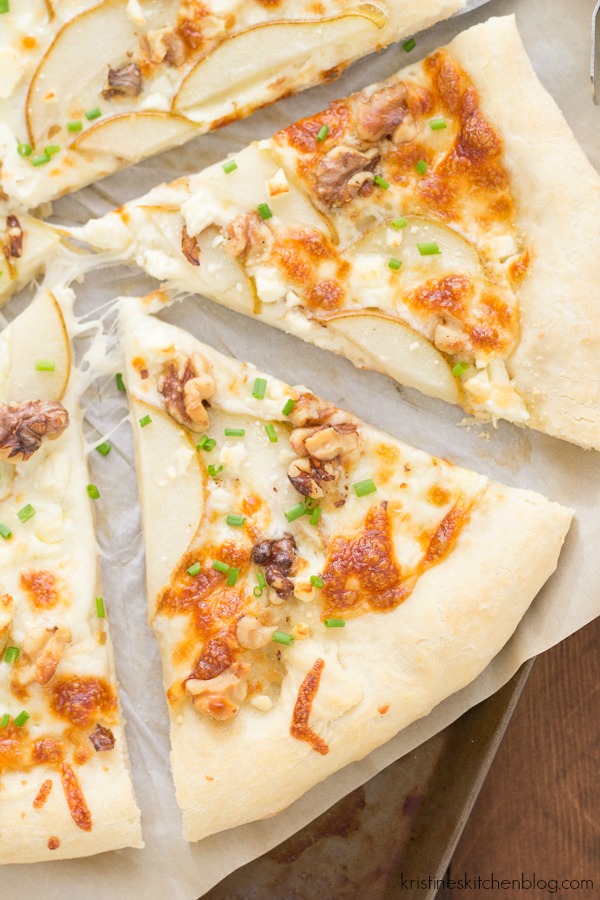 Happy Friday, Friends! How has your week been? Mine's been crazy busy, but I did have the day off yesterday. I used the extra time to catch up on some housework and laundry (or at least try to), work on report cards, and take care of the kids of course! This weekend is going to be a full one, between the soccer field, finishing up report cards (next week is the last week of school – woo hoo!), and other miscellaneous kid and house stuff. What are your weekend plans?
There are a few recipes that I make that I've been making forever. This Pear, Feta and Walnut Pizza is one such recipe. I first made this pizza shortly after Brad and I got married, and we've been married for over 11 years now. As a side note, I just spent about three minutes figuring out how long we've been married. Not enough sleep + mom brain are challenging my memory and math skills! It's a very good thing summer is near, indeed.
When I make favorite recipes like this one, it helps me to remember times past and what day to day life was like back then. Life sure was a lot simpler before we had a house and 3 kids, but a whole lot more boring too! Now when I make this pizza I either have little helpers in the kitchen or I'm trying to multitask five things at once.  🙂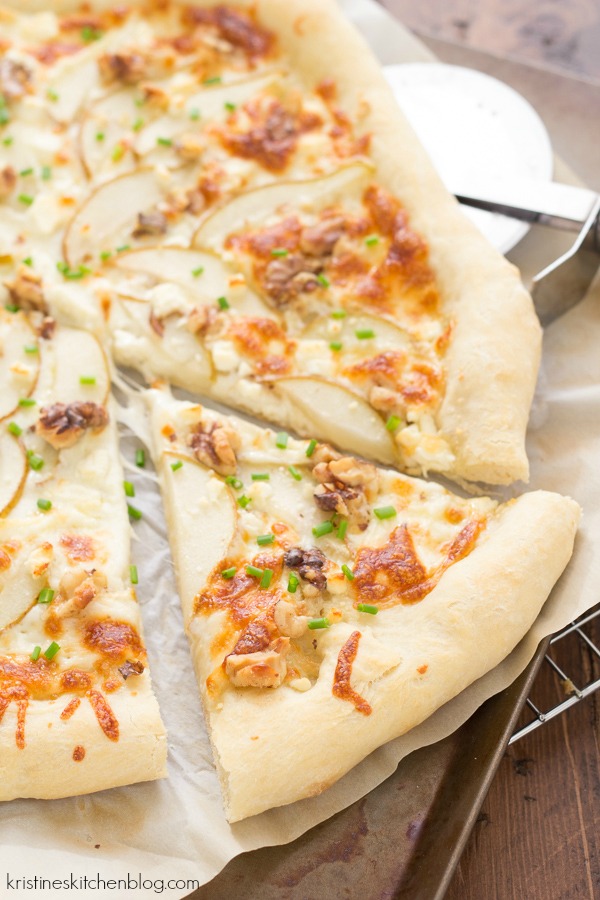 For years I made this pizza with gorgonzola cheese, and the combination of the gorgonzola and pears is really good.  Lately, though, I've been using feta instead and loving it.  We keep feta on hand in our refrigerator much more often than gorgonzola, so it works out convenience-wise too.
Out of all of the homemade pizzas that we've made over the years, this one is my favorite.  Next to our standby of veggie and olive, this Pear, Feta and Walnut Pizza is the one we make most often.  I hope you like it as much as we do.  Enjoy!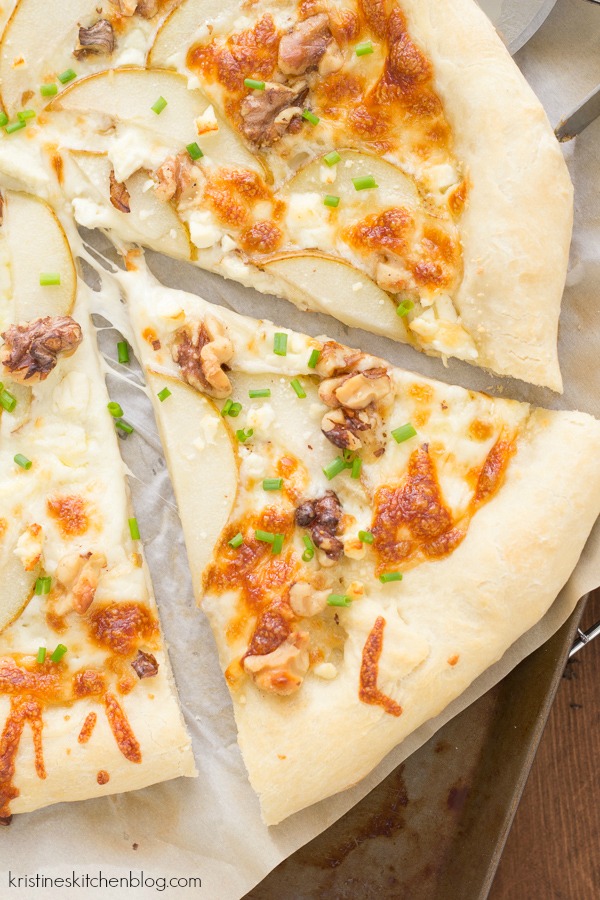 Pear, Feta and Walnut Pizza
This Pear, Feta and Walnut Pizza is not your ordinary pizza. The combination of sweet pears, tangy feta and toasty walnuts is out of this world delicious!
Recipe type:
Pizza, Main Dish
Serves:
about 4 (makes 1 pizza)
Ingredients
1 ball pizza dough
extra virgin olive oil
6 ounces (1½ cups) grated mozzarella cheese
1 medium pear, cored and thinly sliced (bosc or any type you prefer)
1-2 ounces feta cheese crumbles
⅓ cup chopped walnuts
1 teaspoon chopped fresh chives
Directions
Place a pizza stone in a 500 degree oven to preheat for at least 30 minutes.
Meanwhile, roll out pizza dough into a 12 to 14-inch round and place on a parchment-lined baking sheet. Lightly brush dough with a little bit of olive oil. Sprinkle on the mozzarella cheese.
Arrange the pear slices on top of the cheese; top with feta and walnuts.
Reduce oven temperature to 425 degrees F. Slide the parchment and pizza onto the preheated pizza stone in the oven. Bake pizza for 9-12 minutes, until cheese and crust are lightly golden brown. Let pizza stand for 5 minutes; sprinkle on chives, slice and serve.

This site contains affiliate links. If you make a purchase through these links, I may receive a small commission, at no extra cost to you. Thank you for supporting Kristine's Kitchen!