Slow Cooker Apple Crisp
This Slow Cooker Apple Crisp is cooked entirely in the crock pot! This easy dessert is bursting with juicy apples, brown sugar, and a buttery oat crumble topping.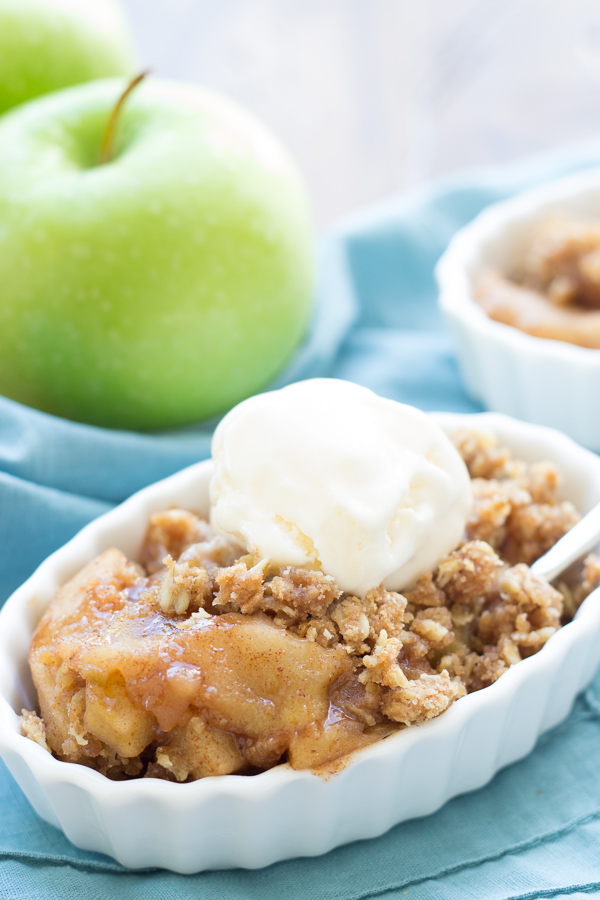 I've created a Facebook group to help us keep in touch and share healthy eating ideas! Join us here for new recipe ideas, healthy eating tips, and ideas for saving time while having fun in the kitchen!
My slow cooker has been working overtime lately. On Tuesday, I used it to make my third batch (in two weeks!) of this Slow Cooker Apple Crisp. As soon as that was done, I washed out my slow cooker insert and immediately got started on a batch of slow cooker turkey chili. Tuesday was a day full of delicious food, with lots of leftovers to get us through the rest of the week! I'm embracing fall flavors in my kitchen, even though the fall weather I've requested hasn't arrived quite yet. 🙂
I'm always amazed at the variety of foods that can be made in the slow cooker. I've seen recipes for everything from granola to cake to brownies. If this slow cooker apple crisp looks good to you, be sure to check out my Slow Cooker PUMPKIN Apple Crisp recipe! My classic apple pie recipe is another fall favorite.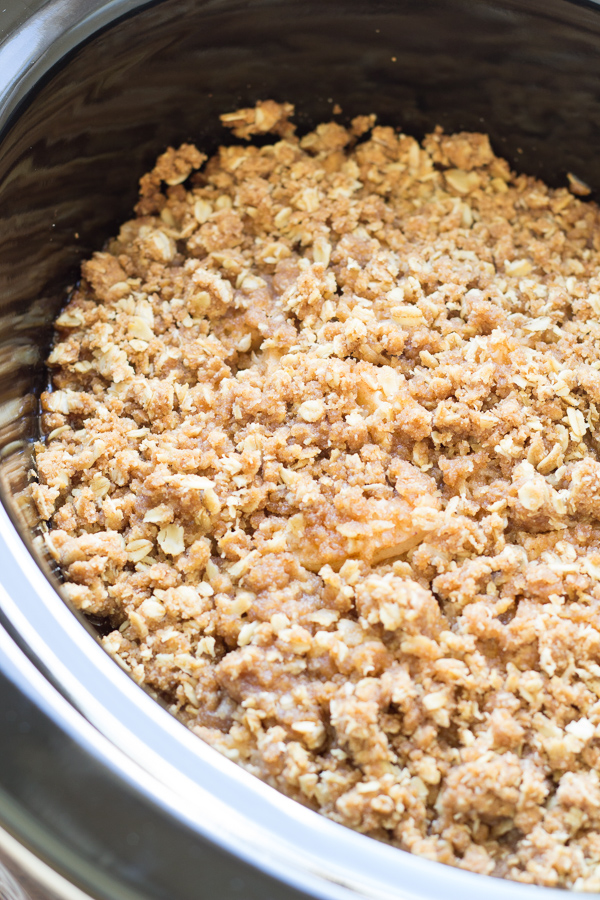 I've been inspired lately to create new slow cooker recipes because, let's face it, we can all use some convenience in our lives when it comes to preparing food for our families! I love a good apple crisp and this slow cooker version just might become your new favorite apple dessert.
While the apple crisp cooks low and slow, the apples become soft and juicy. The liquid released from the apples combines with the sugar, cinnamon, and nutmeg to coat the apples in a sweet, spiced caramel sauce. The topping crisps up and is crumbly, buttery, and spiced with cinnamon. I'm getting hungry just thinking about it.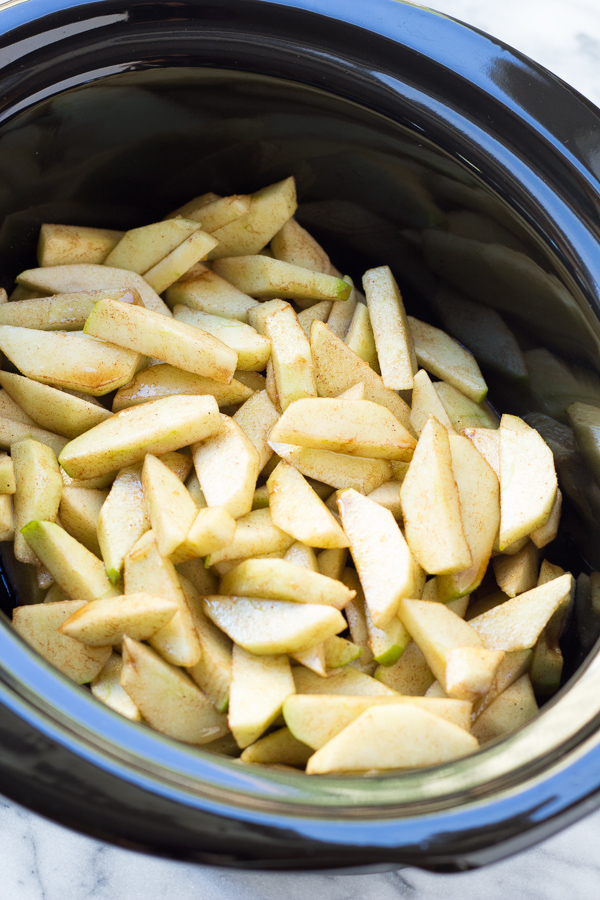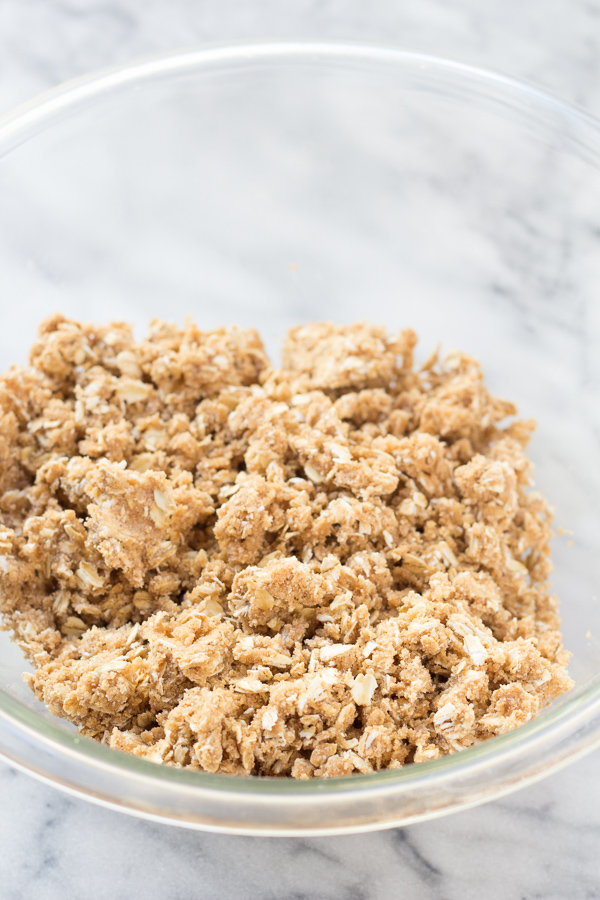 Those of you who know me well, know that I make healthy substitutions in recipes whenever possible. Even dessert recipes. In this apple crisp, I've used white whole wheat flour and oats in the crisp topping. I've also tested this recipe with different amounts of sugar and have used the minimal amount that still gave the crisp enough sweetness to taste like a crave-worthy dessert. If you've trained your sweet tooth to crave less sugar, you could get away with decreasing the sugar even more. And let's not forget that this apple crisp is full of fresh apples!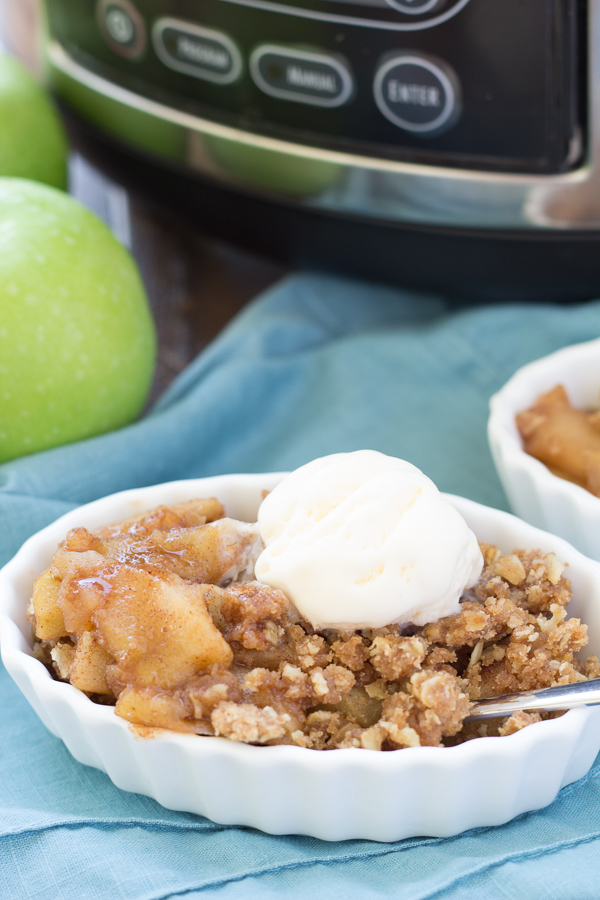 This Slow Cooker Apple Crisp is perfect for entertaining, since you can prep it earlier in the day and then start it cooking a few hours before dessert time. If you aren't ready to cook it right away, prepare the apple mixture and crisp topping in two separate bowls and store them in the refrigerator until you're ready to cook your apple crisp. Then transfer the apples and topping to your crock pot when you're ready to start it cooking. That way, your slow cooker insert won't be cold from the refrigerator when you turn it on.
If you're in the market for a new slow cooker and need a recommendation, I have this one and love it.
This apple season, treat yourself to a warm bowl of this Slow Cooker Apple Crisp topped with a scoop of vanilla ice cream. I've even been known to enjoy this for breakfast, minus the ice cream. 😉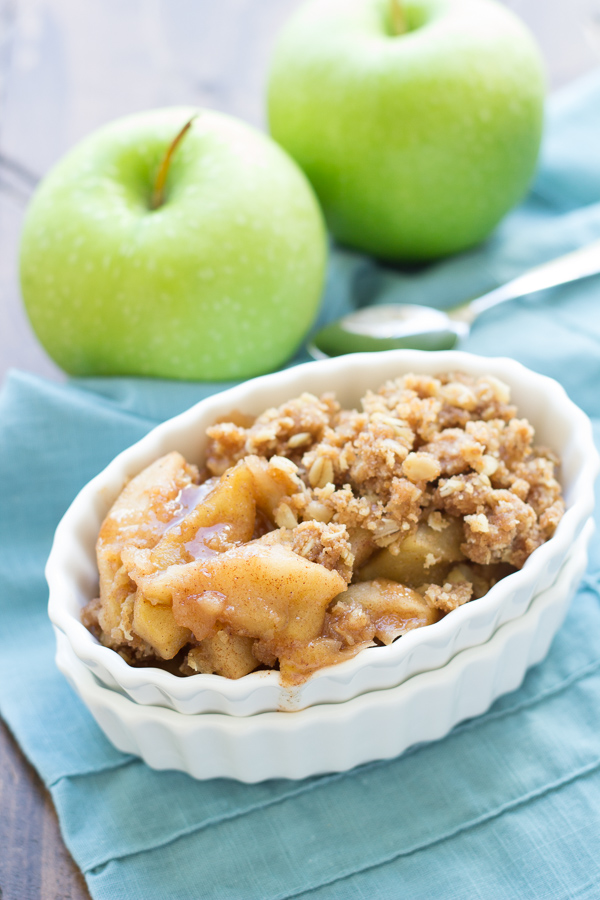 You'll also love my:
Slow Cooker Pumpkin Apple Crisp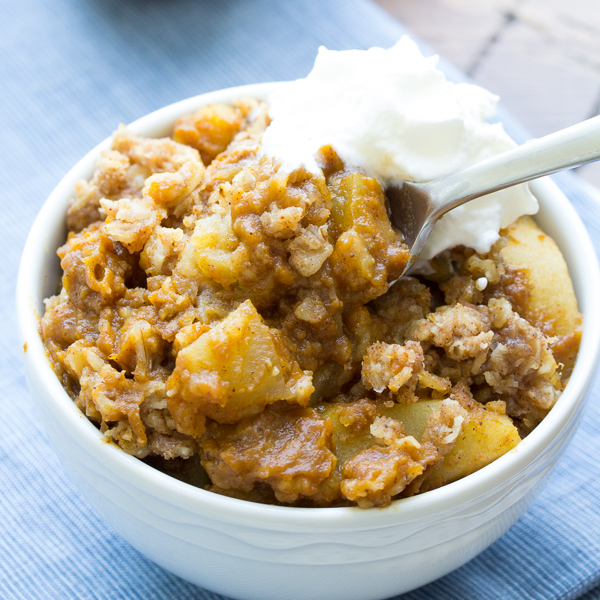 Slow Cooker Blueberry Peach Cobbler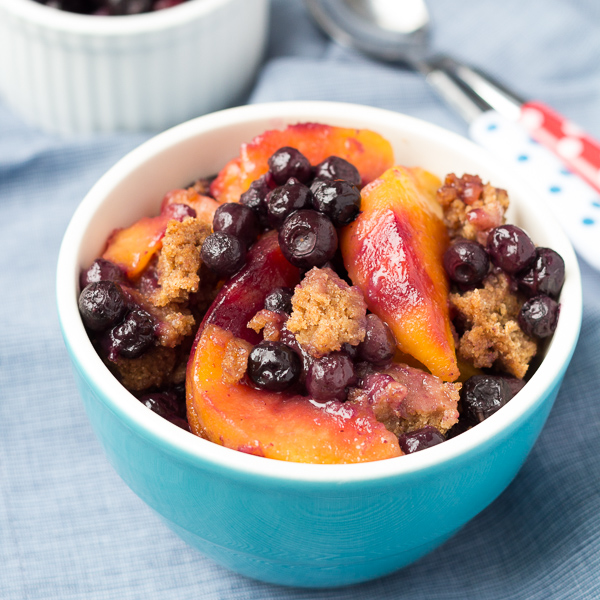 Slow Cooker Apple Crisp
This Slow Cooker Apple Crisp is cooked entirely in the crock pot! This easy dessert is bursting with juicy apples, brown sugar, and a buttery oat crumble topping.
Recipe type:
Dessert, Slow Cooker
Ingredients
For the apple mixture:
8 Granny Smith apples, peeled, cored, and cut into ¼-inch thick slices
½ cup packed light brown sugar
2 tablespoons granulated sugar
2 teaspoons cinnamon
¼ teaspoon nutmeg
¼ teaspoon salt
For the crisp topping:
1 cup old-fashioned oats
¾ cup white whole wheat flour
¼ cup packed light brown sugar
1 teaspoon cinnamon
¼ teaspoon salt
½ cup cold unsalted butter, cut into cubes
Ice cream, for serving (optional)
Directions
Make the apple mixture:
Place sliced apples in the slow cooker. Add brown sugar, granulated sugar, cinnamon, nutmeg, and salt. Stir. (Be sure to use a non-metal spoon so as not to scratch your slow cooker insert.) Let sit while you prepare the crisp topping.
Make the crisp topping:
Combine oats, flour, brown sugar, cinnamon, and salt in a large bowl. Stir until well combined. Using your fingertips, work the butter into the oat mixture until the mixture starts to clump together.
Stir the apple mixture one more time and then spread apples out into an even layer. Sprinkle on the crisp topping.
Cook the apple crisp:
Cook on high for 2 hours or on low for 3-3½ hours, until apples are soft. Turn off heat and let stand for at least 30 minutes and up to 1 hour before serving (keeping the lid on). Serve with vanilla ice cream, if desired.
Nutrition Information
Serving size:
⅛ recipe
Calories:
366kcal
Fat:
13g
Saturated fat:
7g
Carbohydrates:
64g
Sugar:
42g
Sodium:
158mg
Fiber:
7g
Protein:
4g
Cholesterol:
31mg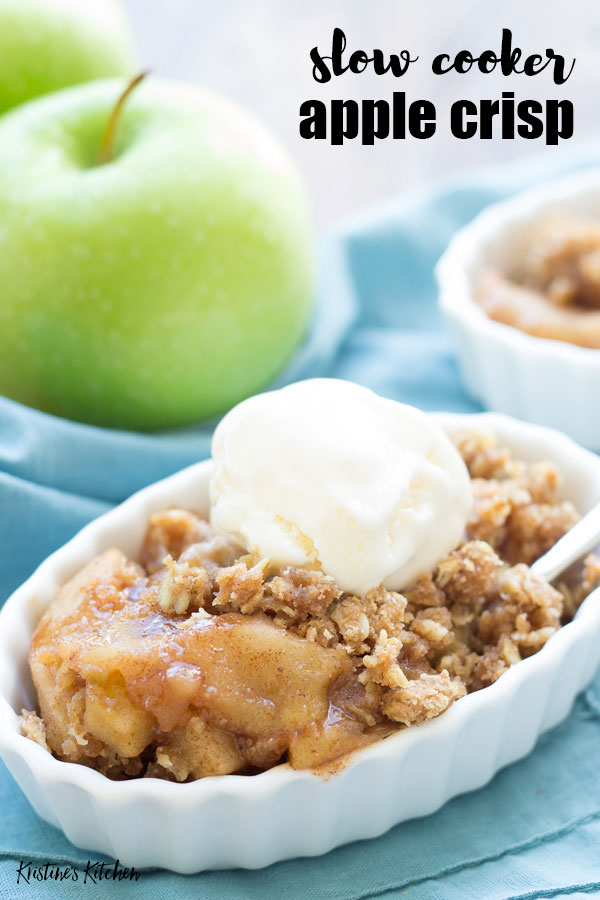 This site contains affiliate links. If you make a purchase through these links, I may receive a small commission, at no extra cost to you. Thank you for supporting Kristine's Kitchen!