Slow Cooker Pumpkin Apple Crisp
This Slow Cooker Pumpkin Apple Crisp is an easy dessert that's made completely in your crock pot!
You guys love slow cooker recipes. They are consistently among the most viewed recipes on this site, day after day. The top 3 reader favorites are this Slow Cooker Chicken, Broccoli and Rice Casserole, my ultra-easy 3-Ingredient Slow Cooker Taco Chicken, and this favorite Slow Cooker Apple Crisp.
Based on the popularity of my other slow cooker dessert recipes, I wanted to create a slow cooker pumpkin dessert for all of you who love both pumpkin and your slow cooker. I tested a few different recipe ideas, and this Slow Cooker Pumpkin Apple Crisp was the clear winner!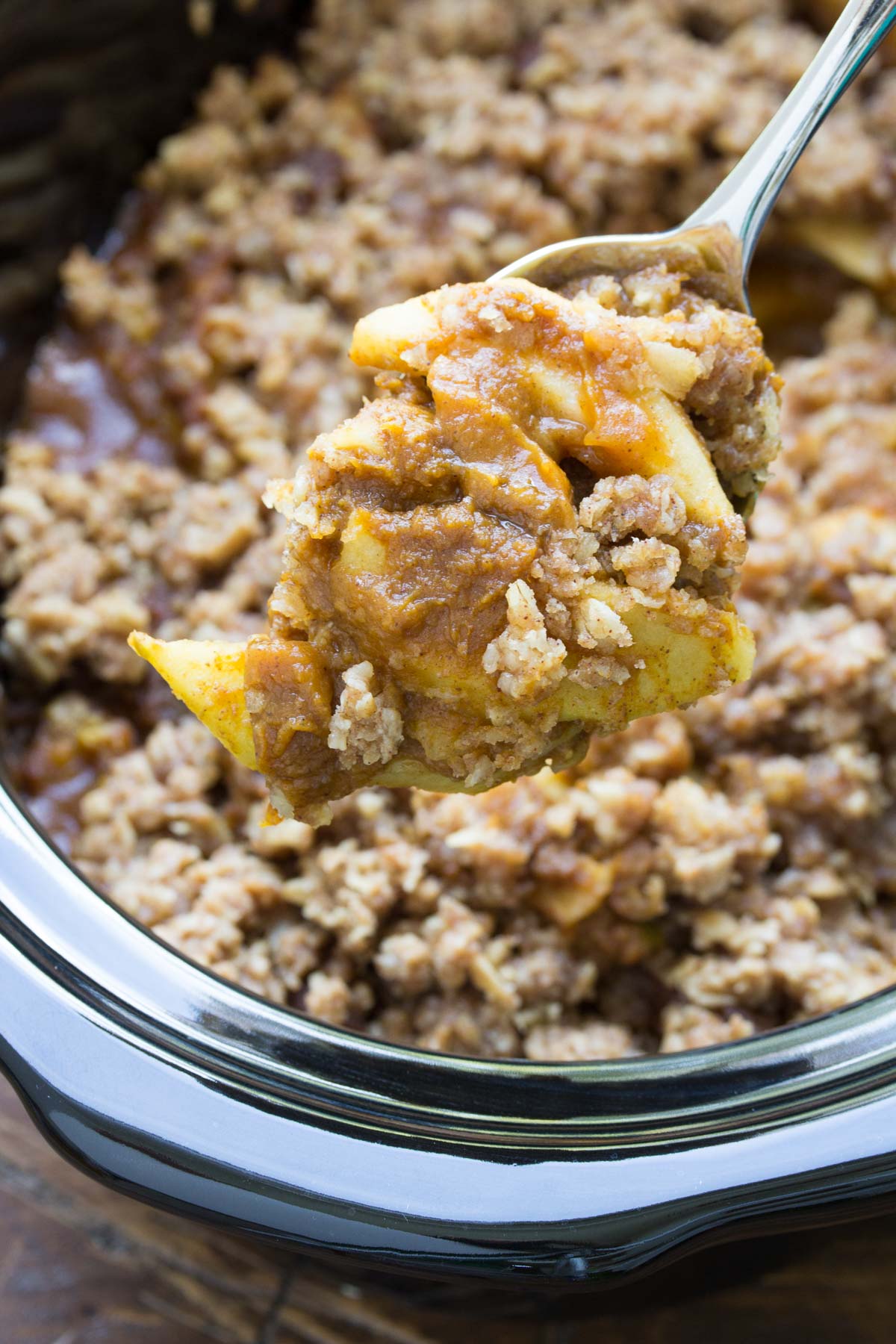 It's everything a fall dessert should be: full of warm spices, easy to make, on the healthier side, and it has both pumpkin and apples! If you haven't tried pumpkin and apple together, you really should. In this crisp, the apples are tossed in a mixture of pumpkin, pure maple syrup, cinnamon, and other spices.
Then you crumble on a simple whole grain crisp topping. While it cooks, the apples soften and absorb the flavors of pumpkin and cinnamon. The topping crisps up, and, if you take a peek you'll see that the filling gets all deliciously hot and bubbly. The end result? An irresistible combination of pumpkin pie and apple crisp!
I can't believe I'm about to write this, but… it's just about time to start thinking about our Thanksgiving menus! This Slow Cooker Pumpkin Apple Crisp would be just the thing to make for dessert for Thanksgiving and other holiday gatherings. It takes only a few minutes to prep, which is important when you have lots of other dishes to prepare for a big meal. Plus, when oven space is at a premium, using your slow cooker to cook part of the meal is super convenient. And it solves the pumpkin pie or apple pie dilemma. You don't have to choose, and you don't have to make both… you just have to make this Slow Cooker Pumpkin Apple Crisp!
If you're in the market for a slow cooker and need a recommendation, I have this one and love it. 🙂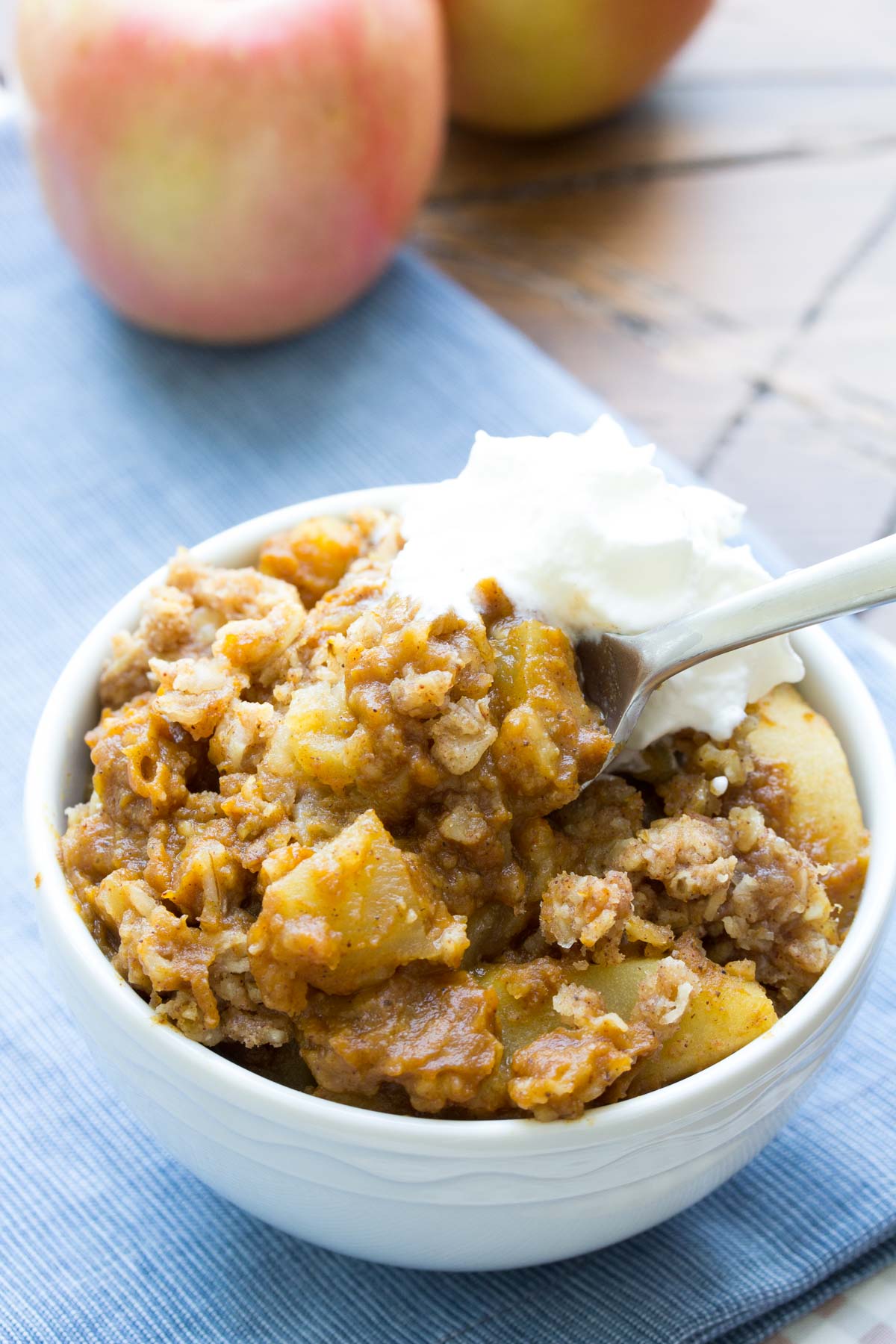 As I write this post, I'm finishing off the last of our current batch of this dessert. And let me tell you, I'm already thinking about when I'll make it again. The crisp was perfect yesterday right after I made it, but the leftovers are even better now that the flavors have had more time to develop. Topped with freshly whipped cream, it's dessert heaven!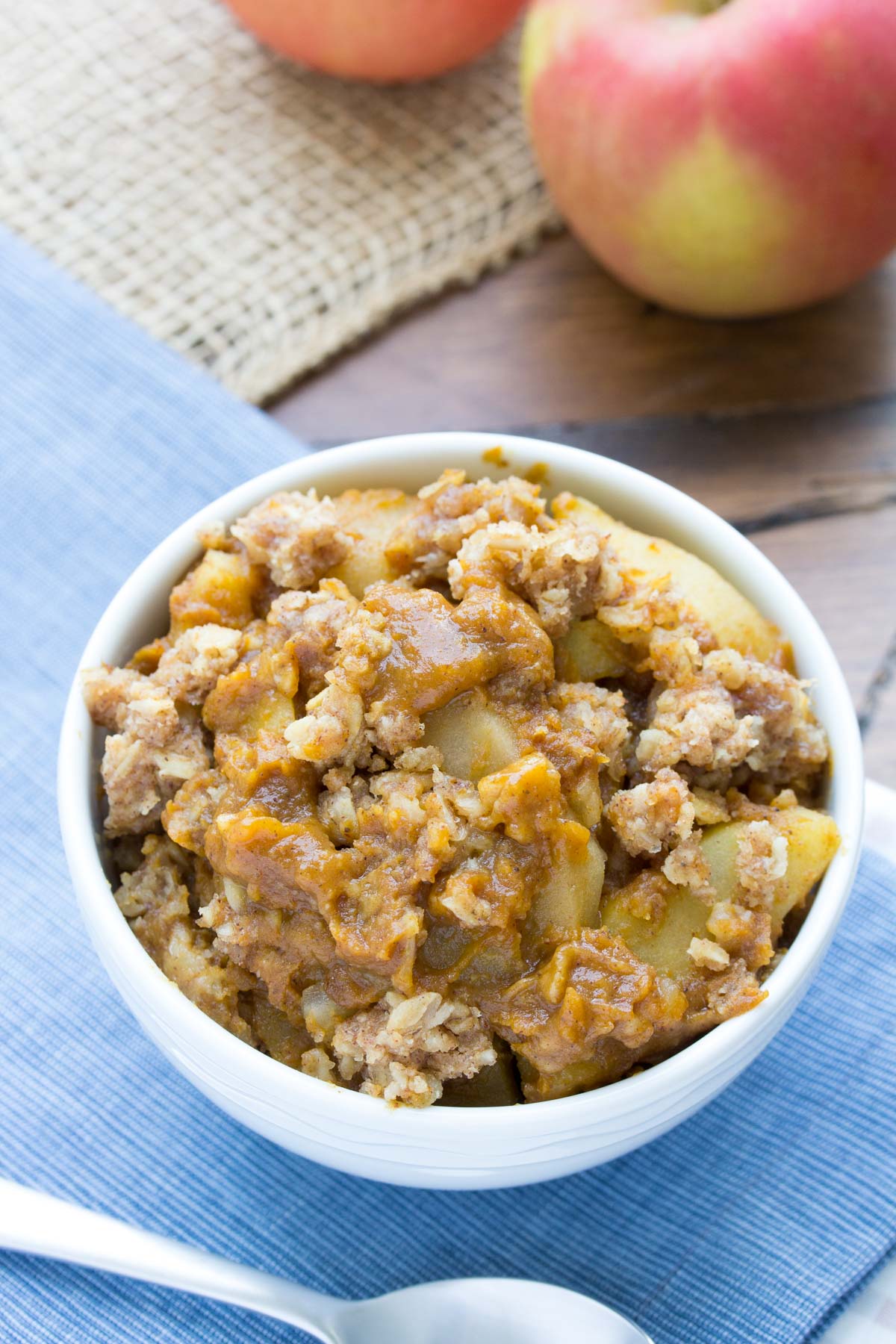 How I made this Slow Cooker Pumpkin Apple Crisp a guilt-free (yummy!) dessert:
I sweetened the crisp with pure maple syrup rather than refined sugars. It's not overly sweet, and it's just perfect with a little freshly whipped cream or ice cream on top.
The crisp topping is 100% whole grain, made with white whole wheat flour and oats.
We're using real butter in the topping! I have no problem baking with real butter. Even when used sparingly, it adds great flavor to the finished product.
Pumpkin and apples are both full of nutrients and fiber.
Like what you see? Be sure to follow along to never miss a recipe!
PINTEREST | FACEBOOK | INSTAGRAM | GOOGLE+ | TWITTER | EMAIL | RSS
Slow Cooker Pumpkin Apple Crisp
This Slow Cooker Pumpkin Apple Crisp is an easy dessert that's made completely in your crock pot!
Recipe type:
Dessert, Slow Cooker
Ingredients
For the pumpkin apple filling:
15 ounce can (1 ¾ cups) pumpkin puree (not pumpkin pie filling)
½ cup pure maple syrup
2 teaspoons ground cinnamon
½ teaspoon ground ginger
¼ teaspoon ground cloves
¼ teaspoon allspice
¼ teaspoon ground nutmeg
¼ teaspoon salt
6 Granny Smith apples, peeled, cored and cut into ¼-inch thick slices
For the crisp topping:
1 cup old-fashioned oats
¾ cup white whole wheat flour*
½ teaspoon ground cinnamon
½ cup cold unsalted butter, cut into small cubes
¼ cup pure maple syrup
For serving:
freshly whipped cream or ice cream, if desired
Directions
In a large bowl, whisk together pumpkin puree, ½ cup pure maple syrup, spices, and salt until well combined. Stir in apple slices. Transfer the mixture to your slow cooker insert.
In a medium bowl, stir together oats, white whole wheat flour and cinnamon. Use your fingertips to work the butter into the oat mixture until the mixture clumps together and the butter pieces are small. Stir in the ¼ cup maple syrup. Crumble the topping evenly over the filling in the slow cooker.
Cook on high for 2 to 2 ½ hours or on low for 3 to 3 ½ hours, until the apples are soft. Turn off the heat and let stand for at least 30 minutes and up to an hour before serving (keeping the lid on). Serve with freshly whipped cream or ice cream, if desired.
*You can substitute regular whole wheat flour or all-purpose flour.
This site contains affiliate links. If you make a purchase through these links, I may receive a small commission, at no extra cost to you. Thank you for supporting Kristine's Kitchen!