Whole Wheat Sandwich Bread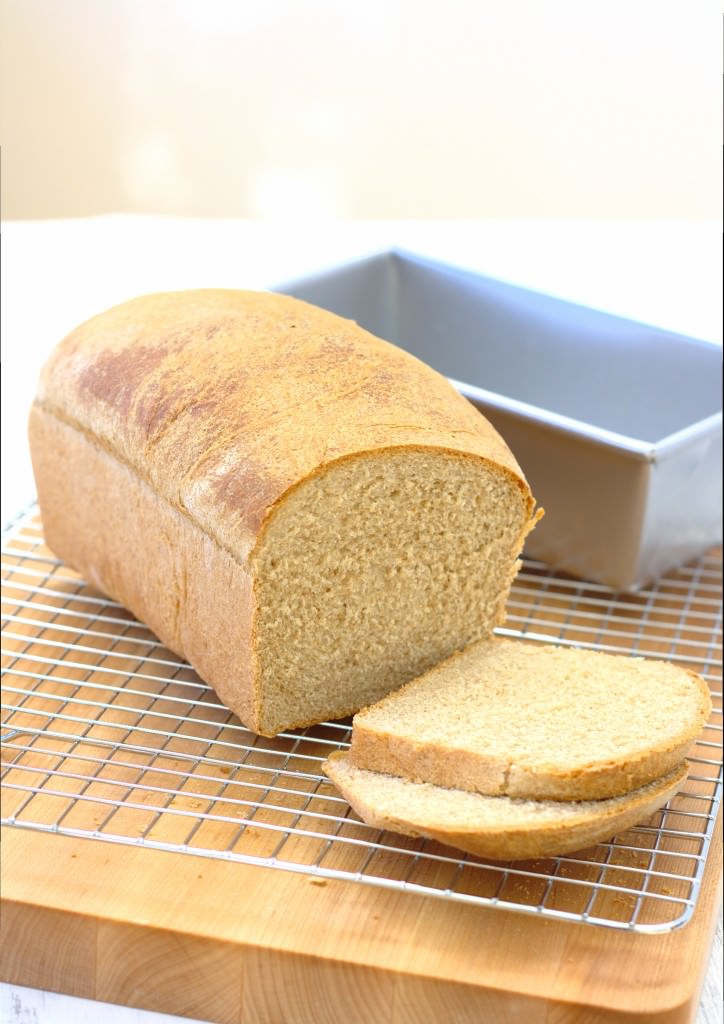 It's been a while since my last post, but not for lack of wanting to work on the blog. I've just been so busy, both with Julia's 4th birthday party (yes, she's 4!) and report cards. The party was a lot of fun, and I hope to write up a post about it soon.  The report cards are done and I'm all set for parent conferences next week, so I finally have a few minutes to devote here.
This whole wheat sandwich bread is a recipe I've been wanting to share for a while. Making more of our staples the homemade way is an undertaking that I've really been enjoying. Greek yogurt, graham crackers, and burger buns are just a few of the other foods I've made myself. I definitely don't always make these rather than buying them, but when I have the time I try to.
This bread is my favorite out of the many whole wheat bread recipes I've tried. It is very easy to make, especially if you have a stand mixer to do the work of kneading the dough. My only issue with the recipe is that it only makes one loaf instead of two. I tried doubling it one time, but it was too much dough for my 5 quart stand mixer. If you have a larger capacity mixer it might work. I like to freeze my bread to keep it fresh longer. To do this, let it cool completely, then slice, and freeze in a zip-top plastic bag.
One of my favorite ways to enjoy this bread is lightly toasted (or fresh and warm from the oven) and topped with some almond butter.  It's a perfect, healthy, and delicious snack.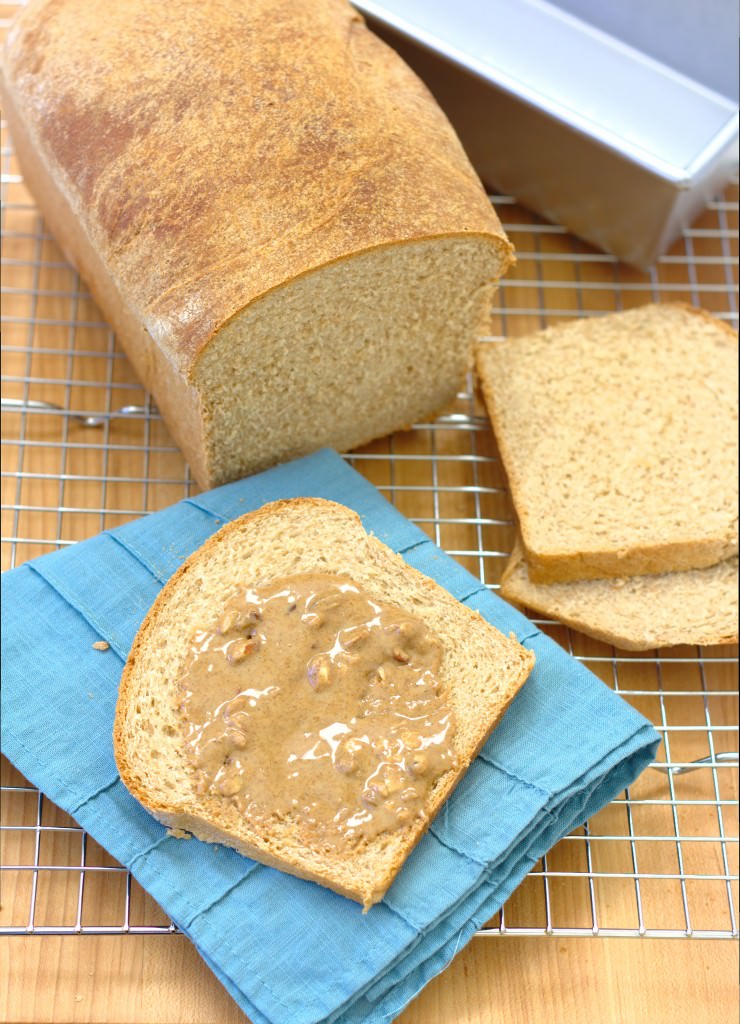 Whole Wheat Sandwich Bread
Makes one 9-inch loaf
Ingredients:
1 cup warm whole milk (110 degrees)
1/3 cup warm water (110 degrees)
3 tbsp. honey
3 tbsp. plus ½ tbsp. unsalted butter, melted and cooled, divided
1 ¾ cups (9 2/3 oz.) whole wheat flour
1 ½ -2 cups (8 ¼ to 11 oz.) bread flour
¼ cup wheat germ
1 envelope (2 ¼ tsp.) instant or rapid-rise yeast
2 tsp. salt
Vegetable oil spray
Directions:
Combine the milk, water, honey, and 3 tablespoons melted butter in a large liquid measuring cup; whisk to combine. In the bowl of a stand mixer fitted with the dough hook, combine the whole wheat flour, 1 ½ cups bread flour, wheat germ, yeast, and salt. Mix briefly to combine. With the mixer on low speed, add the milk mixture and mix until the dough comes together, about 2 minutes.
Increase the mixer speed to medium-low and knead until the dough is smooth and elastic, about 8 minutes. If after 4 minutes more flour is needed, add the remaining ½ cup bread flour, 2 tablespoons at a time, until the dough clears the sides of the bowl but sticks to the bottom.
Turn the dough out onto a lightly floured work surface and knead by hand to form a smooth, round ball. Place the dough in a large, lightly oiled bowl and cover with greased plastic wrap. Let rise in a warm place until doubled in size, about 1 to 1 ½ hours.
Spray a 9 by 5-inch loaf pan with vegetable oil spray. Turn the dough out onto a lightly floured work surface. Press the dough into a 9-inch square, roll it into a tight cylinder, and pinch the seam closed. Place the dough, seam-side down, into the greased loaf pan. Spray the loaf lightly with vegetable oil spray, cover loosely with greased plastic wrap, and let rise in a warm place until the loaf has nearly doubled in size, 45 to 75 minutes. Meanwhile, adjust an oven rack to the lower-middle position and heat the oven to 350 degrees F.
Brush the loaf with the ½ tablespoon melted butter. Bake until the crust is golden and the center of the bread registers 200 degrees on an instant-read thermometer, about 40 to 50 minutes, rotating the loaf halfway through baking.
Cool in the pan for 15 minutes, then turn out onto a wire rack and let cool to room temperature before slicing.
Source: The America's Test Kitchen Healthy Family Cookbook
This site contains affiliate links. If you make a purchase through these links, I may receive a small commission, at no extra cost to you. Thank you for supporting Kristine's Kitchen!