Light and Fluffy Blueberry Banana Muffins
These Light and Fluffy Blueberry Banana Muffins are easy to make, whole-wheat, and free of refined sugars! They are perfect for make-ahead breakfasts or snacks!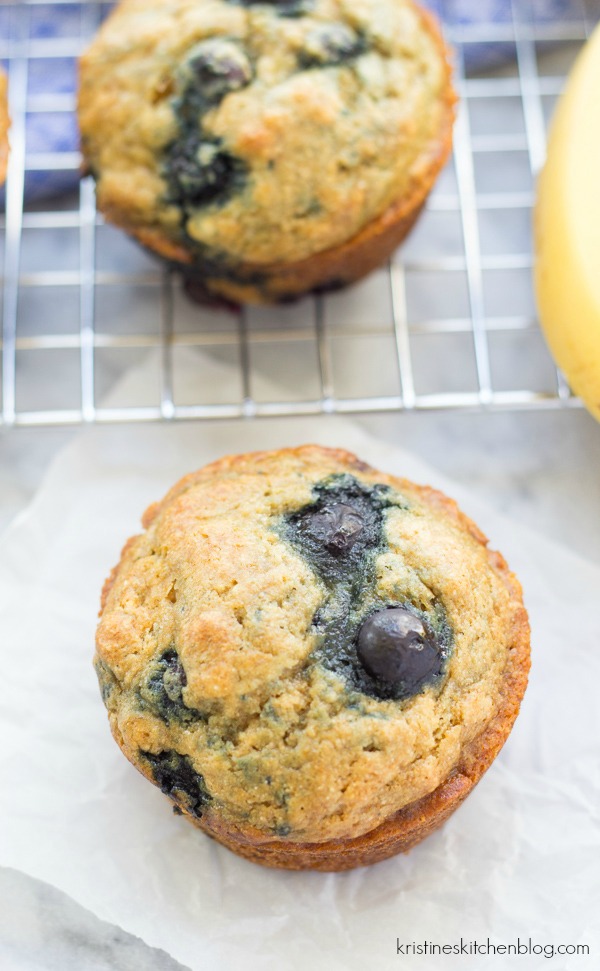 I think I could write a whole blog dedicated to muffin recipes. I make a batch of muffins pretty much every week. They are quick and easy to make, and perfect for storing in your freezer for a fast breakfast. I like to make them on the healthier side so I can snack on a muffin and still keep to my healthy eating goals. Sometimes I make my tried and true favorite muffin recipes, and sometimes I like to experiment with a new recipe like this one.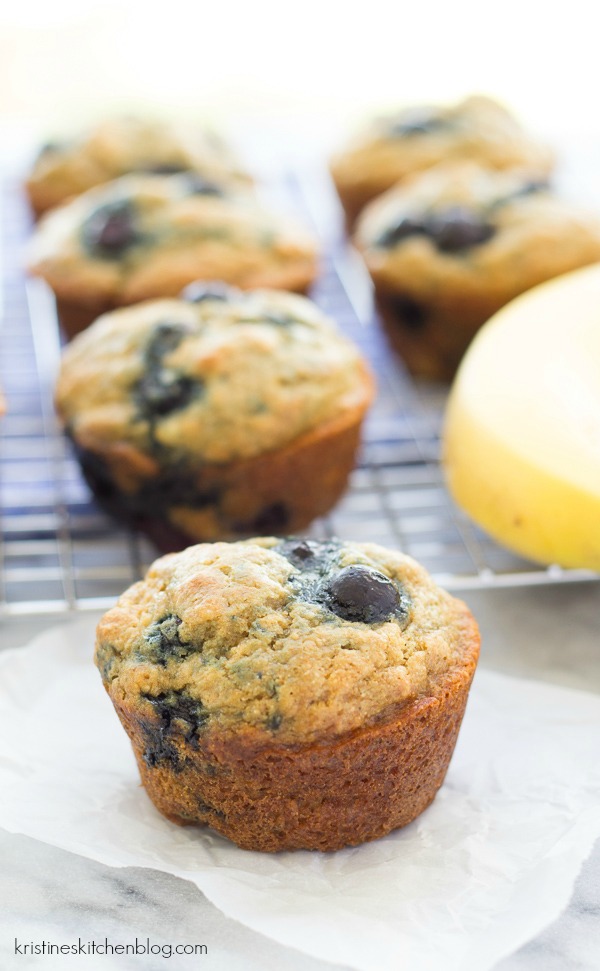 Like most moms, you are probably struggling to find the TIME to put a homemade dinner on the table for your family on busy weeknights. If you already had a plan, a grocery list, easy recipes and prep-ahead tips, you could have a REAL dinner on your table in a flash! I have been meal planning and prepping for years and now I am sharing my plan with YOU. You will save time, save money cooking at home, and eat real food.
Learn more about my Time-Saving Healthy Family Meal Plan.
I developed this recipe at my sister's request. She was looking for a healthy blueberry banana muffin that's easy to make and doesn't require any crazy ingredients. I was so happy when my first batch turned out pretty close to perfect, and after testing it a few times (and having my sister and mom test it, too), I'm excited to share it with you!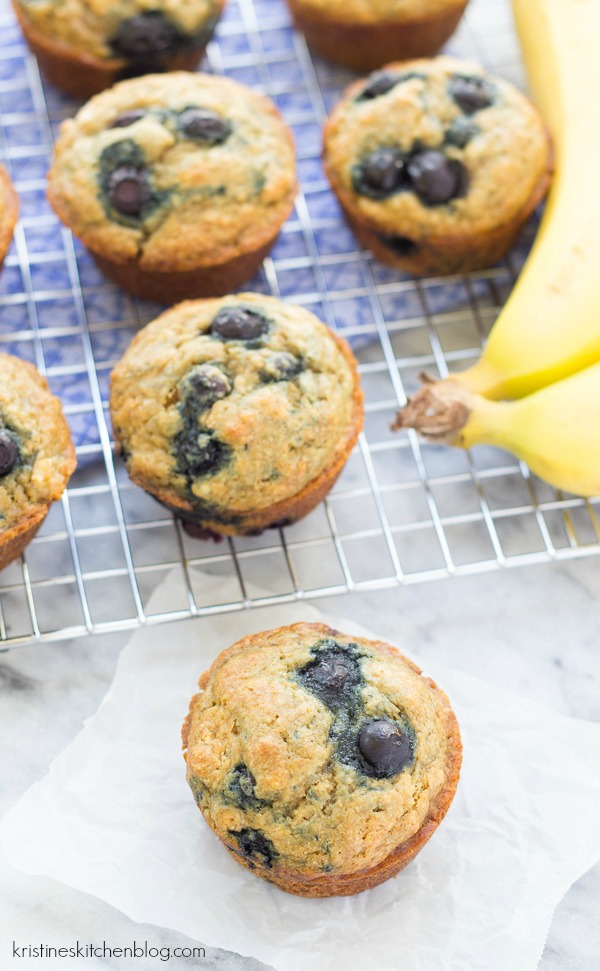 My kids and I both love this recipe. The kids just gobble them up! Sometimes I'll give them a muffin and they pick it apart, eating some and leaving big crumbles of muffin behind on their plates. Not with these Light and Fluffy Blueberry Banana Muffins. Every. Crumb. Gone.
These couldn't be easier to make, either. First you'll want to mash up some ripe bananas. The riper, the better, as over-ripe bananas add natural sweetness to the muffins. Whisk together the dry and wet ingredients in separate bowls, combine, and the batter is done! I've made these Light and Fluffy Blueberry Banana Muffins with both fresh and frozen blueberries, and they are delicious either way. For me, frozen is usually more convenient. Fresh blueberries often get eaten straight from the bowl and don't last very long in my house!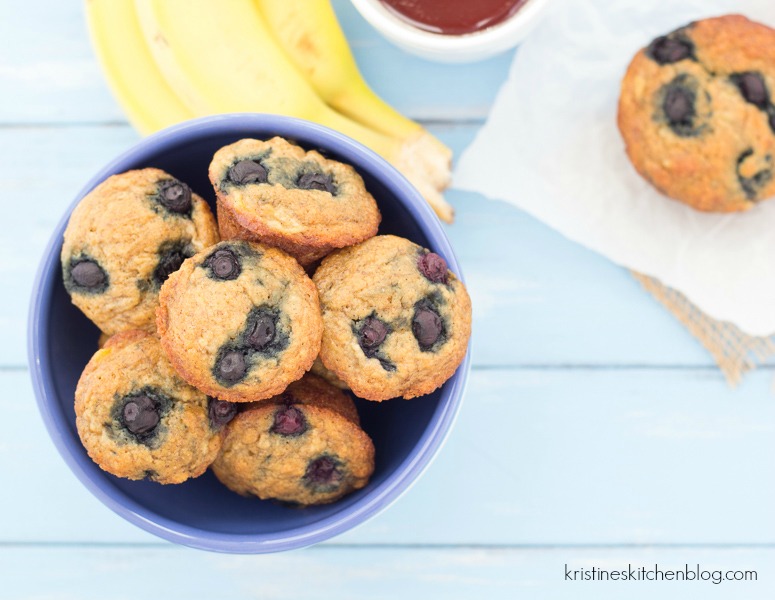 If you're making these Light and Fluffy Blueberry Banana Muffins for kids or to bring for sharing at a brunch, I recommend making them in mini form. The mini muffins are cute and easy to pop into your mouth, and my kids like that they can eat three! Though they'd eat even more than three if I'd let them. 😉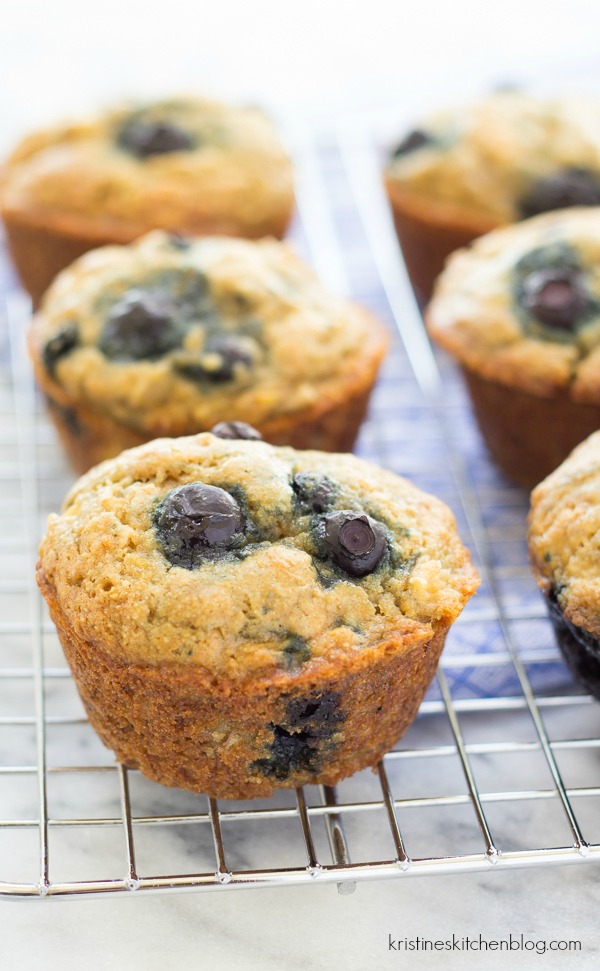 Like what you see? Be sure to follow along to never miss a recipe!
PINTEREST | FACEBOOK | INSTAGRAM | GOOGLE+ | TWITTER | EMAIL | RSS
Light and Fluffy Blueberry Banana Muffins
These Light and Fluffy Blueberry Banana Muffins are easy to make, whole-wheat, and free of refined sugars! They are perfect for make-ahead breakfasts or snacks!
Recipe type:
Breakfast, Snack
Serves:
12 large muffins or 36 mini muffins
Ingredients
1 cup white whole wheat flour
½ cup all-purpose flour*
1 tsp. baking powder
1 tsp. baking soda
½ tsp. salt
½ tsp. cinnamon
4 tbsp. (½ stick) unsalted butter, melted and cooled slightly
⅓ cup pure maple syrup
1 cup mashed ripe banana (about 3 medium)
1 large egg
¼ cup milk
2 tsp. vanilla extract
1 ½ cups blueberries (fresh or frozen)
Directions
Preheat oven to 350 degrees F. Spray a muffin tin (or mini muffin tins) with nonstick cooking spray.
In a large bowl, whisk together both flours, baking powder, baking soda, salt, and cinnamon.
In a medium bowl, whisk together melted butter, maple syrup, mashed banana, egg, milk, and vanilla.
Pour the wet ingredients into the dry and stir until almost combined. Gently fold in the blueberries.
Scoop the batter into the prepared muffin tin, dividing batter evenly among the 12 muffin cups. Bake for 16-18 minutes, until a tester inserted into the center of a muffin comes out clean. (Bake mini muffins for about 12 minutes.) Let muffins cool in the pan for 5 minutes before removing to a wire rack to cool completely.
I've also made these muffins with all white whole-wheat flour and they are delicious that way, too. Plus, that makes them 100% whole grain! If your tastes haven't adjusted to 100% whole-wheat, then you might prefer these made with part all-purpose flour.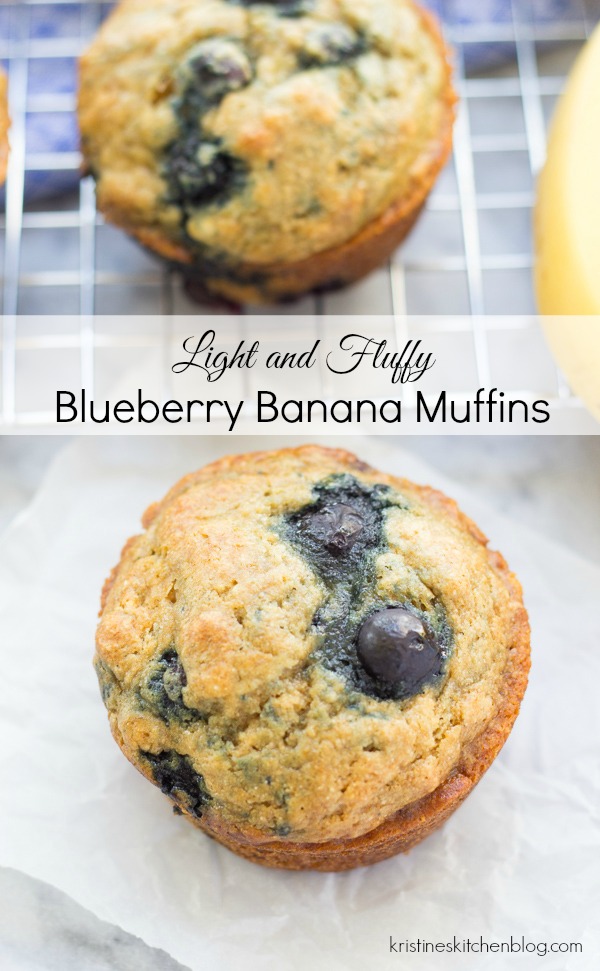 Save
Save
This site contains affiliate links. If you make a purchase through these links, I may receive a small commission. Thank you for supporting Kristine's Kitchen!