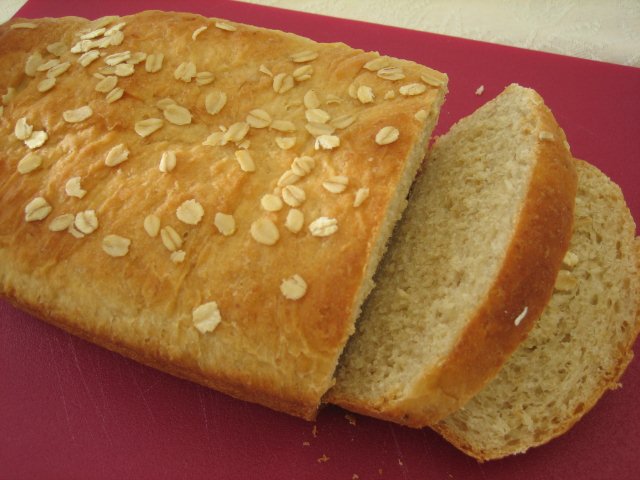 This is the first yeast bread recipe that I've made (without the aid of a bread machine). After making this bread, I can't wait to try other yeast bread recipes! There is just something about kneading the dough, letting it rise, and baking it while your house fills with the delicious aroma of fresh bread.
While the entire bread-making process from start to finish took about 3-4 hours, the active time for this recipe was surprisingly short. In fact, it was so easy, that I think I may be baking homemade bread quite often in the future! I found the recipe for Honey Oatmeal Sandwich Bread on one of my favorite cooking/baking blogs, Brown Eyed Baker. She gives a great detailed description of how to shape a loaf of bread, including pictures of the process.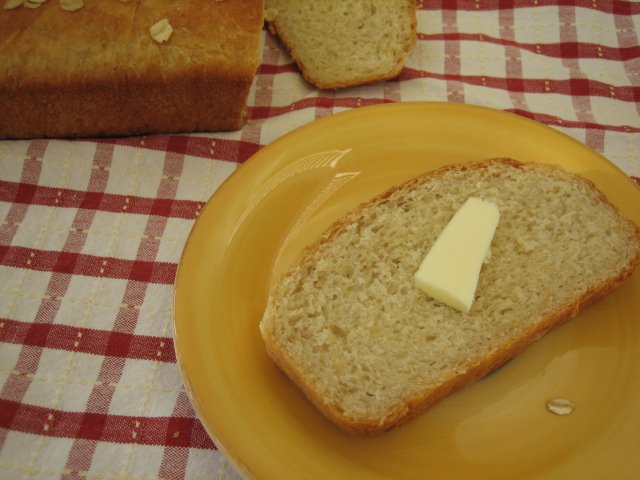 We enjoyed this bread spread with a little butter alongside a salad dinner tonight. I think it would also make great toast, as well as sandwiches. This bread has a wonderful texture and a delicious flavor from the oats and honey.  You have to bake some yourself!
Honey Oatmeal Sandwich Bread
Ingredients:
1- 1/4 cups (10 ounces) boiling water
1 cup (3 1/2 ounces) old-fashioned rolled oats
2 tablespoons (1 ounce) unsalted butter, cut into 3 pieces
1- 1/2 teaspoons salt
1/4 cup (3 ounces) honey
1- 2/3 cups (7 ounces) all-purpose flour
1/4 cup (1 ounce) nonfat dry milk
2 teaspoons instant yeast
Directions:
1. Place the boiling water, oats, butter, salt and honey into a medium bowl, stir, and let the mixture cool to lukewarm.
2. Mix the remaining dough ingredients (stir them together first in a small bowl) with the oat mixture, and knead until you've made a soft, smooth dough. If the dough is sticky, add more flour to your hands and the work surface. Place the dough in a lightly greased bowl, cover it, and let it rise for 1 hour; the dough should be doubled in size.
3. Lightly grease a 9 x 5-inch loaf pan. Gently deflate the dough (oil your hands since it will be sticky) and shape it into a 9-inch log:
-Pat the dough into a rectangle about 5 inches by 8 inches.
-Starting at the short side, begin rolling the dough into a tight cylinder, pinching the seam together with each roll.
-Once the dough is completely rolled into a log, make sure that it is the same thickness along the entire length.
Place the dough log into the greased loaf pan.
4. Cover loosely with lightly greased plastic wrap. Let the dough rise until it has crowned 1 1/2 inches over the rim of the pan, about 1 to 1 1/2 hours.
5. Preheat the oven to 350 degrees F. Uncover and bake the bread for about 45 minutes, covering it with foil after 20 minutes to prevent over-browning. The bread is done when it's golden brown and an instant-read thermometer inserted in the center registers 190 degrees F. Remove it from the oven, and after a minute or so turn it out onto a rack. Brush with melted butter and sprinkle with additional oats. Cool the bread completely before cutting it.
Makes one 9 x 5-inch loaf
Recipe from Brown Eyed Baker, originally adapted from King Arthur Flour Whole Grain Baking.