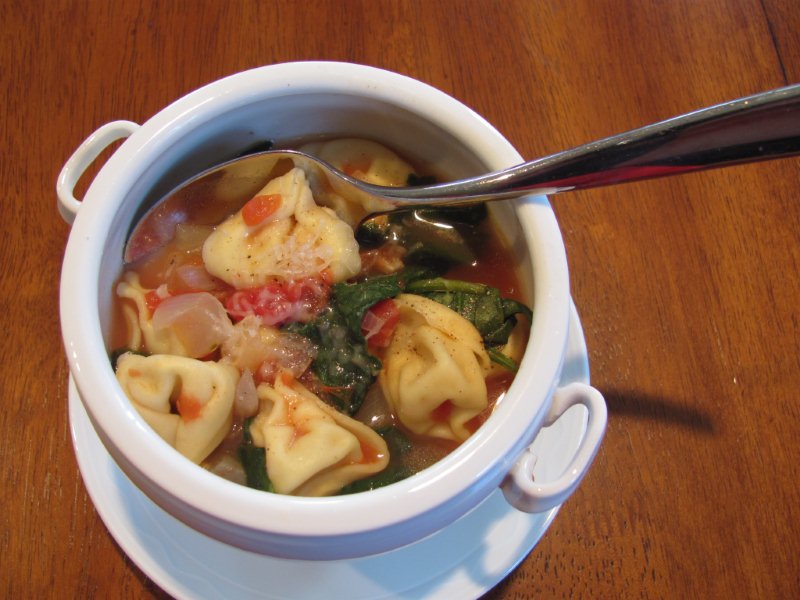 We have had a lot of rain here in California recently, and the weather forecast says we are in for many more rainy days to come. When I come home from work on a cold, wet day, it's nice to warm up with a bowl of soup for dinner. This recipe is great for busy weeknights because it literally takes about 25 minutes from start to finish. Add a green salad and some french bread (or homemade rolls, if you happen to have some in your freezer), and you have a filling and delicious meal.
Tortellini Soup
Makes 3-4 servings
Ingredients:
1 tablespoon olive oil
1/2 cup onion, chopped
2 cloves garlic, minced
1/2 teaspoon dried oregano
1 (15 oz.) can diced tomatoes, with juices
4 cups low-sodium chicken broth (or vegetable broth)
9 oz. fresh or frozen tortellini, any variety (I like to use three cheese)
3 cups fresh baby spinach, loosely packed
Black pepper
Grated Parmesan, for serving
Directions:
In a large pot or Dutch oven, heat the olive oil over medium-high heat. Add the onions to the pan and cook until beginning to soften, about 5 minutes. Add in the garlic and cook, stirring frequently, just until fragrant, about 1 minute.
Mix in the oregano and diced tomatoes. Add the broth to the pot. Bring the mixture to a boil. Add the tortellini to the pot and cook according to the package directions. One minute before the tortellini is fully cooked, stir in the spinach. Remove from the heat. Season with pepper to taste. Serve warm with grated Parmesan if desired.
Recipe from Annie's Eats, originally from The Well-Fed Newlyweds