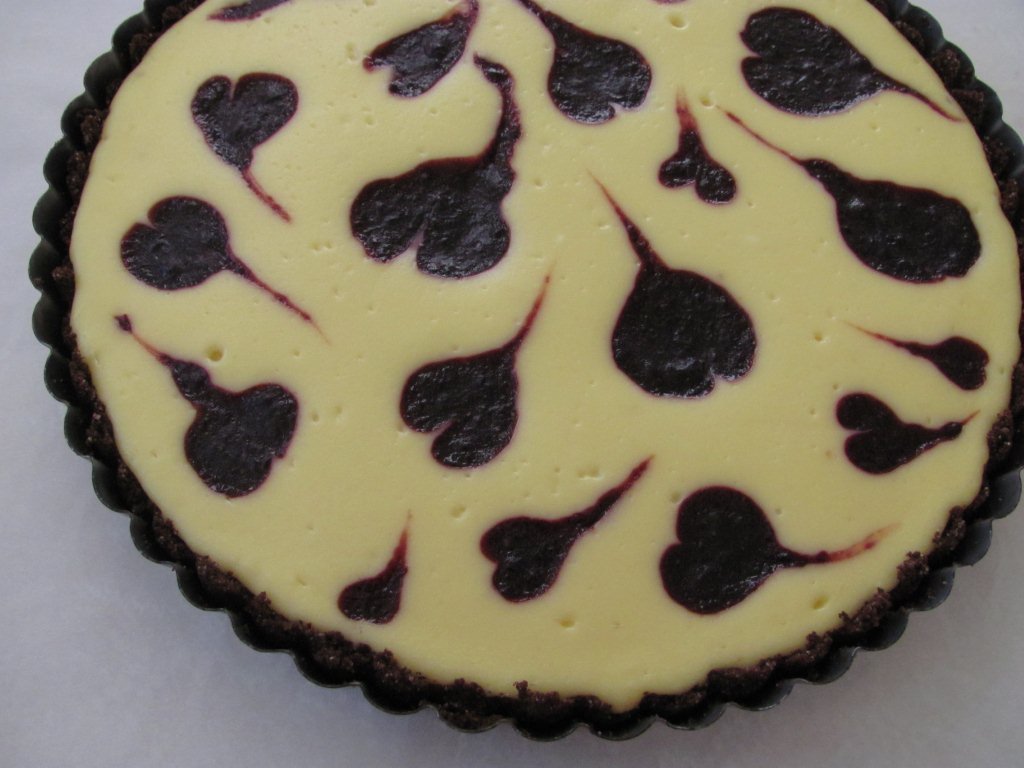 Last May my family and I went cherry picking. We had a fabulous time and came home with some delicious cherries, many of which I baked into cherry pies. Since we're nearing the end of June and have yet to make the trip to the orchard, I don't think cherry picking is something we'll be able to do this year. We were still craving a cherry dessert, though, and this cheesecake tart recipe had been sitting in my cookbook holder for weeks. Brad requested this for dessert on Father's Day and so I of course had to bake it for him.
This tart has a buttery chocolate graham cracker crust and a cool, creamy cheesecake filling with little drops of cherry sauce swirled on top. I was a little disappointed with the amount of cherry flavor in the tart, but that was probably my fault. I was trying to go for a pretty presentation, so I only used about half of the cherry sauce that the recipe made. Next time, I think I'll use more of the sauce and just swirl it into the top of the cheesecake batter, rather than trying to make the heart design.
While I was somewhat disappointed by the amount of cherry flavor, I loved this tart as a whole. The crust was delicious, and the cheesecake filling is one of the best I've had. I'll surely be going back to this recipe again and again. I think it would be wonderful with some blueberries scattered over the top before baking, or with fresh strawberries or raspberries placed on top after baking.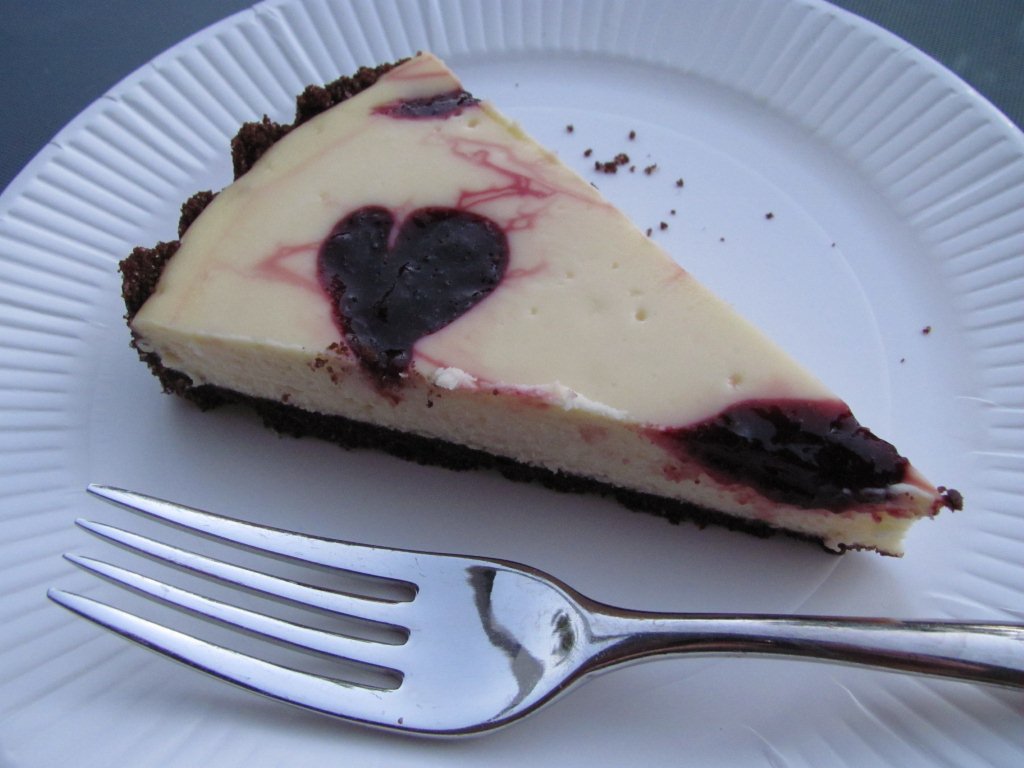 One year ago:  Open-face Steak Sandwiches with Herbed Goat Cheese and Tomatoes
Chocolate-Cherry Cheesecake Tart
Makes 8-10 servings
Ingredients:
6 oz. (1 1/3 cups) chocolate wafers, finely crushed- I used chocolate graham crackers
1/3 cup plus 2 Tbsp. granulated sugar
2 1/2 oz. (5 Tbsp.) unsalted butter, melted
1 cup pitted fresh or frozen sweet cherries, pureed
3 Tbsp. cherry preserves
1 Tbsp. kirsch (I omitted this)
12 oz. cream cheese, softened
4 oz. sour cream (1/3 cup plus 1 Tbsp.), at room temperature
1 Tbsp. all-purpose flour
1 tsp. pure vanilla extract
1/2 tsp. kosher salt
2 large eggs, at room temperature
Directions:
Position an oven rack in the center of the oven and preheat to 350.
In a small bowl, mix the crushed cookies with 2 Tbsp. of the sugar. Add the melted butter and toss with your fingers until evenly moistened. Transfer the crumbs to a 9 1/2-inch fluted tart pan with a removable bottom. With your fingers, gently pack the crumbs into the bottom and up the sides to form the crust. Bake on a rimmed baking sheet until set, 10 to 12 minutes. Set aside to cool. Reduce the oven temperature to 325.
Meanwhile, in a 1-quart saucepan over medium heat, bring the cherry puree to a simmer. Whisk in the cherry preserves and continue to simmer until the mixture thickens slightly, 3 to 5 minutes. Remove from the heat and let cool.
In a stand mixer fitted with the paddle attachment, beat the cream cheese and remaining 1/3 cup sugar on medium-low speed until the mixture is smooth and fluffy, about 3 minutes. Add the sour cream, flour, vanilla, and salt and beat until well combined, about 1 minute more. Add the eggs one at a time, beating until just combined, about 15 seconds for each egg (do not overbeat).
Pour the batter into the crust and distribute evenly. Dot the batter with the cherry mixture and gently drag a butter knife through the filling to form decorative swirls. (I found it worked best when I had the flat, non-serrated side of the knife pointed toward me and I dragged the knife through a cherry dot towards me, starting a little bit above the dot.  Next time, I might try using a toothpick instead of a knife.)
Bake until the tart is just set but still slightly moist in the center, 18 to 24 minutes. Cool on a wire rack. Refrigerate for at least 4 hours. Serve cold. The tart may be made up to 1 day ahead.
Recipe slightly adapted from Fine Cooking, May 2011