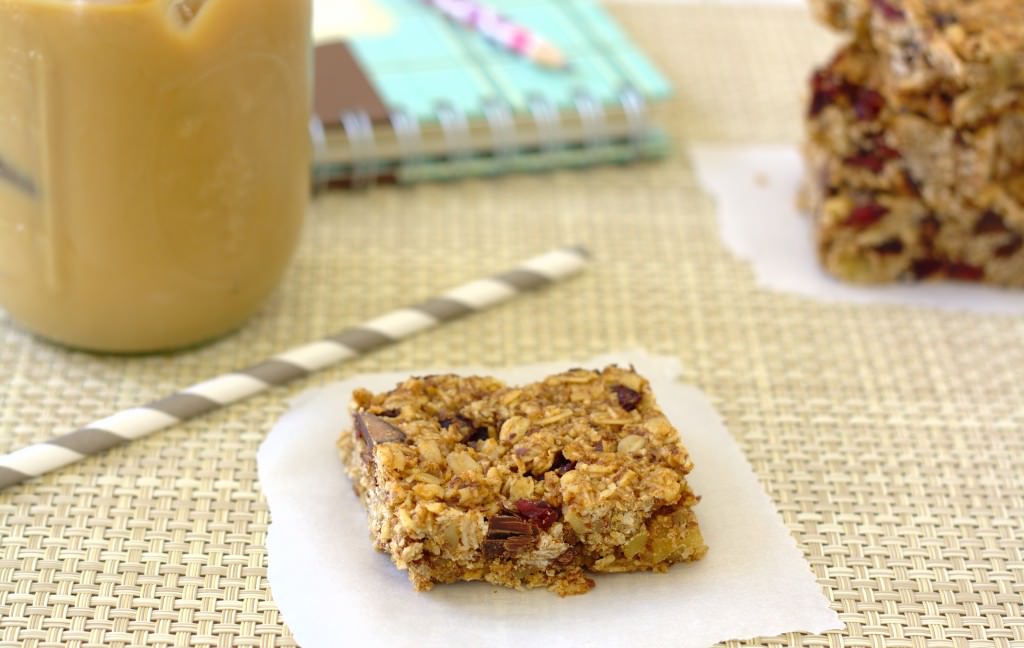 Let me apologize in advance for these. Once you make these granola bars, you are going to have a very hard time enjoying a store-bought granola bar. You are going to find yourself in the kitchen long after the sun has gone down, mixing up the ingredients for these bars. You will walk down the cereal aisle of your grocery store, looking through the granola bar choices, knowing that you have to choose one because you certainly don't have the time each and every week to make your own. Or do you? You might just decide that the thirty minutes you could spend watching TV or mindlessly browsing Pinterest might be better spent mixing together a batch of granola bars that you can really crave.
I have made these bars three times now in the past two weeks, and I've finally gotten the recipe just right. As usual, I adapted the original recipe to make it healthier, because if I am going to make a granola bar, I want it to be a healthy snack. I eat enough cookies already.

One change I made was to really cut down on the amount of sugar. The original recipe called for a lot of sugar, plus some corn syrup, which I try to avoid if at all possible. I used just ¼ cup of honey in my bars, and they are plenty sweet, especially with dried fruit mixed in. I also replaced most of the butter with applesauce, and increased the amount of oats and flaxseed.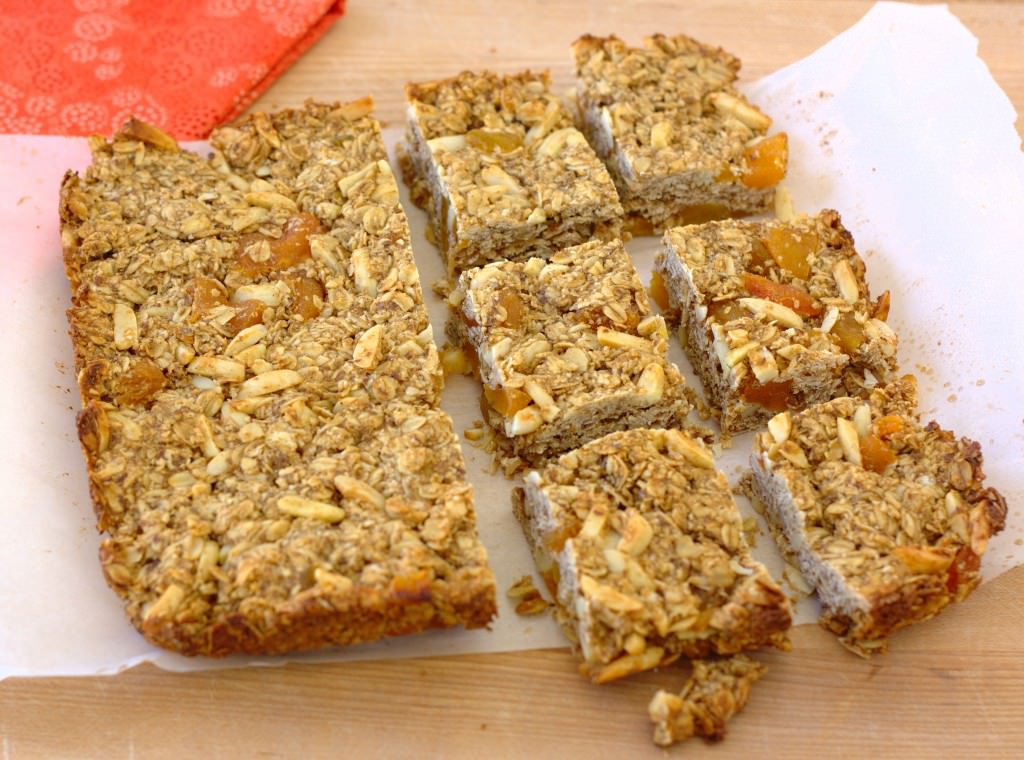 As with many homemade foods, making your own granola bars allows you to completely control the ingredients and customize them to your preferences. You can choose which mix-ins you want to add- nuts, dried fruits, seeds, even dark chocolate. I've made two varieties of these, one with chopped dried apricots and almonds, and another with dark chocolate chips, dried cranberries, and walnuts. Both were amazing, although I'm kind of partial to the bars with the dark chocolate. I usually use almond butter in my bars because it has a milder flavor, but peanut butter would work as well.
The granola bars maintain their chewy texture best when stored in the refrigerator. I'm sure they would freeze well too, although I haven't tried it yet. None have lasted quite long enough around here to make it into the freezer!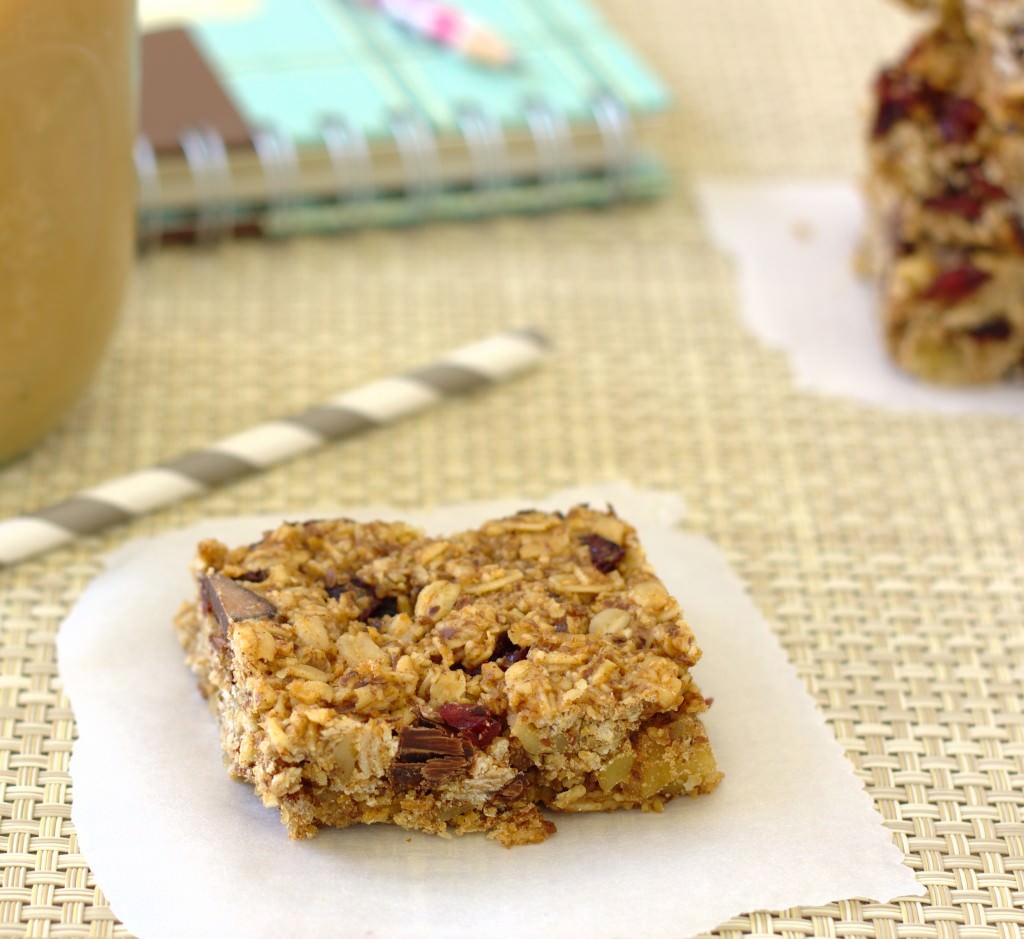 Thick and Chewy Granola Bars
Makes one 8×8-inch pan
Ingredients:
2 cups old-fashioned oats
½ cup oat flour, or ½ cup oats finely ground in food processor
3 tbsp. ground flaxseed
½ tsp. salt
½ tsp. cinnamon
2 tbsp. unsalted butter, melted
1/3 cup nut butter
½ cup applesauce
¼ cup honey
1 tsp. pure vanilla extract
1 ½ – 2 cups dried fruit, nuts, seeds, dark chocolate, etc.
Directions:
Line an 8 x 8-inch square pan with foil or parchment, letting it hang over the edges on two opposite sides. Lightly spray the foil with cooking spray. Preheat oven to 350 degrees F.
In a large bowl, stir together the oats, oat flour, flaxseed, salt, and cinnamon.
In a medium bowl, whisk together the melted butter, nut butter, applesauce, honey, and vanilla until well combined. Add the wet mixture to the bowl with the oat mixture and stir until well mixed. Stir in the dried fruit, nuts, chocolate, etc.
Scoop the mixture into the prepared pan and use your hand to press it down into an even layer. Bake for 25-35 minutes, until the edges begin to brown. Place the pan on a wire rack and cool completely. Refrigerate the bars in the pan for at least 30 minutes before cutting into bars. The bars will maintain their chewy texture best if stored in the refrigerator. I am sure these would also freeze well, although I haven't tried it yet.
Source: Adapted from Smells Like Home and Smitten Kitchen; originally from King Arthur Flour.