Fish Tacos with Pineapple-Peach Salsa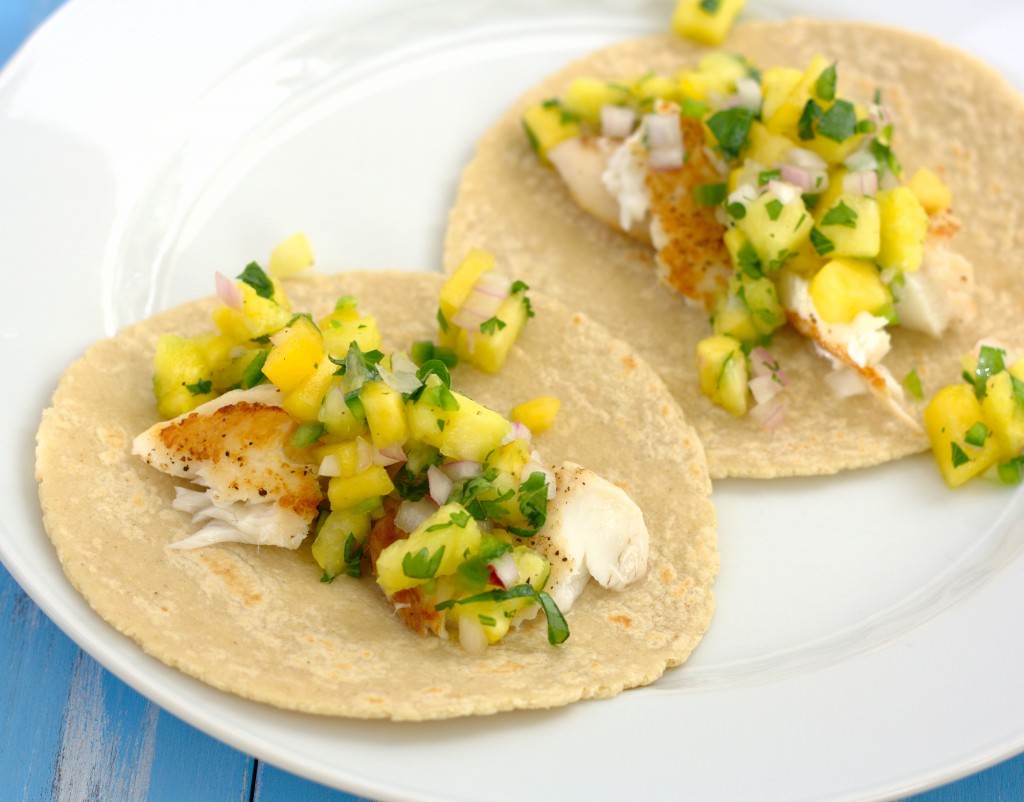 Summer is here! The season officially began last Friday, and what better way to celebrate than with some fish tacos? (For some reason we currently have rainy weather here, which is strange for this time of year and not fish taco weather at all, but the heat is supposed to return on Wednesday!) Fish tacos with fruit salsa are one of our favorite meals to enjoy on warm, relaxed summer days. You can easily change up the flavors by using different fruits in the salsa, choosing what looks best at the store or farmer's market that day.
These fish tacos with pineapple-peach salsa are an easy meal that you can have on your table in no time… so you can get right to relaxing with a cold drink and a delicious meal on the patio, which is one of my favorite parts of summer.
Fish Tacos with Pineapple-Peach Salsa
Like most moms, you are probably struggling to find the TIME to put a homemade dinner on the table for your family on busy weeknights. If you already had a plan, a grocery list, easy recipes and prep-ahead tips, you could have a REAL dinner on your table in a flash! I have been meal planning and prepping for years and now I am sharing my plan with YOU. You will save time, save money cooking at home, and eat real food.
Learn more about my Time-Saving Healthy Family Meal Plan.
Makes 4 servings
Ingredients:
1 ½ cups fresh pineapple, chopped small
1 cup peaches (about 2), chopped small
¼ cup red onion, finely chopped
1 medium jalapeno, seeded and finely chopped
½ cup fresh cilantro, chopped
Juice of one lime
Salt and pepper, to taste
1 pound tilapia or halibut filets
Cooking spray or olive oil
8 small corn tortillas, warmed
Directions:
Combine pineapple, peaches, red onion, jalapeno, cilantro, and lime juice in a medium bowl. Stir gently to combine and season with salt and pepper to taste. Set aside.
Season fish with salt and pepper. Heat a nonstick skillet over medium heat. Spray the pan with cooking spray or lightly coat with olive oil and add the fish (you may have to cook it in two batches depending on the size of your pan). Cook for about 4 minutes per side, until it flakes easily and is cooked through. Remove to a plate and break into smaller pieces using a fork.
To assemble tacos, place some of the fish down the center of each warmed tortilla and top with the fruit salsa. Serve immediately.
Source: Kristine's Kitchen.
This site contains affiliate links. If you make a purchase through these links, I may receive a small commission. Thank you for supporting Kristine's Kitchen!