This Peanut Butter Granola is made with just 4 ingredients, in only 10 minutes of prep time. It's crisp and lightly sweetened, with just the right amount of peanut butter flavor.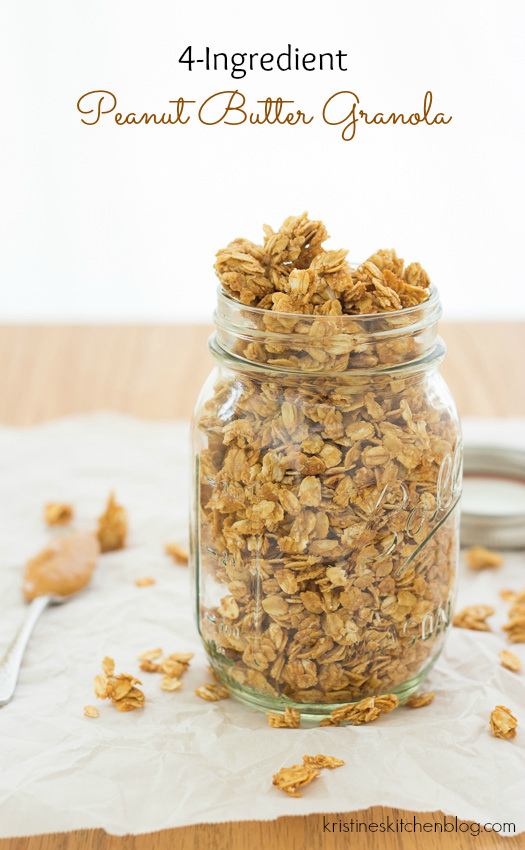 Today is day 3 of Granola Week, and if you missed my recipes for Tropical Granola and crunchy Cherry Almond Quinoa Granola you should go check them out!  I'll wait for you right here. 🙂
Like most moms, you are probably struggling to find the TIME to put a homemade dinner on the table for your family on busy weeknights. If you already had a plan, a grocery list, easy recipes and prep-ahead tips, you could have a REAL dinner on your table in a flash! I have been meal planning and prepping for years and now I am sharing my plan with YOU. You will save time, save money cooking at home, and eat real food.
Learn more about my Time-Saving Healthy Family Meal Plan.
You're gonna love today's granola. It can pass for breakfast, a snack, or even dessert. When it comes to food, simplicity is often best and that is so true with this recipe. You only need 4 ingredients and 10 minutes of prep time to make amazing, crunchy peanut butter granola.
Do you get as excited as I do about recipes like this one? So excited that you just can't help but make them immediately? I thought so. I bet I know what you'll be making later today. It's a good thing you probably already have all 4 ingredients in your pantry!
This granola is perfectly balanced in its peanut butter flavor. Not too much peanut butter that it's overwhelming, but enough that it is unmistakeably peanut butter granola. Julia won't touch this of course, since she's never liked peanut butter. William, however, loves peanut butter and this is his favorite of all of the granola recipes I make. He loves eating a bowl of it with some milk for breakfast.
While this granola bakes, it will fill your house with the most delicious peanut butter aroma. It will be hard to resist eating spoonful after spoonful as soon as the pan comes out of the oven, but do try! The flavor is great right away, but if you wait, the granola will crisp up as it cools. It's so much better when crisp.
This crispy, crunchy peanut butter granola is delicious by the handful, but I usually enjoy it with a splash of milk. And if I'm feeling indulgent, I do this: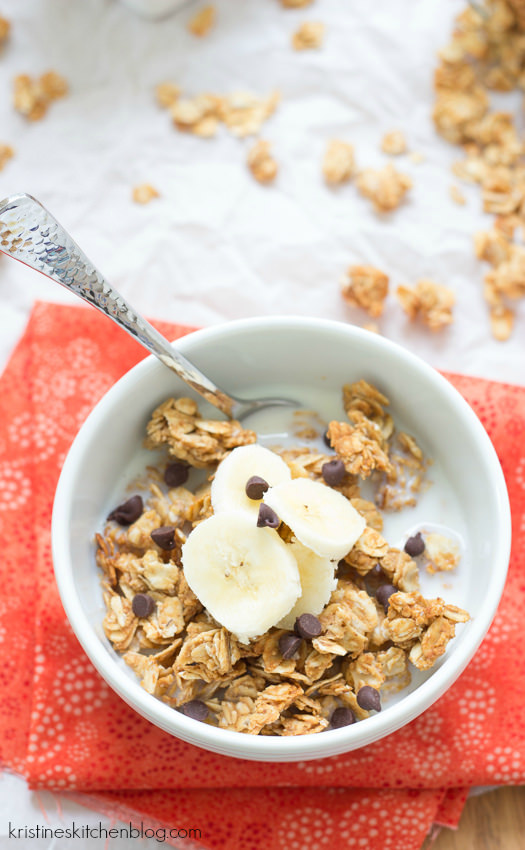 Are you a fan of the peanut butter-banana-chocolate combo? Then go ahead, make a batch of this peanut butter granola, add some banana slices and chocolate chips, and dig in. You're welcome.
Like what you see? Be sure to follow along to never miss a recipe!
PINTEREST | FACEBOOK | INSTAGRAM | GOOGLE+ | TWITTER | EMAIL | RSS
4-Ingredient Peanut Butter Granola
This Peanut Butter Granola is made with just 4 ingredients, in only 10 minutes of prep time. It's crisp and lightly sweetened, with just the right amount of peanut butter flavor.
Ingredients
5 cups (430g) old-fashioned oats
½ cup peanut butter*
½ cup honey
1 tsp. vanilla extract
Directions
Preheat oven to 275 degrees F.
Place oats in a large bowl. Combine peanut butter and honey in a liquid measuring cup. Heat in the microwave for about 45 seconds, until the peanut butter starts to melt. Whisk peanut butter and honey to blend. Add in vanilla and whisk to incorporate.
Pour the peanut butter mixture over the oats and stir until well combined. Spread granola in an even layer on a rimmed baking sheet. Bake for 20 minutes, stir, and then bake 10-15 minutes more until granola becomes light golden brown. Let cool completely on baking sheet. The granola will become crisp as it cools. Store granola in an airtight container for up to two weeks.
*Note: I only buy natural peanut butter, so that's what I used here. Both natural and regular will work fine.
Source:
Kristine's Kitchen
original