Cherry Pie with Almond and Oat Crumble
---
FREE GROUND BEEF FOR LIFE when you order your first ButcherBox today. Claim Now.
---
Sweet juicy cherries plus an almond oat crumble make this pie something special. This Cherry Pie with Almond and Oat Crumble just might become your new favorite pie!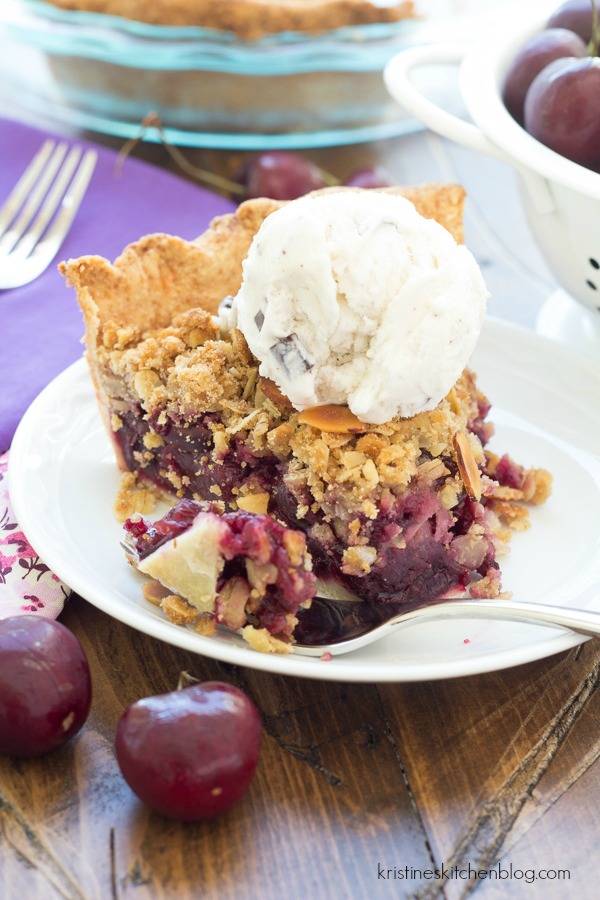 It had been too long since I made a pie. Baking pies is something that I tend to do seasonally. Around the holidays, pumpkin and apple pies are a given. Then there's that long pie-less stretch of months in between Christmas and summer when we are enjoying winter comfort foods and then the arrival of spring produce. By the time summer rolls around, I'm craving the process of making a homemade pie as well as a big slice of that pie!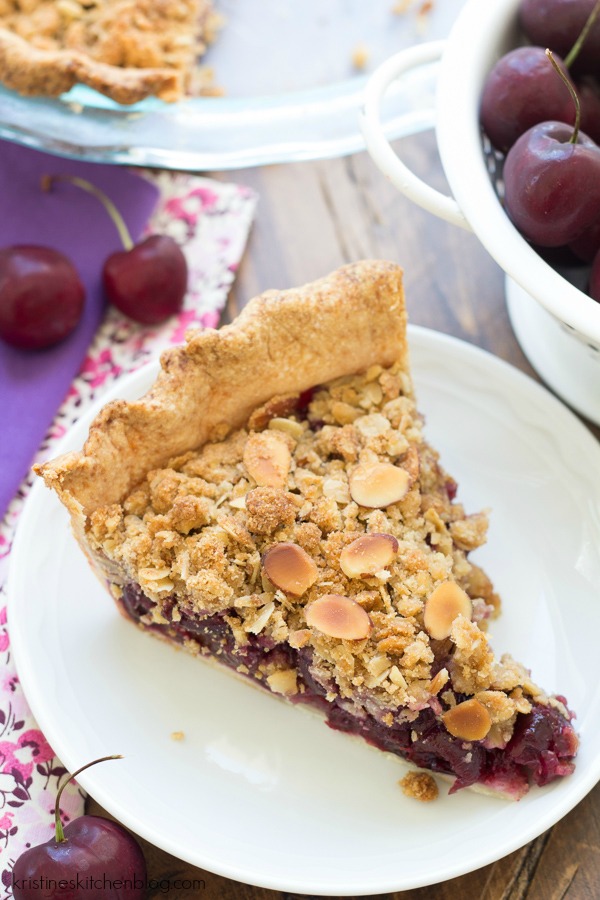 Fruits just about beg to be made into a pie, crisp, or crumble. Like my peach pie bars, strawberry oat bars, fresh apricot crisp , and cherry cobbler… I don't think I can choose a favorite when it comes to pie. How about you?
Cherry pie and blackberry pie are Brad's favorites. Back in June, we had planned to go cherry picking and I promised him a homemade pie with those cherries. Unfortunately, when we called for the orchard hours, they were already closed for the season. We were majorly bummed about missing the fun AND the cherries.  🙁  So when I saw big bags of cherries on sale at the grocery store last weekend, I couldn't pass them up. I brought some home and within minutes was in the kitchen working away on this cherry pie.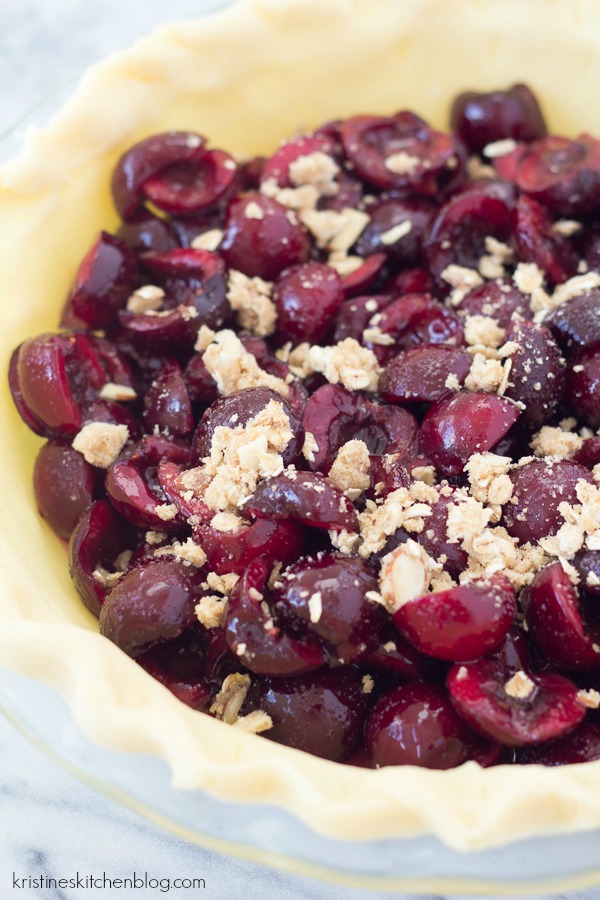 Are you a pie person or a crisp/crumble person? I think I'm in the minority here, but I'm going to say pie. I just love pie crust! But it's so much work, you say. Not with my recipe! I use my food processor to save time and effort, and my pie dough requires ZERO chill time before rolling it out. It rolls out quickly and easily, too.
And you know what? This Cherry Pie with Almond and Oat Crumble is the best of the pie/crisp/crumble worlds. It's got pie crust, plus juicy filling, plus a buttery brown sugar, almond and oat crumble topping. It's unbelievable topped with a scoop of chocolate chip ice cream, but vanilla will do as well. 🙂
If I haven't convinced you about the ease and yum factor of pie crust, you could totally make this recipe as a cherry crisp. Just skip the pie dough, pour the filling into a baking dish, and sprinkle on the crumble topping. It's up to you. 😉
If you love baking summer pies, then this blackberry pie is another one that you have to try!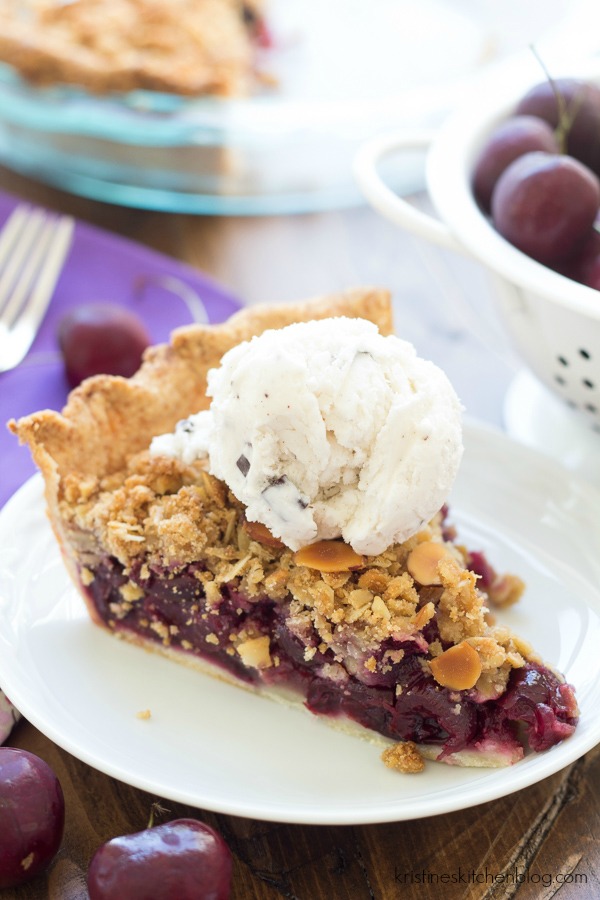 Cherry Pie with Almond and Oat Crumble
Sweet juicy cherries plus an almond oat crumble make this pie something special. This Cherry Pie with Almond and Oat Crumble just might become your new favorite pie!
Ingredients
For the Crust:
1 ¼ cups all-purpose flour
2 teaspoons granulated sugar
¼ teaspoon salt
½ cup (8 tablespoons) unsalted butter, cut into cubes and chilled
3 tablespoons ice-cold water
For the Cherry Filling:
6 cups sweet cherries, pitted and halved
½ cup granulated sugar
3 tablespoons cornstarch
¼ teaspoon salt
1 teaspoon almond extract
For the Crumble:
1 cup old-fashioned oats
¾ cup white whole wheat flour
¼ cup brown sugar
¼ teaspoon salt
6 tablespoons unsalted butter, cut into cubes and chilled
½ cup sliced almonds
Directions
Make the Crust:
Place flour, sugar, and salt in the bowl of a food processor. Process for a few seconds to combine. Add the chilled butter and pulse 6-8 times, until the largest butter pieces are the size of small peas. Add 3 tablespoons of water and process until the dough just comes together, adding more water a teaspoon at a time if needed. (Alternatively, you can make the dough by hand in a large bowl with a pastry blender or your fingertips.)
Transfer dough to a lightly floured surface (I use a piece of parchment paper) and shape into a round disk. Roll out the dough to a 12-inch round about ⅛-inch thick. Transfer dough to a deep-dish pie plate, by rolling it partway around the rolling pin and then unrolling over the pie dish. Place pie crust in the refrigerator to chill while you make the cherry filling and crumble.
Make the Cherry Filling:
Preheat oven to 375 degrees F.
Place all filling ingredients in a large bowl and stir gently to combine. Set aside while you make the crumble topping.
Make the Crumble:
In a medium bowl, stir together the oats, flour, brown sugar, and salt. Add in the butter pieces and use your fingers to crumble the butter into the oat mixture, until clumps form. Use your fingers to mix in the sliced almonds.
Assemble and Bake the Pie:
Stir the cherry filling to make sure it is well combined. Pour filling into the pie crust, spreading it out evenly. Sprinkle the crumble over the cherries. Bake pie for 25 minutes, cover with a piece of foil, and then bake 25-35 more minutes. Let cool for at least 30 minutes before slicing and serving.
This site contains affiliate links. If you make a purchase through these links, I may receive a small commission, at no extra cost to you. Thank you for supporting Kristine's Kitchen!