Peach Pie Bars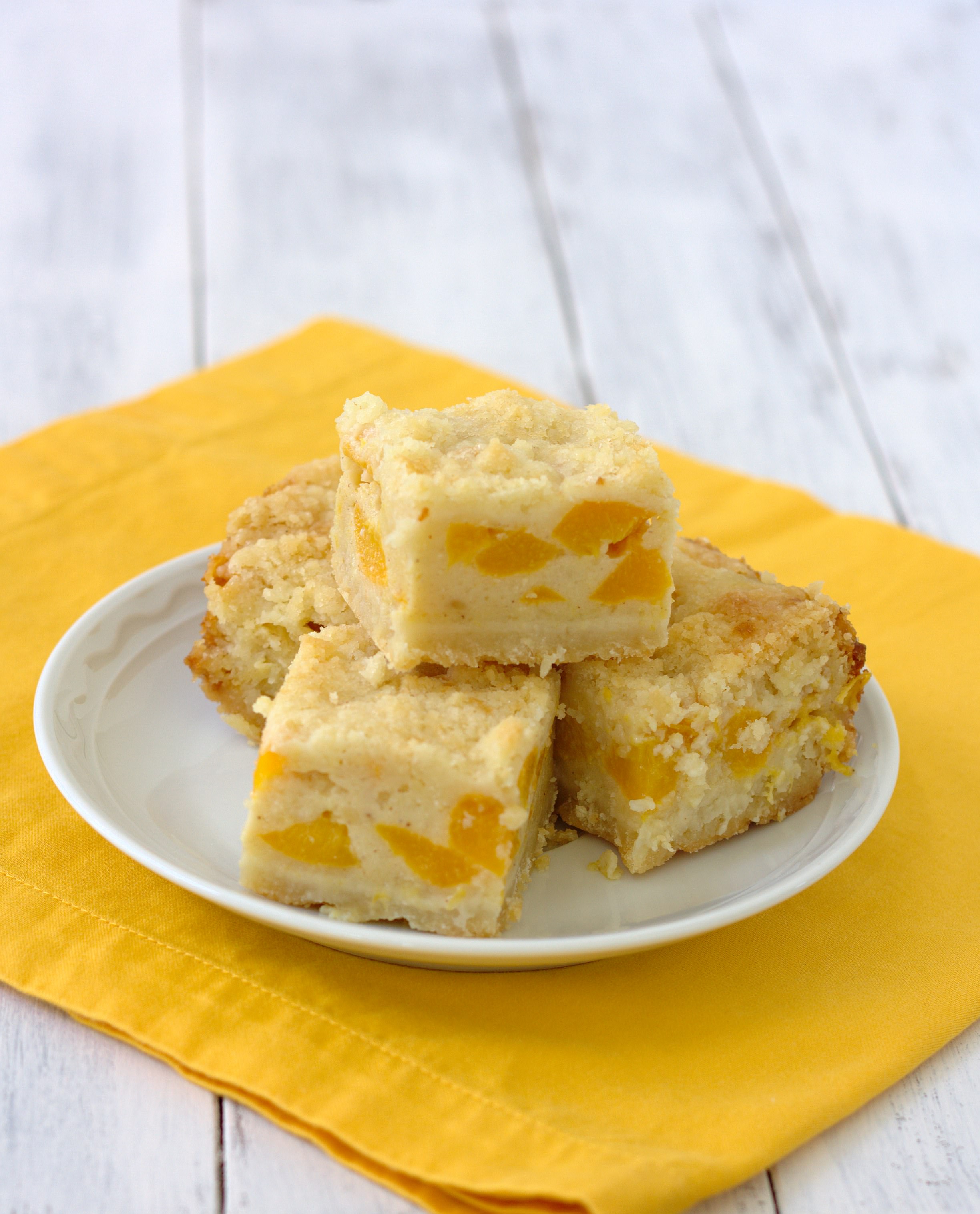 Wait, didn't I just post a recipe for blackberry crumb bars? Aren't crumb bars and pie bars basically the same thing? Yes, actually, they are. But I made both recipes within days of each other and both are totally worthy of sharing here. If you asked me to choose which dessert bar I liked better, I couldn't. Each is equally irresistible and easy to make. The main difference is that the fruit filling in these peach pie bars has eggs and Greek yogurt mixed in, which creates a creamy, fruity filling.  Both recipes are completely adaptable to whichever fruits you're craving at the moment.
I have been eying this recipe for a long, long time. Pie bars are great because, well, they are pie in a bar form, but also because they are so easy to make. No rolling out of pie dough required here (although rolling out pie dough isn't all that hard and is actually kind of fun, or maybe that's just me).
I'm planning on taking full advantage of fresh summer produce fruits while I have the chance by trying this recipe with other fruits as well- blueberries, blackberries, and raspberries would all be delicious in pie bar form!
Like most moms, you are probably struggling to find the TIME to put a homemade dinner on the table for your family on busy weeknights. If you already had a plan, a grocery list, easy recipes and prep-ahead tips, you could have a REAL dinner on your table in a flash! I have been meal planning and prepping for years and now I am sharing my plan with YOU. You will save time, save money cooking at home, and eat real food.
Learn more about my Time-Saving Healthy Family Meal Plan.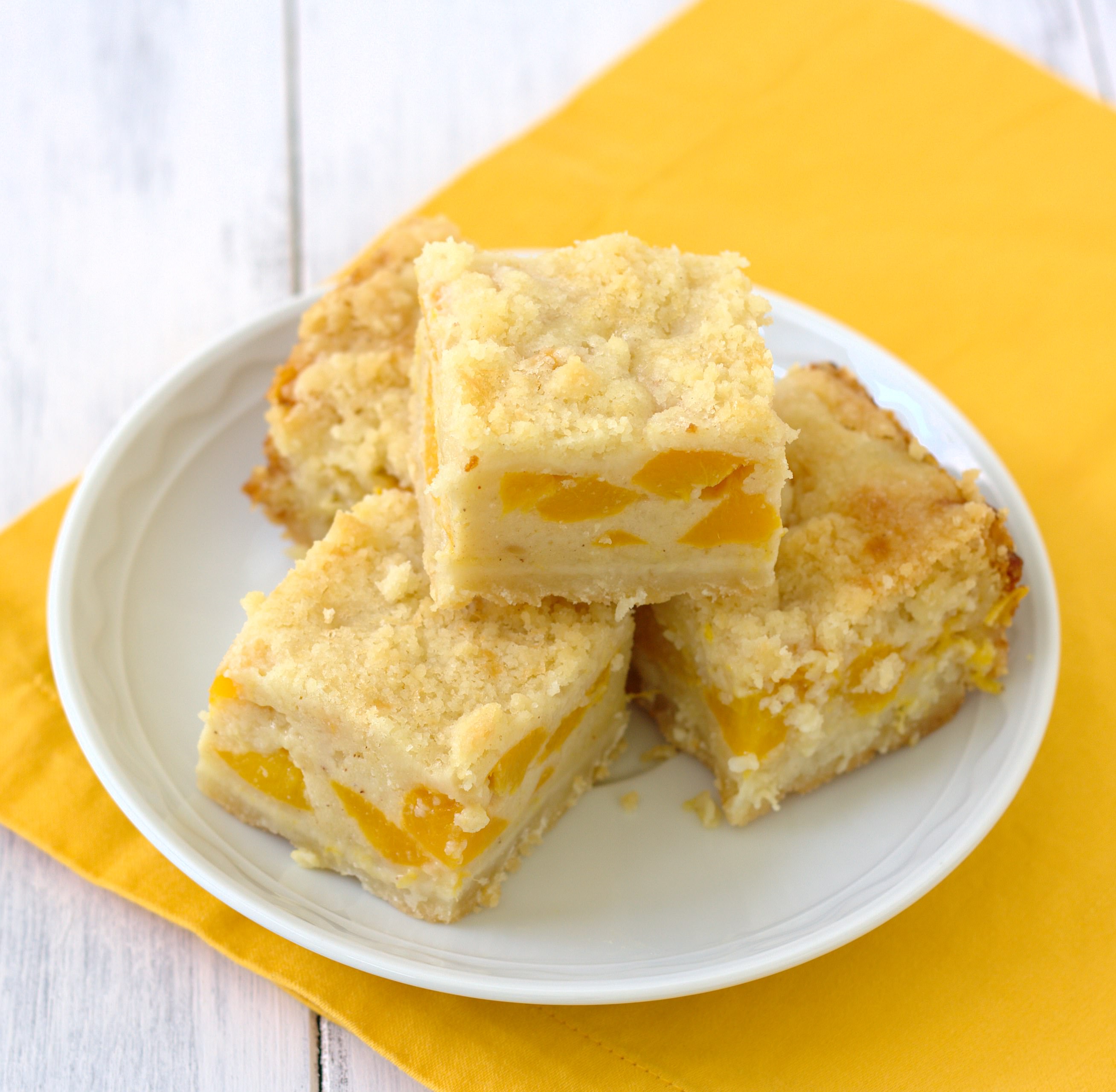 Like what you see? Be sure to follow along to never miss a recipe!
PINTEREST | FACEBOOK | INSTAGRAM | GOOGLE+ | TWITTER | EMAIL | RSS
Peach Pie Bars
Makes one 8×8-inch pan, recipe can easily be doubled
Ingredients:
For the Crust and Topping:
1 ½ cups all-purpose flour
¾ cup granulated sugar
¼ tsp. salt
¾ cup (1 ½ sticks) cold unsalted butter, cut into small cubes
For the Fruit Filling:
2 large eggs
¾ cups granulated sugar
½ cup Greek yogurt (or sour cream)
6 tbsp. all-purpose flour
Scant ¼ tsp. cinnamon
Pinch of salt
½ tsp. vanilla extract
1 ¼ lbs. peaches, peeled, pitted, and chopped
Directions:
To make the crust and topping, preheat oven to 350 degrees F. Grease an 8×8-inch baking pan.
Combine the flour, sugar, and salt in the bowl of a stand mixer fitted with the paddle attachment. Mix briefly to combine. Add the cold butter cubes to the flour mixture and mix on low speed until there are small pieces of butter evenly distributed throughout but the mixture is still crumbly. (Alternately, the dough can be mixed up in the food processor.)
Reserve ¾ cup of the mixture to use as the topping. Press the remaining mixture into the bottom of the pan, and bake for 12-15 minutes (it will not brown much). Cool for at least 10 minutes.
To make the filling, whisk the eggs in a large bowl, then whisk in the sugar, yogurt, flour, cinnamon, salt, and vanilla. Gently fold in the peaches and spoon the mixture evenly over the crust. Sprinkle the remaining flour mixture evenly over the filling. Bake for 45 to 55 minutes.
Cool at least 1 hour before cutting into bars. Store in the refrigerator.
Source: Adapted from Pink Parsley, originally from The Pastry Queen.
This site contains affiliate links. If you make a purchase through these links, I may receive a small commission. Thank you for supporting Kristine's Kitchen!