Strawberry Oat Crumb Bars
A fresh strawberry filling and buttery oat crust will keep you coming back for "just one more" taste of these Strawberry Oat Crumb Bars!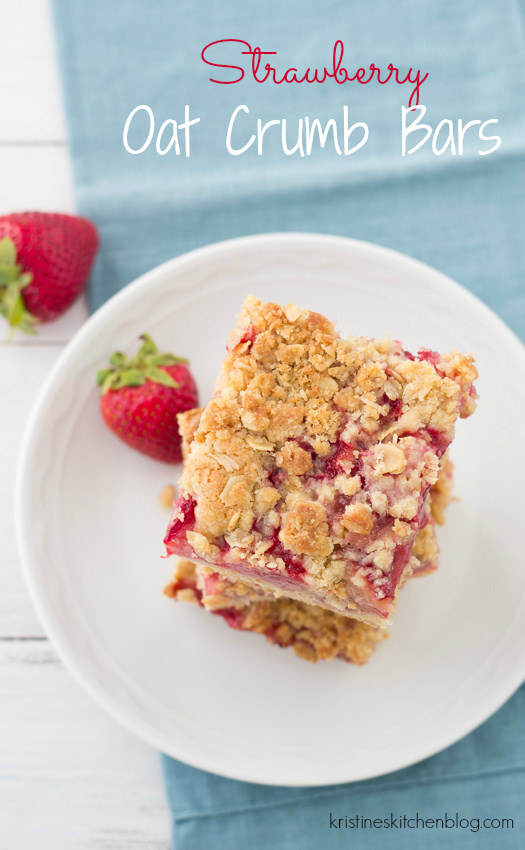 I cannot wait for summer. I'm looking forward to long, relaxed days with no strict schedule to follow. During the school year, I only teach three days a week, but it is enough to keep me busy and always struggling to balance work, family, house, and me-time.  The other four days of the week I get to stay home with my two kids- not exactly relaxation time, but I am so grateful for the time I get to spend with them.  When I do have time for myself, I most often spend it in the kitchen, on my computer blogging, or outdoors walking and running.
In the summer, there is always tomorrow to get the chores done, and I get to focus more on the things I enjoy most- spending time with my kids and family, and creating recipes to share here.
While I have a few more (busy!) weeks to go before summer vacation begins, I'm thankful that I don't have to wait that long to enjoy fresh summer berries. My favorites are strawberries and blueberries. Fresh strawberries have been available in my grocery store for a while now, and fresh blueberries are just starting to arrive in bigger, more affordable packages.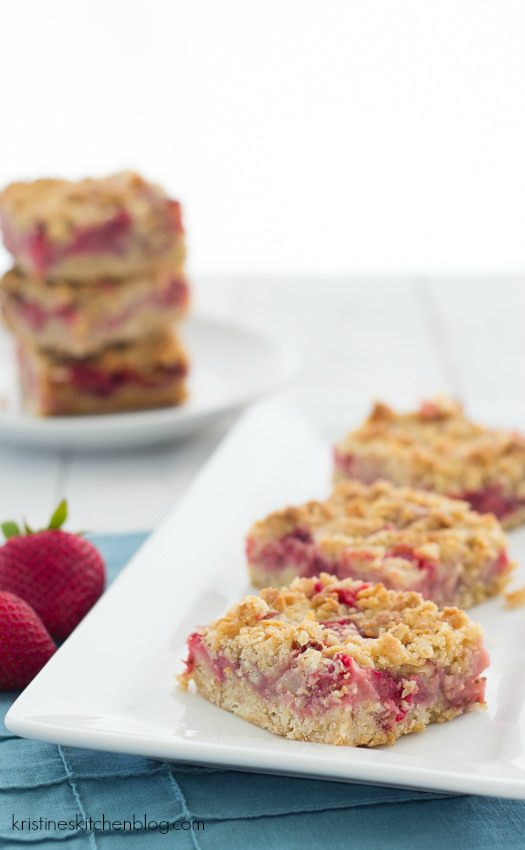 These Strawberry Oat Crumb Bars are full of fresh strawberries, with an oat crust and topping. Many strawberry bar recipes use jam or preserves, but I wanted a bar that was bursting with fresh strawberries. The fresh berries do break down some while the bars bake, but don't worry, the flavor is perfect. The strawberry filling is just sweet enough and the topping is buttery and full of oatmeal. These Strawberry Oat Crumb Bars will keep you going back for "just one more" little taste.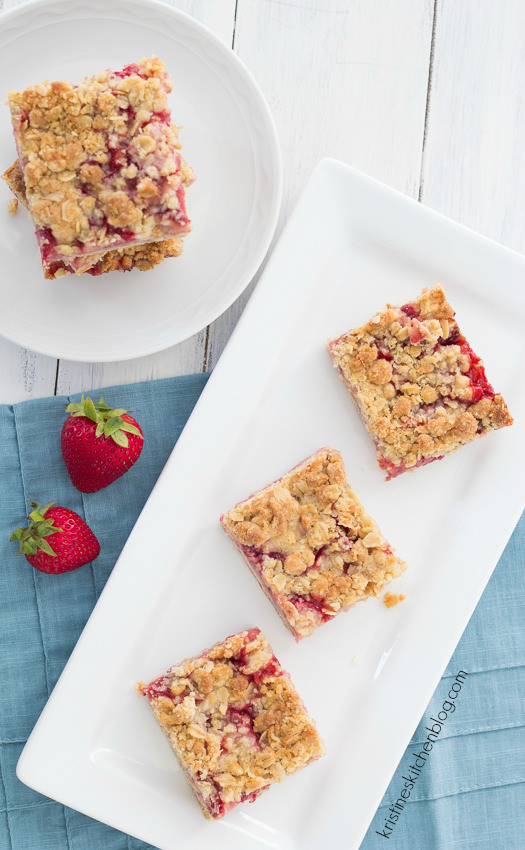 Strawberry Oat Crumb Bars
A fresh strawberry filling and buttery oat crust will keep you coming back for "just one more" taste of these Strawberry Oat Crumb Bars!
Ingredients
For the crust and topping:
2 cups all-purpose flour
1 ½ cups old-fashioned oats
½ cup granulated sugar
½ cup packed light brown sugar
1 tsp. baking powder
½ tsp. salt
Zest of one lemon
1 cup (2 sticks) cold unsalted butter, cut into ½-inch cubes
1 egg
For the strawberry filling:
2 lbs. fresh strawberries, stemmed and sliced (about 4 cups)
⅓ cup granulated sugar
4 tsp. cornstarch
Directions
Preheat oven to 375 degrees F. Spray a 9x13-inch baking dish with cooking spray and set aside.
In a large bowl, combine flour, oats, sugars, baking powder, salt, and lemon zest. Stir to blend. Add butter to the bowl and use a pastry blender to work the butter into the flour until the largest pieces of butter are the size of small peas. Once most of the butter is worked in, add the egg and continue to use the pastry blender to work the egg and butter into the dough until the dough starts to come together. The dough will be somewhat crumbly.
Place half of the dough into the prepared baking dish and use your hand to firmly press it into an even layer in the bottom of the pan.
In another bowl, gently toss the strawberries with the ⅓ cup sugar and the cornstarch until evenly distributed. Evenly spread the strawberries over the crust. Crumble the rest of the dough over the strawberries.
Bake in the preheated oven for about 45 minutes, until the dough is just golden brown on top. Place pan on a wire rack to cool completely before slicing and serving. Store bars in the refrigerator.
This site contains affiliate links. If you make a purchase through these links, I may receive a small commission, at no extra cost to you. Thank you for supporting Kristine's Kitchen!