Cloverleaf Rolls
These Cloverleaf Rolls have a rich buttery flavor and a fun pull-apart clover shape.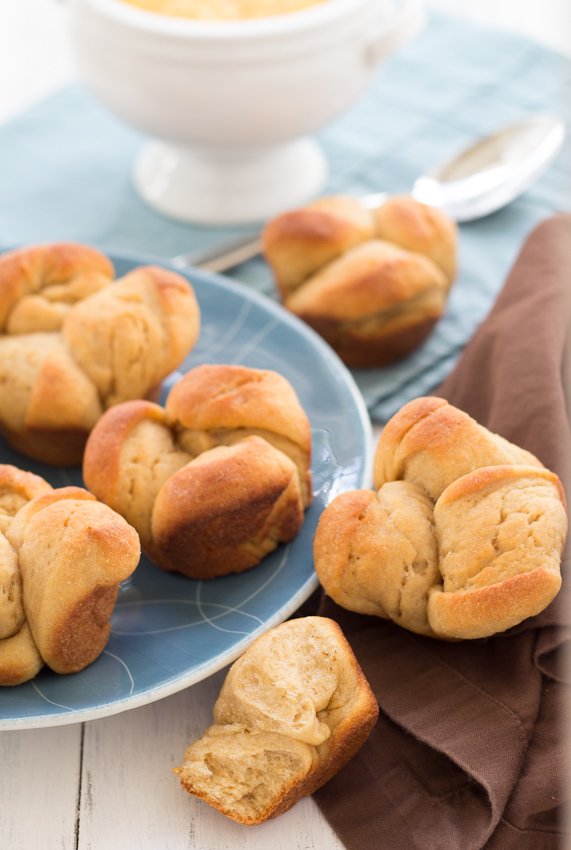 Are you looking for the perfect roll recipe to go with a soup or chili dinner before the weather warms up and it feels like spring is really here?  Or, is it already warm where you live and you'd like a some delicious homemade bread to accompany a main dish salad?  Then I highly recommend that you try these cloverleaf rolls. They are soft and buttery, and the cloverleaf shape is a nice touch for a pretty presentation.
Cloverleaf rolls are now one of my two favorite dinner roll recipes, along with these Honey Yeast Rolls. I love the sweetness of the honey yeast rolls, but when I want more of a rich butter flavor I make these cloverleaf rolls. While cloverleaf rolls make a great accompaniment to soups, stews, and chilis, they are also perfect for serving with other meals. My sister, Karen, served them with Thanksgiving dinner and they went really well with the turkey and other side dishes. Enjoy!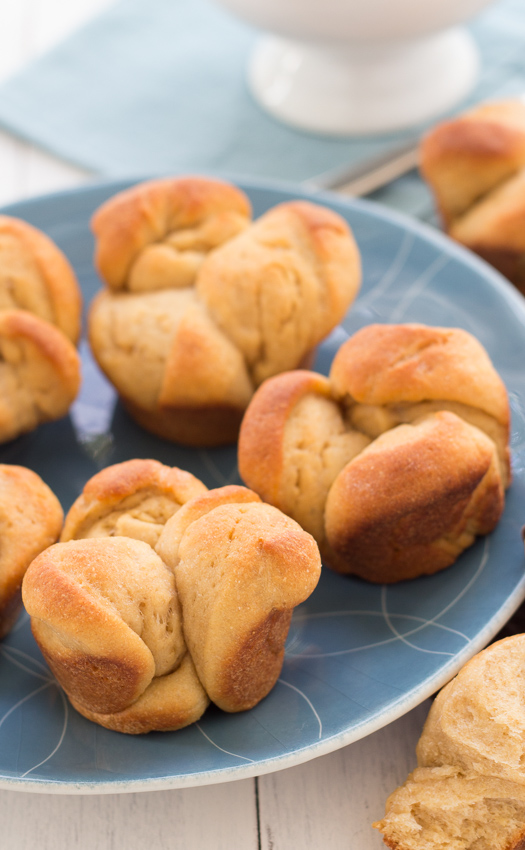 Cloverleaf Rolls
These Cloverleaf Rolls have a rich buttery flavor and a fun pull-apart clover shape.
Ingredients
¾ cup skim milk, heated to 110 degrees F
2 tablespoons sugar
1 packet (2¼ teaspoons) rapid rise (or instant) yeast
1 large egg plus 1 egg yolk, at room temperature
3½ cups all-purpose flour (up to half of the all-purpose flour can be replaced with white whole-wheat flour)
2 teaspoons salt
8 tablespoons (1 stick) unsalted butter, cut into 8 pieces and softened, plus 2 tablespoons melted unsalted butter
Directions
Adjust oven rack to the middle position and preheat the oven to 200 degrees F. When the oven reaches 200 degrees, turn it off. Lightly oil a large bowl.
Whisk the milk, sugar, and yeast in a liquid measuring cup until the yeast dissolves. Then whisk in the egg and egg yolk.
In the bowl of a stand mixer fitted with the dough hook, mix the flour and salt until combined. With the mixer on low speed, add the milk mixture in a steady stream and mix until the dough begins to form, about 1 minute.
Increase the speed to medium and add the 8 tablespoons of softened butter, 1 piece at a time, until incorporated. Continue to mix until the dough is smooth and comes away from the sides of the bowl, about 10 minutes.
Turn the dough out onto a lightly floured surface and knead briefly to form a smooth, cohesive ball. Transfer the dough to the prepared bowl and turn to coat. Cover with plastic wrap and place the bowl in the turned-off oven until the dough has doubled in size, about 45 minutes.
To shape the rolls: Brush a 12-cup muffin tin with 1 tablespoon of melted butter. Punch down the dough on a lightly floured work surface. Divide the dough into thirds. Roll each third into an 18-inch long rope. Then cut each rope into 12 equal pieces and cover the pieces with plastic wrap (there will be 36 pieces of dough).
On a clean, dry, un-floured work surface, roll each piece of dough into a smooth ball. Place 3 balls, seam side down, in each muffin cup. Cover the muffin tin loosely with plastic wrap and let rest in the turned-off oven until doubled in size, about 20 minutes.
Remove the rolls from the oven and discard the plastic wrap. Preheat the oven to 375 degrees. Bake the rolls until golden brown, about 15 minutes, rotating halfway through baking. Brush the rolls with the remaining 1 tablespoon of melted butter. Cool in the muffin tin for 5 minutes, and then transfer to a wire rack. Serve warm.
 Post updated 11-22-14 with new photos and an updated recipe.
This site contains affiliate links. If you make a purchase through these links, I may receive a small commission, at no extra cost to you. Thank you for supporting Kristine's Kitchen!