Creamy Avocado Vegetable Burritos
These Creamy Avocado Vegetable Burritos are a favorite quick and easy vegetarian meal!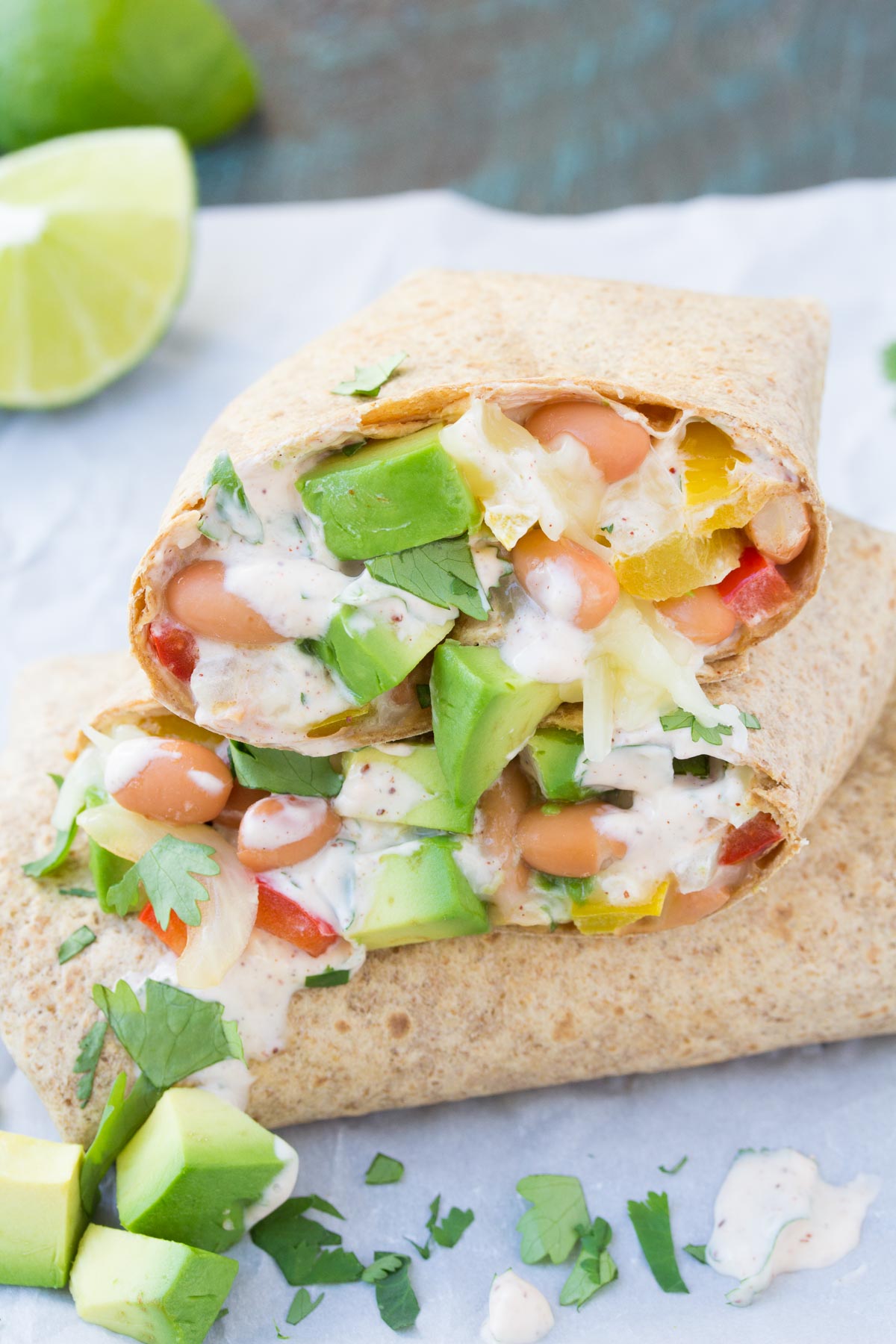 Hello, hello friends! How's life treating you this week? Whether your days have been on the crazy side or you've been lucky enough to have a break this week, I know you'll appreciate the easy recipe that I have for you today!
You already know that I love a good 30 minute meal. I'm always working to add more of those to our index of recipes on the site, and I have a pretty substantial collection of 30 minute dinner recipes here already. No matter the season, I want you to be able to find a healthy 30 minute recipe to make for you and your family!
These Creamy Avocado Vegetable Burritos are my latest 30 minute meal success story. I haven't written about it much – at least I don't think I have, after nearly 475 blog posts I've started to lose track! – but my family eats vegetarian more nights than not. You may have guessed based on the number of vegetarian recipes I've shared here, including:
Avocado Enchiladas (our favorite EASY enchilada recipe)
Spinach and Cheese Stuffed Shells (make-ahead and freezer-friendly)
Sweet Potato Noodles with Peanut Sauce (ready in 30 minutes!)
Greek Quinoa Grilled Zucchini Boats (a summertime favorite)
and so many more!
Passing on meat most of the time benefits both our health and our budget. Beans, eggs, dairy, and even protein-rich grains like quinoa are generally more budget-friendly than animal sources of protein. Did you know that even green peas (which are in the legume family) pack about 8 grams of protein per cup? I need to eat more green peas!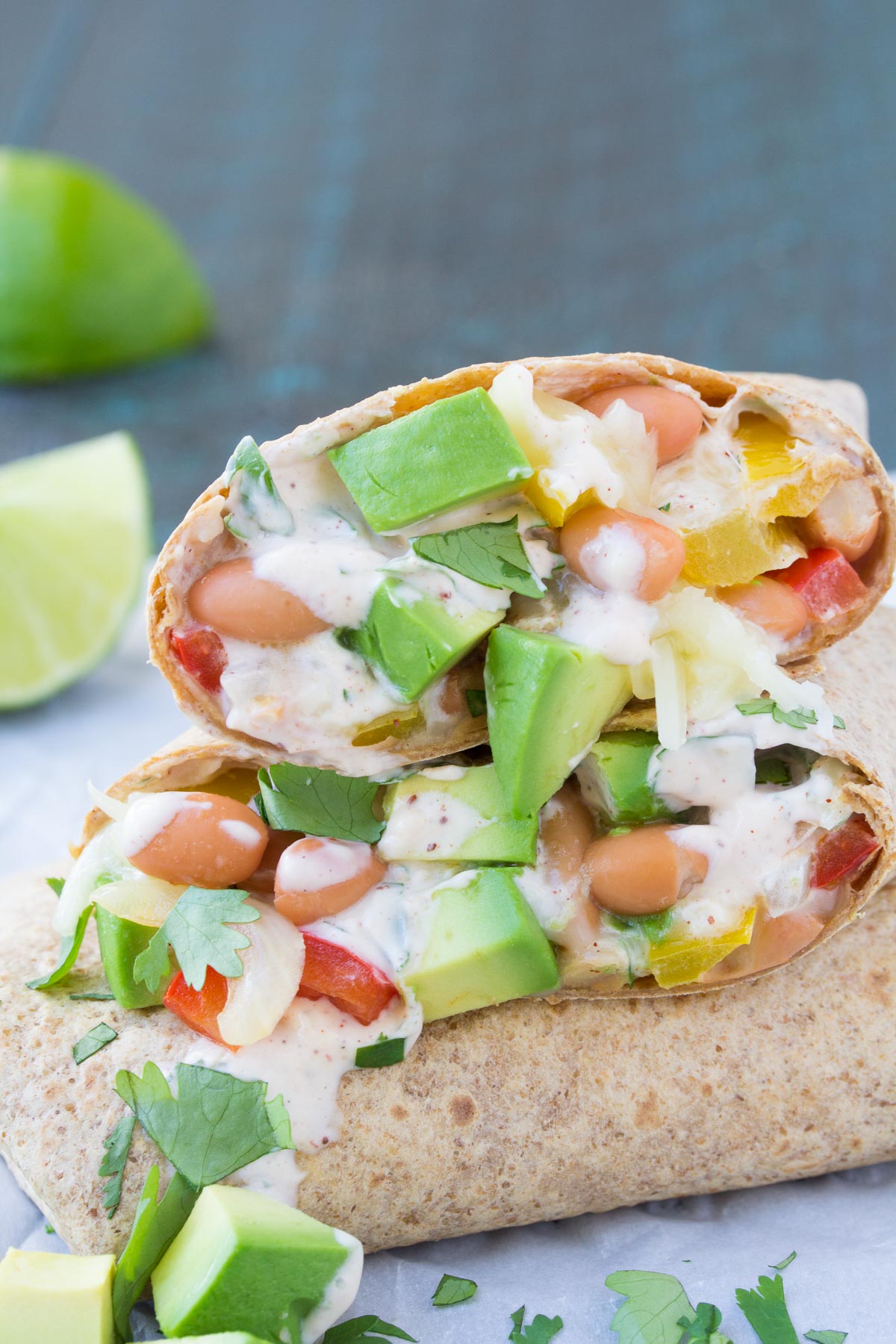 Back to these Creamy Avocado Vegetable Burritos. These burritos are packed with veggies, avocado and beans. I like to use pinto, but black beans would be delicious as well. To add a little something special to these burritos, we're adding a chili-cilantro-lime yogurt sauce to the filling. Not too much, but just enough to give a little creaminess to each bite. If you're not a fan of creamy, you can omit the sauce.
These avocado vegetable burritos are a complete meal in one neat little package:
vegetables… check.
whole grains in the tortilla… yep!
pinto beans (and Greek yogurt) for protein.
avocado and olive oil add healthy fat.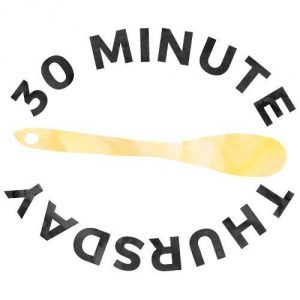 Today is the first Thursday of the month (how can it be November?!), so not only do you get my new 30 minute dinner recipe, but also 7 more from my friends!
Garlic Parmesan Pasta with Spinach and Mushrooms from Pumpkin 'N Spice
Creamy White Bean Pasta with Sweet Potato & Kale from She Likes Food
30 Minute Chicken Noodle Soup from Bake.Eat.Repeat.
30 Minute Tuscan Chicken Skillet from Sweet Peas & Saffron
Chestnut, Mushroom and Butternut Squash Baked Risotto from Floating Kitchen
Maple Apple Pork Chops Skillet from Savory Nothings
Healthier Skillet Chicken Parmesan from The Recipe Rebel
Like what you see? Be sure to follow along to never miss a recipe!
PINTEREST | FACEBOOK | INSTAGRAM | GOOGLE+ | TWITTER | EMAIL | RSS
Creamy Avocado Vegetable Burritos
These Creamy Avocado Vegetable Burritos are a favorite quick and easy vegetarian meal!
Recipe type:
30 Minute Dinner
Ingredients
1 tablespoon olive oil
2 bell peppers (any color), thinly sliced into strips
1 onion, thinly sliced
salt and pepper
½ cup plain Greek yogurt
juice of half a lime
¼ teaspoon chili powder
2 tablespoons chopped cilantro
15 ounce can pinto beans, rinsed and drained
4 large whole wheat tortillas
1 cup grated Monterey jack cheese
2 small or 1 large avocado, peeled, pitted and chopped
Directions
Heat the olive oil in a large skillet over medium heat. Add the bell peppers and onion and cook, stirring occasionally, until softened. Season with salt and pepper to taste.
Meanwhile, whisk together Greek yogurt, lime juice, chili powder, and cilantro in a small bowl.
Warm the beans for a few minutes in a small saucepan over low heat. Warm the tortillas between paper towels in the microwave.
To assemble the burritos, spread ¼ of the yogurt mixture down the center of each tortilla. Top with peppers and onions, beans, cheese and avocado. Fold up burritos and serve.
Save
Save
Save
Save
This site contains affiliate links. If you make a purchase through these links, I may receive a small commission, at no extra cost to you. Thank you for supporting Kristine's Kitchen!