The Best Chewy Chocolate Chip Cookies
The best soft and chewy chocolate chip cookies.  This is the recipe I turn to whenever I want to bake classic chocolate chip cookies.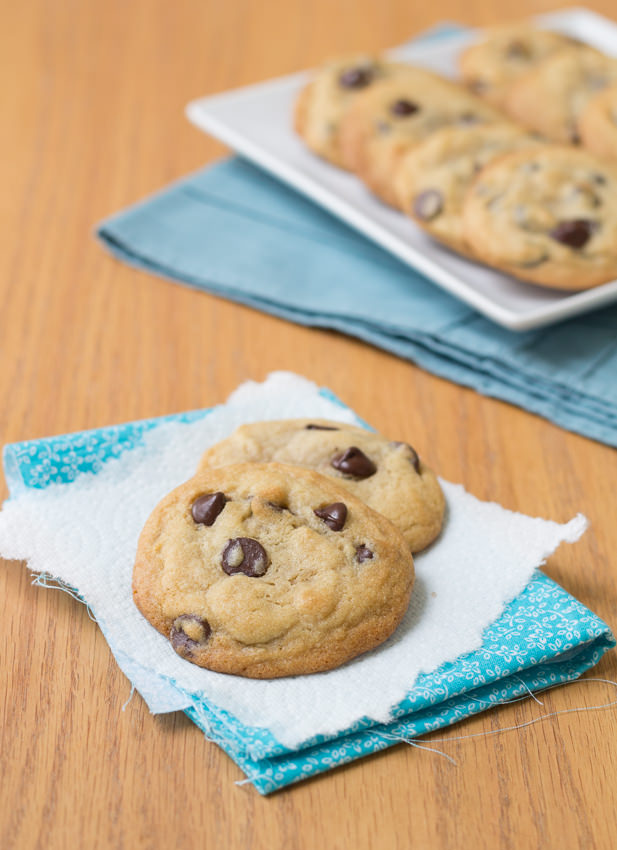 I'm often asked which of the chocolate chip cookie recipes on my site is my favorite. Well, these are it. I posted these a while ago and today I'm updating the recipe and photos because these cookies are my go-to recipe whenever I need to make a quick batch of cookies. Most often, those times are when a sudden craving for a chocolate chip cookie hits and I just can't resist! I've made these cookies dozens of times and they always turn out perfectly.
These chocolate chip cookies have a secret ingredient that gives them their soft, chewy texture. Cornstarch! A few teaspoons of cornstarch in the batter works like magic to create a perfectly soft cookie.
Like most moms, you are probably struggling to find the TIME to put a homemade dinner on the table for your family on busy weeknights. If you already had a plan, a grocery list, easy recipes and prep-ahead tips, you could have a REAL dinner on your table in a flash! I have been meal planning and prepping for years and now I am sharing my plan with YOU. You will save time, save money cooking at home, and eat real food.
Learn more about my Time-Saving Healthy Family Meal Plan.
I've made a lot of chocolate chip cookies over the years. Sometimes I like to get fancy and put things like cream cheese, browned butter, marshmallows, or nutella in my cookies. But most of the time I'm a chocolate chip cookie purist. This is THE RECIPE for those times.
It's practically impossible to eat just one of these cookies. I make them on the smaller side so I don't have to. 🙂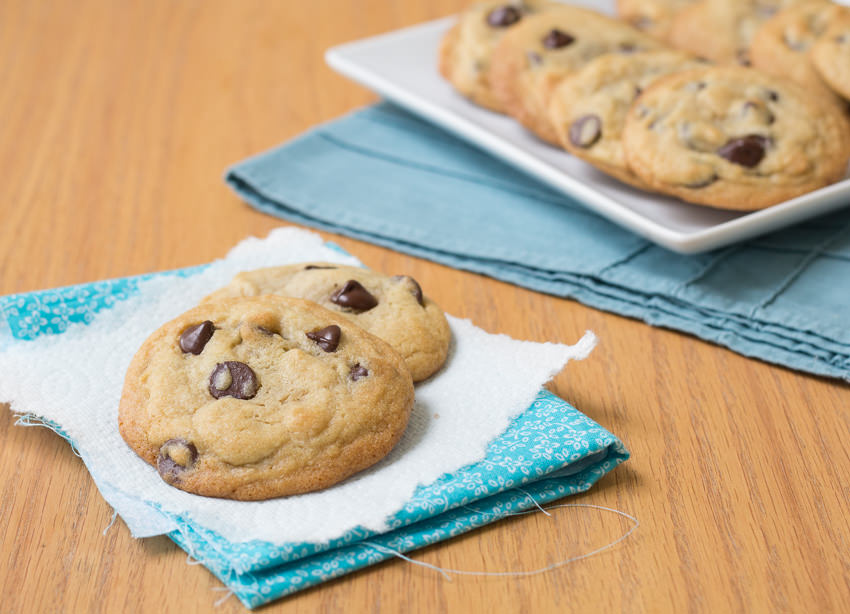 Through making countless batches of chocolate chip cookies over the years, I've learned a few tips and tricks for the perfect cookie. They are…
Start with butter that is slightly soft, but still cool.
Refrigerate the dough before scooping and baking. This helps ensure that the cookies won't flatten too much, and I think it adds to the flavor of the cookies, too. I chill my dough at least 2 hours, and up to 24 hours.
For the best-looking cookies, press a few extra chocolate chips into the tops of the cookie dough balls just before baking.
Don't overbake your cookies. In fact, slightly underbake them. They will continue to bake a little more on the baking sheets once you've removed them from the oven.
Freeze your extra cookies as soon as they cool completely after baking. I know many people freeze extra balls of cookie dough before baking so that they can have fresh baked cookies whenever they want. If this is the method you love, then go for it. For me, it's too much effort to preheat the oven and wait whenever I want a cookie. I bake all of my cookies at once and then freeze the extras right after they are cool. Then I can just defrost and enjoy!
The Best Chewy Chocolate Chip Cookies
The best soft and chewy chocolate chip cookies.  This is the recipe I turn to whenever I want to bake classic chocolate chip cookies.

Makes about 3 dozen
Ingredients:
¾ cup unsalted butter, softened but still cool
¾ cup light brown sugar
¼ cup granulated sugar
1 egg
2 tsp. vanilla extract
2 cups all-purpose flour
2 tsp. cornstarch
1 tsp. baking soda
½ tsp. salt
1 cup semi-sweet or bittersweet chocolate chips, plus a few extras for pressing into the tops of the cookies
Directions:
Preheat oven to 350 degrees F.
In the bowl of a stand mixer fitted with the paddle attachment, cream together butter and both sugars until fluffy and light in color. Add egg and vanilla and mix to combine.
In a medium bowl whisk together flour, cornstarch, baking soda, and salt. With the mixer on low speed, mix in the dry ingredients until just combined. Stir in chocolate chips. Chill the dough for at least 2, and up to 24, hours.
Using a cookie scoop or tablespoon, drop dough onto parchment-lined baking sheets. Press a few extra chocolate chips into the top of each cookie, if desired.
Bake for 8-10 minutes, until barely golden brown around the edges. Be careful not to over-bake.
Let cookies cool on baking sheet for 5 minutes, then remove to a wire rack to cool completely.
Source: Adapted from Apple a Day and Anna Olson, Food Network Canada.
This site contains affiliate links. If you make a purchase through these links, I may receive a small commission. Thank you for supporting Kristine's Kitchen!