Raspberry Peach Smoothie Shake
This Raspberry Peach Smoothie Shake is bursting with bright raspberry flavor! With a short and simple ingredient list, this vibrant smoothie is quick and easy to make.
This post is brought to you in partnership with REAL® Seal. All thoughts and opinions are my own.
It's August, and I'm officially in denial about how quickly this summer is wrapping up! Yes, I'll be back to teaching soon and my kids will be heading back to school. But even though the leisurely summer pace of our days is coming to an end, we still have plenty of warm, sunny days ahead. It usually stays warm here well into October, which means we'll continue to make smoothies just about every day!
Our favorite smoothies are full of fresh fruit flavor. We love to use milk in our smoothies, along with Greek yogurt, to add creaminess and protein. This Raspberry Peach Smoothie Shake is made with just fruit, yogurt, milk, and a touch of honey. We've been making it on repeat whenever we crave a cool, refreshing drink that doubles as a healthy snack. This fruit-based smoothie shake is like a cross between a fresh fruit smoothie and a healthier milkshake. It's so good you'll want to make it every day, too!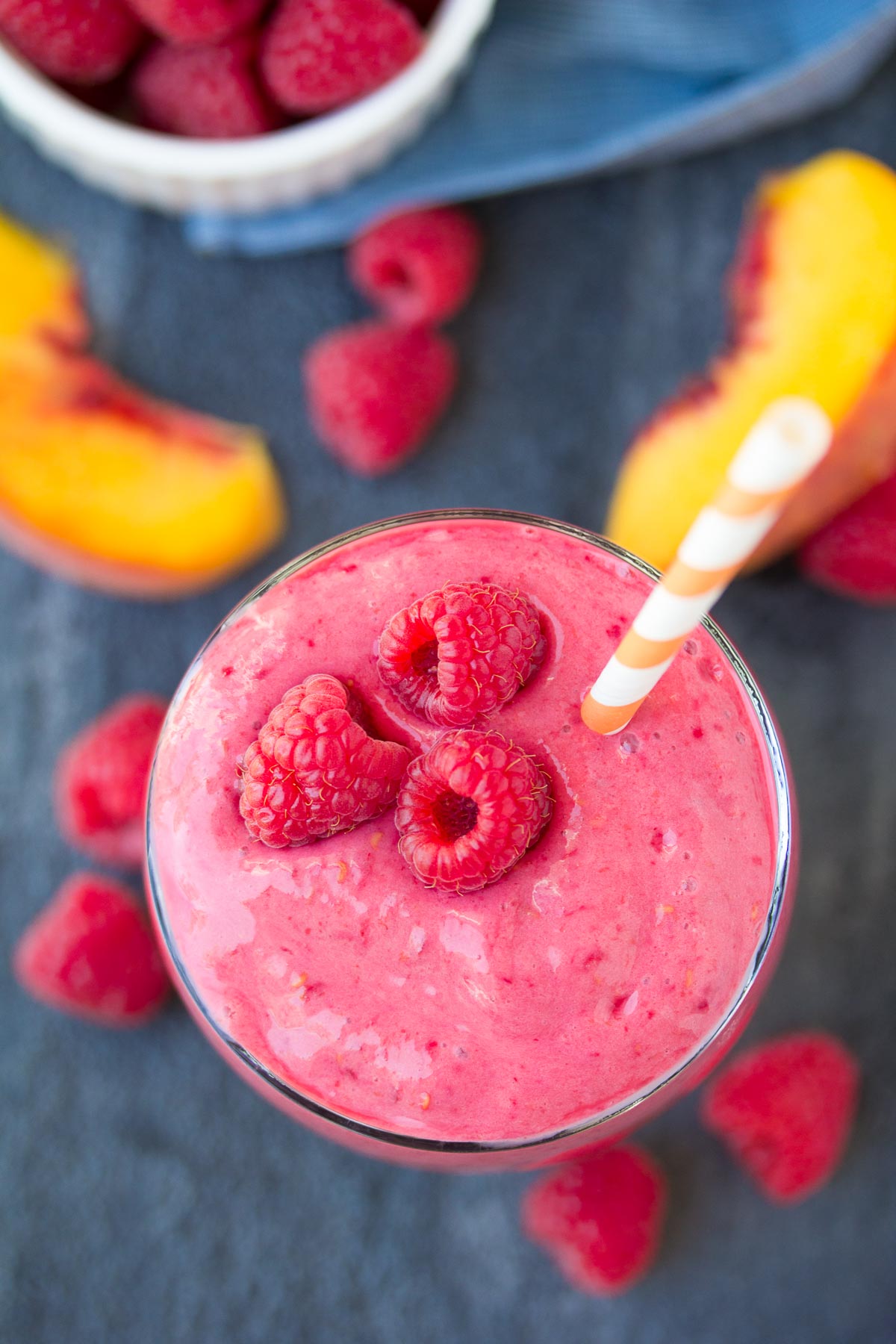 I used Fairlife milk in this Raspberry Peach Smoothie Shake, and I have to say I'm hooked! I'd never tried Fairlife milk before, but recently noticed it among the other milks at my grocery store. Fairlife is part of the REAL® Seal family of products that offers consumers essential nutrients that both children and adults need for everyday life. Fairlife is unique in that it's ultra-filtered so it has 50% more protein and 30% more calcium compared to ordinary milk. It also has 50% less sugar and is lactose-free.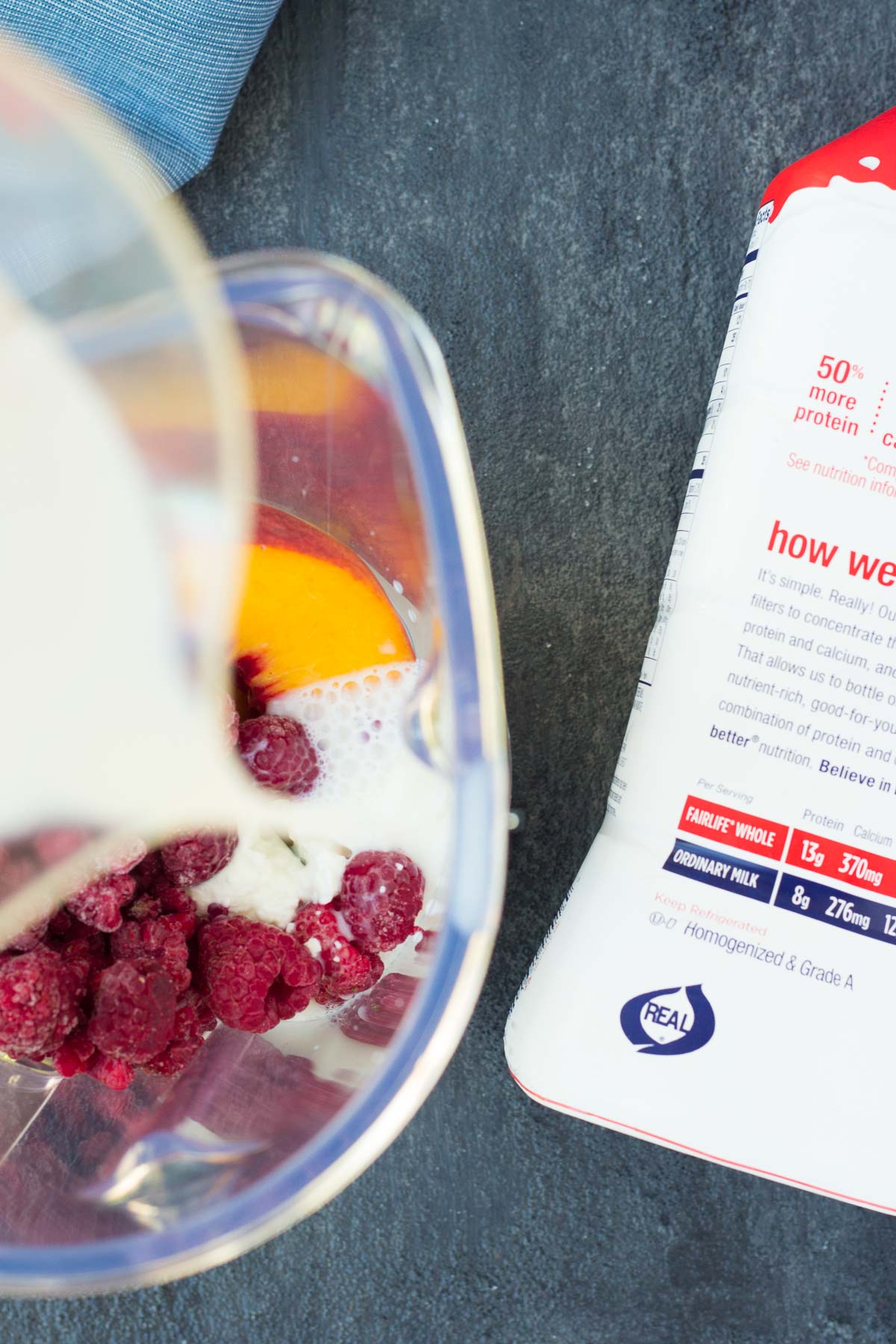 Using REAL® dairy, like Fairlife milk, in your smoothies and shakes means that your summer drinks both taste great and provide essential nutrients and protein. When you see the REAL® Seal on a dairy product, it lets you know that that product is made from real dairy from cows on U.S. dairy farms. Can you spot the REAL® Seal on the milk in the photo below?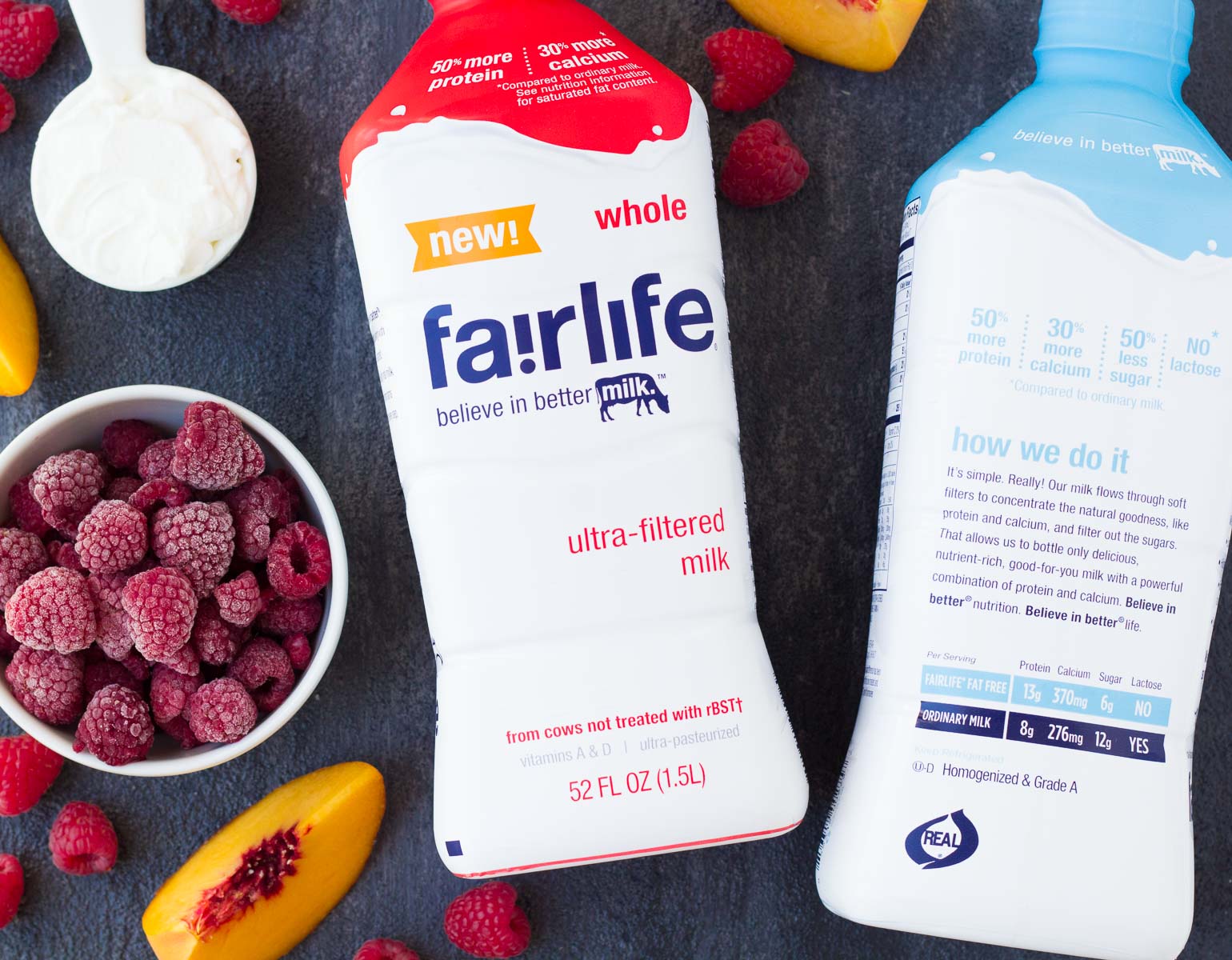 Why choose REAL® dairy? Watch this short video!
To learn more about REAL® dairy and find more delicious ideas and recipes, visit REAL® Seal on Facebook and Pinterest!
My kids have requested that I make this Raspberry Peach Smoothie Shake again and again, and I'm right there with them! It satisfies our craving for a cool summer drink, and the vibrant raspberry flavor and color can't be beat.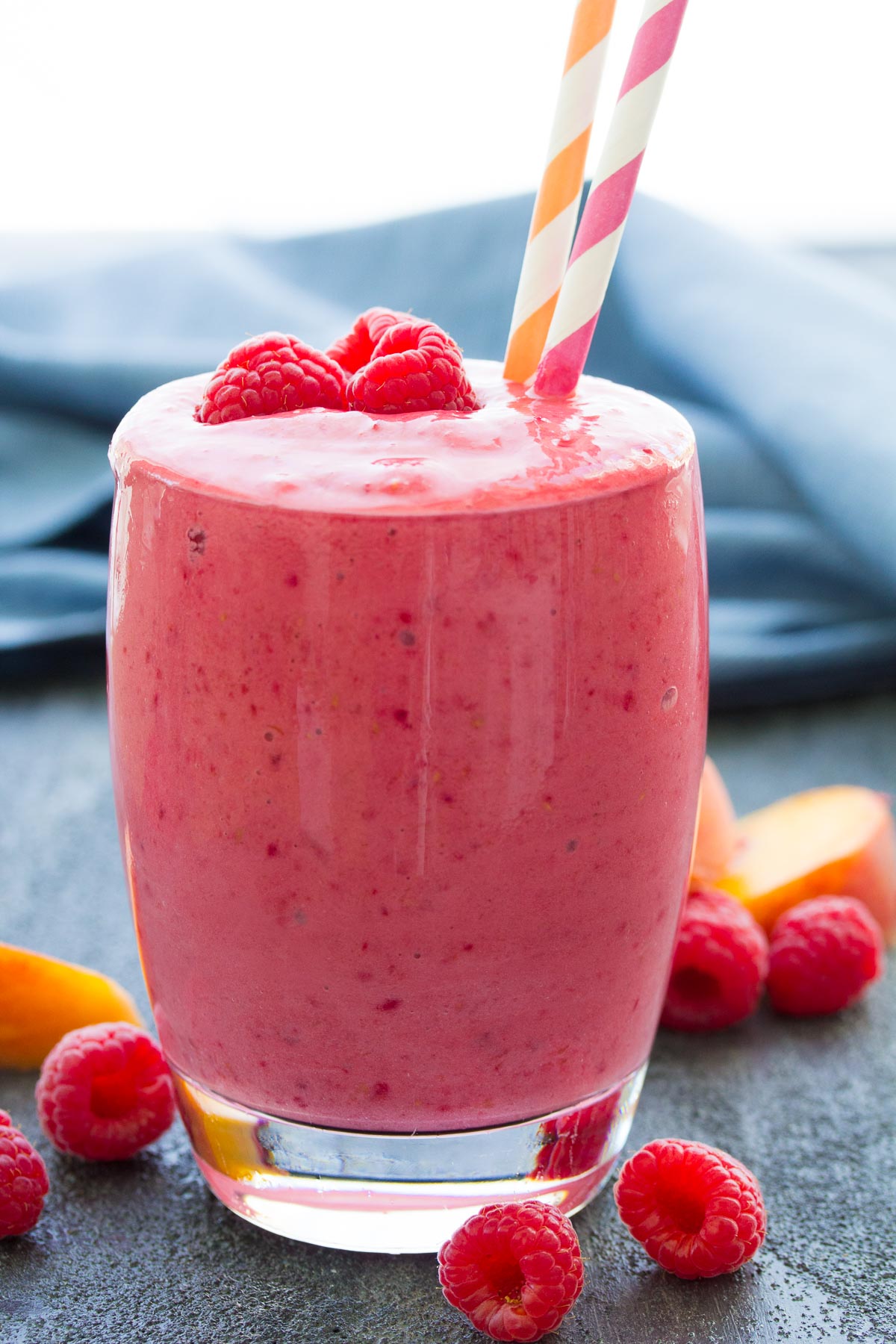 If you love nutritious smoothies and shakes, then you'll also want to try our favorite Strawberry Milkshake Smoothie and Creamy, Dreamy Mango Smoothie!
And before summer's end be sure to try these favorite summer recipes:
Strawberry Chia Overnight Oats
Dark Chocolate Raspberry S'more Ice Cream
Giveaway Rules and Entry (Giveaway has ended):
REAL® Seal is giving away one $50 VISA gift card! This giveaway is sponsored by REAL® Seal.
Giveaway will close at 11:59p.m. on Sunday, August 21st. Participants must have a U.S. mailing address and be at least 18 years old. One winner will be chosen at random no later than 48 hours after the giveaway closes. Winner will be emailed and will have 48 hours to respond before another winner will be chosen. Use the widget below to enter. Good luck!
a Rafflecopter giveaway

Like what you see? Be sure to follow along to never miss a recipe!
PINTEREST | FACEBOOK | INSTAGRAM | GOOGLE+ | TWITTER | EMAIL | RSS
Raspberry Peach Smoothie Shake (and a Giveaway!)
This Raspberry Peach Smoothie Shake is bursting with bright raspberry flavor! With a short and simple ingredient list, this vibrant smoothie is quick and easy to make!
Ingredients
1 cup frozen unsweetened raspberries*
¾ cup chopped fresh peach**
¼ cup REAL® Seal plain yogurt (I use plain Greek yogurt)
⅓ cup REAL® Seal milk (I used Fairlife milk)
1 teaspoon honey
Directions
Place all ingredients in blender and blend until smooth, adding a bit more milk as needed if the smoothie is too thick. Serve immediately.
*If using sweetened raspberries, omit the honey.
**This smoothie is best made with fresh rather than frozen peach. If you do use frozen peaches, you'll need to add more milk and will lose some of the vibrant raspberry color and flavor.
This Raspberry Peach Smoothie…
has just 5 ingredients.
is made with REAL® dairy, which provides calcium, Vitamin D, and potassium.
has a mix of protein from milk and yogurt, and fiber from the fruit to keep you full and energized!
You might also enjoy these smoothie recipes:
This site contains affiliate links. If you make a purchase through these links, I may receive a small commission, at no extra cost to you. Thank you for supporting Kristine's Kitchen!