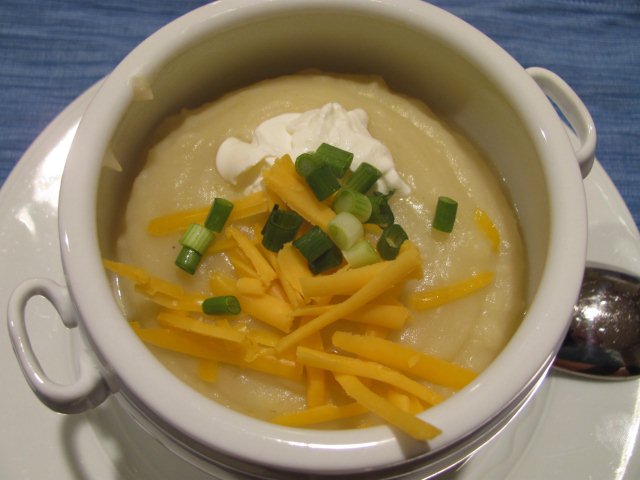 I made this soup for dinner last night, and we absolutely loved it. Now there are some delicious leftovers in my fridge just waiting to be eaten tonight! This soup is similar to other potato leek soup recipes that I've tried, but this version has by far the best flavor. I think the garlic and sour cream play key roles in taking this soup's flavor up a notch. Before adding the potatoes, you simmer a whole head of garlic with some of the other soup ingredients until the garlic is tender. After it's imparted loads of flavor into the soup, you remove the garlic head at the end. With each bite of soup, there is a hint of garlic flavor in the background, but it is not overpowering at all.
Deb of Smitten Kitchen recommends pureeing the soup only partially, so that some chunks of potato are left intact. I intended to do this, but the pureeing happened so fast that I ended up with more of a smooth texture. I'm sure that the soup would be delicious either way.
The fun part of this meal is that you can top your soup however you want, just like a baked potato. I topped mine with sour cream, cheddar cheese, and green onions. After multiple days of almost-constant rain, this baked potato soup was the perfect meal to warm up with.
Baked Potato Soup
Makes 6 servings
Ingredients:
1 head garlic
3 tablespoons unsalted butter
2 medium leeks, white and light green parts halved lengthwise, washed, and sliced small
5 to 6 cups low-sodium chicken or vegetable broth (add 5 cups first, and then you can always add the 6th cup after pureeing if the soup is too thick)
2 bay leaves
3/4 teaspoon salt
2 1/2 pounds russet potatoes, peeled and cut into 1/2-inch cubes
1/3 cup sour cream
Ground black pepper
Toppings, optional:
Minced fresh chives or scallions
Sour cream
Grated cheddar
Bacon bits
Directions:
Rinse the head of garlic to remove any outside dirt or grit. Cut the top third off the head and peel any loose papery skins off the bottom two-thirds. Instead of discarding the top third, pop out a bunch (or all) of the garlic clove tips and mince them.
In a large, heavy pot or Dutch oven, melt the butter over medium heat. Add leeks and cook until soft, but not brown, about 5 minutes. Add the minced garlic and cook another minute. Add the larger part of the garlic head (whole, not chopped), broth, bay leaves, and 3/4 teaspoon salt. Reduce the heat and simmer until garlic is very tender when pierced with the tip of a knife, 30 to 40 minutes. Add potatoes and continue to simmer, partially covered, until potatoes are tender, 15 to 20 minutes.
Discard bay leaves. Remove garlic head. Add sour cream to soup and cook for another 2 to 3 minutes. Adjust seasonings, adding more salt and pepper to taste. Using an immersion blender, process soup until chunky-creamy, leaving lots of potato texture intact. (Alternatively, transfer a portion of the potatoes and broth to a food processor or blender and puree until smooth.) Serve with desired toppings.
Recipe from Smitten Kitchen