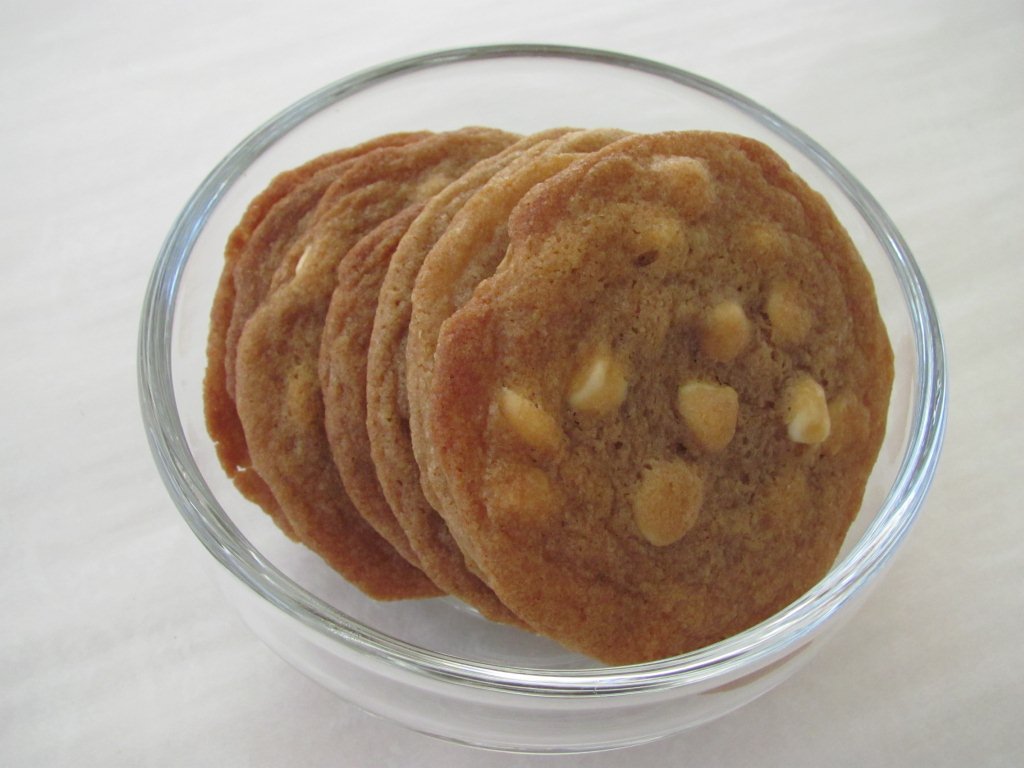 In these White Chocolate Butterscotch Cookies, the ingredients, especially the dark brown sugar, combine to create a delicious butterscotch-flavored cookie. Pieces of white chocolate perfectly complement this butterscotch flavor. These cookies have a chewy texture, which I love. Like most cookies, they freeze well. Just defrost them at room temperature for a few minutes and you will have a cookie that tastes almost as fresh as if it was just baked.
One year ago: Whole Wheat Pita Bread
White Chocolate Butterscotch Cookies
Makes about 2 dozen
Ingredients:
1 3/4 cup all-purpose flour
1/2 teaspoon baking soda
1/2 teaspoon salt
14 tablespoons unsalted butter, at room temperature
1 1/4 cups packed dark brown sugar
1 large egg
1 tablespoon pure vanilla extract
8 ounces best-quality white chocolate, chopped into 1/4-inch pieces
Directions:
Preheat oven to 350 degrees F, with racks in the upper and lower thirds. Line two baking sheets with parchment paper; set aside.
In a medium bowl, whisk together the flour, baking soda, and salt.
In the bowl of an electric mixer fitted with the paddle attachment, beat the butter and brown sugar on medium speed until light and fluffy, about 3 minutes, scraping down the sides of the bowl as needed. Beat in the egg and vanilla until combined. With the mixer on low speed, add the flour mixture in two batches, beating until just combined. Stir in the white chocolate.
Drop 2 tablespoons of dough at a time about 2 inches apart on prepared baking sheets. Bake, rotating sheets halfway through, until lightly golden brown around the edges, about 15 minutes. Let cookies cool on sheets for 2 minutes, then transfer parchment and cookies to a wire rack to cool completely. Cookies can be kept in an airtight container at room temperature for up to 4 days.
Recipe adapted from Martha Stewart's Baking Handbook