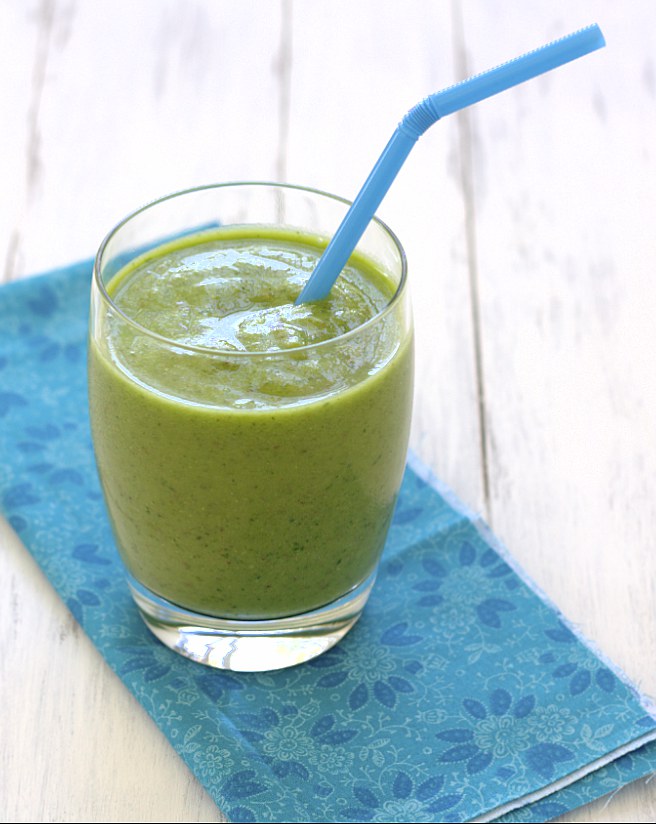 Looking at this smoothie, it's hard to believe that you can't taste the spinach in it. Three cups of spinach and you can't taste it? No, you really can't. Not even a little bit.
As I was making these, Julia watched me put the spinach in the blender and commented on the green color of the smoothie. She said, "No spinach for Julia," and then drank her green smoothie without realizing that there was, in fact, spinach in hers too. :) (This trick does not work with peanut butter- even in cookies or muffins she tastes it right away and won't eat any more.  Oh well.)
I have to admit I was skeptical at first, too, but after trying this Green Monster Smoothie I can't wait to make it again and again.
Green Monster Smoothie
Makes 2-3 servings
Ingredients:
1 banana (frozen or not), cut into chunks
1 cup chopped frozen pineapple
1 pear, coarsely chopped
1 cup orange juice
3 cups baby spinach leaves, rinsed and dried
1 tbsp. honey
3 tbsp. ground flaxseed (optional)
Directions:
Combine all ingredients in a blender or food processor and puree until completely smooth. If smoothie is too thick, thin it out with a little more orange juice.
Taste and adjust sweetness with additional honey, if desired. Serve immediately.
Recipe adapted from Cooking with Karen, originally from Annie's Eats