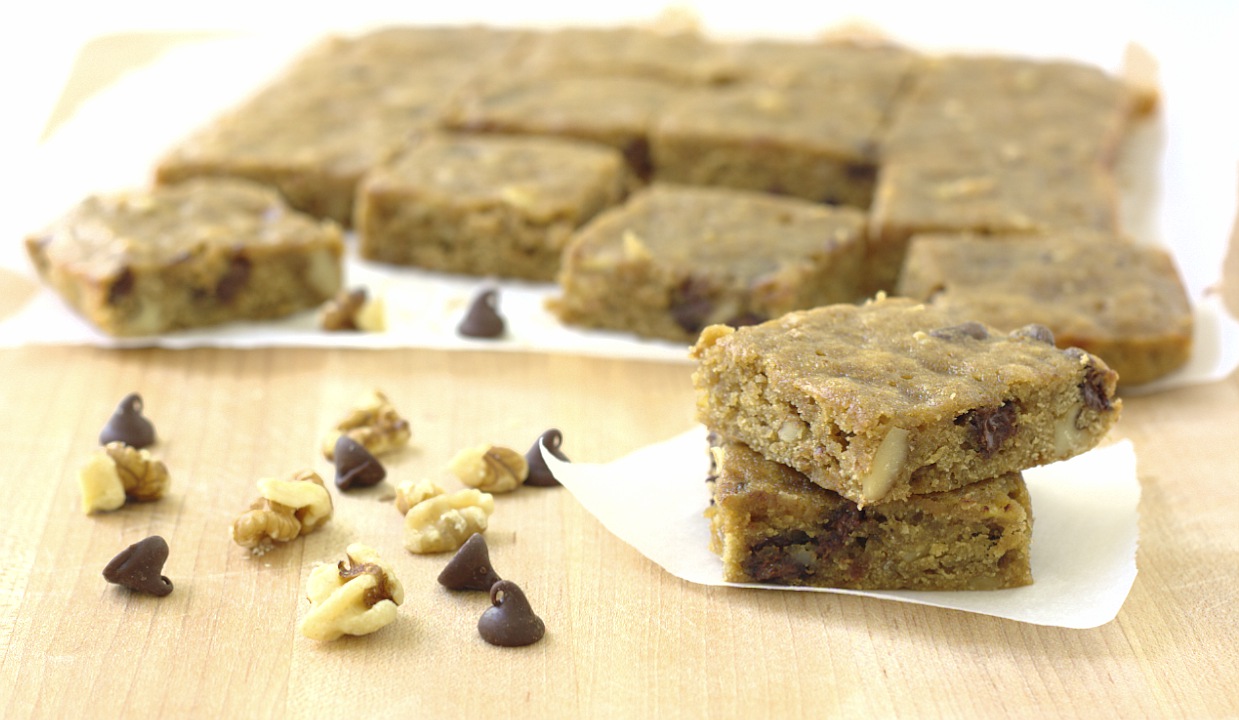 I'm always looking for good uses for the over-ripe bananas that end up in my fruit basket. Lately I've been loving these banana muffins and this smoothie, but the other day I decided to try something new. The first thing you'll notice as you bake these banana walnut blondies is that they smell amazing. When you take a bite, you'll taste a wonderful combination of brown sugar, banana, and browned butter. Toasted walnuts provide a delicious crunch, and the chocolate chips a burst of sweetness.

One year ago:  Sun-Dried Tomato, Arugula, and Goat Cheese Pasta
Banana Walnut Blondies
Makes 16 blondies
Ingredients:
1/2 cup all-purpose flour
1/2 cup whole wheat flour
1/8 tsp. salt
5 tbsp. unsalted butter, melted and browned*
1 cup packed light brown sugar
1 large egg
1 tsp. vanilla extract
1 tsp. espresso powder
2/3 cup mashed banana (about 2 medium)
1/2 cup toasted walnuts, coarsely chopped
1/2 cup chocolate chips
Directions:
Preheat oven to 350 degrees F. Butter the bottom and sides of an 8×8-inch metal baking pan. Place a long piece of parchment paper in the bottom of the pan, letting the parchment extend up two sides of the pan and overhang slightly on both ends. Place another piece of parchment paper in the same manner, perpendicular to the first sheet. (This will make it easy to remove the bars from the pan after they have baked.)
In a medium bowl, whisk together the all-purpose flour, whole wheat flour, and salt; set aside.
In another medium bowl, whisk together the melted butter and brown sugar until combined. Add the egg, vanilla, espresso powder and mashed banana and mix well. Using a rubber spatula, fold the dry ingredients into the wet mixture until just combined; do not overmix. Fold in the chocolate chips and nuts and pour the batter into the prepared pan, smoothing the top with a rubber spatula.
Bake until light golden brown, 22 to 25 minutes; do not overbake. Cool on a wire rack to room temperature and then remove from the pan by lifting the parchment overhang. Cut into 2-inch squares.
*I browned my butter, because I've been loving the flavor it gives to baked goods. Just keep stirring once it's melted until it begins to turn brown. Be sure to watch it closely so it doesn't burn.
Source: Slightly adapted from Sweet Pea's Kitchen.