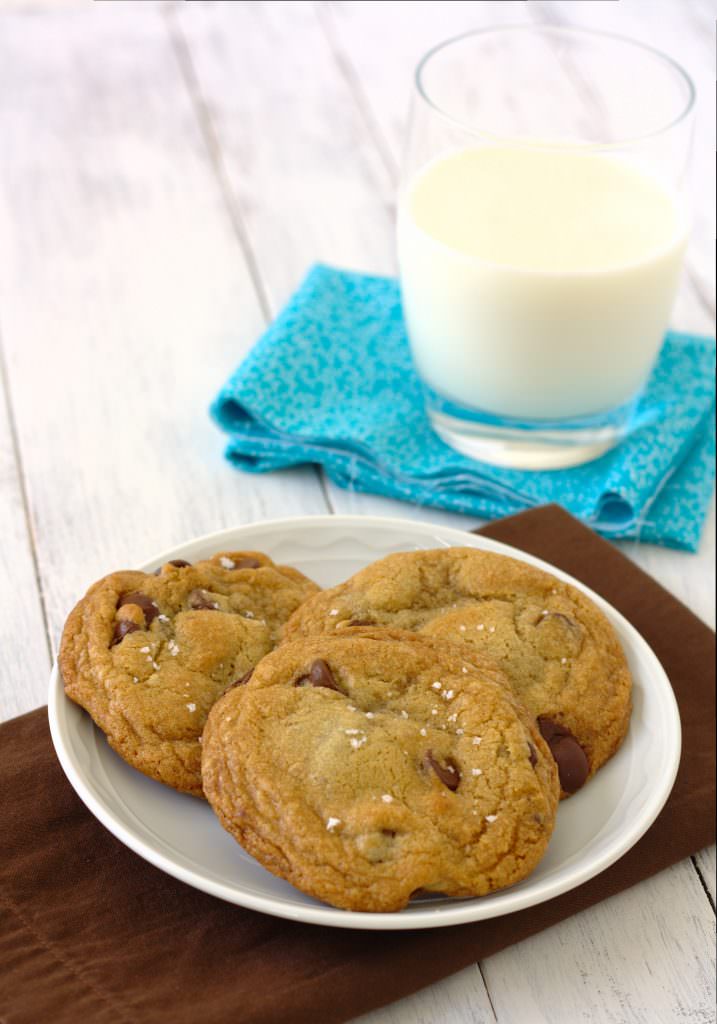 How can you turn a good chocolate chip cookie into a great one? That's what we've done right here, my friends. First, brown the butter to create that complex, nutty flavor that is browned butter. Then, hide a little Nutella surprise inside each cookie. Finally, sprinkle the cookies with some sea salt after baking to achieve that wonderful sweet-salty combination that makes baked treats extra delicious.
As you might imagine, these cookies are delicious. They are definitely rich, and I think they would have been great even without the Nutella in the center. Next time, I might try them without, since that would save a step and I don't usually keep Nutella on hand. You can decide what you want to do, but either way, I think you'll find these cookies irresistible.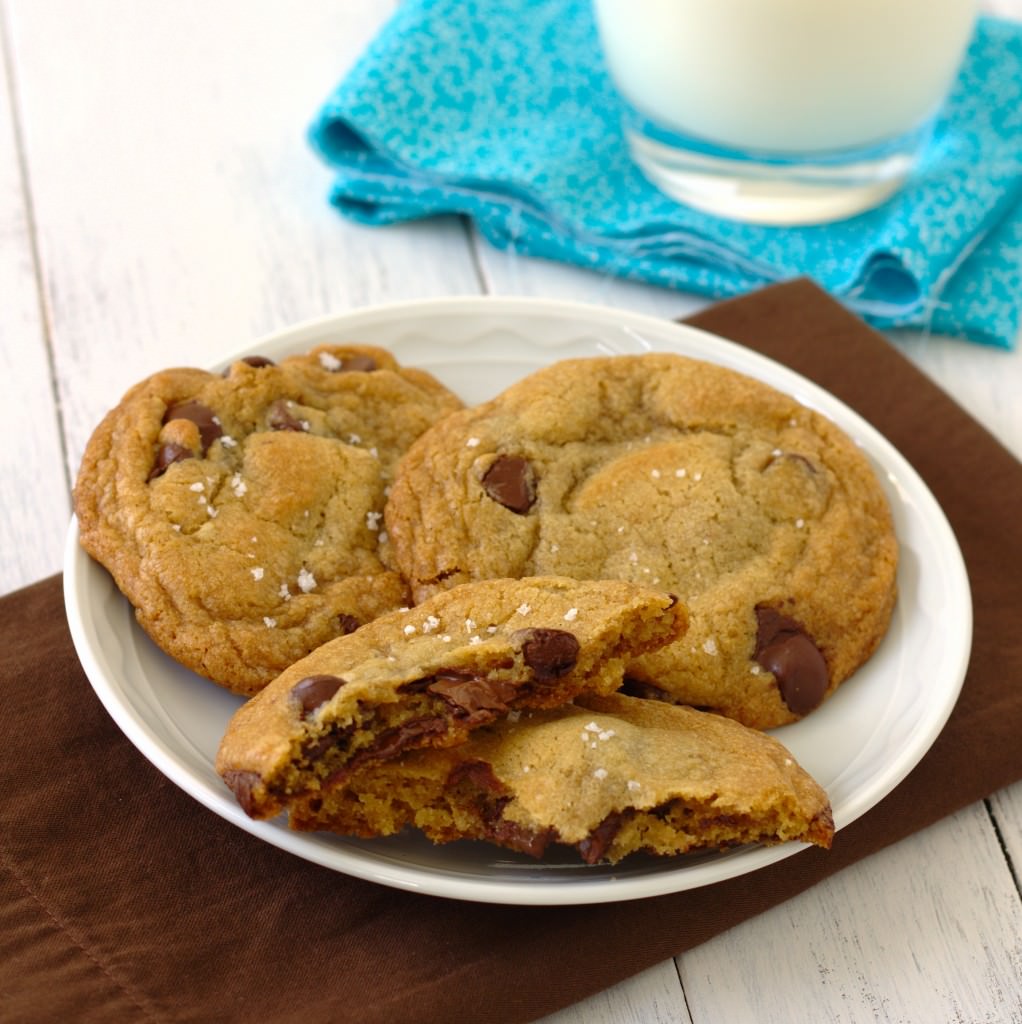 Chocolate Chip Cookies with Nutella, Browned Butter, and Sea Salt
Makes about 2 dozen cookies
Ingredients:
about ½ to ¾ cup Nutella (or other chocolate-hazelnut spread)
1 cup (16 tbsp.) unsalted butter
2 ¼ cups all-purpose flour
1 ¼ tsp. baking soda
½ tsp. fleur de sel (sea salt), plus more for sprinkling
1 cup light brown sugar
½ cup granulated sugar
1 large egg plus one egg yolk
2 ½ tsp. vanilla extract
1 tbsp. Greek yogurt or sour cream
1 cup chocolate chips
Directions:
Spoon the Nutella into a pastry bag or zip-top plastic bag, and squeeze it all into the corner/bottom. Snip off the end and pipe 1-2 tsp. dollops onto a parchment-lined baking sheet. Place the baking sheet in the freezer and freeze 1-2 hours, or until the Nutella is firm and frozen through.
When you are ready to mix up the cookie dough, brown the butter. In a large skillet melt the butter over medium heat. Once it's melted, it will foam and bubble a bit. Begin whisking it very often, watching it closely so it won't burn. Continue to cook until the butter turns brown and smells nutty. Immediately remove from the heat and set aside to cool.
In a medium bowl, whisk together the flour, baking soda, and sea salt.
Combine the brown sugar, granulated sugar, and browned butter in the bowl of a stand mixer fitted with the paddle attachment. Beat at medium speed until well-combined. Add the egg, yolk, vanilla, and Greek yogurt and mix well. Reduce the speed to low and slowly add the flour mixture, mixing until just incorporated. Use a rubber spatula to fold in the chocolate chips. Transfer the bowl to the refrigerator and chill for about 30 minutes.
When ready to shape and bake the cookies, preheat oven to 350 degrees F. Line baking sheets with parchment paper.
Measure out about 2 tablespoons of dough, and roll into a ball. Use your fingers to flatten the dough ball and then place a dollop of frozen Nutella in the center. Fold the edges of the dough over the Nutella, enclosing it in the dough. Transfer to the prepared baking sheet, and repeat with the remaining dough, spacing the dough balls about 2-3 inches apart.
Bake 13-15 minutes, or until the edges are golden-brown and the cookies are set, rotating the pans halfway through baking. Remove from the oven and sprinkle with sea salt. Allow to cool slightly before transferring to a wire rack to cool completely.
Source: adapted from Ambitious Kitchen, via Pink Parsley.