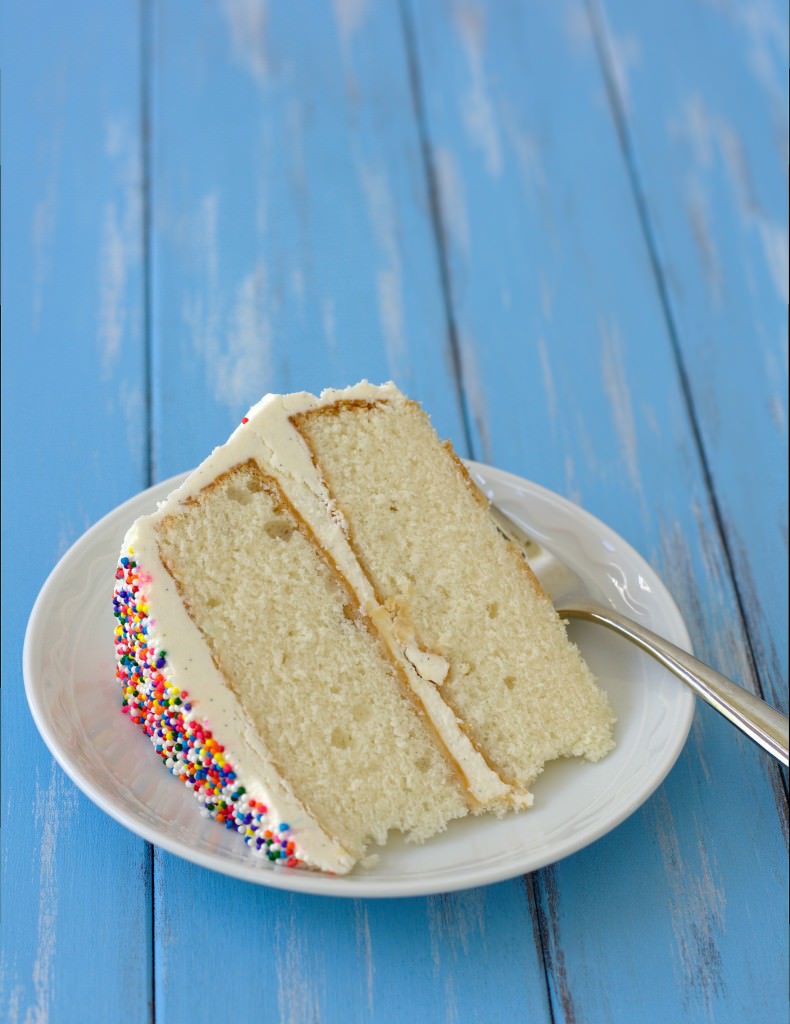 What a title!  This cake deserves every descriptive word in that title, and it was the perfect cake to celebrate my sweet boy's first birthday.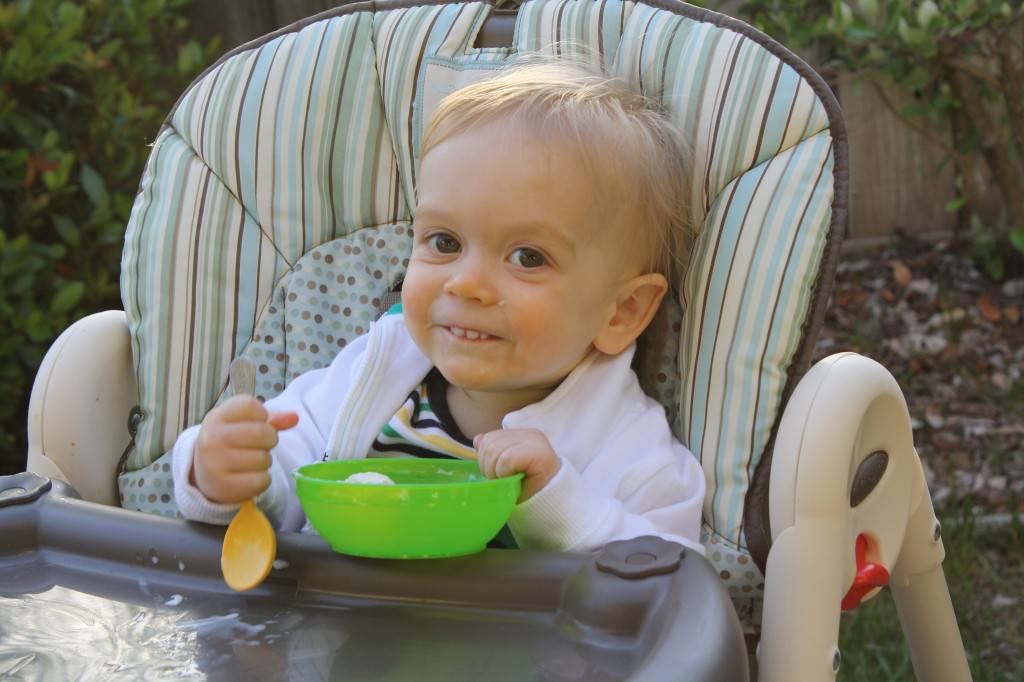 A few weeks ago William turned one, and we celebrated with a relaxed party at home with family and a few close friends.  I thought and thought about a party theme, and nothing seemed quite right, until I settled on a color theme.  I kept things simple, with a few colorful decorations and an easy menu of burgers and salads.  And of course, cake!
I found this cake recipe just two days before the party, and although it was a new recipe I just knew it would be perfect.  The cake was incredibly light and fluffy, and the frosting was sweet and full of delicious flecks of vanilla bean.  I doubled the cake recipe and was able to make a 2-layer, 8-inch cake, a smaller smash cake for William, plus 8 cupcakes with the leftover batter.  I also doubled the frosting recipe, but would have had plenty had I only made one-and-a-half recipes.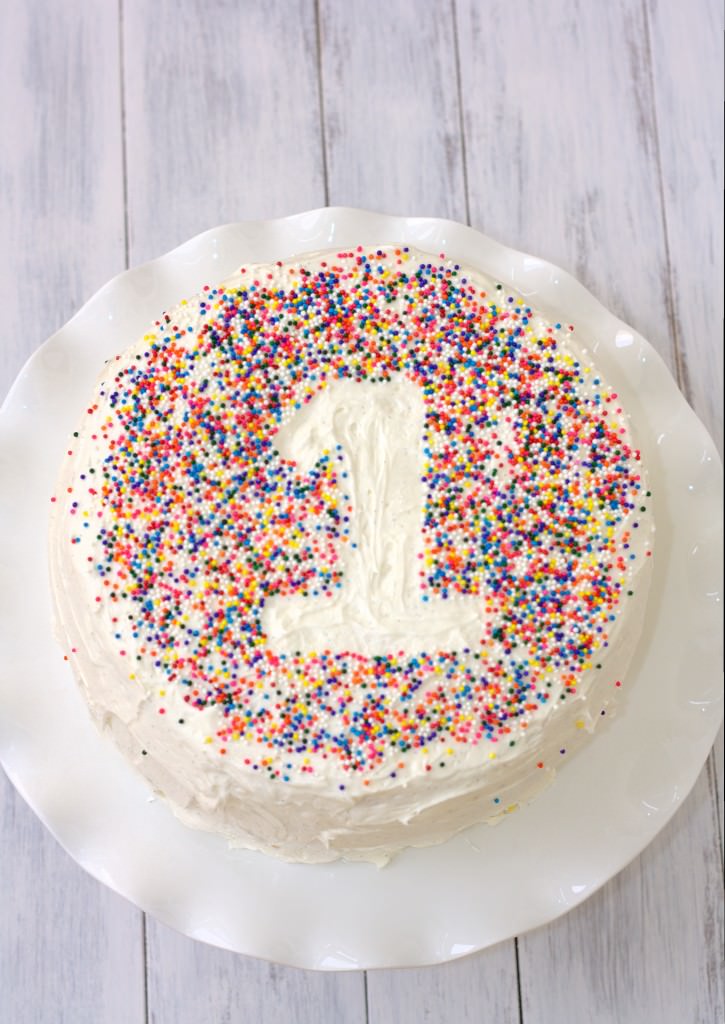 The big cake (above)…and William's smash cake (below)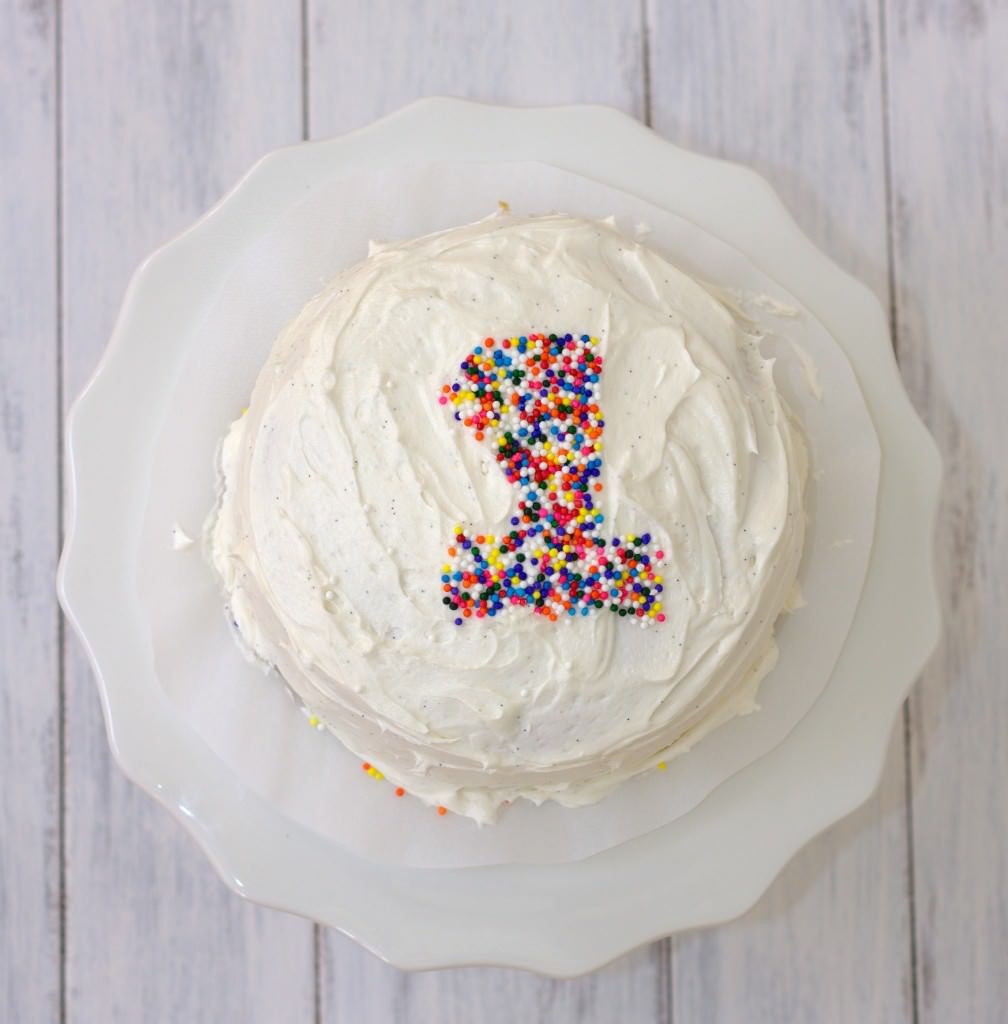 We had warm weather on party day, which was great for grilling and eating outside in the backyard.  The menu included burgers, this pasta salad, fruit salad, and a green salad.  After dinner William opened his gifts, although he was more interested in playing with his toys than opening presents.  Big sister Julia did not mind because that meant she got to do lots of helping!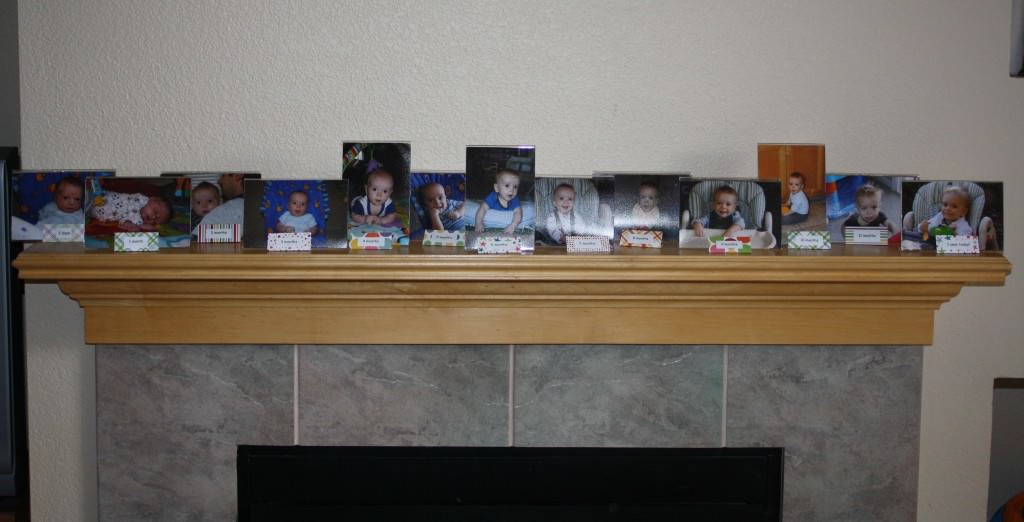 I printed out a photo of William from each month of his first year, starting with 2 days old and ending with a picture of him on the day of his first birthday.  Our guests enjoyed looking at the photos of William from his first year.  This was one of my favorite party decorations!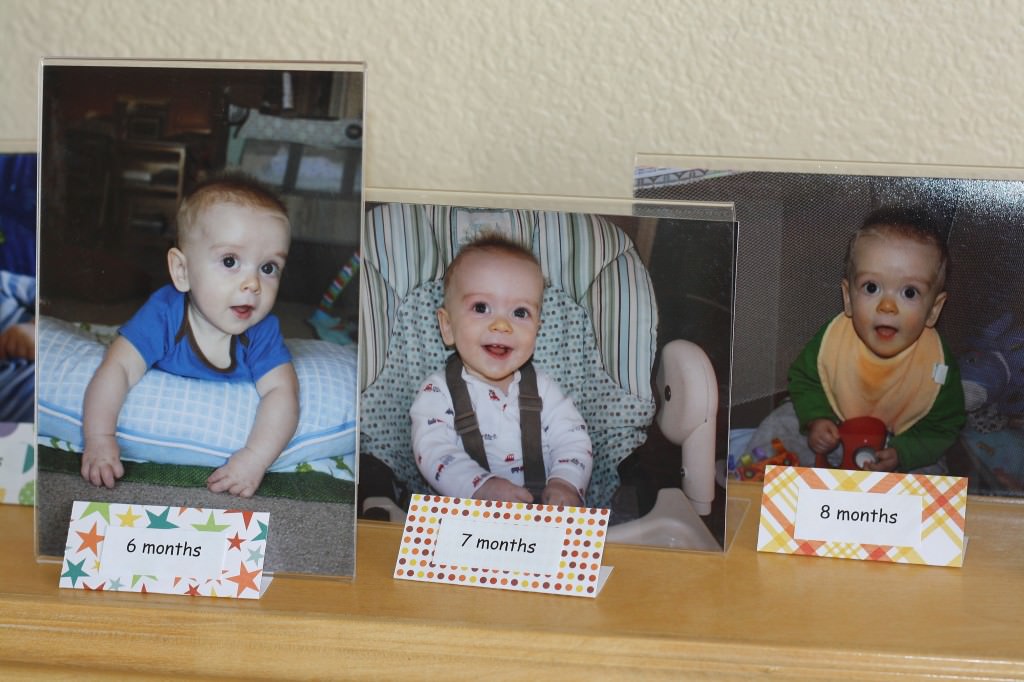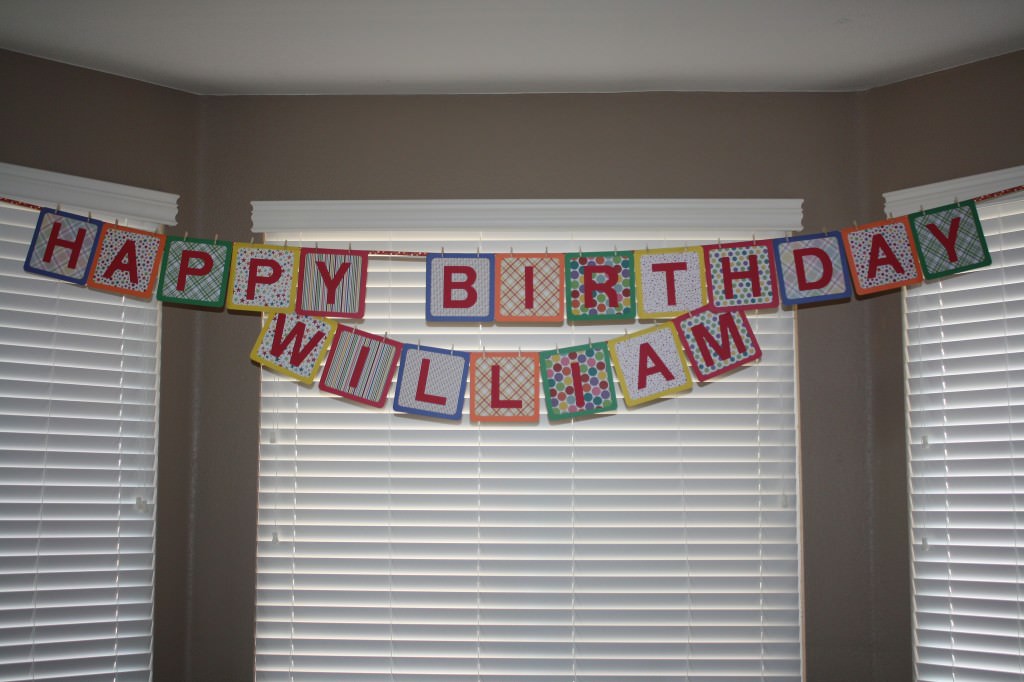 I just loved how this colorful birthday banner turned out.  I die-cut the letters out of red construction paper and cut squares out of cute patterned paper and solid color construction paper.  I rounded the corners of the squares and then attached it all together with double-sided tape.   I used mini clothespins to hang each piece of the sign to the ribbon- so easy!  I highly recommend this method as I've used the mini clothespins for every birthday banner I've made now and they are cute and very easy to work with.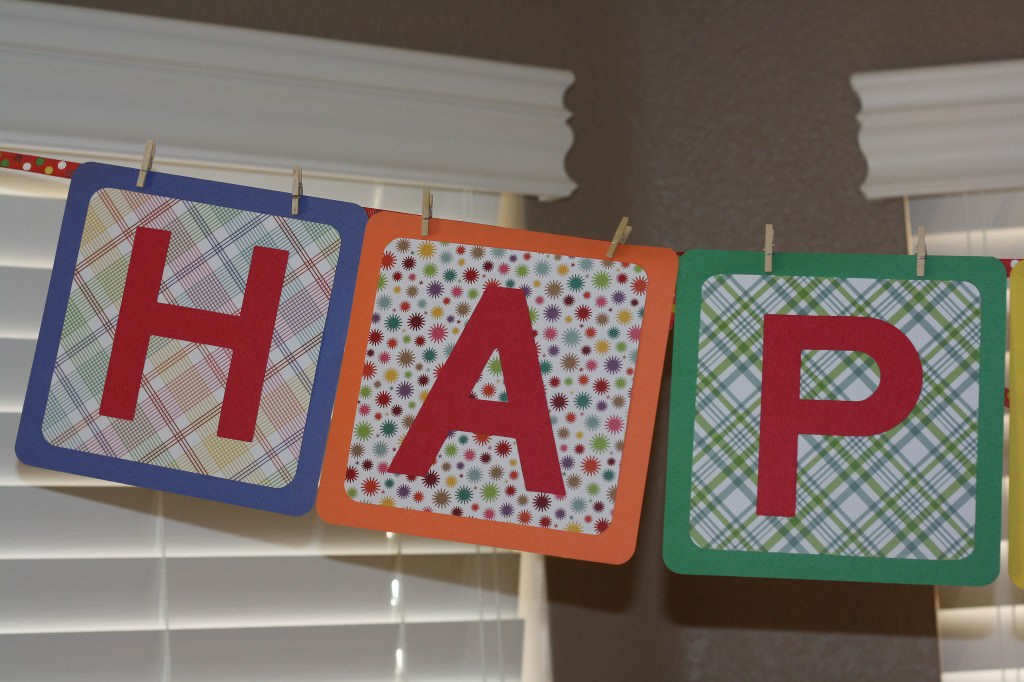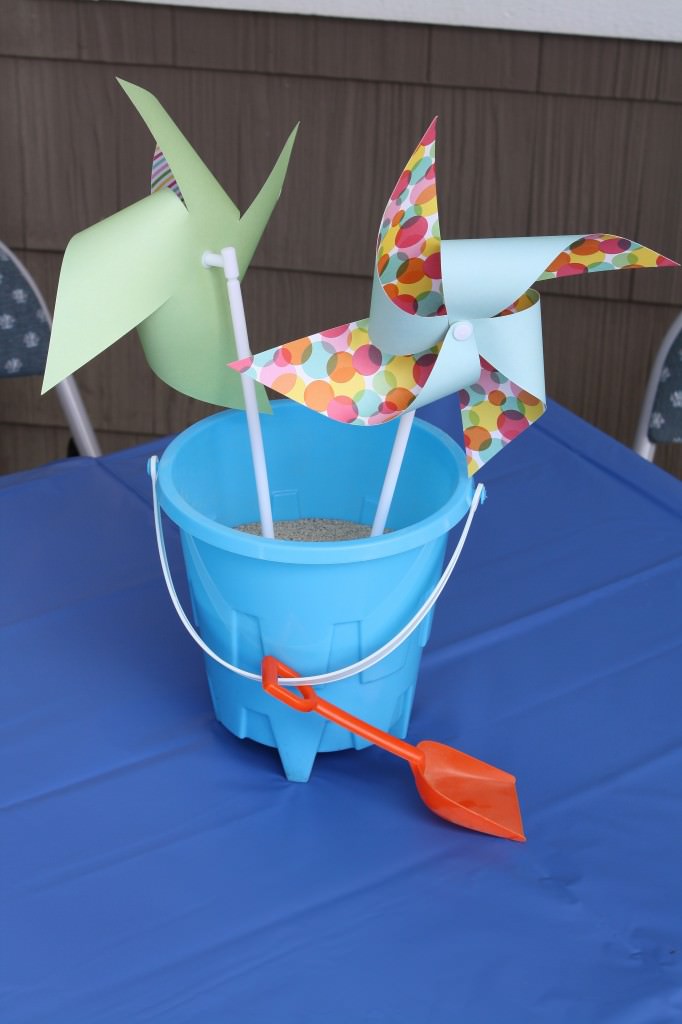 To decorate the tables outside, I filled colorful buckets with sand and then placed a few pinwheels in each.  They were fun and festive!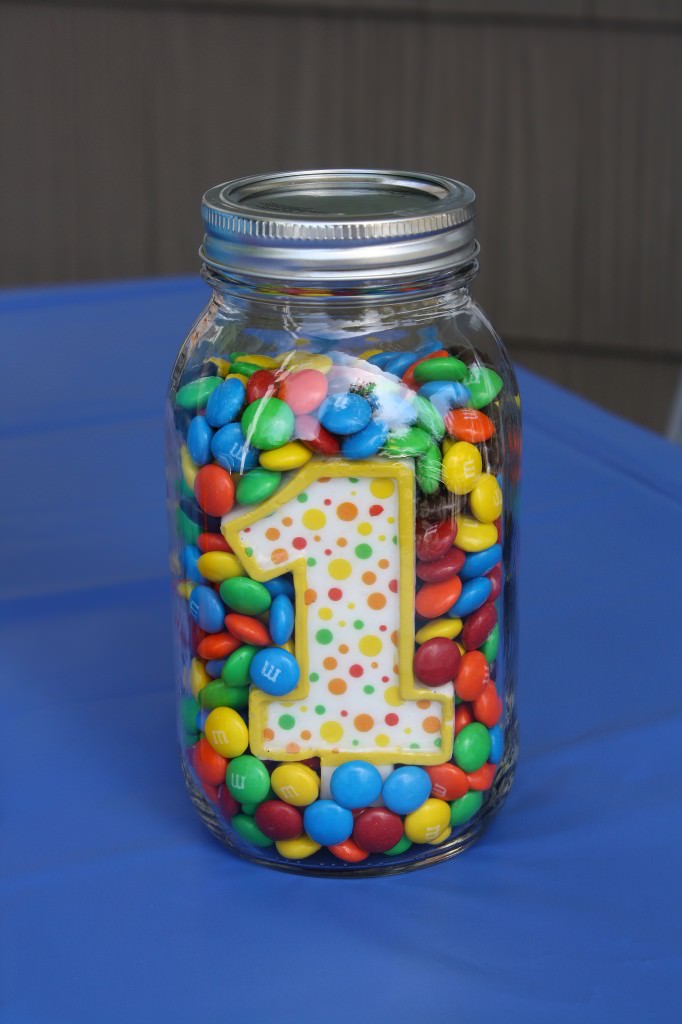 I also added color to the party with colorful balloons and mason jars filled with a first birthday candle and M&M's.  I found this cute idea on Pinterest.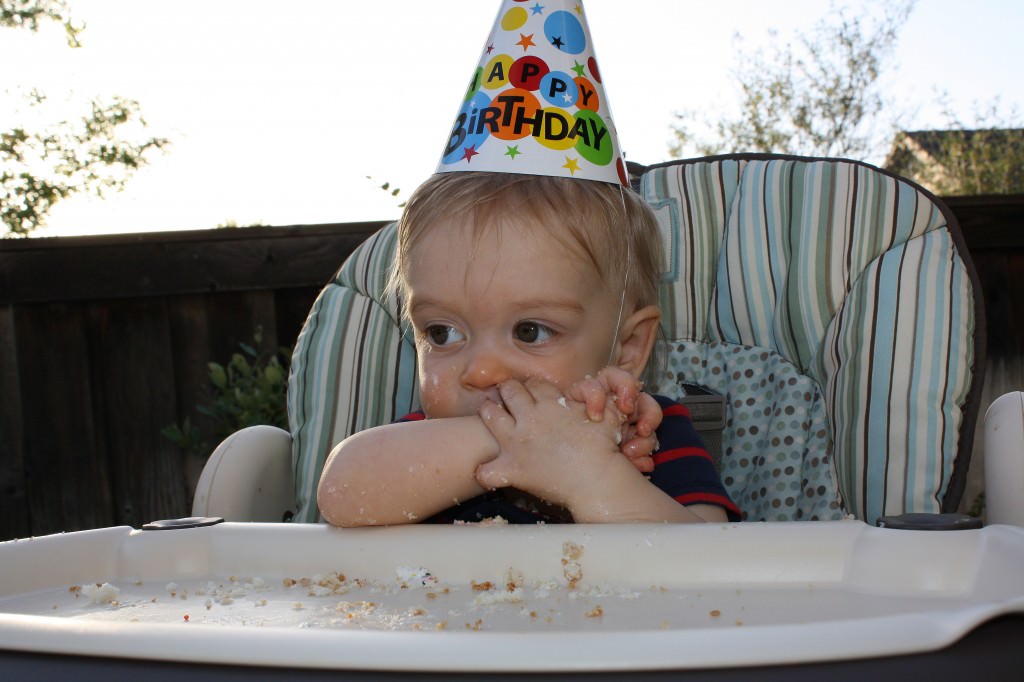 I'm so glad I chose a colorful party theme, and William loved looking at all of the colorful decorations.  He dug right in to his smash cake, and very much enjoyed it!  (Don't worry, we didn't let him eat it all, even though it looks that way in the picture.)
Happy Birthday, William!  You are our little joy, full of so much personality and so many smiles.  We love you!
Fluffy Vanilla Cake with Whipped Vanilla Bean Frosting
Makes one 2-layer, 8-inch cake
Notes: I highly recommend using a kitchen scale to measure the ingredients by weight. Also be sure to allow time to let the eggs and milk come to room temperature.
Ingredients:
For the Vanilla Cake:
5 large egg whites (150g), at room temperature
1 whole egg, at room temperature
1 cup whole milk, at room temperature
2 ¼ tsp. pure vanilla extract
3 cups (345g) cake flour, sifted
2 cups (400g) sugar
1 tbsp. plus 1 tsp (17g) baking powder
¾ tsp. (5g) salt
12 tbsp. (170g) unsalted butter, cold and cut into 24 pieces
For the Vanilla Bean Frosting:
3 sticks plus 2 tbsp. (375g) unsalted butter, cut into cubes and softened
3 tbsp. milk
Seeds scraped from one vanilla bean
1 tsp. pure vanilla extract
Pinch of salt
3 cups sifted (475g) confectioners' sugar
Directions:
For the Vanilla Cake:
Preheat oven to 350 degrees F. Butter two round 8-inch pans, line with parchment, then butter again and dust evenly with flour.
In a medium bowl or liquid measuring cup, combine the egg whites, whole egg, ¼ cup of the milk, and the vanilla. Set aside.
In the bowl of a stand mixer fitted with the paddle attachment, combine the dry ingredients together on low speed for 30 seconds.
Add the butter one piece at a time, about every 10 seconds, making sure it's cold. Continue to mix on low speed until the mixture is a fine crumbly texture. Add the remaining ¾ cup milk, and mix on low speed until just moistened. Increase to medium speed and mix for 3 minutes. Scrape the sides of the bowl and begin to add the egg mixture in 3 additions; beat on medium speed for 20 seconds after each addition. Fold once or twice to ensure the batter at the bottom of the bowl is incorporated.
Divide the batter between the two cake pans, spreading it evenly.
Bake until a toothpick comes out with a few crumbs when inserted into the center, about 30 minutes. Be very careful to not over-bake. Check the cake at 20 minutes, but not before, and then set the timer for 5 minute intervals. Let cool on racks for 10 minutes before loosening the sides with a small knife, and invert onto wire racks. Gently turn cakes back up, so the tops are up. Let cool completely before frosting.
You can store the cooled cake at room temperature for up to 2 days, in the refrigerator for up to 5 days, or frozen for up to 2 months. Wrap tightly in plastic wrap to store. It is best eaten the same day as baked.
For the Vanilla Bean Frosting:
In the bowl of a stand mixer fitted with the paddle attachment, whip the butter for 8 minutes on medium speed. The butter will become very pale and creamy.
Add the milk, vanilla bean seeds, vanilla extract, and salt and mix until combined. Add in the confectioners' sugar and mix on low speed for 1 minute, and then on medium speed for 6 minutes. The frosting will be very light, creamy, and fluffy and is best used right away.
To Assemble the Cake:
Place bottom cake layer on a cake plate and spread 1 cup of frosting on top with a small offset spatula. Gently place 2nd cake layer face down on top. Place a generous scoop of frosting on top, spreading evenly with a small offset spatula and working your way down the sides until you have a thin layer of frosting over the entire cake. Chill until set, about 30 minutes.
Remove from refrigerator and apply a final "coat" of frosting.
Source: Sweetapolita, who adapted the cake recipe from Rose Levy Beranbaum and the frosting recipe from Donna Hay.