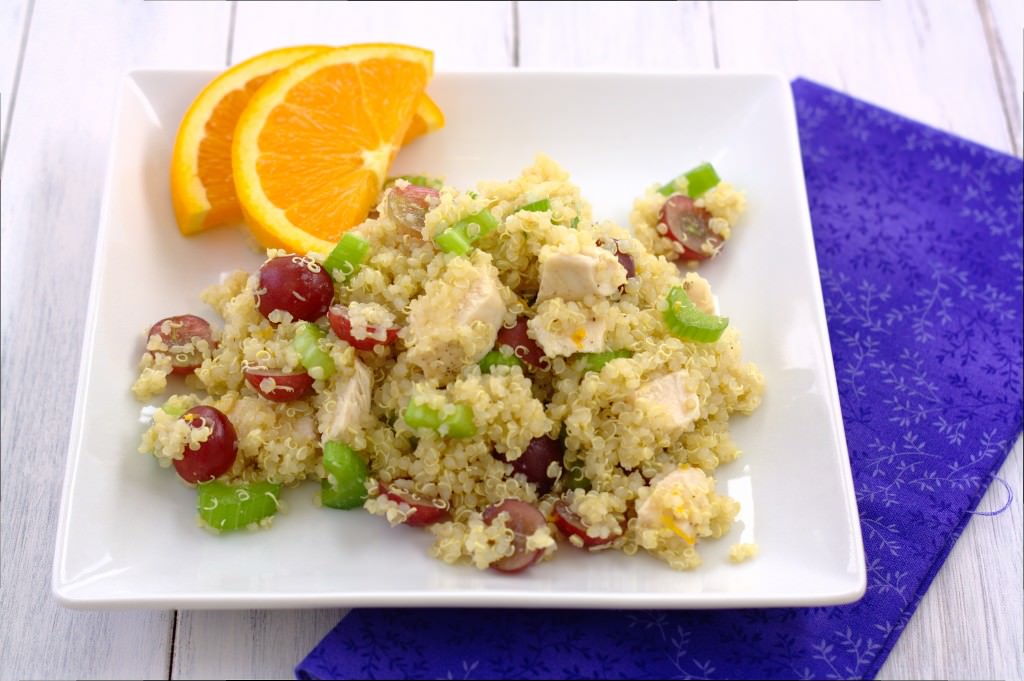 Looking for healthy lunch ideas that will also keep your tastebuds happy? Quinoa Salad with Grapes, Celery, and Chicken is a great option. I made this for dinner one night and the leftovers were perfect to pack and take with me for lunches at work over the next few days. I added chicken to the salad to make it more substantial since I planned on serving it as a main dish. You can leave it out if you prefer a vegetarian meal. The quinoa itself is high in protein, which helps to fill you up and keep your energy level going strong for the next few hours.
I love how this salad keeps it simple. There aren't too many ingredients or complicated steps, so that the flavors of each component can shine through. The grapes and celery provide a nice crunch to balance out the quinoa, and the orange dressing complements the salad really well. I will be making this again, and soon.
Quinoa Salad with Grapes, Celery, and Chicken
Makes 6 main dish servings
Ingredients:
4 cups cooked and cooled quinoa
2 cups red grape halves
3 stalks of celery, thinly sliced
2 cups cooked, cubed chicken
1 tsp. orange zest
¼ cup freshly squeezed orange juice
3 tbsp. extra virgin olive oil
1 ½ tbsp. honey
Salt and pepper to taste
Directions:
In a large bowl, combine the quinoa, grapes, and celery.
In a small bowl, whisk together the orange zest, orange juice, olive oil, honey, and salt and pepper. Pour over quinoa mixture and stir until evenly distributed. Add chicken to the bowl and stir to combine. Taste and adjust seasonings as needed.
Serve cold.  Enjoy!
Source: Adapted from Rachel Cooks.