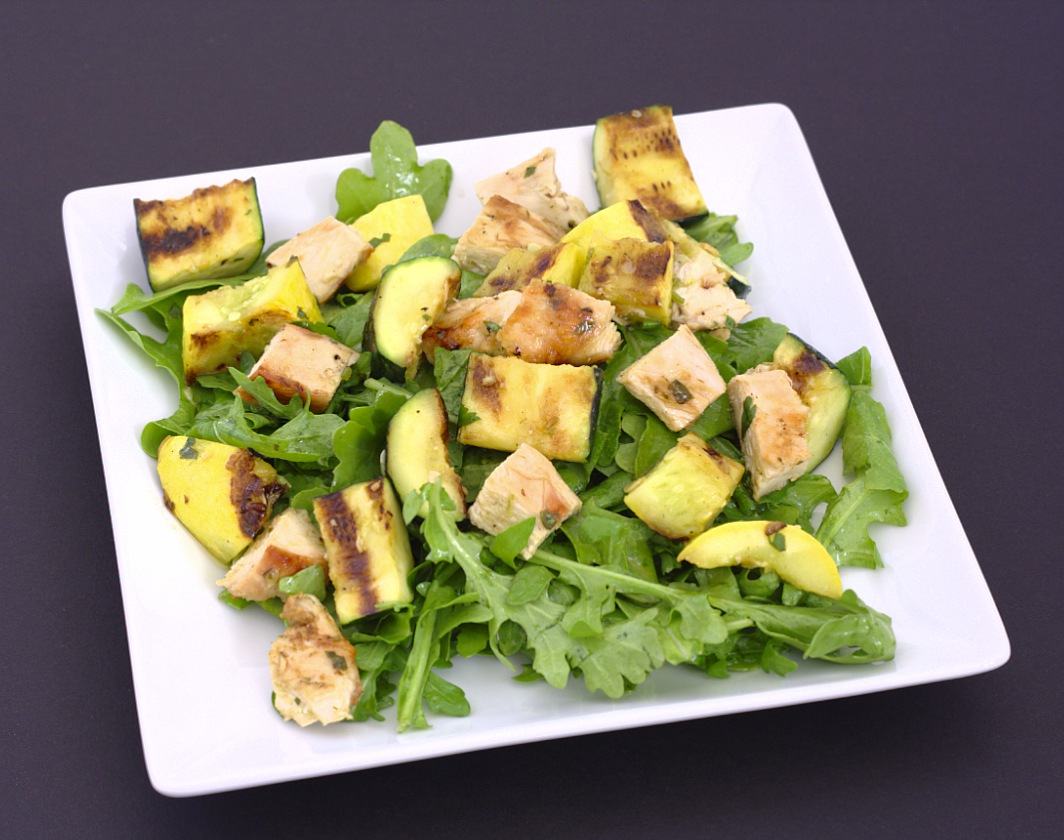 One of the best parts about summer is being able to cook dinner on the grill. Summer salads like this one are great for warm days when you don't want to turn on your stove or oven, or eat a big, hot meal. Spend a few minutes indoors mixing up a quick vinaigrette to season the chicken and vegetables, and then head outside to enjoy some fresh air and relaxing family time while the meat and squash are grilling. Then chop and toss it all together, and it's time to enjoy dinner, preferably outdoors!
We really, really enjoyed this salad.  The summer squash is the star of the meal, and the vinaigrette plus grilling add delicious flavor to both the vegetables and chicken.  Peppery arugula works wonderfully here, too, adding yet another flavor dimension.  This salad is going to become another staple in my list of easy, healthy, and delicious summer meals.
One year ago:  Creamy Strawberry Ice Cream
Grilled Chicken and Summer Squash Salad
Makes 4 servings
Ingredients:
For the vinaigrette:
1 large clove garlic
Kosher salt
3/4 cup extra virgin olive oil
1/4 cup fresh lime juice and 2 tsp. finely grated zest (from 1 lime)
1/4 cup chopped fresh cilantro
1 1/2 tbsp. finely grated or chopped peeled fresh ginger
1 tbsp. finely chopped jalapeno (seeded if you like less heat)
1 tsp. granulated sugar
For the salad:
1 1/2 to 1 3/4 pound mixed summer squash, such as zucchini and yellow squash, sliced 3/4 inch thick on an extreme angle (about 3 medium)
1 1/2 pound boneless, skinless chicken breast halves, pounded to an even thickness
5 oz. baby arugula
Freshly ground black pepper
Directions:
Prepare a medium-high gas or charcoal grill fire.
Chop the clove of garlic and then mash it into a paste with 1/2 tsp. Kosher salt, using the side of your knife. Put the garlic paste, olive oil, lime juice, lime zest, cilantro, ginger, jalapeno, sugar, and 1 tsp. salt in a small jar with a lid. Shake to emulsify.
Drizzle the chicken and squash with 1/2 cup of the vinaigrette, and toss to coat. Grill on both sides until the squash is barely tender and the chicken is cooked through. Transfer to a cutting board and let cool briefly.
Meanwhile, toss the arugula in a large bowl with 1/4 cup of the vinaigrette and season with salt and pepper. Divide among 4 plates.
Cut the squash and chicken into bite-size pieces. Put them in the bowl and toss with the remaining vinaigrette and salt and pepper to taste. Use a slotted spoon to divide the mixture among the plates.
Source: Slightly adapted from Fine Cooking.