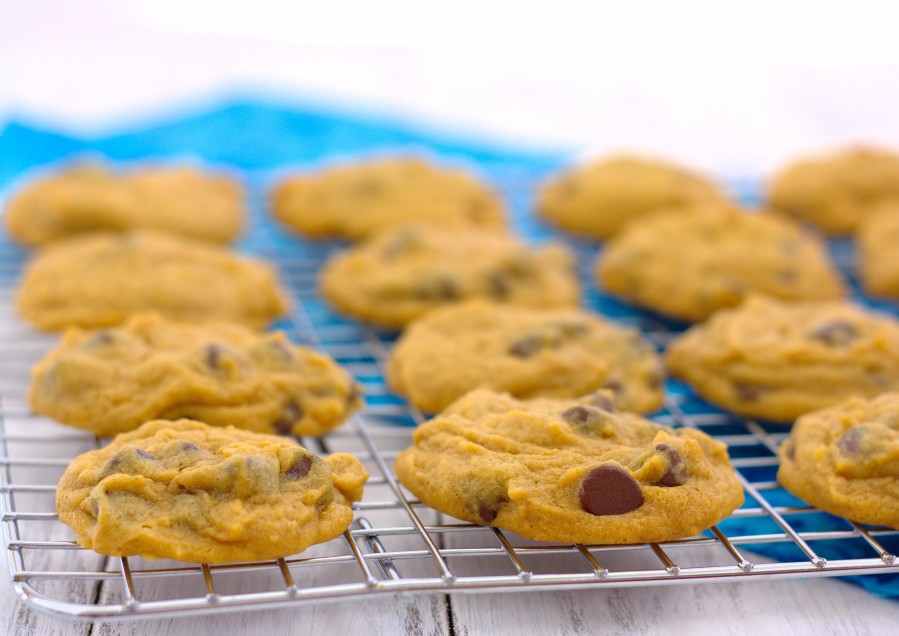 Is there an unofficial end date to when we are allowed to cook and bake with pumpkin? Well, even if there is, I plan to ignore such a date and bake with pumpkin until I am tired of it! This year I am really loving the pumpkin: pumpkin granola, pumpkin pancakes, pumpkin waffles, pumpkin doughnuts, pumpkin soup, and now these pumpkin chocolate chip cookies.
Pumpkin chocolate chip cookies are popping up on blogs all over right now, and I needed to try them out for myself. These really are a combination of two greats: spiced pumpkin and the chocolate chip cookie.
The pumpkin helps to keep the cookies soft, and pumpkin pie spice helps to really bring out the pumpkin flavor. Chocolate chips add little bursts of sweetness. The cookies are reminiscent of chocolate chip pumpkin bread, but in cookie form and texture. Pumpkin chocolate chip cookies are a fun treat for this time (or any time) of year!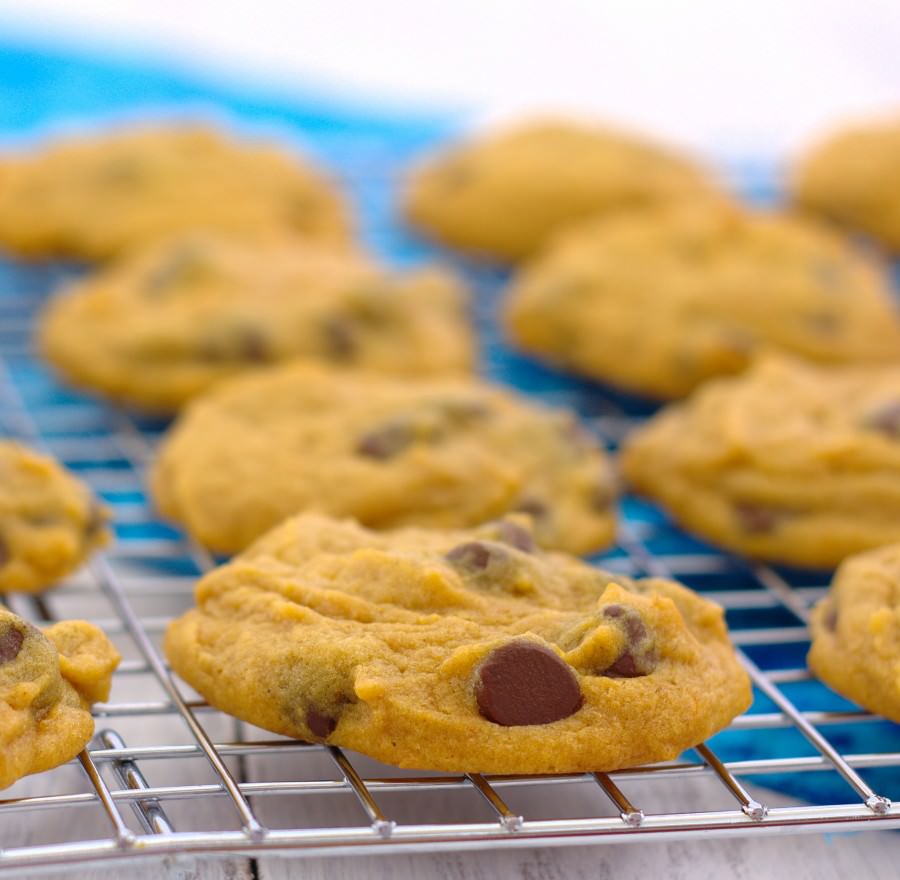 Pumpkin Chocolate Chip Cookies
Makes about 3 ½ dozen
Ingredients:
2 ½ cups all-purpose flour
1 tsp. baking soda
½ tsp. baking powder
1 tsp. salt
1 tsp. pumpkin pie spice
1 cup (2 sticks) unsalted butter, at room temperature
¾ cup canned pumpkin
1 cup light brown sugar
½ cup granulated sugar
1 egg
1 tsp. vanilla
1 ½ – 2 cups semi-sweet chocolate chips
Directions:
Preheat oven to 350 degrees F.
In a medium bowl, whisk together the flour, baking soda, baking powder, salt, and pumpkin pie spice until well combined.
In the bowl of a stand mixer fitted with the paddle attachment, beat together the butter and pumpkin on medium speed until evenly combined, about 2-3 minutes.
Add the sugars and beat to combine. Add the eggs and vanilla; beat until smooth.
With the mixer on low speed, add the flour mixture until just combined. Use a rubber spatula to fold in the chocolate chips.
Drop dough by rounded tablespoon onto parchment-lined baking sheets and bake for 9-11 minutes, until centers are just set and edges are golden.
Cool for a few minutes on the pan and then transfer to a wire rack to cool completely.
Source: Adapted from Cookies and Cups.