Easy Pumpkin Bread Recipe
This Easy Pumpkin Bread is generously spiced and has a soft and tender crumb. The batter is easy to make in one bowl.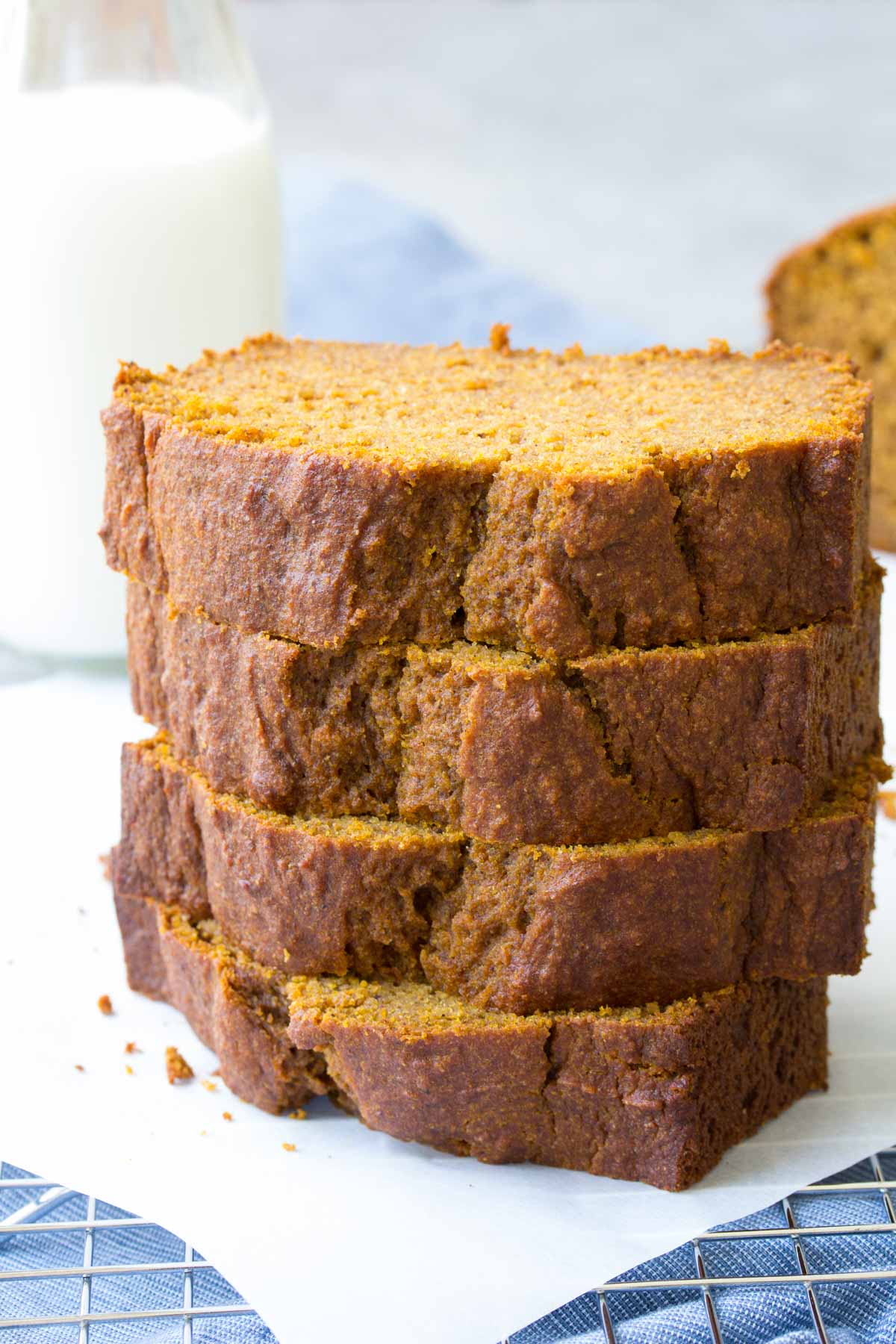 Assuming that I haven't gone into labor by the time this post goes live, I'm currently 38 weeks pregnant and getting really anxious to meet this baby! We decided to be surprised with the gender this time, and it's only been recently that I've been really wanting to know if this little one is a boy or girl. I thought it would be hard to wait to find out, but it really hasn't been. The hardest part has been having to choose two names instead of just one. 🙂
You're wondering if I have a feeling about whether it's a boy or girl? Brad and I both think boy. We will soon see!
This pregnancy feels harder than all of the others, probably because it's my 4th. I've found that each time it gets a little bit harder. And taking care of three other kids this late in pregnancy? Not easy.
In between many much-needed rest sessions on the couch, I've been slowly getting things ready for baby. I feel so late in getting everything finished this time! Just this week I washed the baby clothes and got them put away. I've finally ordered some newborn diapers as well as a few other things. Luckily we don't need to buy much this time since we still have things stored from the other kids.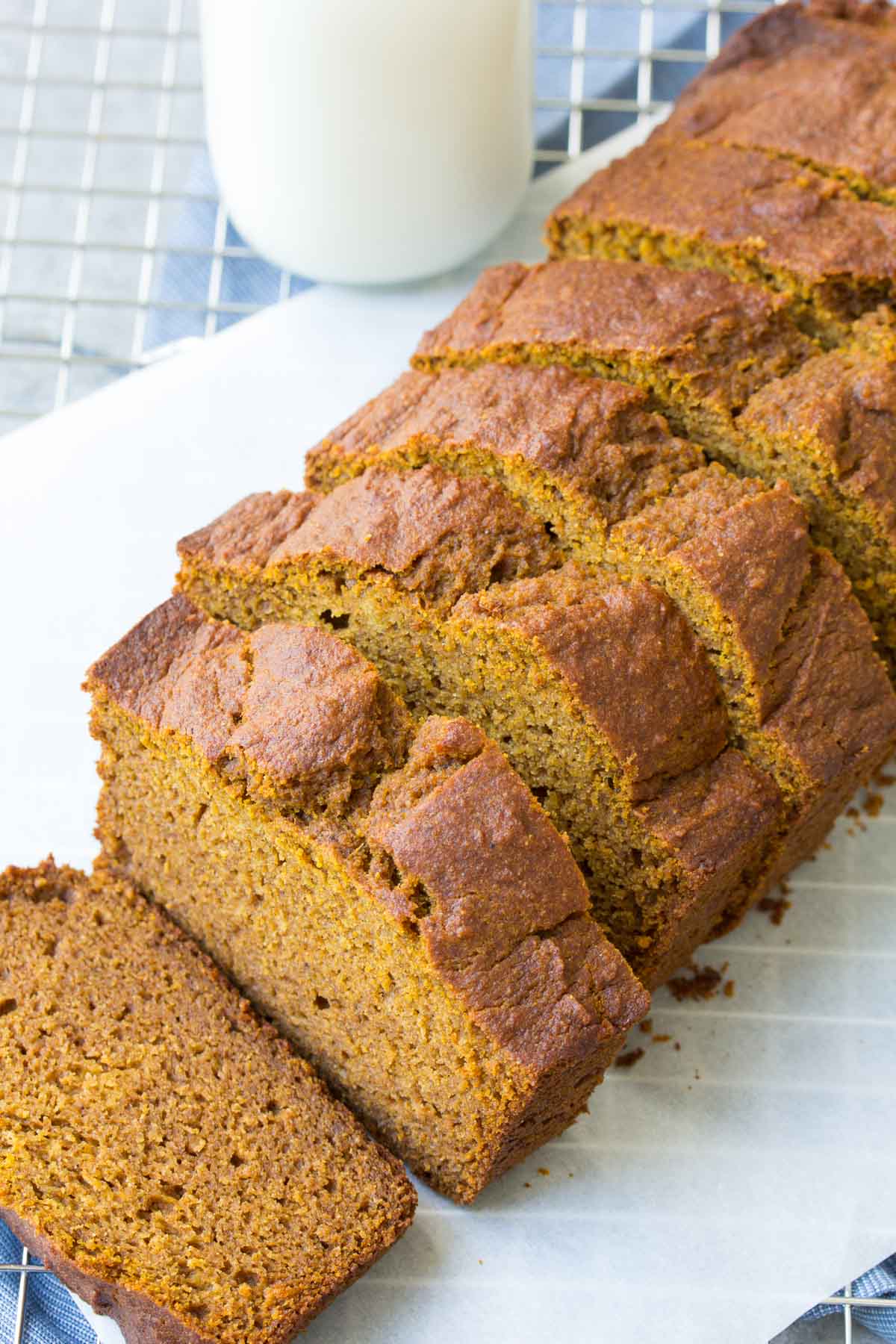 I'm wishing I had more meals stocked in my freezer but haven't had the time or energy to do much food prep lately. I'm hoping to at least get a few homemade snacks made so I'll have something healthier to grab during all of the daytime and middle of the night nursing sessions that are in my near future. Maybe some apple breakfast cookies and homemade granola bars, or even individually wrapped slices of this easy pumpkin bread ready for quick defrosting.
If you're more of a muffin type of person, you'll love my best ever Pumpkin Chocolate Chip Muffins!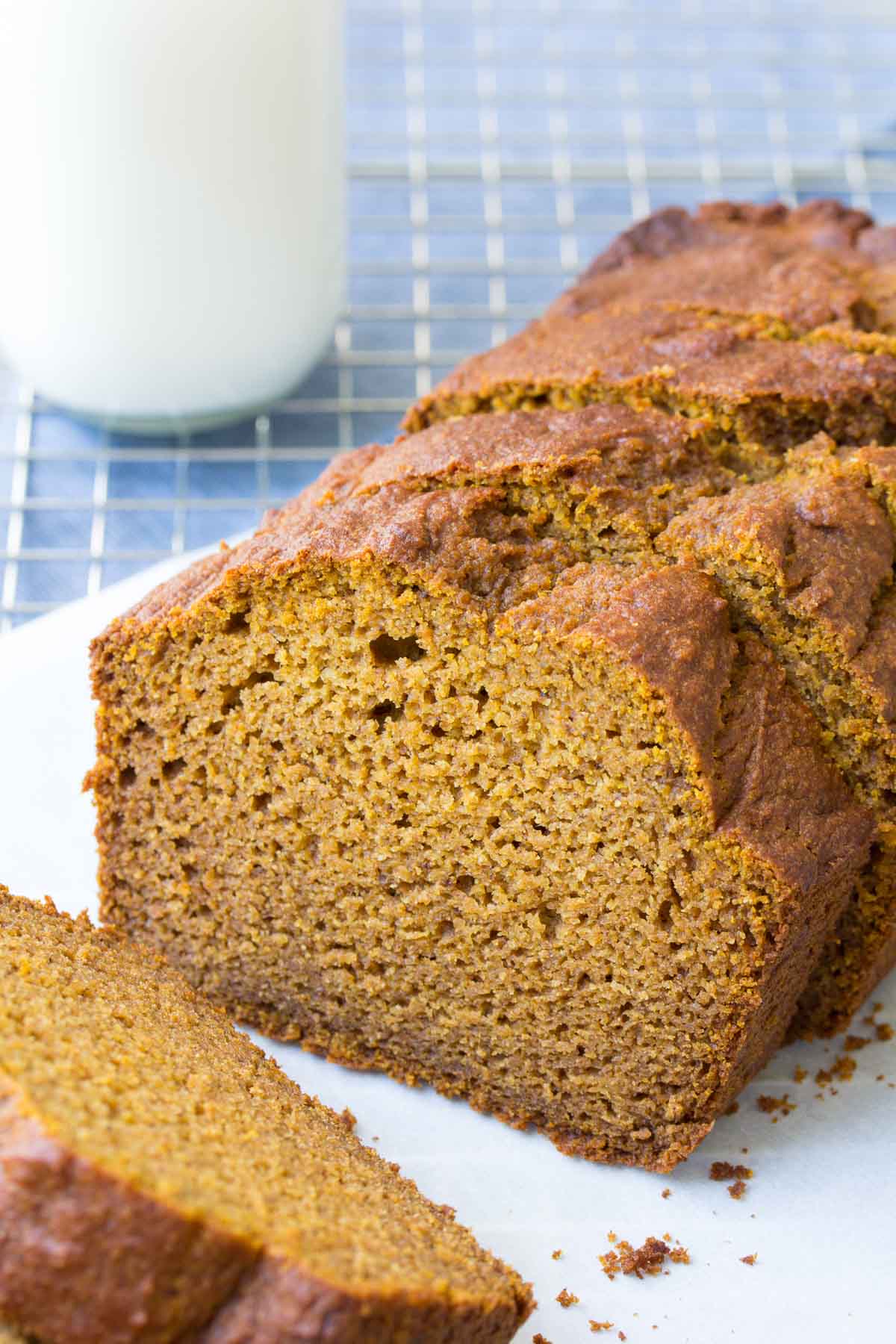 I like my pumpkin bread generously spiced, so you'll find a hefty dose of cinnamon in this easy pumpkin bread recipe, as well as allspice, nutmeg and cloves. I used real butter in this bread because nothing beats the flavor of real butter in baked goods!
To sweeten this easy pumpkin bread you can either use honey or pure maple syrup. I usually choose honey because it's more budget-friendly. We're keeping this healthier bread 100% whole grain but still light and tender by using white whole wheat flour. The white whole wheat flour has a milder flavor than regular whole wheat. It's a staple in my kitchen!
This spiced pumpkin bread is absolutely irresistible with a cup of coffee or tea. And if you need a recipe to use up the rest of that can of pumpkin puree, try my Pumpkin Cheesecake Bars. They are SO GOOD!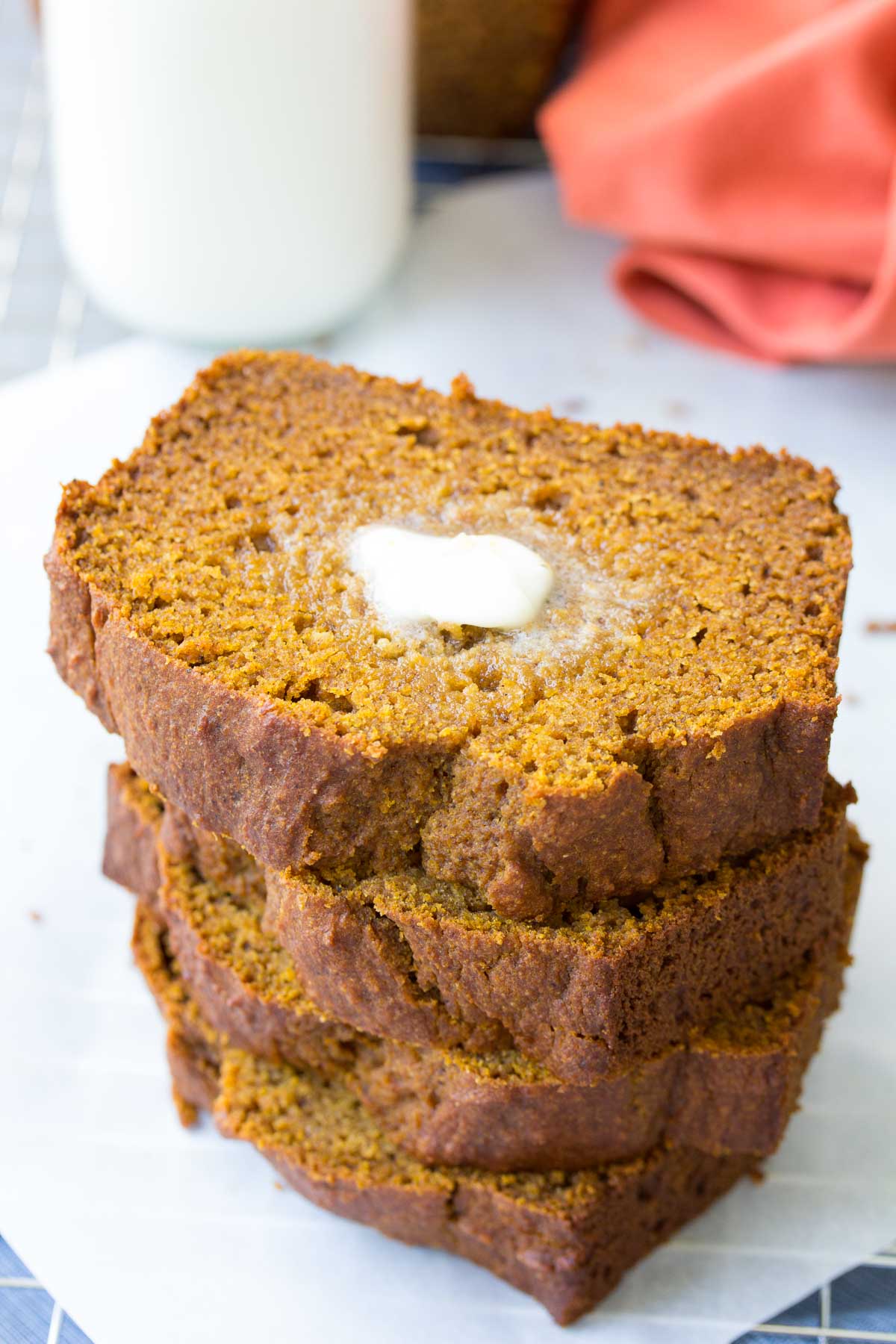 Tips for making this easy pumpkin bread:
The pumpkin puree keeps this bread nice and moist. For bread with the best texture, be careful not to over- or under-bake. It's done when a toothpick inserted into the center of the loaf comes out clean. Check the bread every few minutes once you are near the end of the bake time.
I used a glass loaf pan to bake my pumpkin bread. If you use a metal pan, it may take a few extra minutes to bake.
Once the bread is completely cool, you can freeze the uncut loaf or individual slices. Either way, be sure to first wrap tightly in plastic wrap and then seal in an airtight bag.
You can also turn this pumpkin bread into muffins. Directions are included in the recipe card below. Muffins freeze well in a zip-top freezer bag.
Chocolate chips are a yummy addition to this pumpkin bread.
Be sure to use pure canned pumpkin puree not canned pumpkin pie filing in this recipe.
More Quick Bread Recipes:
Easy Pumpkin Bread
This Healthy One Bowl Easy Pumpkin Bread is generously spiced and has a soft and tender crumb. The batter is easy to make in one bowl.
Ingredients
6

tablespoons

unsalted butter

melted

½

cup

honey or pure maple syrup

1

cup

pure canned pumpkin

not pumpkin pie filling

2

large eggs

¼

cup

milk

whichever kind you prefer

1

teaspoon

vanilla extract

1

teaspoon

baking soda

½

teaspoon

baking powder

½

teaspoon

salt

1 ½

teaspoons

cinnamon

1

teaspoon

allspice

½

teaspoon

ground nutmeg

¼

teaspoon

ground cloves

1 ½

cups

white whole wheat flour
Instructions
Preheat oven to 350 degrees F. Spray a 9x5-inch loaf pan with cooking spray.

Place melted butter in a large bowl (I melt it right in the large bowl in the microwave). Whisk in the honey (or pure maple syrup) and pumpkin, followed by the eggs, milk and vanilla.

Sprinkle in the baking soda, baking powder and salt and whisk until well combined. Add the cinnamon, allspice, nutmeg, and cloves, and whisk until well combined.

Add the flour and mix with a rubber spatula until just combined. Do not overmix.

Pour batter into the prepared pan. Bake for 40-55 minutes, until a tester inserted into the center comes out just clean. Check the bread starting at about 35 minutes and cover it loosely with foil if the top is browning too quickly. For bread that is baked through but not dry, be careful not to over- or under-bake.

Let cool in the pan on a wire rack for 10 minutes. Remove from pan and cool completely on wire rack before slicing and serving.
Notes
Bread will keep at room temperature for 3 days or in the freezer for up to 3 months. Cool completely, wrap tightly in plastic and then place in a zip-top bag and freeze.
Instead of a loaf, you can make this recipe as 12 regular-size muffins. Spray muffin tin with cooking spray (or use muffin liners). Muffins will take 15-18 minutes to bake.
Nutrition
Serving:
1
slice
|
Calories:
212
kcal
|
Carbohydrates:
31
g
|
Protein:
4
g
|
Fat:
8
g
|
Saturated Fat:
5
g
|
Sodium:
261
mg
|
Fiber:
3
g
|
Sugar:
16
g
Nutrition information is an estimate.
Save
Save
Save
Save
Save
This site contains affiliate links. If you make a purchase through these links, I may receive a small commission, at no extra cost to you. Thank you for supporting Kristine's Kitchen!