Pumpkin Waffles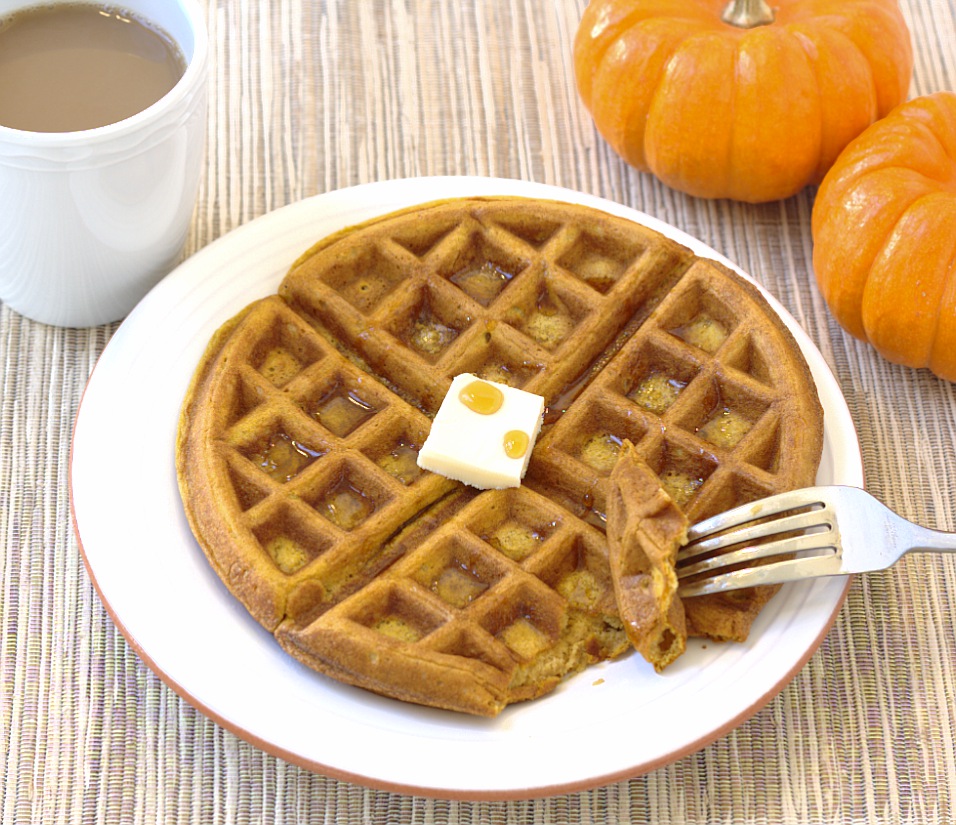 Weekend mornings are the best. (I know, today is Monday…sorry about that.) We started off this past weekend with some homemade pumpkin waffles. They were quick and easy to make, and tasted delicious with a drizzle of maple syrup. This batch made enough waffles for the three of us (William can't have waffles just yet…but soon!), plus plenty of leftovers for the freezer. Thursday night is breakfast for dinner night in our house, and I can't wait to have another of these waffles. These pumpkin waffles are the perfect breakfast to enjoy on a cool fall morning (or Thursday night 🙂 ).
Pumpkin Waffles
Makes at least 6 large waffles
Like most moms, you are probably struggling to find the TIME to put a homemade dinner on the table for your family on busy weeknights. If you already had a plan, a grocery list, easy recipes and prep-ahead tips, you could have a REAL dinner on your table in a flash! I have been meal planning and prepping for years and now I am sharing my plan with YOU. You will save time, save money cooking at home, and eat real food.
Learn more about my Time-Saving Healthy Family Meal Plan.
Ingredients:
2 1/2 cups all-purpose flour
1/3 cup light brown sugar
2 1/2 tsp. baking powder
1 tsp. baking soda
1/2 tsp. salt
2 tsp. ground cinnamon
1 tsp. ground ginger
4 large eggs
1 cup milk
1 cup lowfat buttermilk
1 cup canned pumpkin puree
6 tbsp. butter, melted and cooled slightly
Directions:
Preheat waffle iron.
Sift flour, brown sugar, baking powder, baking soda, salt, cinnamon, and ginger together in a medium bowl.
In a large bowl, whisk together the eggs, milk, buttermilk, and pumpkin. Then, whisk in the melted butter.
Pour the dry ingredients over the liquid and whisk until smooth.
Pour about 1/2 cup batter into a waffle iron that's been sprayed with nonstick cooking spray and cook according to manufacturer's directions.
Serve waffles with maple syrup.
Source: very slightly adapted from Weelicious.
This site contains affiliate links. If you make a purchase through these links, I may receive a small commission. Thank you for supporting Kristine's Kitchen!