Banana Chocolate Chip Breakfast Cookies
---
FREE GROUND BEEF FOR LIFE when you order your first ButcherBox today. Claim Now.
---
These Banana Chocolate Chip Breakfast Cookies are filled with whole grains and flaxseed, and naturally sweetened with honey. They keep well in the freezer, for an easy grab and go breakfast or snack.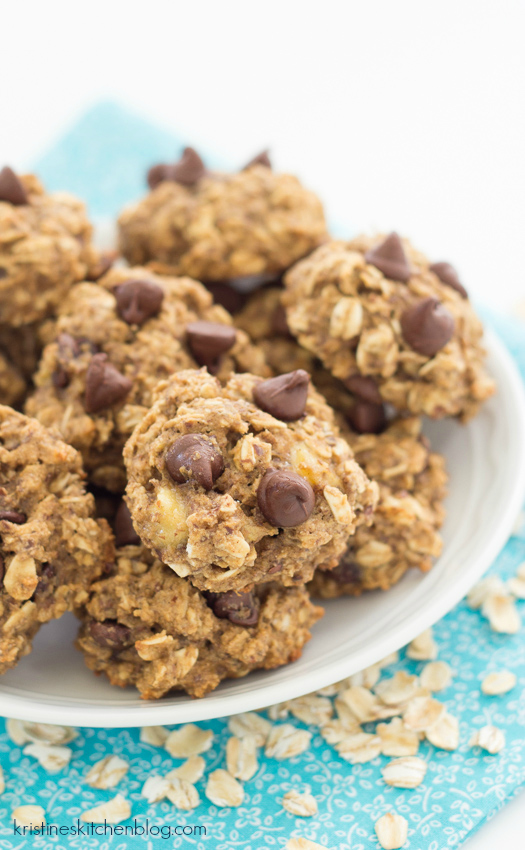 As I type this, I am 38 weeks, two days pregnant and waiting for my baby girl to arrive. It could be any day now, or she could take her sweet time. Either way, I'm praying for a healthy little girl who I just know will complete our family perfectly.
In the meantime, I'm enjoying these last few days of pregnancy. (I'm one of those who actually enjoys being pregnant, even despite the normal aches and pains, at least once the first trimester icky feelings go away.) I'm enjoying spending time with my family while it's just the four of us. I'm taking advantage of the fact that I need to put my feet up often to rest. And while my feet are up, I'm trying to get ahead in my blogging and schedule some posts ahead of time for the coming weeks.
I'm not sure if our newest addition will be here by the time you read this or not. Either way, these Banana Chocolate Chip Breakfast Cookies are a healthy treat that I plan to keep on hand in my freezer, both before and after baby arrives. Right now, they are one of Julia's favorite snacks to take to school. She loves them, and it makes snack-packing super easy on me. I just grab one or two out of the freezer in the morning, pack it in her lunchbox, and it defrosts by snack time.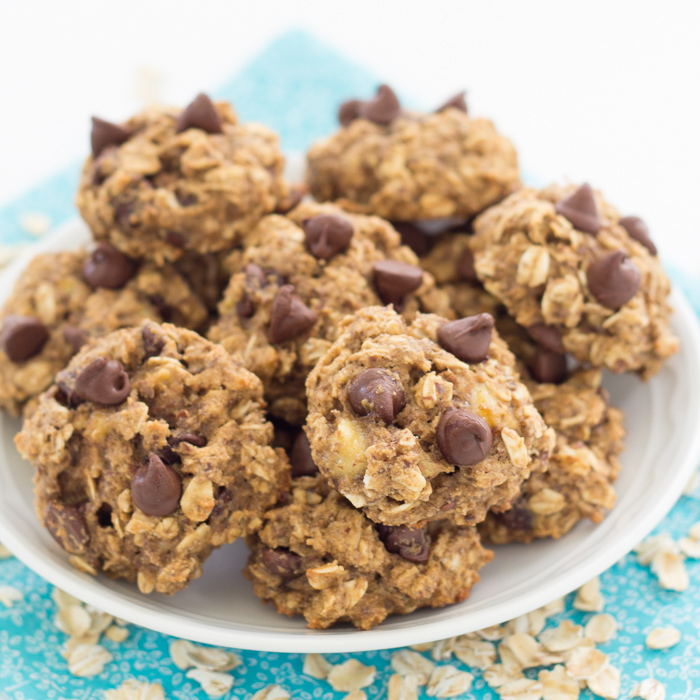 I plan to make a big batch of these cookies in the next few days to keep in my freezer for after baby. I know from experience that nursing a newborn makes me extra hungry. I know I'll be reaching for a snack at all hours of the day and night, and I see myself grabbing one of these Banana Chocolate Chip Breakfast Cookies from the freezer for a quick breakfast or midnight snack. Foods that can be eaten with one hand are essential when your arms are busy holding a baby. 😉
You can mix these Banana Chocolate Chip Breakfast Cookies up in two bowls, no mixer required.  The banana adds lots of natural sweetness and moisture, so you don't need to add a lot of sugar to the cookie dough. I used honey as a natural sweetener, so these cookies contain no refined sugars. They're full of whole grains, and cinnamon and nutmeg complement the banana flavor. Chocolate chips are a necessity, but I'll leave it up to you if you want to add the walnuts. I prefer these with the nuts, but the rest of my family likes them without.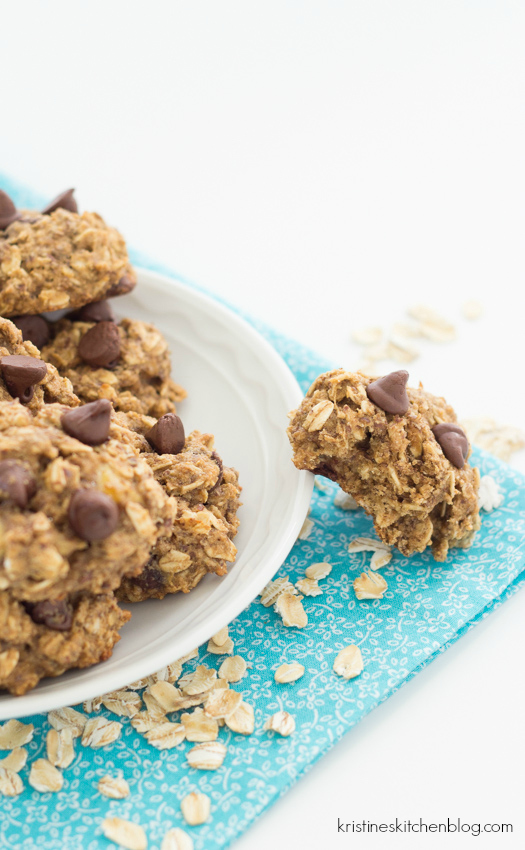 Banana Chocolate Chip Breakfast Cookies
These Banana Chocolate Chip Breakfast Cookies are filled with whole grains and flaxseed, and naturally sweetened with honey. They keep well in the freezer, for an easy grab and go breakfast or snack.
Recipe type:
Breakfast, Snack
Ingredients
2 ¼ cups old-fashioned oats
1 cup white whole-wheat flour or oat flour*
½ cup ground flaxseed
1 ½ tsp. cinnamon
¼ tsp. nutmeg
½ tsp. baking soda
½ tsp. salt
1 cup mashed ripe banana (about 3 medium bananas)
⅓ cup honey
¼ cup (4 tbsp.) unsalted butter, melted and cooled slightly
1 large egg
2 tsp. vanilla extract
½ cup chocolate chips (mini or regular-size)
½ cup chopped walnuts, optional
Directions
Preheat oven to 350 degrees F. Line baking sheets with parchment paper.
In a large bowl, stir together oats, flour, flaxseed, cinnamon, nutmeg, baking soda, and salt.
In a medium bowl, whisk together mashed banana, honey, melted butter, egg, and vanilla. Pour the wet ingredients into the dry and stir until just combined. Gently stir in the chocolate chips and walnuts, if using.
Drop dough by rounded tablespoonful onto the prepared baking sheets. Use your fingers to gently flatten each cookie, as they won't flatten on their own during baking.
Bake 10-12 minutes, until set and barely golden. (If baking more than one pan at a time, be sure to rotate the pans halfway through the baking time.) Let cool on the baking sheet for a few minutes before removing to a wire rack to cool completely.
Cookies can be stored in an airtight container in the freezer for up to 2 months.

*You can make your own oat flour in your food processor. For 1 cup of oat flour, process 1 heaping cup of old-fashioned oats until finely ground, about 1 minute.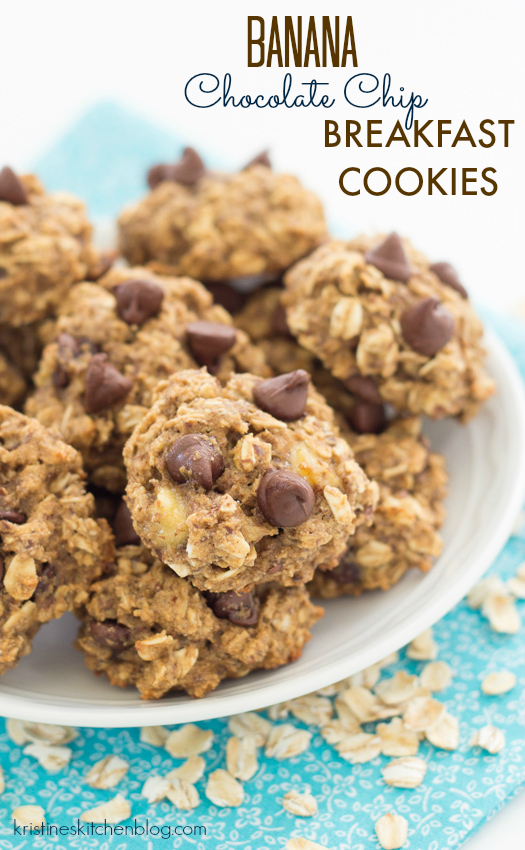 Save
This site contains affiliate links. If you make a purchase through these links, I may receive a small commission, at no extra cost to you. Thank you for supporting Kristine's Kitchen!