Chia Almond Butter Overnight Oats (Video)
These Chia Almond Butter Overnight Oats are the ultimate protein-packed healthy breakfast! It takes just minutes to make a batch the day before and then breakfast will be ready when you are. With a how to recipe video!

This post is sponsored by REAL® Seal. All text and opinions are my own. Thank you for supporting the sponsors who make it possible for me to bring you quality content!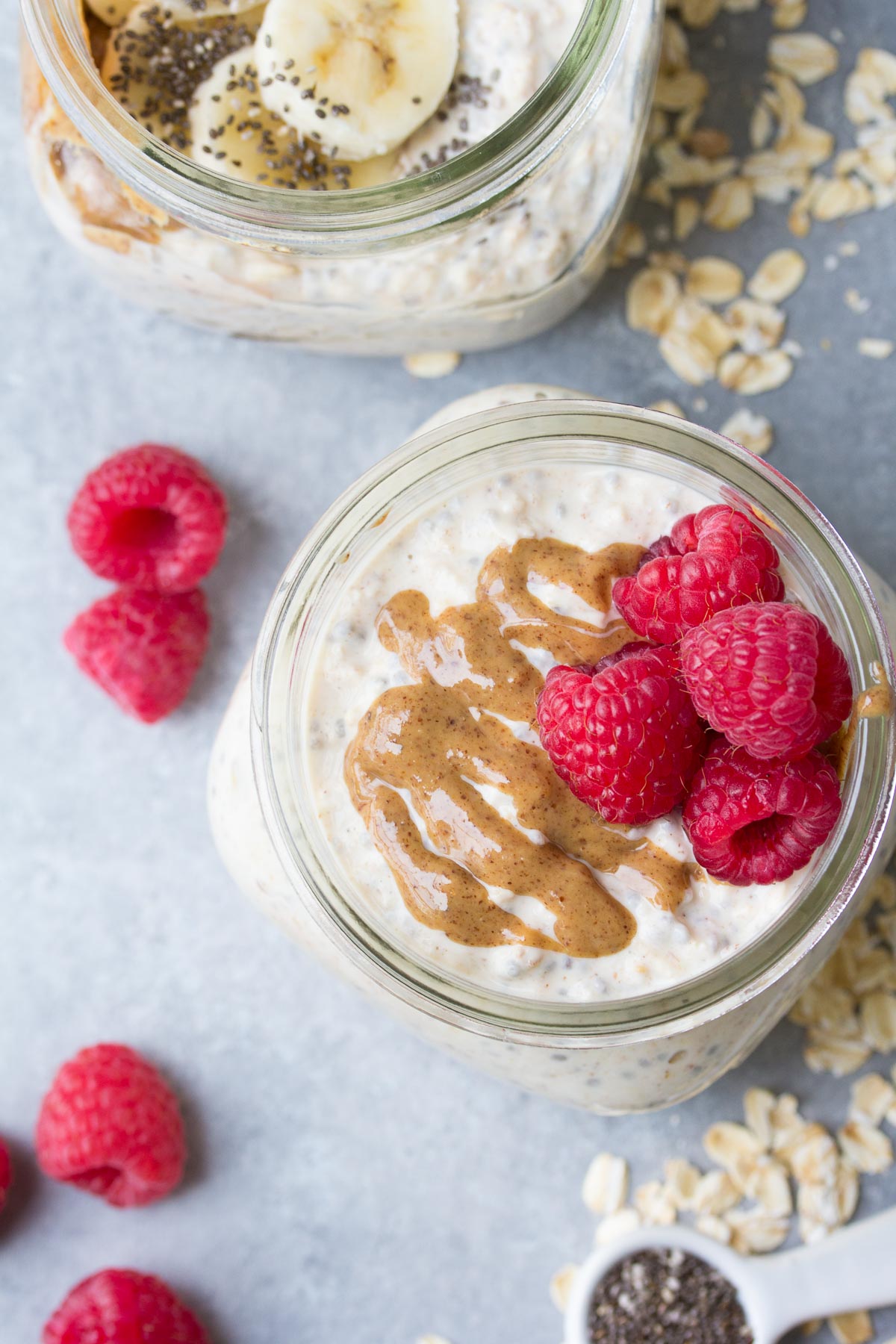 Do you take time to meal prep on the weekend? For a few weeks now I've been spending an hour or two on Sunday (sometimes Monday) to prep a few foods that my family can then eat during the week. I focus on make ahead recipes and simple things, like prepping fruits and vegetables.
Like most moms, you are probably struggling to find the TIME to put a homemade dinner on the table for your family on busy weeknights. If you already had a plan, a grocery list, easy recipes and prep-ahead tips, you could have a REAL dinner on your table in a flash! I have been meal planning and prepping for years and now I am sharing my plan with YOU. You will save time, save money cooking at home, and eat real food.
Learn more about my Time-Saving Healthy Family Meal Plan.
A weekly food prep session is a bit of a time investment on the day that you do the prepping, but it saves time throughout the week. It also helps you to eat healthier, since you have nutritious foods ready to go when you need them.
If you're interested in seeing what kinds of foods I prep each week, you can follow me on Instagram – I always share a photo and the recipes there.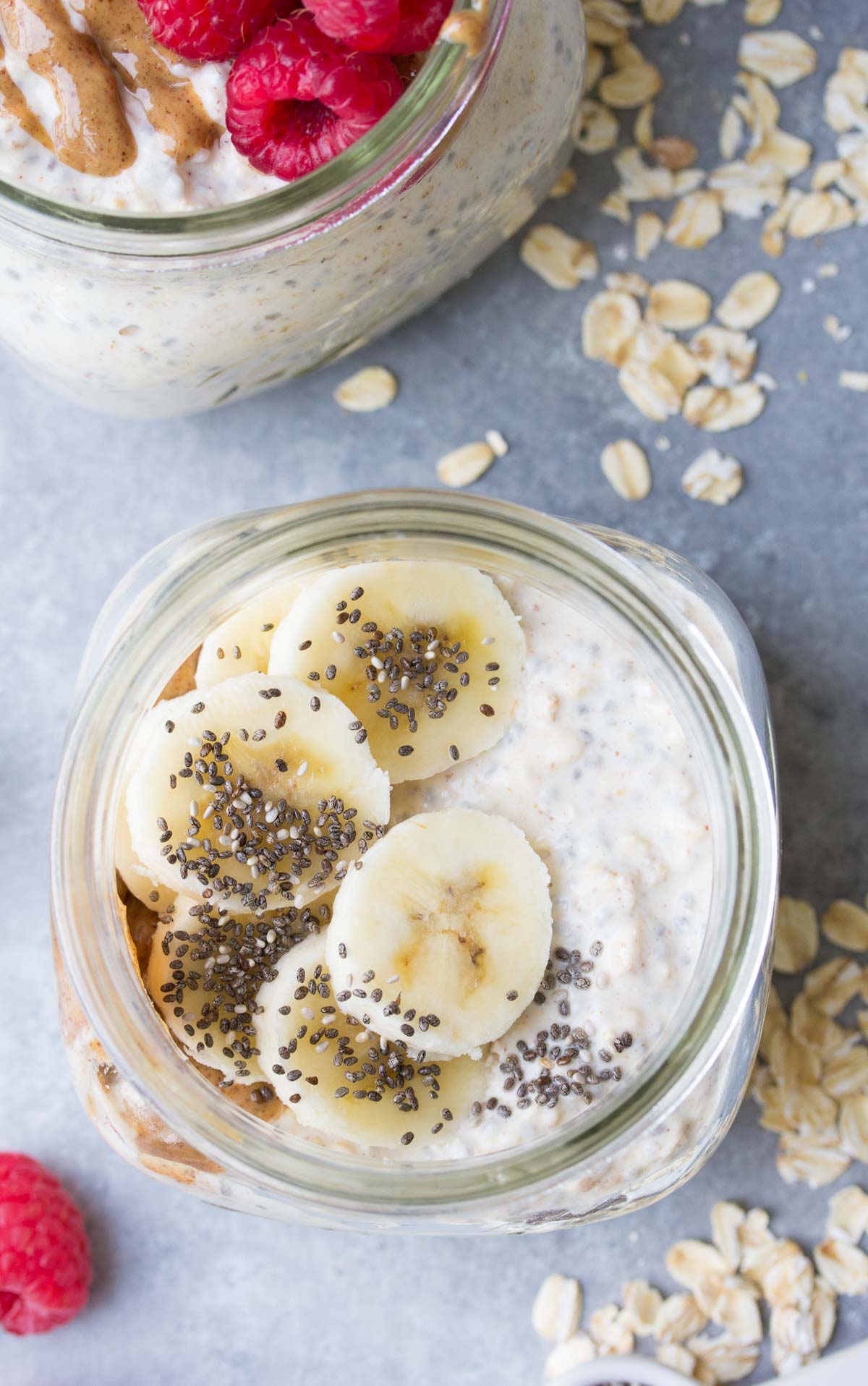 I usually focus some of my meal prep efforts on breakfast, because it's so important to start the day with a nourishing meal. Overnight oats are one of my favorite make ahead breakfasts because they take so little time to make!
These Chia Almond Butter Overnight Oats have the best flavor, thanks to maple syrup, vanilla and almond butter. REAL® Seal milk, Greek yogurt and chia seeds make these hearty oats extra creamy and delicious.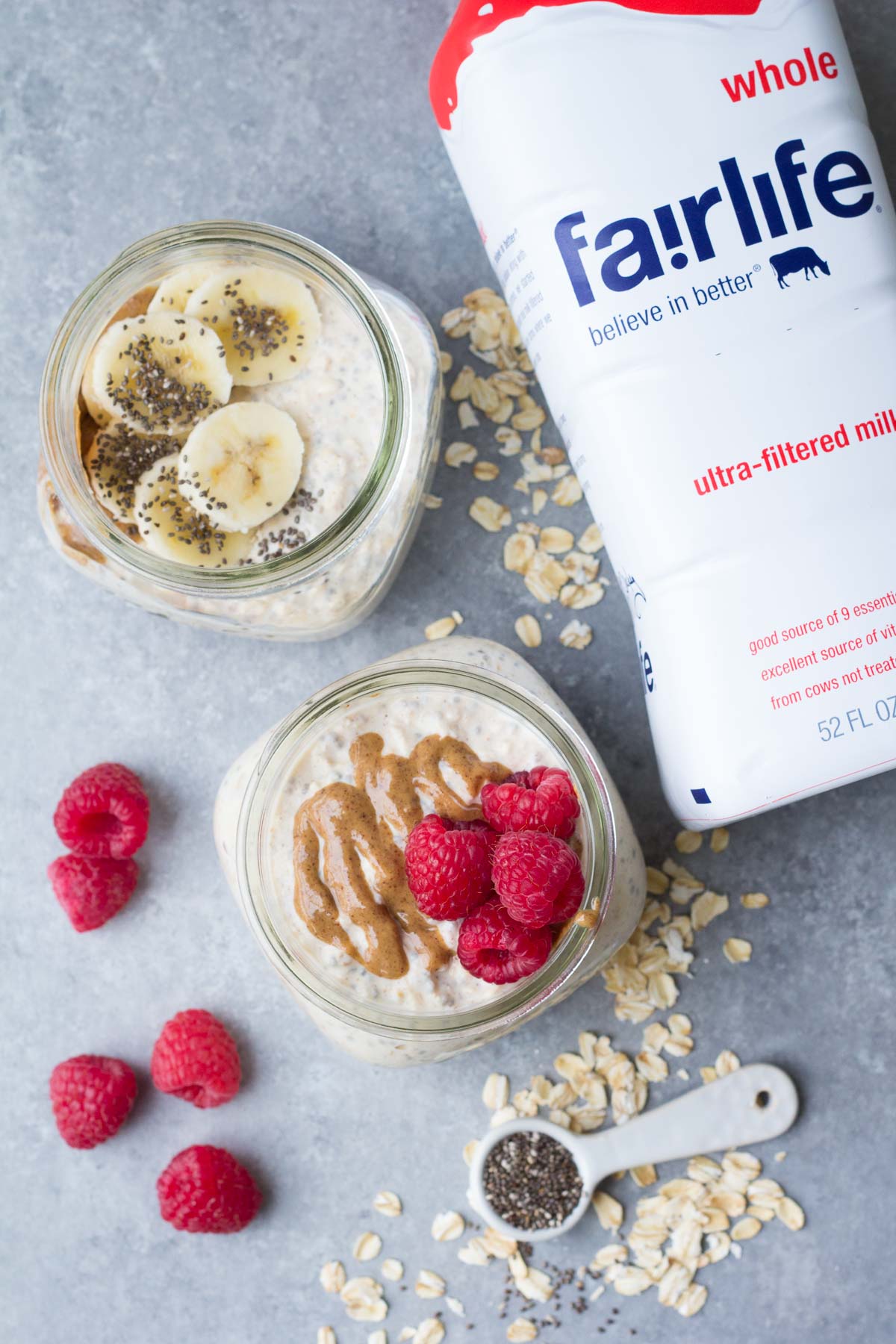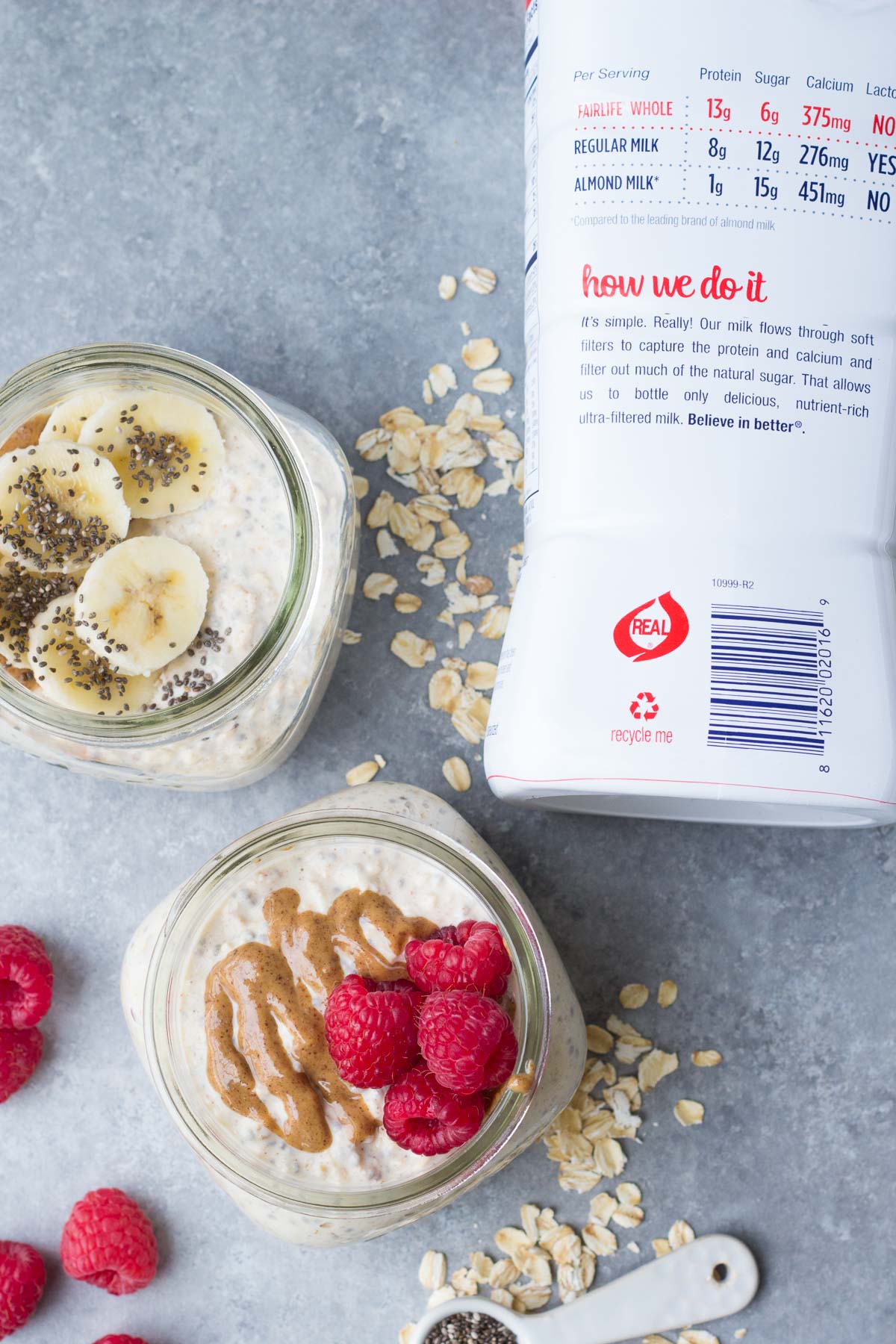 Do you see the REAL® Seal in the above photo? When you see that seal on a dairy product at your grocery store, you know it's made from real dairy from cows on U.S. dairy farms. One of my favorite REAL® Seal products is Fairlife milk, because it's both high in protein and low in sugar. I used Fairlife milk in these overnight oats, and it was delicious in this oatmeal. REAL® Seal dairy products are packed with essential nutrients, to help you start your day on the right foot.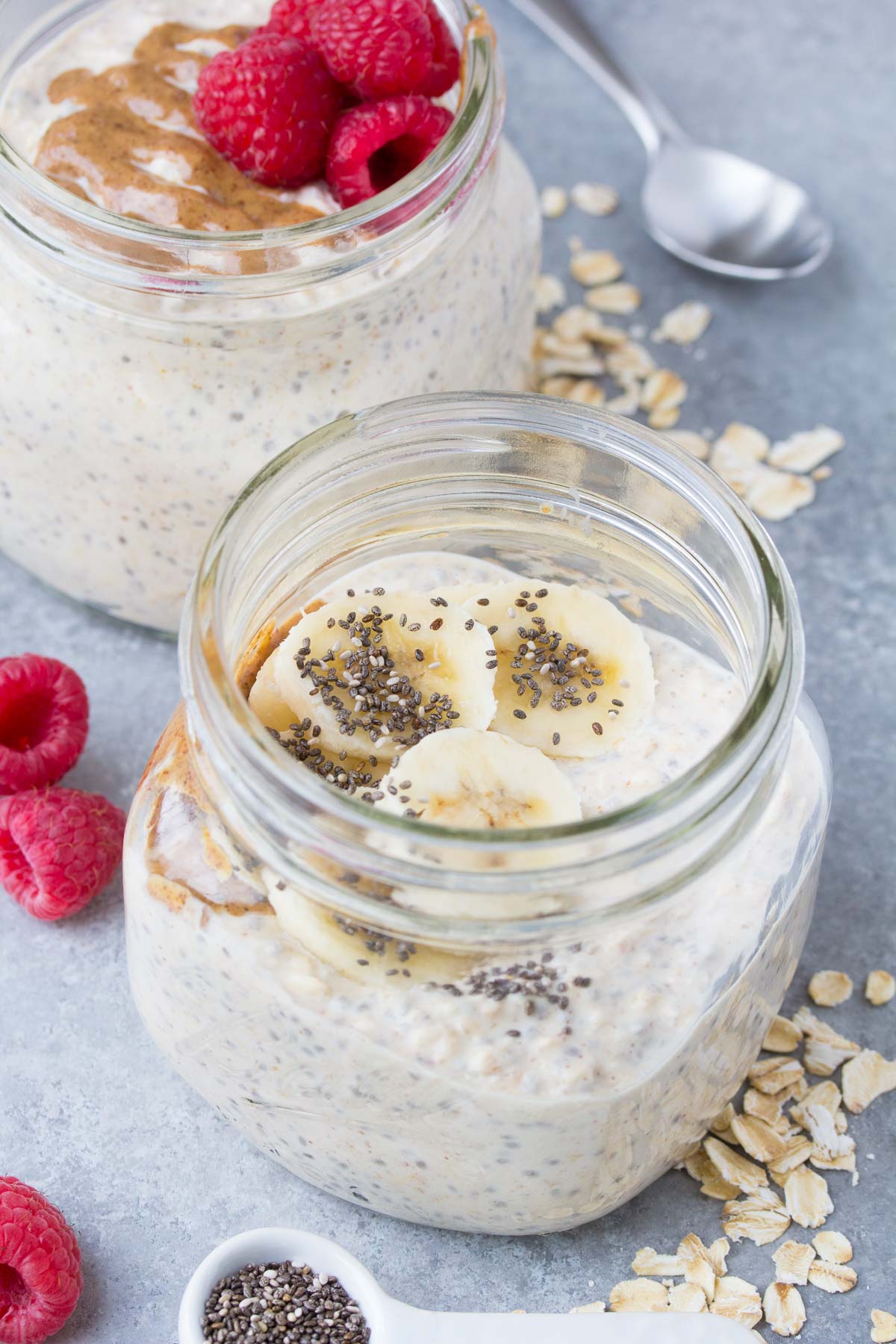 These protein-packed Chia Almond Butter Overnight Oats will keep you full until lunchtime! My other favorite protein-rich overnight oats are these Strawberry Chia Overnight Oats. If you haven't tried them yet, they're a great make ahead option and can be made with frozen blueberries or raspberries year-round. And if you're a fan of freezer-friendly make ahead breakfasts, you need to give these Lemon Greek Yogurt Pancakes a try!
You can make a single batch of these Chia Almond Butter Overnight Oats the night before you want to eat them, or make a big batch on Sunday to eat for breakfast for the next few days. The oatmeal will last in your refrigerator for three days.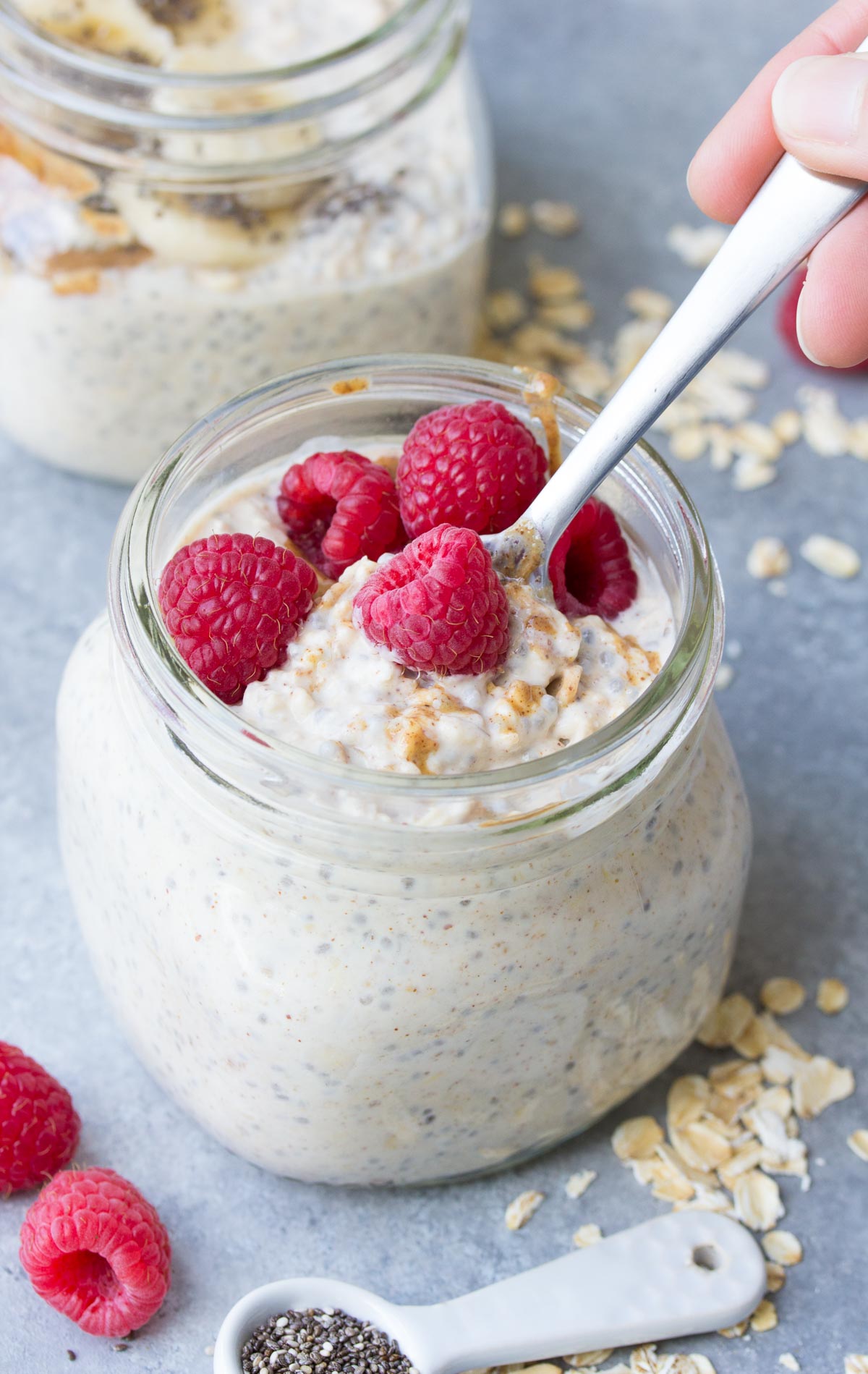 Visit the REAL® Seal Facebook and Pinterest pages for more recipes with real dairy to create a nutritious and tasty start to the new year!
Like what you see? Be sure to follow along to never miss a recipe!
PINTEREST | FACEBOOK | INSTAGRAM | GOOGLE+ | TWITTER | EMAIL | RSS
Chia Almond Butter Overnight Oats
These Chia Almond Butter Overnight Oats are the ultimate protein-packed healthy breakfast! It takes just minutes to make a batch the day before and then breakfast will be ready when you are.
Recipe type:
Breakfast, Make Ahead
Ingredients
½ cup old-fashioned oats
¼ cup plain Greek yogurt
1 teaspoon pure maple syrup
¼ teaspoon vanilla extract
1 ½ teaspoons chia seeds
2 teaspoons almond butter
½ cup REAL® Seal milk
Optional toppings: sliced banana, fresh berries, sliced almonds, more chia seeds
Directions
Place oats, yogurt, maple syrup, vanilla, chia seeds, almond butter and milk in a mason jar (I use these wide mason jars and these lids) or bowl. Stir until well combined. Cover and refrigerate overnight or up to 3 days.
When ready to serve, stir and then top with toppings as desired. Enjoy!
Save
This site contains affiliate links. If you make a purchase through these links, I may receive a small commission. Thank you for supporting Kristine's Kitchen!