Strawberry Chia Overnight Oats
High protein Strawberry Chia Overnight Oats are a healthy way to start your day! This soaked oatmeal is ultra creamy, a little sweet, and will keep you full until lunchtime!
This post is brought to you in partnership with REAL® Seal. All thoughts and opinions are my own.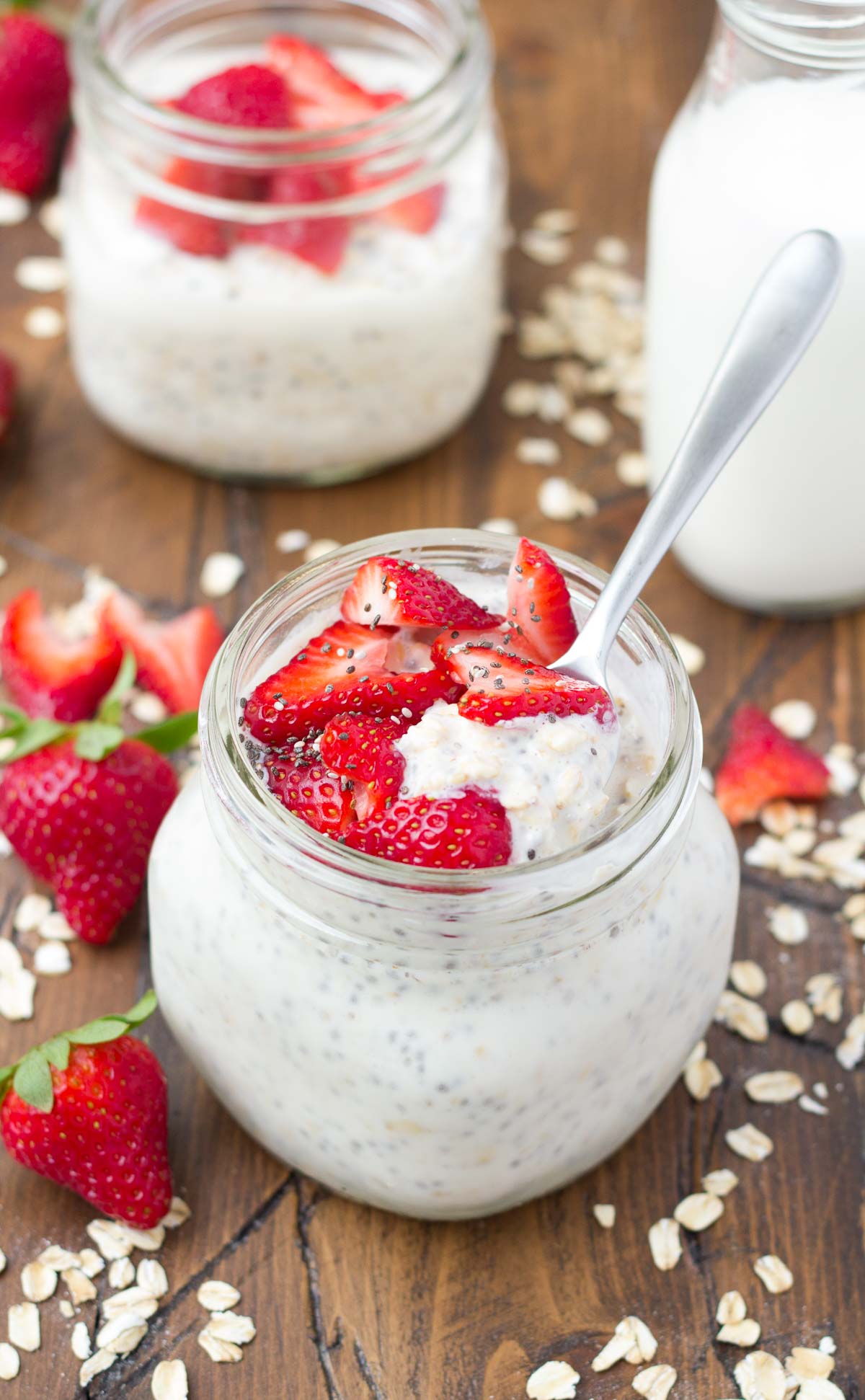 I've created a Facebook group to help us keep in touch and share healthy eating ideas! Join us here for new recipe ideas, healthy eating tips, and ideas for saving time while having fun in the kitchen!
When it comes to breakfast, we need quick and easy. Who wants to wake up even earlier just to have time to prepare breakfast in the morning? Not this girl. I wake up early enough as it is.
Which is why breakfasts that I can make ahead are my absolute favorite. I make a batch of homemade peanut butter granola at least every other week. Sometimes we have a stash of these mini frittatas in the freezer. But our go-to breakfast lately has been these overnight oats.
These Strawberry Chia Overnight Oats are super easy to make. I even made you a video to show you just how simple the recipe is! You'll add all of the ingredients (except for the strawberries) to a jar that has a tight-fitting lid. I love these wide mouth mason jars. Then put the lid on, give it a shake, and refrigerate overnight. In the morning all that's left to do is add the berries and enjoy!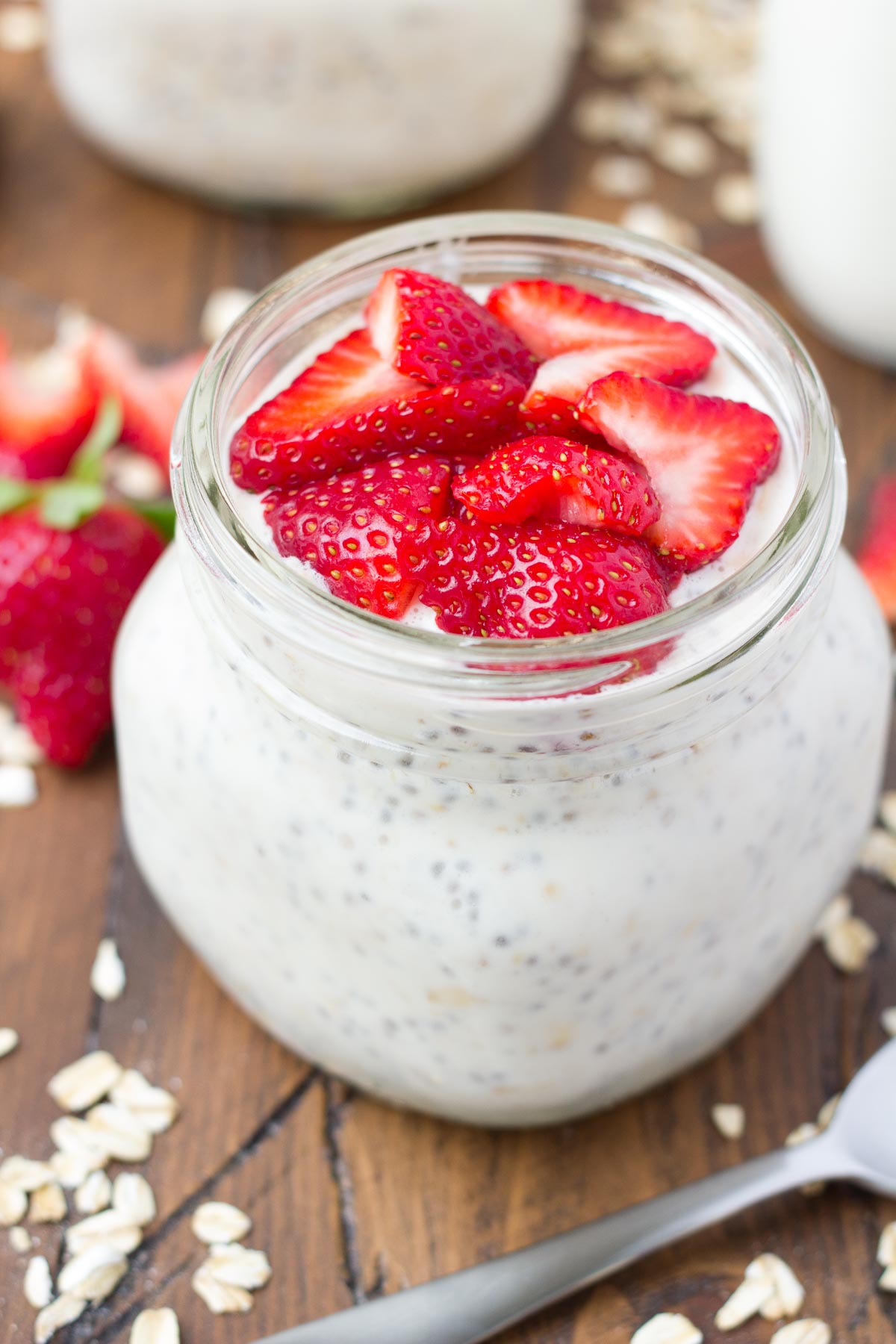 If you don't have a mason jar, you can also make your oats in a bowl, give them a stir instead of a shake, and cover with plastic wrap before chilling. Easy peasy.
With the weather warming up, my family and I are excited to head out for more outdoor activities on the weekends. I'm starting a list of places we want to visit this spring and summer. Getting ready for outdoor adventures requires a bit of preparation, especially when you have young kids. Between getting everybody dressed and ready and packing up the hats, sunscreen, and snacks, the morning is a busy time!
Overnight oats save the day by making sure that we eat a nutritious breakfast before we head out for the day's adventures.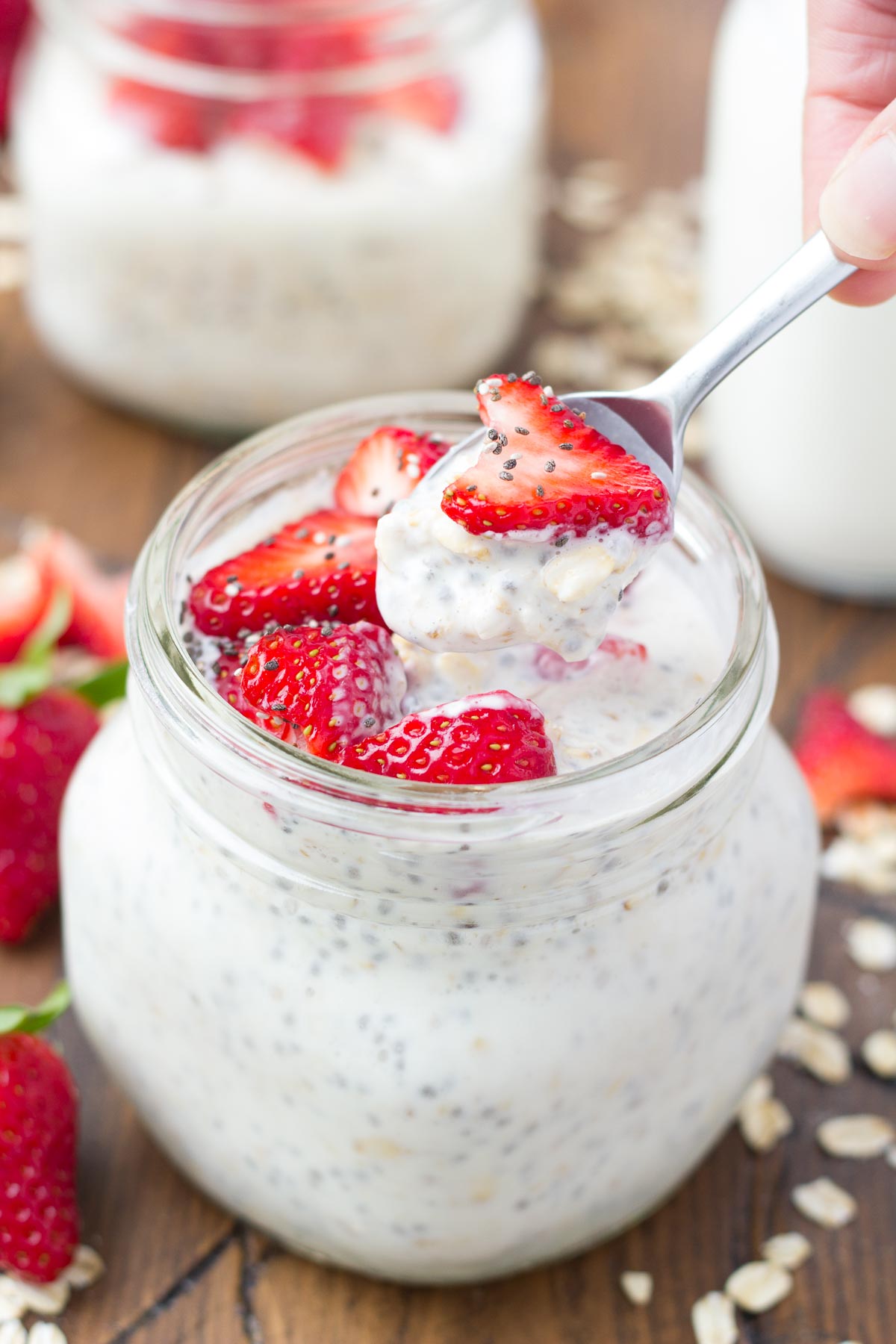 These Strawberry Chia Overnight Oats are full of protein, thanks to Greek yogurt and milk, so they'll keep you full until lunchtime. My family enjoys dairy as part of our breakfast most days, as it's a great source of protein and calcium. As an ambassador for REAL® Seal Dairy, I'm always on the lookout for the REAL® Seal stamp when I'm shopping for dairy in my grocery store. When you see the REAL® Seal stamp on a dairy product, you know it's made from real dairy from cows on U.S. dairy farms. I love knowing that I'm feeding my family food made with genuine, quality dairy products. When it comes to feeding our families, quality is so important.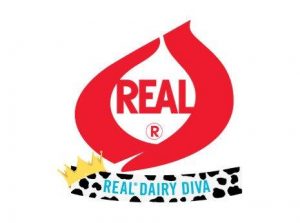 We usually eat these Strawberry Chia Overnight Oats cold, especially as we get into the warmer weather of spring and summer. They can be gently heated in the microwave before adding the strawberries on top, if you prefer. Warm or cold, I think you're gonna love this healthy, protein-packed oatmeal!
Be sure to visit the REAL® Seal Facebook and Pinterest pages for more recipes featuring REAL® Dairy products!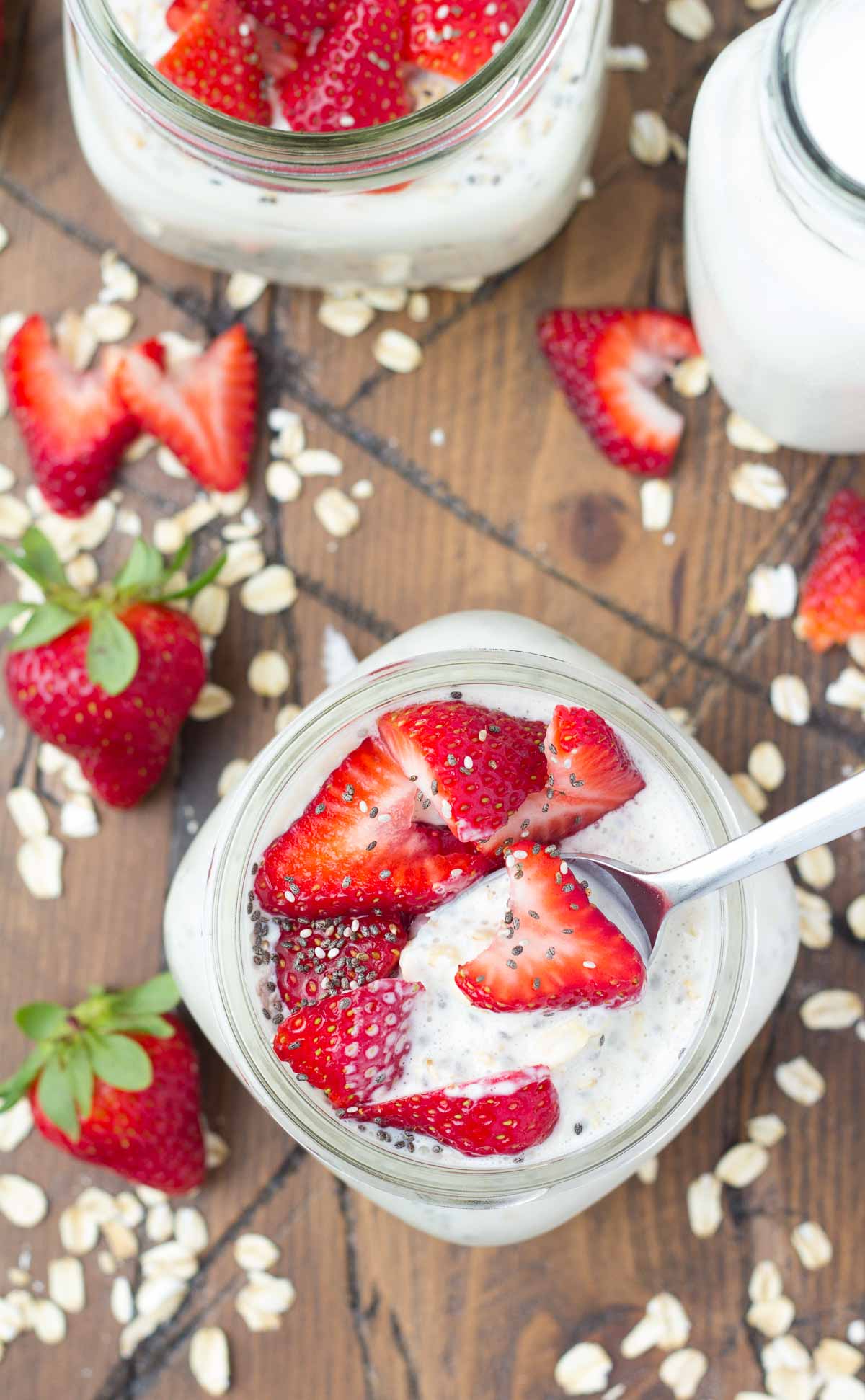 I also highly recommend these other quick and easy breakfast ideas:
Peanut Butter and Banana Overnight Oats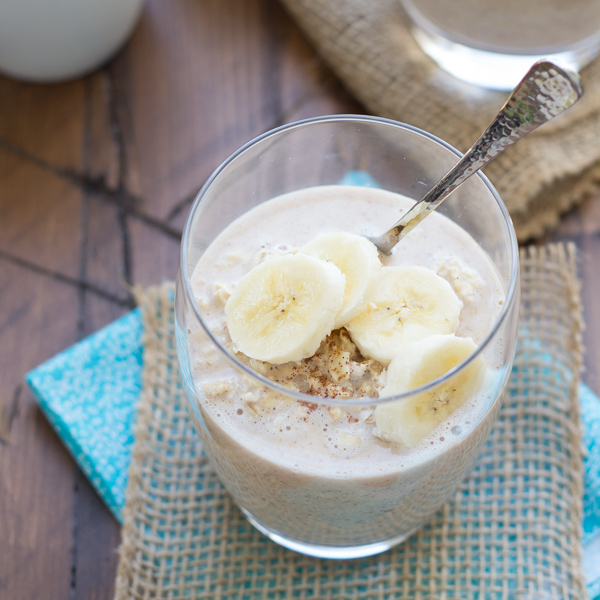 Blueberry Spinach Breakfast Smoothie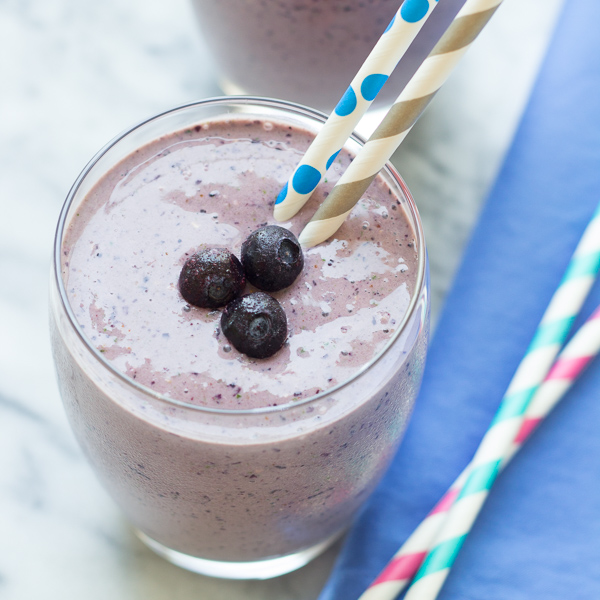 Apple Cinnamon Cookie Energy Bites
Like what you see? Be sure to follow along to never miss a recipe!
PINTEREST | FACEBOOK | INSTAGRAM | GOOGLE+ | TWITTER | EMAIL | RSS
Products used in this recipe:
Strawberry Chia Overnight Oats
High protein Strawberry Chia Overnight Oats are a healthy way to start your day! This soaked oatmeal is ultra creamy, a little sweet, and will keep you full until lunchtime!
Ingredients
½ cup old fashioned oats
½ cup milk*
¼ cup Greek yogurt*
1 teaspoon pure maple syrup
¼ teaspoon vanilla extract
1 ½ teaspoons chia seeds
¼ cup sliced strawberries
Directions
Place all ingredients except for the strawberries in a mason jar or bowl. Cover tightly with lid and shake to combine (or stir).
Refrigerate overnight.
When ready to serve, stir, and then top with sliced strawberries. Overnight oats are often eaten cold, but if desired you may warm them in the microwave.
*Nutrition information calculated based on 1% milk and nonfat Greek yogurt.
Nutrition Information
Calories:
286
Fat:
5 g
Saturated fat:
1 g
Carbohydrates:
45 g
Sugar:
14 g
Sodium:
95 mg
Fiber:
7 g
Protein:
16 g
Save
Save
This site contains affiliate links. If you make a purchase through these links, I may receive a small commission, at no extra cost to you. Thank you for supporting Kristine's Kitchen!