Cocoa Oatmeal Chocolate Chip Cookies
---
ButcherBox is giving all new customers a FREE Ultimate BBQ Bundle including: baby back ribs, 2 LBS of ground beef and 2 NY strip steaks. Claim Now.
---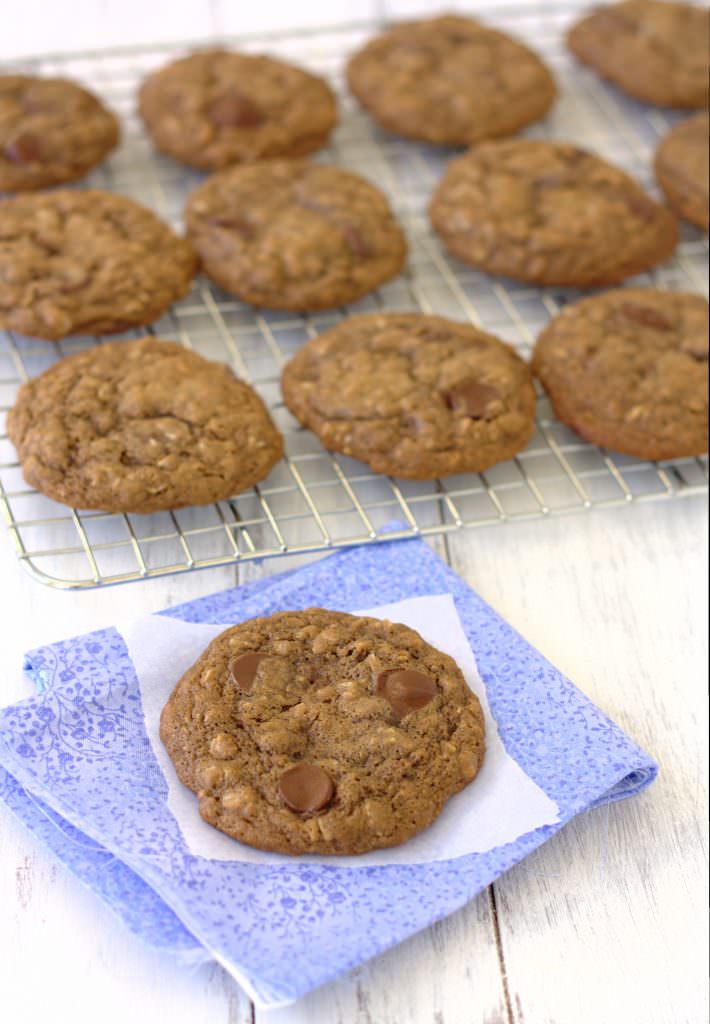 I've been on a bit of an oatmeal kick lately. We have oatmeal for breakfast most mornings, and I've made homemade granola, oatmeal muffins (recipe to come soon!), and oatmeal cookies. Then, I decided to make oatmeal chocolate chip cookies, but with some cocoa powder added in to make them Cocoa Oatmeal Chocolate Chip Cookies.
These cookies are the best of many worlds. The cocoa powder lends a subtle cocoa flavor to the cookies, which are deliciously soft and chewy. The oats contribute to the chewy texture, and the chocolate chips give an added dose of chocolate flavor. If you're lucky enough to have a free couple of minutes in your afternoon, pour yourself a cup of coffee and enjoy one of these cookies. The chocolate-coffee combo is oh so good.
Oatmeal Cocoa Chocolate Chip Cookies
Makes about 2 dozen cookies
Ingredients:
2 cups all-purpose flour
1/4 cup unsweetened cocoa powder, sifted
1 tsp. baking soda
1/2 tsp. salt
1 cup old-fashioned oats
3/4 cup (12tbsp.) unsalted butter, at room temperature
1 cup light brown sugar
1/2 cup granulated sugar
2 large eggs, at room temperature
2 tsp. pure vanilla extract
1 1/2 cups chocolate chips
Directions:
In a medium bowl, whisk together the flour, cocoa powder, baking soda, salt, and oats. Set aside.
In the bowl of a stand mixer fitted with the paddle attachment, beat the butter and both sugars on medium-high speed until light and fluffy, about 3-4 minutes. Reduce the mixer speed to medium and beat in the eggs, one at a time, until thoroughly incorporated, scraping down the sides of the bowl as necessary. Mix in the vanilla extract.
With the mixer on low speed, gradually beat in the flour mixture until just combined. Use a rubber spatula to stir in the chocolate chips.
Refrigerate the dough until firm, at least 2 hours.
When you are ready to bake the cookies, preheat the oven to 350 degrees F. Scoop about 2 tablespoons of dough at a time, and roll into a ball. Place the dough balls on a parchment paper-lined baking sheet, about 2 inches apart. Bake for about 10-12 minutes, until the cookies are just set but still soft in the center. Try not to over-bake them. Let cookies cool on baking sheet for 5 minutes and then transfer to a wire rack to cool completely.
Source: Kristine's Kitchen original.
This site contains affiliate links. If you make a purchase through these links, I may receive a small commission, at no extra cost to you. Thank you for supporting Kristine's Kitchen!