Loaded Whole Wheat Chocolate Chip Cookies
These soft whole wheat chocolate chip cookies are loaded with toasted coconut, pecans, and oats!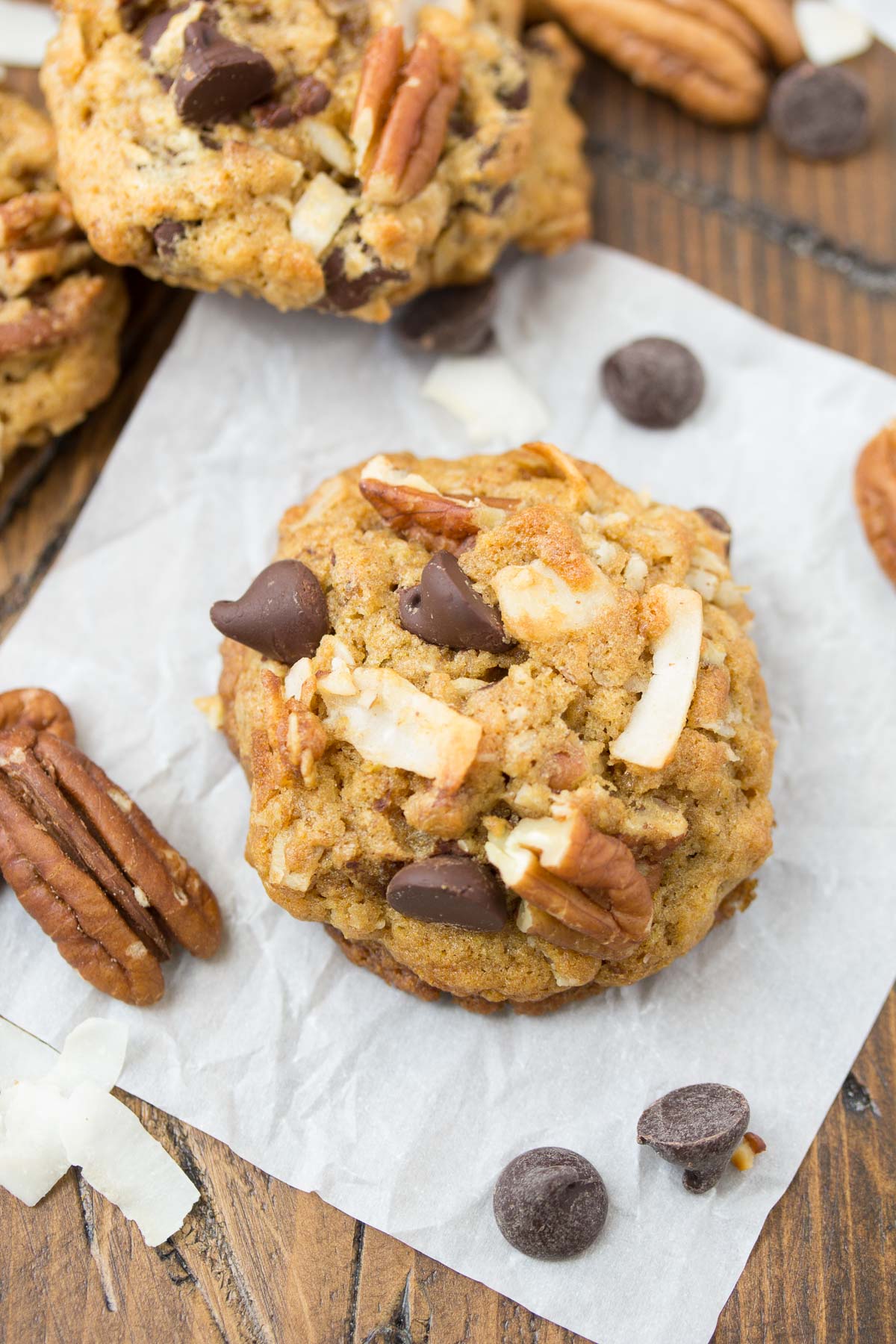 How do you like your chocolate chip cookies? Most of the time, I prefer my cookies to be simple, with just chocolate chips and an extra teaspoon or two of vanilla for flavor. The other day, though, I was craving a cookie with a bit more to it.
For these Loaded Whole Wheat Chocolate Chip Cookies, I've toasted the coconut, pecans, and oats before adding them to the cookie dough. Toasting the mix-ins brings out their flavor and makes these cookies extra delicious!
Like most moms, you are probably struggling to find the TIME to put a homemade dinner on the table for your family on busy weeknights. If you already had a plan, a grocery list, easy recipes and prep-ahead tips, you could have a REAL dinner on your table in a flash! I have been meal planning and prepping for years and now I am sharing my plan with YOU. You will save time, save money cooking at home, and eat real food.
Learn more about my Time-Saving Healthy Family Meal Plan.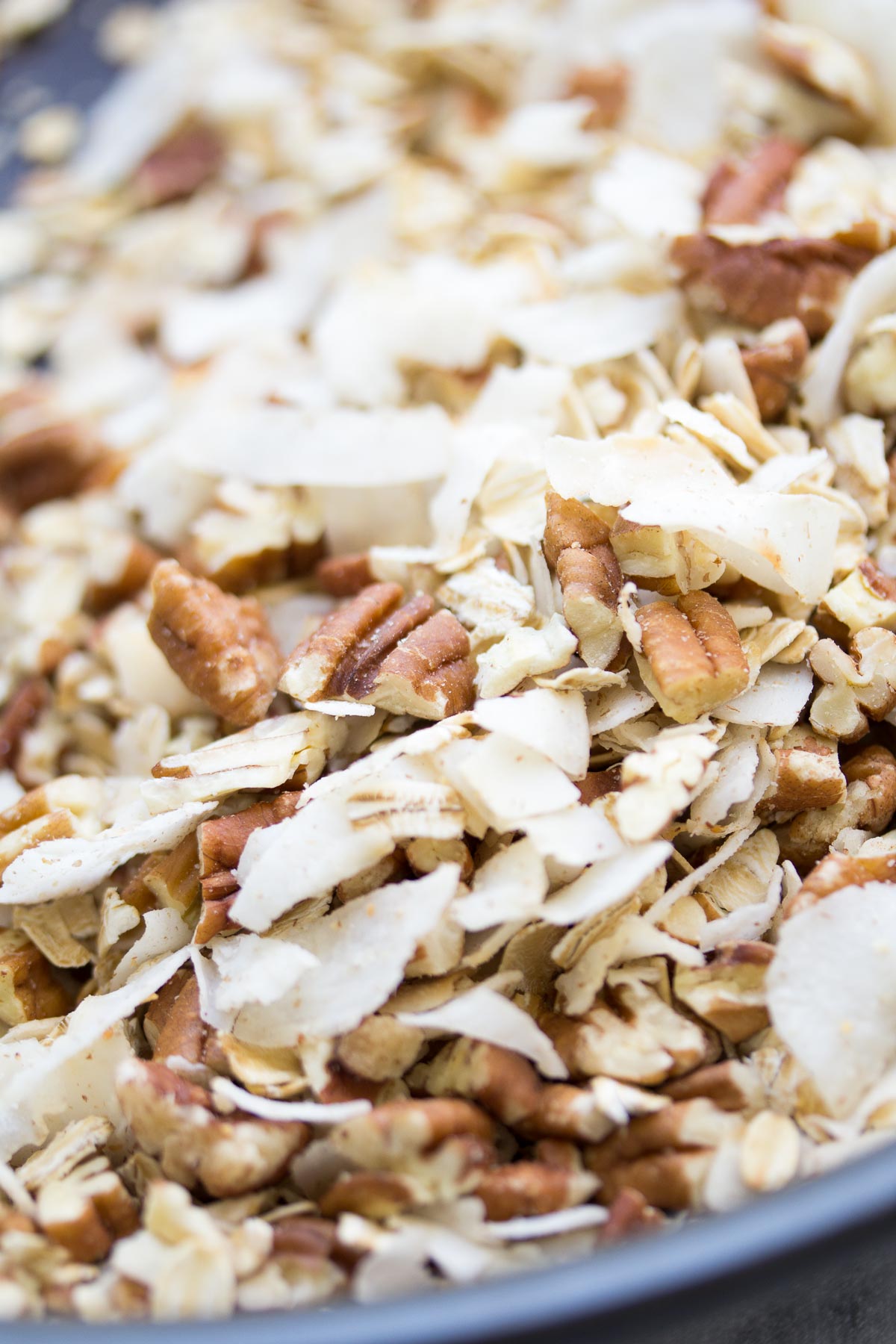 I like to lighten up my desserts when I can, and I did so with these cookies. It's amazing how easy it is to swap out ingredients and end up with a still delicious but lighter cheesecake bar or blondie. For these cookies, I replaced the all-purpose flour with white whole wheat flour and 1/2 cup of wheat germ. I also used a reduced amount of sugar compared to most chocolate chip cookie recipes. And for the chocolate chips, I like to use dark chocolate for the extra dose of antioxidants.
With all of the flavor from the pecans, coconut, oats, and chocolate chips, you'll hardly notice that these cookies are whole wheat and reduced sugar.
These Loaded Whole Wheat Chocolate Chip Cookies are soft with crisp edges the day you make them, and then soft throughout on following days. I like to store them in the freezer for a quick treat when I crave something sweet.
When my kids see me eating these cookies and ask for one, I tell them they are grown up cookies. They don't like their cookies with nuts and coconut, which means more for me! 😉 Don't worry, I make them cookies that they like sometimes, too. Their favorites are these favorite chewy chocolate chip cookies and these sugar cookies.
Why you'll love these whole wheat chocolate chip cookies:
They are healthier than your traditional cookie, since they're made with whole wheat flour, wheat germ, and reduced sugar. So you will feel better after eating one (or two) of these.
The toasted coconut, pecans, and oats add loads of flavor and texture to these cookies.
You can chill the dough before baking if you want, but you don't have to. So you can plan ahead… or have a warm cookie ready to eat asap!
Like what you see? Be sure to follow along to never miss a recipe!
PINTEREST | FACEBOOK | INSTAGRAM | GOOGLE+ | TWITTER | EMAIL | RSS
Loaded Whole Wheat Chocolate Chip Cookies
These soft whole wheat chocolate chip cookies are loaded with toasted coconut, pecans, and oats!
Ingredients
¾ cup chopped pecans
½ cup coconut flakes
½ cup old-fashioned oats
¾ cup (1 ½ sticks) unsalted butter, softened
¾ cup lightly packed brown or coconut sugar
2 eggs
2 teaspoons vanilla extract
1 cup white whole wheat flour
½ cup wheat germ
1 teaspoon baking soda
½ teaspoon salt
¾ cup dark chocolate chips
Directions
Preheat oven to 350 degrees F. Line baking sheet with parchment paper or a silicone baking mat.
Place pecans, coconut flakes, and oats in a skillet and toast over low heat until fragrant, stirring often, about 5 minutes. Set aside to cool.
Using an electric mixer on medium speed, cream together butter and sugar until light and fluffy. Add eggs and vanilla and mix until well combined.
In a medium bowl, whisk together whole wheat flour, wheat germ, baking soda, and salt. Add to the butter mixture and mix on low speed until just combined. Fold in the chocolate chips, pecans, coconut flakes, and oats.
Scoop dough by the tablespoonful (I use this cookie scoop) and place on the baking sheet, spacing about 2 inches apart. Bake cookies for 9-10 minutes, until lightly golden.
Save
This site contains affiliate links. If you make a purchase through these links, I may receive a small commission. Thank you for supporting Kristine's Kitchen!