Creamy No Mayo Coleslaw with Apple
A creamy no mayo coleslaw made with Greek yogurt. This healthier coleslaw comes together in minutes, and you'll love the addition of the sweet apple!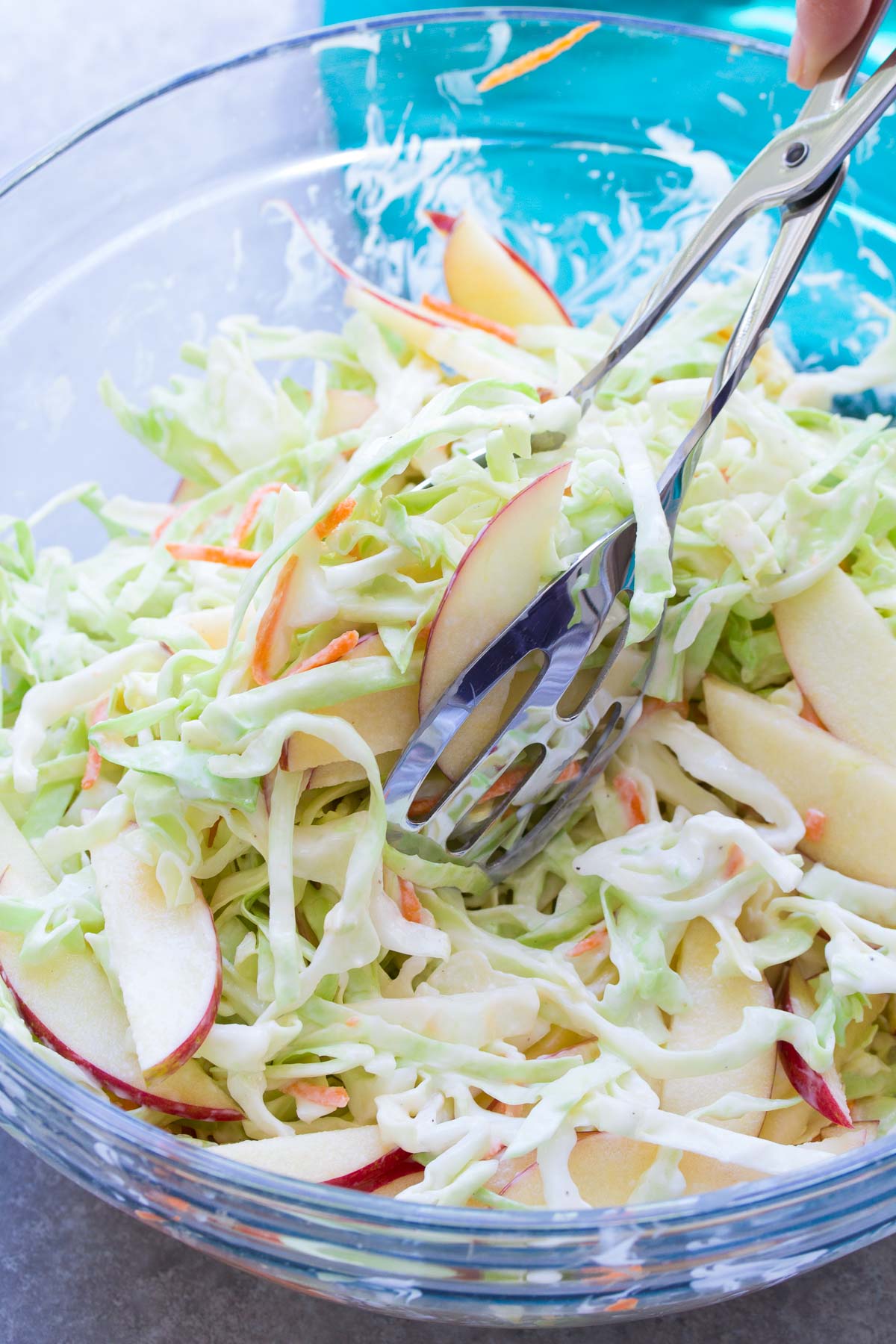 Judging by the popularity of my No Mayo Broccoli Salad, you guys (or at least a lot of you) want recipes with creamy dressings minus the mayo. If mayo is not your thing, but creamy, CRUNCHY coleslaw is, then this Creamy No Mayo Coleslaw with Apple is the recipe for you!
We love this coleslaw as a topping for BBQ pulled pork or chicken sandwiches, and we also like to serve it as a side dish when we're grilling. It can be tempting to pick up some ready-made coleslaw at the grocery store, but once you try this version with the homemade dressing you won't want to go back!
Like most moms, you are probably struggling to find the TIME to put a homemade dinner on the table for your family on busy weeknights. If you already had a plan, a grocery list, easy recipes and prep-ahead tips, you could have a REAL dinner on your table in a flash! I have been meal planning and prepping for years and now I am sharing my plan with YOU. You will save time, save money cooking at home, and eat real food.
Learn more about my Time-Saving Healthy Family Meal Plan.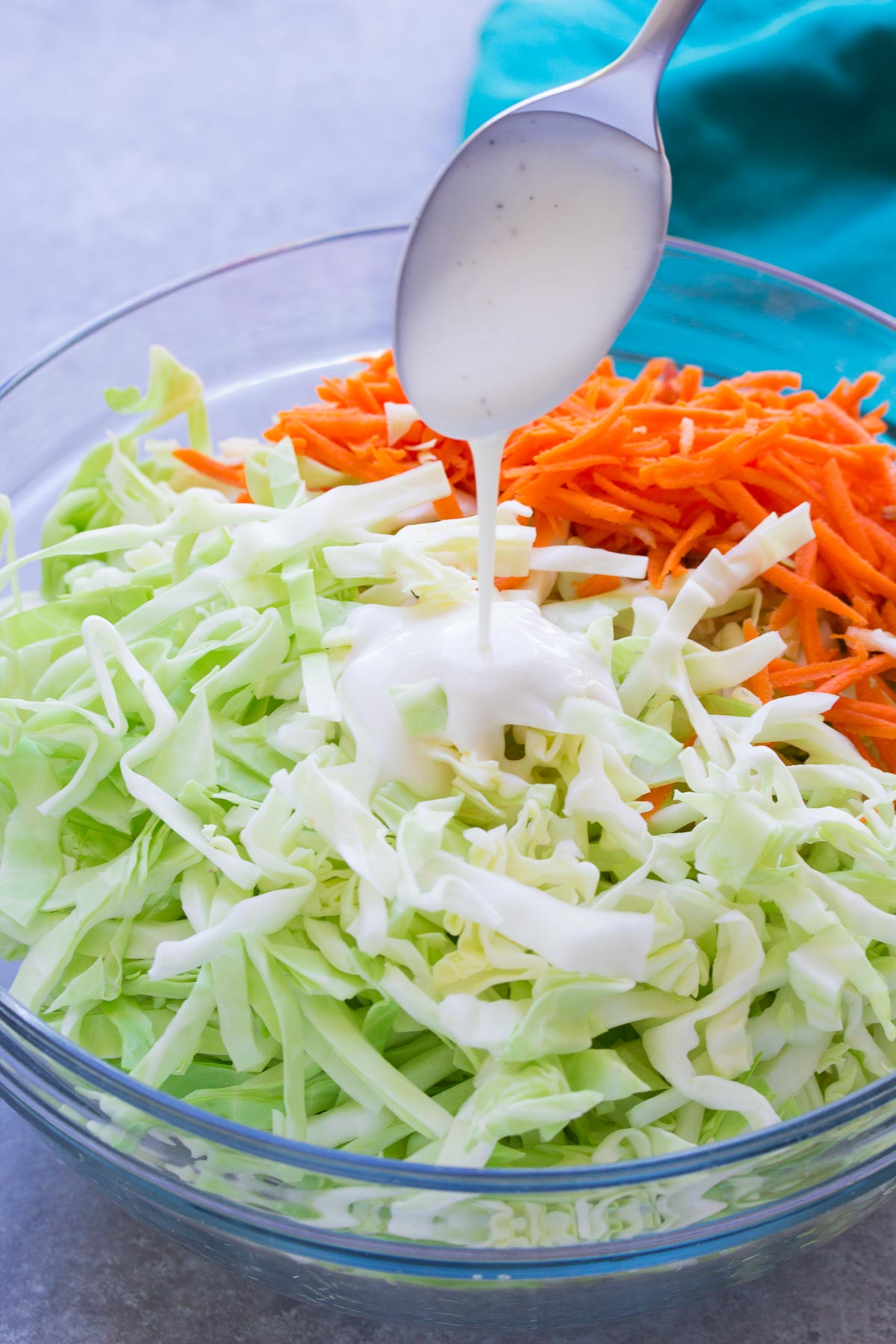 Feel free to save a few minutes by buying a bag of pre-shredded cabbage if you like. Sometimes I do, but this time I decided to shred my own. It took just a few minutes, and here's a step-by-step photo tutorial of the easiest way to do it:
The first time I made this coleslaw, I shredded the apple in my food processor. I had the food processor out since I used it to grate the carrots, so I figured I'd use it for the apple as well to save time. Well, the finely grated apple turned brown within a matter of minutes. Let's just say it didn't look all that appetizing. Time for plan B.
I've been using chopped apples in lots of make ahead salads lately, and tossing the apples in a bit of lemon juice prevents browning. So the next time, rather than grating the apple I thinly sliced it and tossed it in a little lemon juice. Success! Even after two days the apples looked fresh. And bonus points:  the bigger slices of apple also look pretty in this Creamy No Mayo Coleslaw.
I plan to continue making this easy coleslaw recipe year-round, since it's a delicious and side dish for so many meals. I used to not like coleslaw at all because the mayo-based dressing did not appeal. I really enjoy this Greek yogurt version, and hope you will too! Are you a coleslaw fan? What's your favorite meal to enjoy it with? My favorite is with these Slow Cooker BBQ Chicken Sandwiches!
Like what you see? Be sure to follow along to never miss a recipe!
PINTEREST | FACEBOOK | INSTAGRAM | GOOGLE+ | TWITTER | EMAIL | RSS
Creamy No Mayo Coleslaw with Apple
A creamy no mayo coleslaw made with Greek yogurt. This healthier coleslaw comes together in minutes and you'll love the addition of the sweet apple!
Ingredients
1 green cabbage, shredded (about 6 cups)
1 large or 2 small carrots, grated
1 apple, thinly sliced
2 teaspoons lemon juice
1 cup plain Greek yogurt
2 ½ tablespoons honey
2 tablespoons apple cider vinegar
½ teaspoon Dijon mustard
½ teaspoon kosher salt
⅛ teaspoon pepper
Directions
Combine cabbage and carrot in a large bowl.
In a small bowl, toss the apple slices with the lemon juice. Set aside.
In another small bowl, whisk together the Greek yogurt, honey, apple cider vinegar, Dijon, salt, and pepper until well combined. Pour the dressing over the cabbage and carrots and mix until the vegetables are evenly coated.
Drain the apple slices, add them to the coleslaw, and toss gently to mix.
Serve immediately or refrigerate. Coleslaw is best the first and second day.
Nutrition Information
Serving size:
¾ cup
Calories:
50
Fat:
0g
Carbohydrates:
10g
Sugar:
8g
Sodium:
81mg
Fiber:
2g
Protein:
3g
This Creamy No Mayo Coleslaw is delicious:
More no mayo recipes for you:
Save
Save
Save
Save
Save
This site contains affiliate links. If you make a purchase through these links, I may receive a small commission. Thank you for supporting Kristine's Kitchen!