Slow Cooker BBQ Chicken Sandwiches
These Slow Cooker BBQ Chicken Sandwiches are an easy dinner that your family will love! The chicken cooks in a sweet and tangy homemade barbecue sauce in your crock pot. An easy, no mayo coleslaw completes these delicious sandwiches!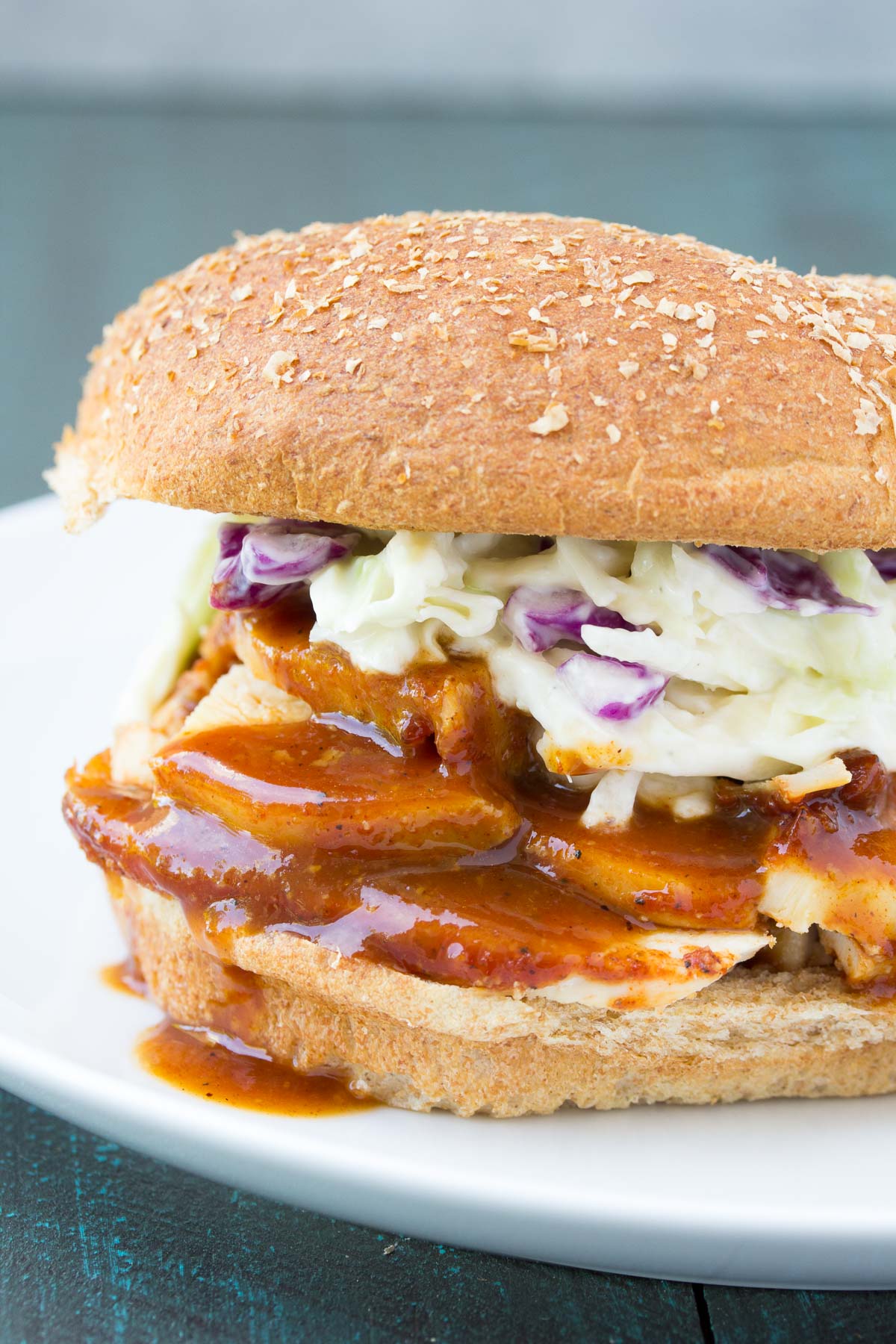 I'm always pinning yummy slow cooker recipes to my Slow Cooker Pinterest Board, which you can follow here!
You guys are always asking for more slow cooker recipes, and I certainly understand why. I love using my slow cooker, because it makes cooking (and even dessert making) so easy.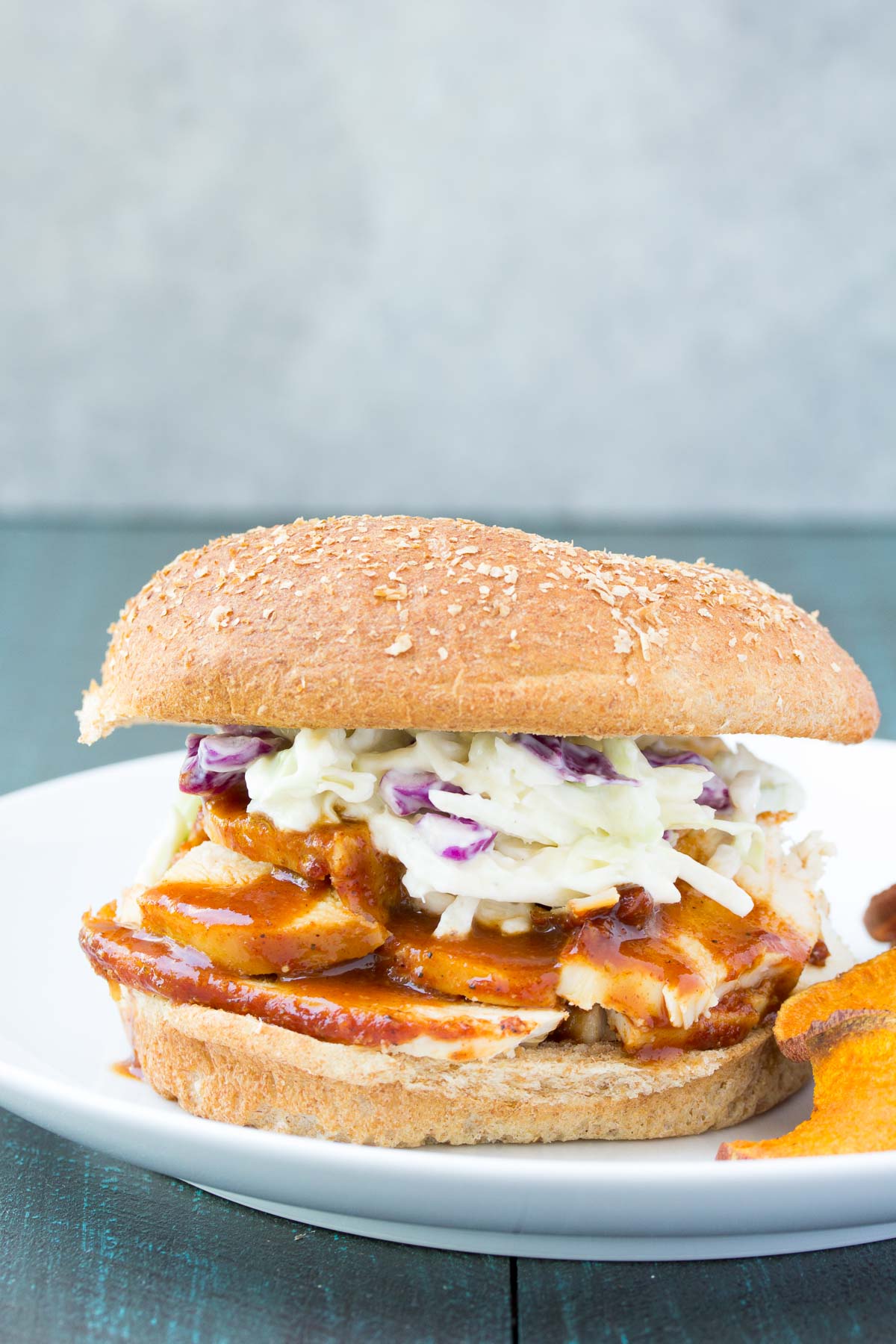 When life is busy, make ahead recipes are lifesavers. I'm planning to share a bunch more (easy!) make ahead recipes, and even some prep ahead tips, here on the blog. That includes lots more slow cooker recipes. How does that sound? I'm pretty excited about it myself, because I know I'll be putting my own recipes and tips to use in my kitchen!
Today we have these Slow Cooker BBQ Chicken Sandwiches. This is basically a pulled chicken sandwich, with homemade barbecue sauce, made in your crock pot.  I prefer to slice my chicken thin for these sandwiches rather than shredding it. You can decide if you like yours shredded or sliced… either way I guarantee it will be delicious coated in the sweet and tangy bbq sauce!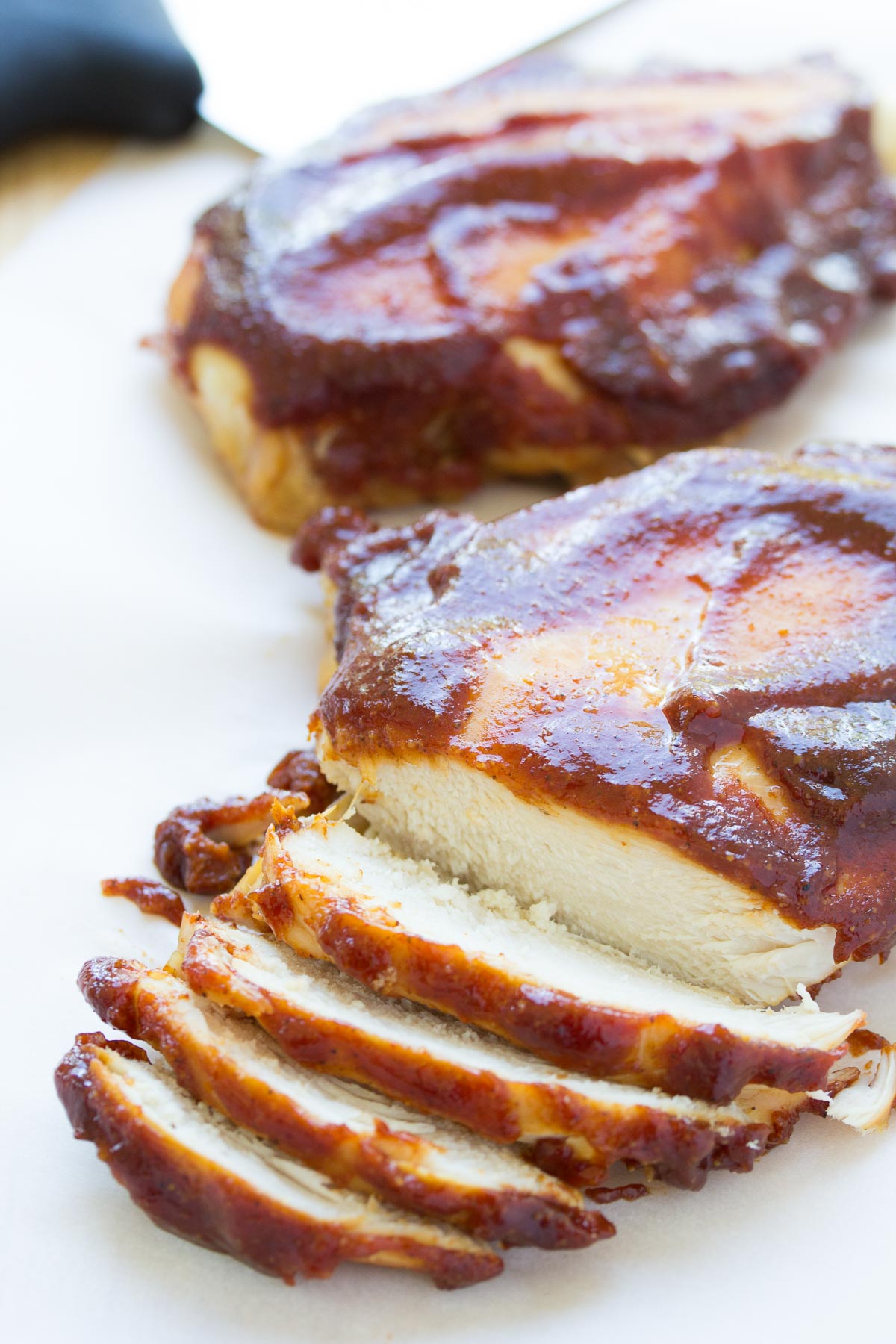 You can serve these sandwiches with just the chicken and sauce, or add cheese, pickles, or my favorite easy (no mayo) healthy coleslaw. For this coleslaw, I usually take a little help from my grocery store and buy a package of coleslaw mix. Nothing with a pre-made dressing, just the plain red and green cabbage mix (mine had a few shredded carrots, too). If you want to trying making your own buns, I have an easy brioche buns recipes for you to try too.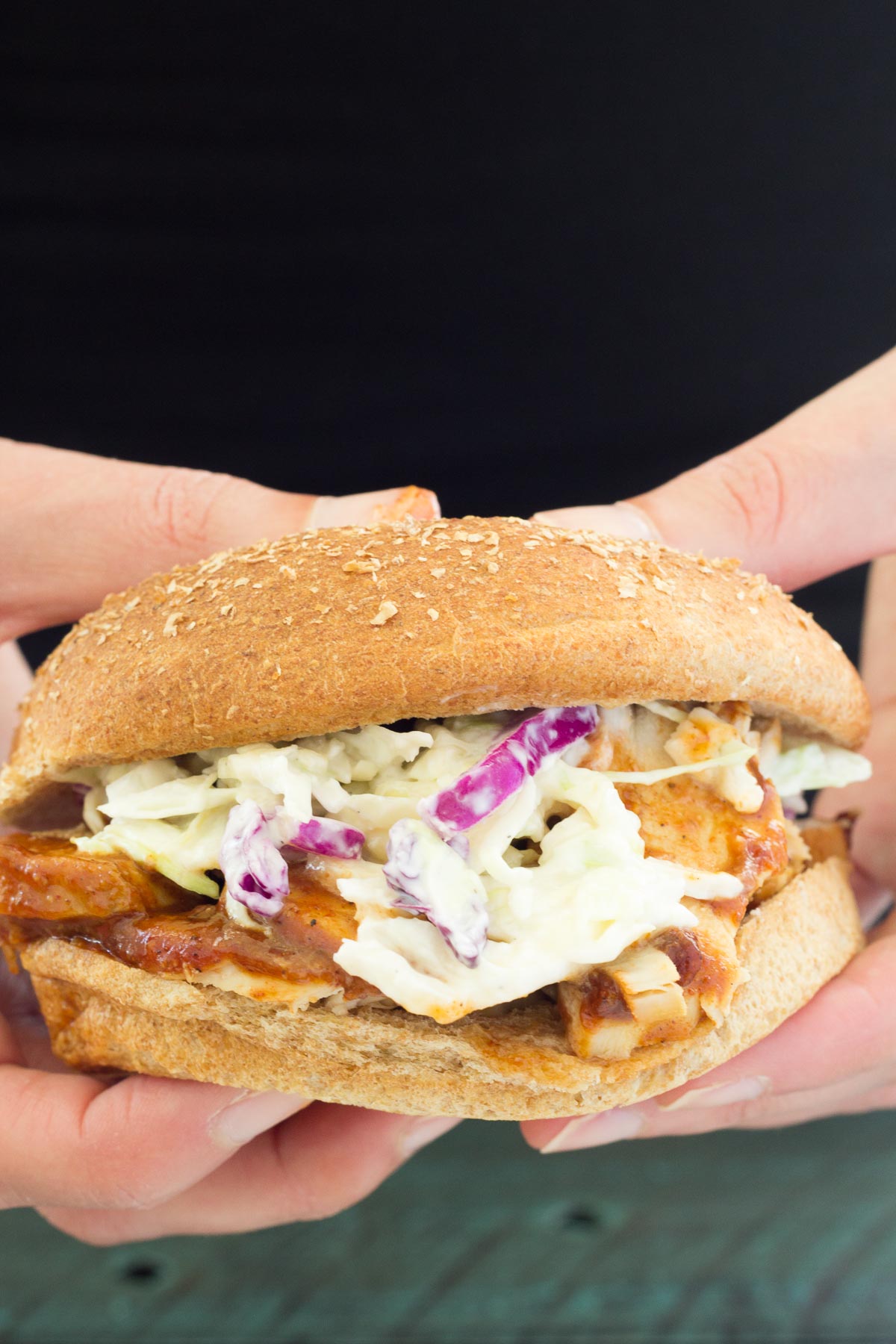 I make a mixture of Greek yogurt, honey, Dijon, and apple cider vinegar to stir into the cabbage and it is the perfect crunchy-creamy topping for the chicken on these sandwiches.
I made these Slow Cooker BBQ Chicken Sandwiches for William's 4th birthday party and everyone kept commenting on how good they were. From the moment the guests walked into our house and smelled lunch cooking, until the very last bite, these were enjoyed by all!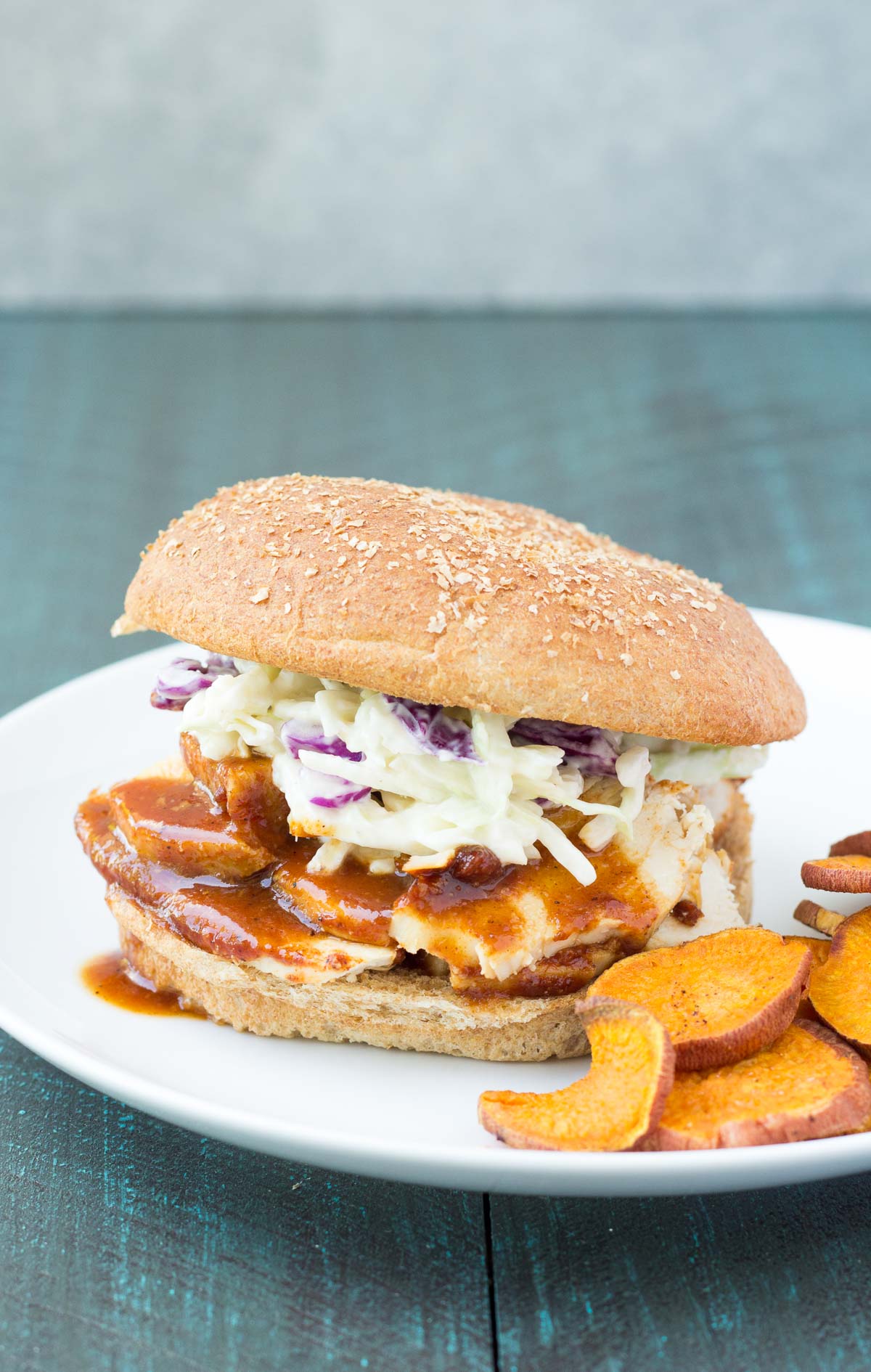 Why you'll love these Slow Cooker BBQ Chicken Sandwiches:
Homemade barbecue sauce, made with real ingredients, is much better than store-bought (and super easy to make).

The slow cooker does the work for you, and the prep time is minimal for this recipe.

Any leftover bbq chicken can be turned into nachos the next day. Top tortilla chips with the chicken, black beans, cheese, and avocado. So yum!
If you love slow cooker bbq chicken, you've just gotta try my Honey BBQ Slow Cooker Chicken Taquitos. They are THE yummiest, kid-friendly and freezer-friendly dinner!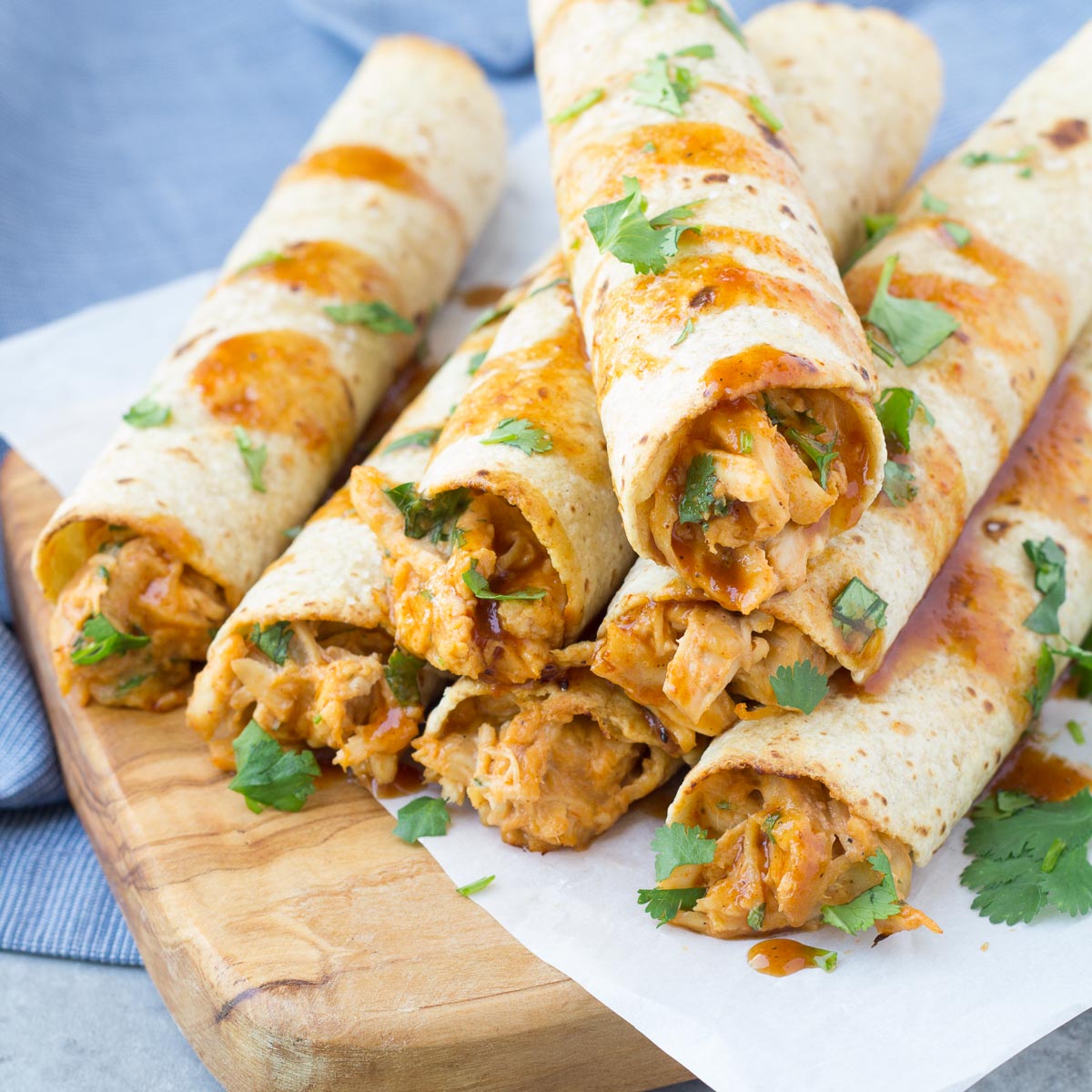 Save
Save

Slow Cooker BBQ Chicken Sandwiches
These Slow Cooker BBQ Chicken Sandwiches are an easy dinner that your family will love! The pulled chicken cooks in a homemade barbecue sauce in your crock pot. Plus, a recipe for easy, no mayo homemade coleslaw! These can be made into sliders for the perfect party food!
Recipe type:
Dinner, Slow Cooker
Ingredients
For the slow cooker:
1 ½ pounds boneless, skinless chicken breasts
½ cup ketchup (look for one that made with real ingredients, such as Annie's natural)
2 tablespoons honey
2 tablespoons molasses
1 tablespoon apple cider vinegar
1 teaspoon chili powder
½ teaspoon paprika
½ teaspoon garlic powder
½ teaspoon salt
¼ teaspoon ground black pepper
For serving:
2 teaspoons cornstarch
2 cups sliced red and/or green cabbage
¼ cup lowfat plain Greek yogurt
2 teaspoons honey
1 teaspoon apple cider vinegar
½ teaspoon Dijon mustard
salt and pepper
4 whole wheat burger buns
Directions
Place chicken in bottom of slow cooker. In a medium bowl, whisk together remaining slow cooker ingredients. Pour over chicken. Cover and cook until chicken is cooked through, about 3 hours on low heat, or 2 hours on high.
Shortly before the chicken is cooked, prepare the coleslaw: In a large bowl, whisk together the yogurt, honey, apple cider vinegar, and Dijon. Season to taste with salt and pepper. Add the cabbage and toss to combine. Set aside in refrigerator until ready to serve.
Finish the sandwiches: Once chicken is cooked through, transfer to a cutting board, leaving the extra sauce in the slow cooker. Add cornstarch to the liquid left in the slow cooker and whisk until completely dissolved. Increase heat to high and cook sauce, uncovered, for 10 minutes to thicken.
Meanwhile, thinly slice (or shred) the chicken. Return the chicken to the slow cooker with the sauce. Assemble the sandwiches by toasting the buns (if desired) and topping with chicken, extra bbq sauce, and cabbage mixture. Serve immediately.
Save
Save
Save
Save
Save
Save
This site contains affiliate links. If you make a purchase through these links, I may receive a small commission, at no extra cost to you. Thank you for supporting Kristine's Kitchen!