Turkey Burgers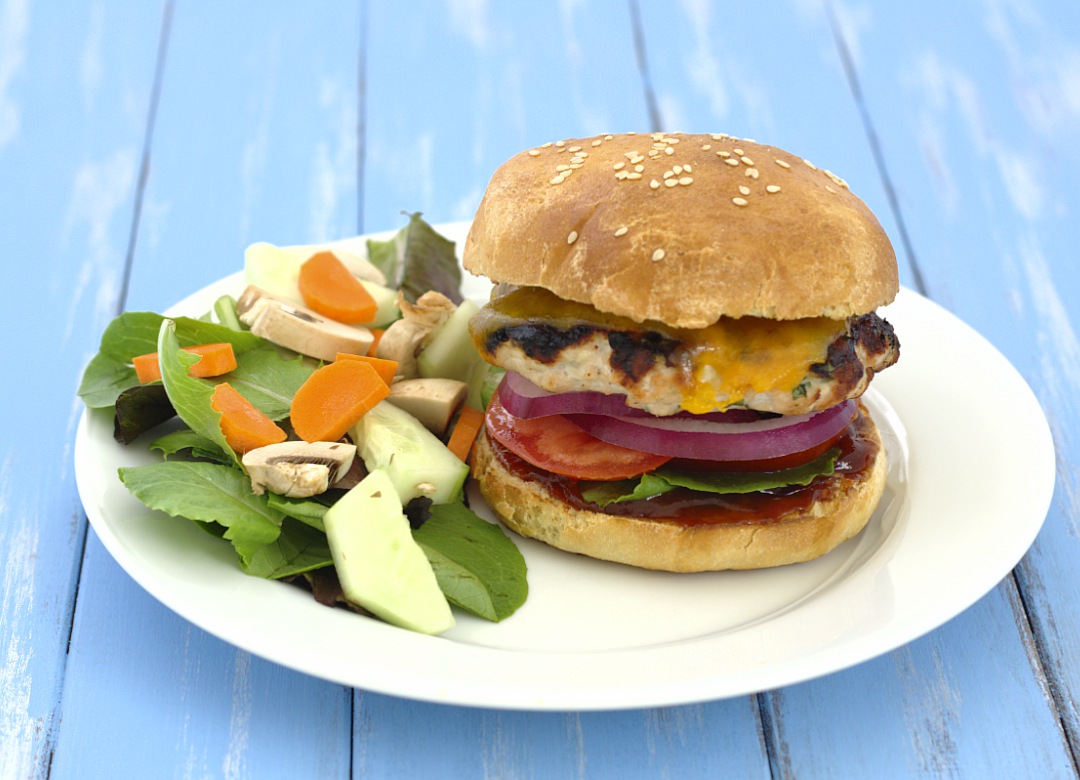 I'm really, really going to miss this warm summer weather when it's gray, cold, and dreary outside. Today Julia, William, and I spent most of the morning outside in our backyard. We blew bubbles, which is still one of Julia's favorite activities. Sometimes I wonder how she doesn't pass out from blowing so many bubbles without a rest! Then Julia rode her tricycle around and around as William watched. He loves to be outside, and I totally agree when the weather is as perfect as it was this morning.  I feel so lucky to be able to work part-time, so that I can enjoy days like today at home with my two little kiddos.
Turkey burgers are a staple meal in our house, either grilled outdoors when the weather's nice, or on the grill pan in the winter. When I need dinner to be especially quick and easy, I buy the premade turkey burger patties at the grocery store. If I have a few extra minutes to spare, though, I make my own patties using this recipe. While it does take a little more time and effort, the results are well worth it.
The turkey gets plenty of flavor from sauteed onions and garlic, plus some chopped parsley. My favorite way to top these burgers is with bbq sauce, red onion, lettuce, and tomato. Oh, and cheese of course! I generally like cheddar but Swiss is also good with bbq sauce.
One year ago:  Sweet and Sour Chicken and Broccoli Stir-Fry
Turkey Burgers
Makes 4 burgers
Ingredients:
1.25 lbs. ground turkey
1 tsp. olive oil
1/2 cup minced onion
2 cloves garlic, minced
1/3 cup finely chopped parsley
Salt and pepper
For serving:
Cheese slices
Lettuce
Tomato slices
Sliced red onion
BBQ sauce or condiments of your choice
Directions:
Heat olive oil in a small skillet over medium-low heat. Saute onion until soft, about 3 minutes. Add garlic and saute until fragrant, about 30 seconds. Remove from heat to cool.
Place the turkey in a large bowl. Add the onion, garlic, parsley, and salt and pepper to taste. Mix until well combined. Form the meat into four equal sized patties.
Grill over medium heat until cooked through. During the last two minutes of cooking, top each burger with a slice of cheese. Slice each bun in half and toast the insides. Serve burgers on toasted buns with lettuce, tomato, red onion, and BBQ sauce.
This site contains affiliate links. If you make a purchase through these links, I may receive a small commission, at no extra cost to you. Thank you for supporting Kristine's Kitchen!