Easy Cheesy Beef and Pasta Skillet
This pasta skillet is a one-pot meal that the whole family will love.  The pasta cooks right in the tomato meat sauce, soaking up tons of flavor!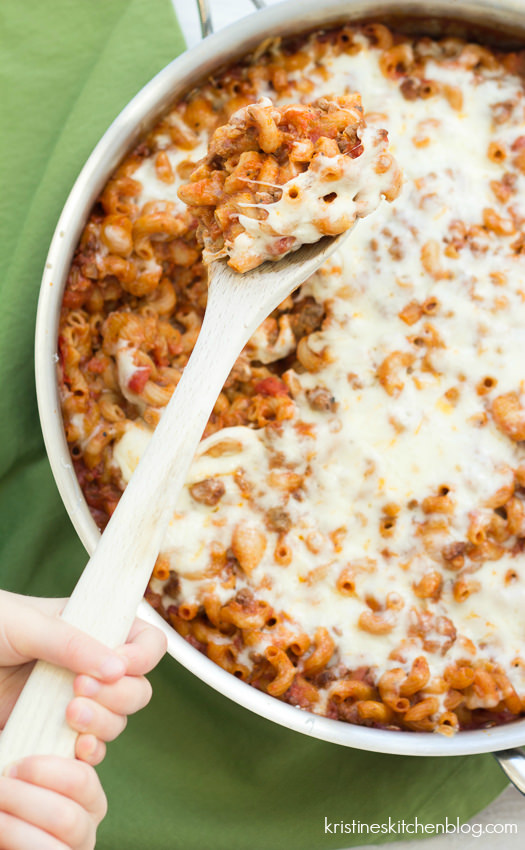 Hey there. How was your weekend? We've had gorgeous weather here, with plenty of sunshine and temperatures in the 70's. It's so beautiful outside this time of year with all of the fall colors. Brad took the kids to the park on Saturday while I got my hair done (I was way overdue!), and then Julia and I went out for a walk and some fresh air on Sunday.
Saturday night about 12:30 we woke up to the sound of the signature barky cough of croup. William apparently is prone to getting croup, as this was the third time he's had it. The past two times we've had to take him to the emergency room, but this time we were able to get through the night by taking him in the steamy bathroom and just keeping him up for a while. His breathing sounded so much better when he wasn't laying down, so he got a little extra playtime in the middle of the night. Luckily he seems to have had a much milder case this time, and was mostly back to his normal self on Sunday.
Besides time spent outdoors and taking care of our little guy, I spent a fair amount of my weekend in the kitchen.  Julia and I made homemade applesauce and I baked a loaf of whole-wheat bread.  There were plenty of delicious smells filling our house this weekend!
This Easy Cheesy Beef and Pasta Skillet is a comforting and family-friendly meal. Rarely does Julia get excited about what I've made for dinner, unless it's macaroni and cheese. When she sat down to a plate of this pasta she said, "Mmmmm! Mom, can you make this again?" That's a huge compliment coming from her. William enjoyed his too, even though he can be picky about pasta.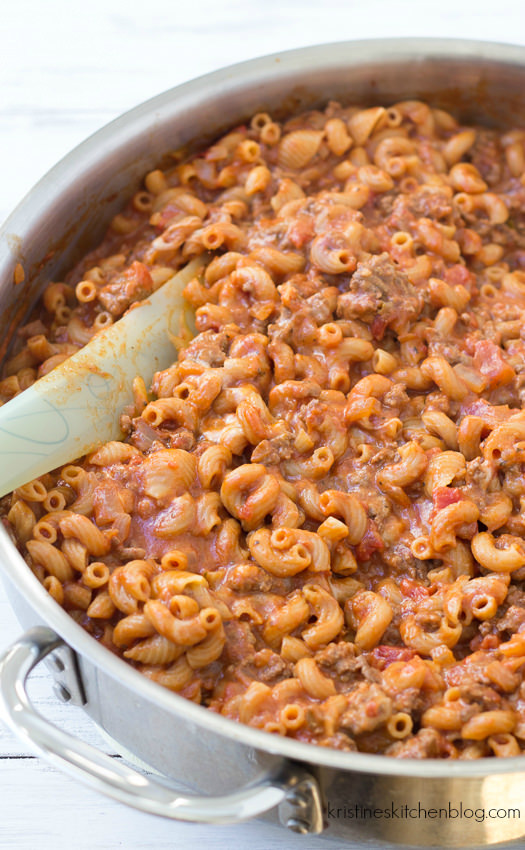 It's easy to see why this Easy Cheesy Beef and Pasta Skillet would be enjoyed by all. Pasta, tomato sauce, and cheese combine into a deliciously cheesy, saucy one-dish meal. That makes for easy prep and clean-up, a bonus for the cook in the house!
I based this dish off one of my favorite meals from my childhood. We called it Macaroni Meat Casserole, and when I was old enough my mom taught me how to make it. As a teenager, I would occasionally make it for my family. I have the recipe written down in note form on a yellow sheet of notepad paper, which still resides in my binder of tried and true recipes. By now I know the recipe by heart, and I've shared a version of that favorite dish here.  For this skillet meal, I kept the ingredients and flavors from my favorite childhood casserole, but simplified it for quick and easy preparation in one skillet. I hope your family enjoys this as much as mine.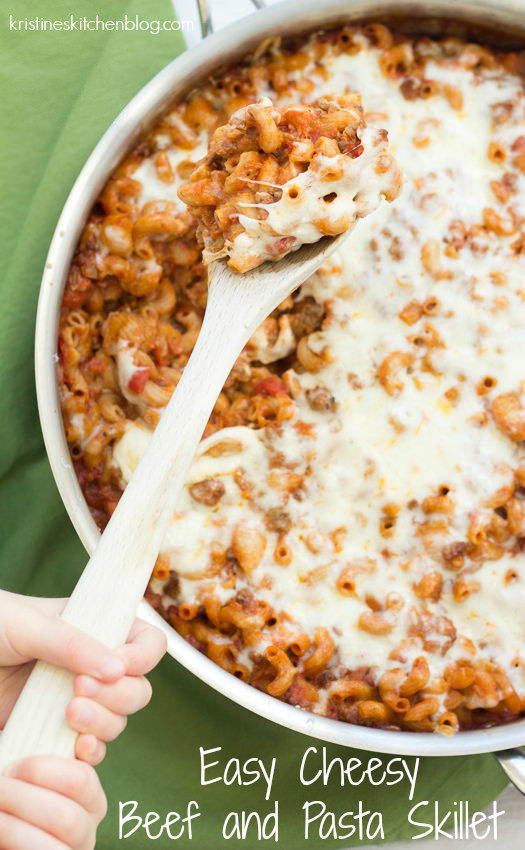 Easy Cheesy Beef and Pasta Skillet
This pasta skillet is a one-pot meal that the whole family will love. The pasta cooks right in the tomato meat sauce, soaking up tons of flavor!
Ingredients
1 tbsp. olive oil
1 cup finely chopped yellow onion
4 cloves garlic, minced
1 lb. lean ground beef
28 oz. can crushed tomatoes
14.5 oz. can diced tomatoes
½ tsp. dried oregano
½ tsp. dried basil
salt and pepper
12 oz. whole-wheat elbow pasta
2 ½ cups water
1 cup grated cheddar cheese
1 ½ cups grated mozzarella cheese, divided
½ cup grated Parmesan cheese
Directions
Preheat oven to 400 degrees F.
Heat olive oil in a large (5 quart) skillet over medium heat. Add onion and cook until soft, about 4 minutes. Add garlic and cook until fragrant, 30 seconds, stirring constantly. Add beef and cook until browned, crumbling into small pieces.
Stir in the crushed tomatoes, diced tomatoes, oregano, basil, and a little salt and pepper. Cook at a low simmer for 10 minutes, stirring occasionally.
Stir in the pasta and water. Cover and increase the heat to a vigorous simmer. Cook, stirring often, until pasta is just tender, 13-15 minutes. Remove from the heat.
Stir in the cheddar cheese and ½ cup of the mozzarella. Sprinkle with the remaining mozzarella and Parmesan. Bake, uncovered, until cheese is melted and slightly browned, about 10 minutes.
This site contains affiliate links. If you make a purchase through these links, I may receive a small commission, at no extra cost to you. Thank you for supporting Kristine's Kitchen!