Gingerbread Baked Oatmeal Cups
---
FREE GROUND BEEF FOR LIFE when you order your first ButcherBox today. Claim Now.
---
Easy Gingerbread Baked Oatmeal Cups that you can make ahead for busy mornings. These oatmeal bites are made with pure maple syrup, molasses, and spices!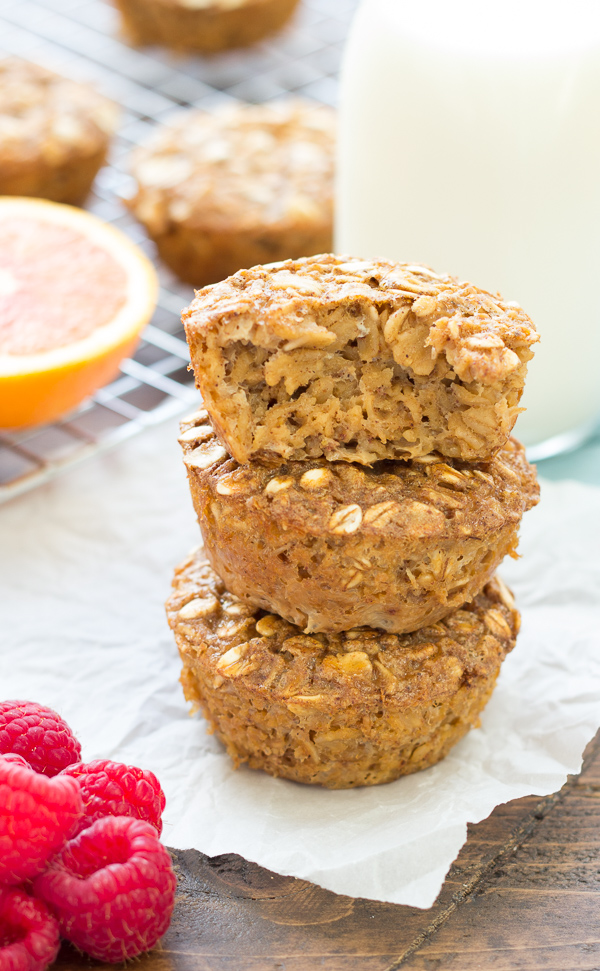 I've created a Facebook group to help us keep in touch and share healthy eating ideas! Join us here for new recipe ideas, healthy eating tips, and ideas for saving time while having fun in the kitchen!
Be sure to read all the way to the recipe because I've made a video to show you how easy it is to make these Gingerbread Baked Oatmeal Cups!

I could not decide what to name these oatmeal cups! When I first made them, I was thinking they'd be Gingerbread Baked Oatmeal Cups. But then I thought… if I call them gingerbread, will people think that they can only make these in December? Please, please don't think that. Because these oatmeal cups are too good to enjoy just one month out of the year.
So we could call them Molasses Spice Baked Oatmeal Cups… what do you think? Either way, I'm kind of in love with these oatmeal bites. Baked oatmeal is (one of) my latest obsessions. Ever since I made this Cinnamon-Maple Baked Oatmeal and this Pumpkin Pecan Baked Oatmeal, I just can't stop dreaming of new baked oatmeal flavors.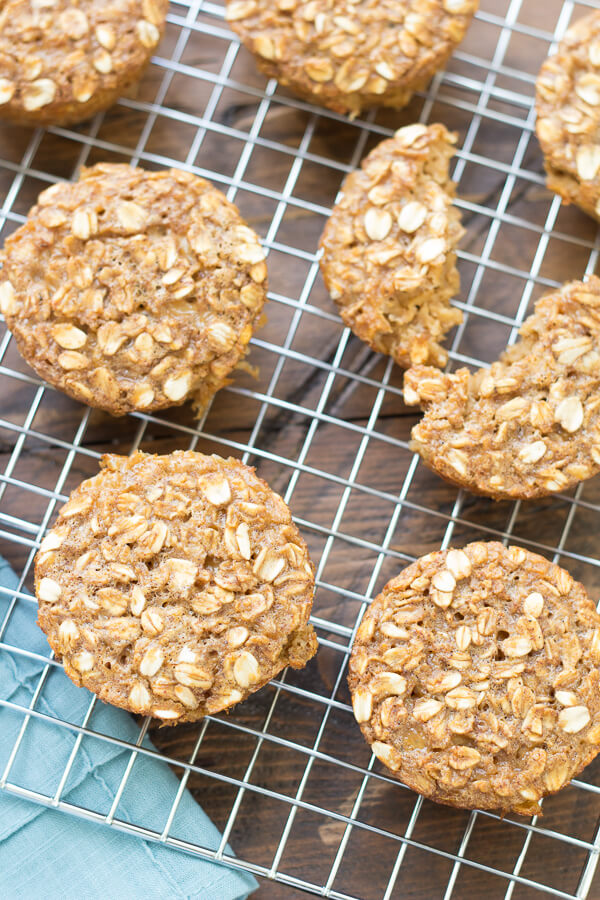 This time, I made my baked oatmeal in my muffin tin. The individual portions of these Gingerbread Baked Oatmeal Cups are both fun to eat and convenient. They freeze well so you can make a batch and then have a healthy breakfast ready whenever you're short on time.
I find that two of these oatmeal cups is the perfect portion size. Sometimes I eat them straight up like a muffin, paired with some fresh fruit. Other times, I like to put two warm oatmeal cups in a bowl, break them up a bit with a spoon, and add a little pour of milk and some chopped nuts on top.
However you like to eat these, you'll feel good knowing that these Gingerbread Baked Oatmeal Cups are not only a delicious breakfast but a healthy one too. They're sweetened with pure maple syrup and are refined sugar free. These Gingerbread Baked Oatmeal Cups – or molasses spice baked oatmeal cups if you prefer 🙂 – will make your mornings easier and so much tastier, too!
I like to bake my oatmeal cups in these reusable silicone liners to prevent them from sticking to my muffin tin.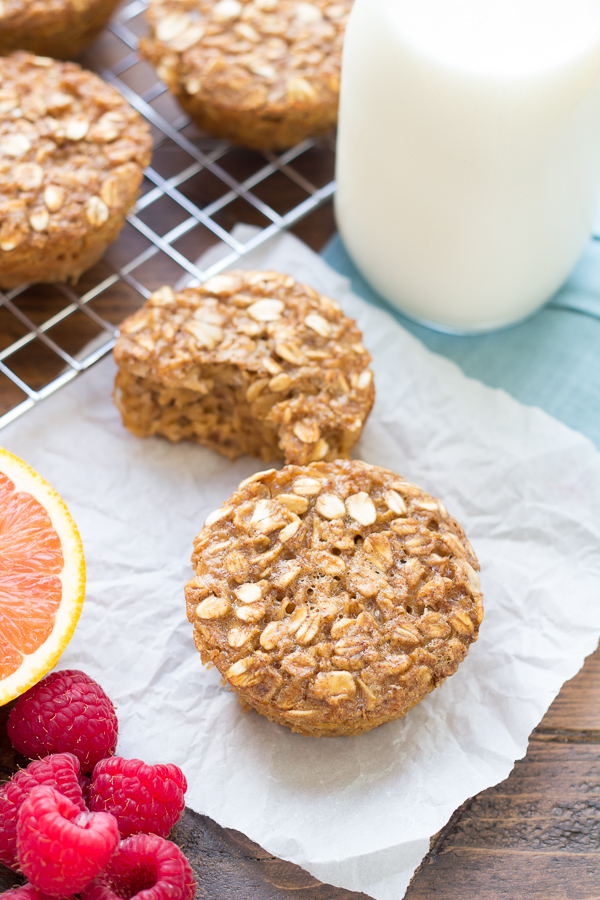 These Ham, Cheese, and Veggie Quinoa Frittatas are another favorite healthy, make-ahead breakfast!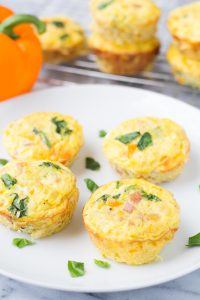 Gingerbread Baked Oatmeal Cups
Easy Gingerbread Baked Oatmeal Cups that you can make ahead for busy mornings. These oatmeal bites are made with pure maple syrup, molasses, and spices!
Serves:
6 (2 oatmeal cups per serving)
Ingredients
cooking spray
2 ¼ cups old-fashioned oats
2 cups milk
2 large eggs
¼ cup pure maple syrup
2 tablespoons molasses
1 teaspoon vanilla extract
½ teaspoon baking powder
¼ teaspoon salt
1 teaspoon ginger
½ teaspoon cinnamon
¼ teaspoon cloves
¼ teaspoon nutmeg
Directions
Preheat oven to 350 degrees F. Spray wells of a muffin tin with cooking spray or use silicone liners. Add 3 tablespoons of oats to each well. Set aside.
In a 4-cup liquid measuring cup (or bowl), combine milk, eggs, maple syrup, molasses, and vanilla. Whisk until well combined.
In a small bowl, whisk together baking powder, salt, ginger, cinnamon, cloves, and nutmeg. Pour into the wet ingredients and whisk to combine. Pour the wet ingredients into the muffin tin wells with the oats, filling almost to the top, and re-whisking the wet ingredients in the measuring cup as needed to keep them well combined.
Bake oatmeal cups for 24-26 minutes, until set. Let cool for 5 minutes in the pan, then gently run a spoon around the edge of each cup and carefully remove to a wire rack. Serve warm.
Oatmeal cups can be served right away, or stored in the refrigerator for 3-4 days. Warm before serving. The baked oatmeal cups freeze well; store in freezer for up to 2 months and defrost before serving.
This site contains affiliate links. If you make a purchase through these links, I may receive a small commission, at no extra cost to you. Thank you for supporting Kristine's Kitchen!